Rajas con crema is one of those true Mexican comfort dishes. Poblano peppers are roasted over an open flame, peeled, cut into strips, then sauted with onion, garlic, and corn. A thick, slightly sour "crema" is poured over the whole thing. It is spicy, creamy, and incredibly satisfying. Of course, the best way to eat this is in a taco. These vegan rajas con crema tacos will even impress your omnivore friends.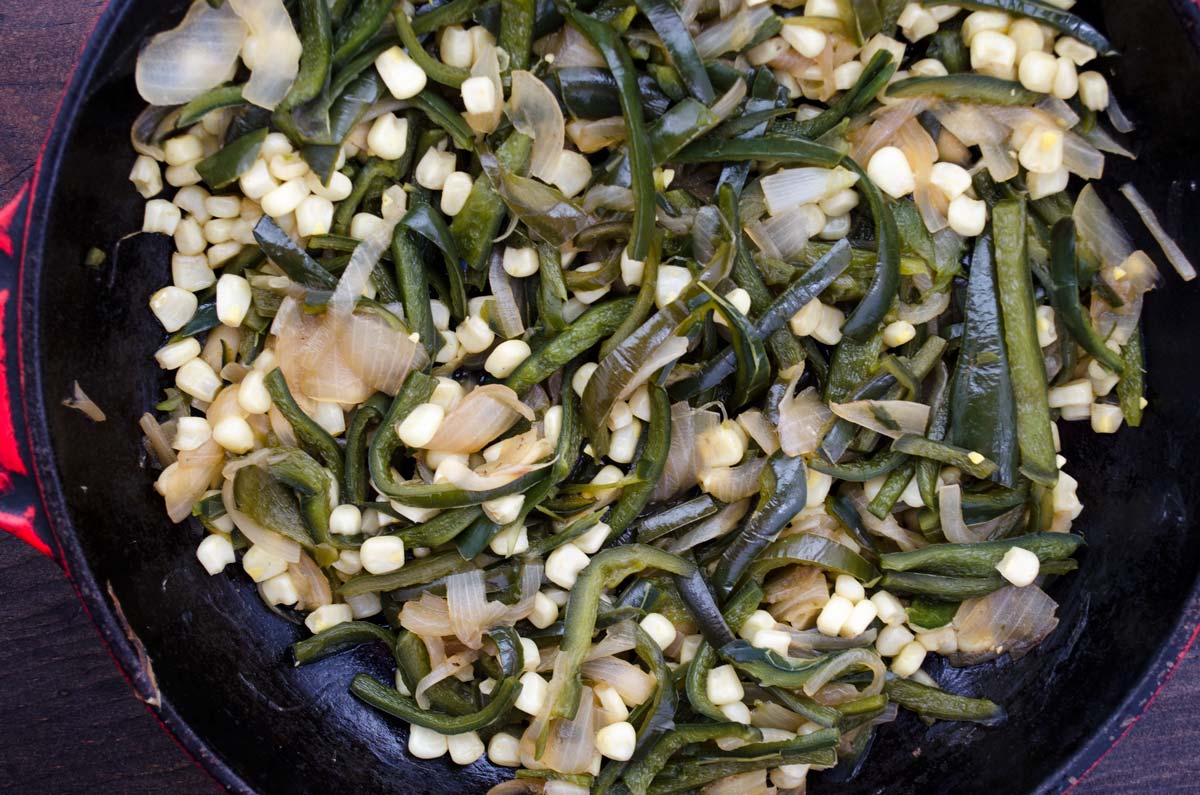 There's something about the smell of roasting poblano peppers that evokes so many food memories and recipes. Before going to culinary school my dad had me work at his restaurant for 6 months. Let's just say the cooks weren't too happy to have me around. I peeled a lot of potatoes and cracked a lot of eggs. I'll never forget the time they had me roast and peel tray after tray of poblano peppers. They of course could do it without even thinking, no gloves, quickly, one after the other. I think it took me about 3 hours to get them done, and by the end I was almost crying (or maybe I was crying) because my hands were burning. I'm sure they had a kick out of that.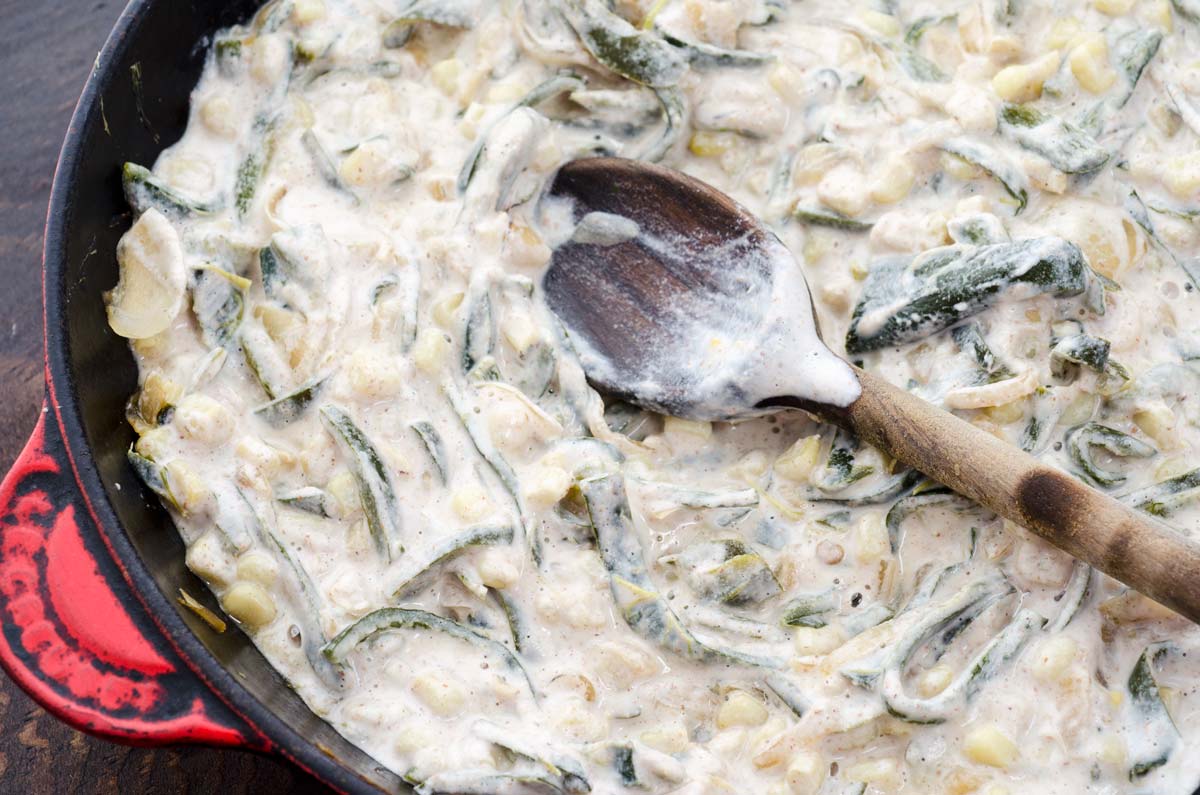 Poblano chiles are readily available almost anywhere in the United States. I am even able to find them here in Hawaii! They are very versatile and can be used in soups, tacos, pasta, enchiladas, stews, and they can even be stuffed and fried. They are relatively mild on the heat scale depending on where you live. Roasting and peeling them is not complicated, as you can see in this video. This is a perfect summer dish for using up all of the sweet, tender corn at your farmer's market. If you are staying away from nuts, you can omit the "crema" and serve with a salsa instead.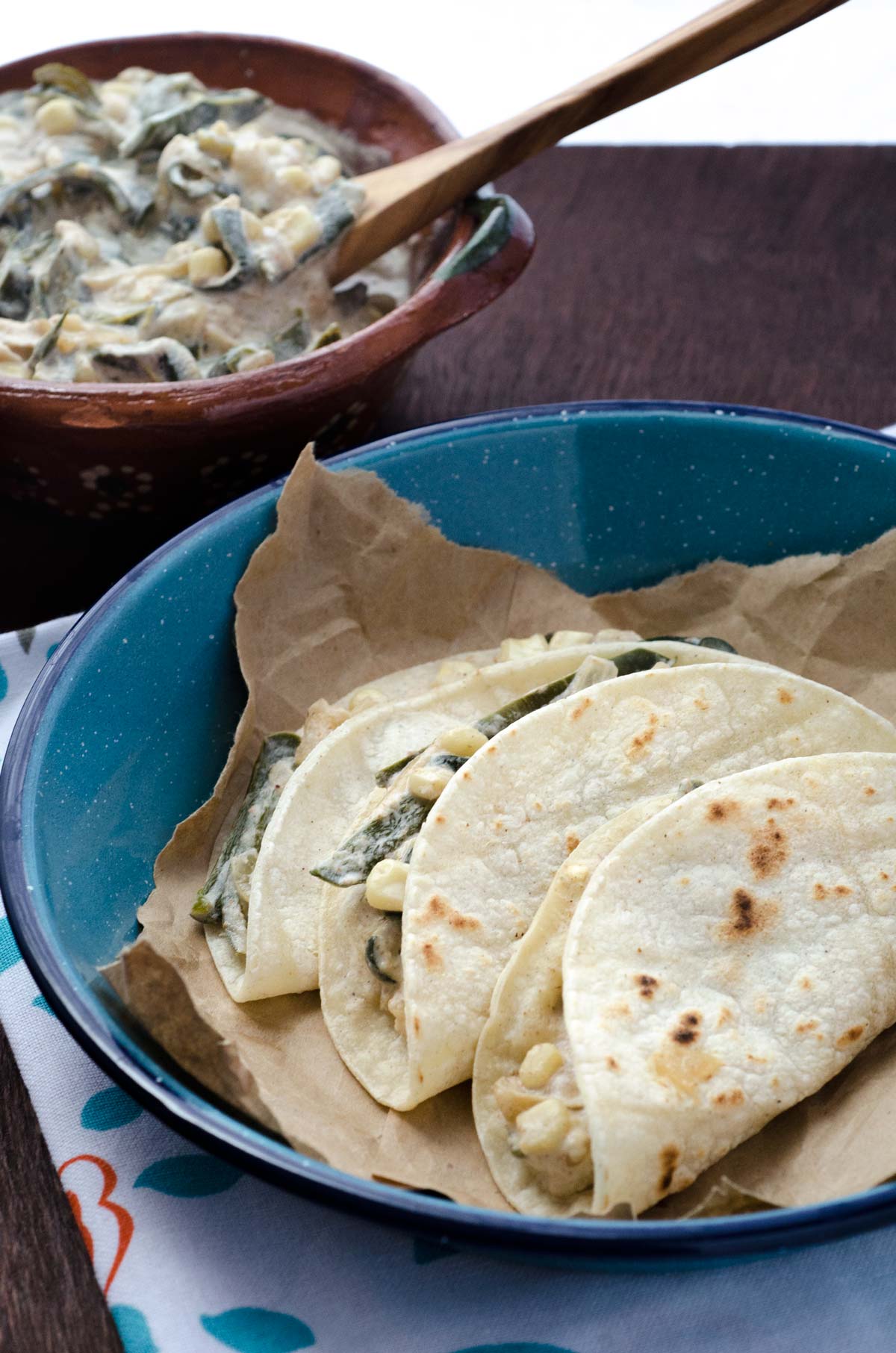 The heat here in Hawaii is starting to rise and ice cream, paletas, and aguas frescas have been on my mind lately. What recipes would you like to see?
The Recipe: Vegan Rajas con Crema Tacos
This recipe is pretty straight forward. You can skip the roasting of the poblano peppers if you're in a hurry, but they will not be as tender as if you had roasted them. The crema can me made without oil by substituting it with unsweetened almond milk. I use the almonds with the peel on because I prefer the flavor, but if you are looking for a really white crema, you can use blanched almonds instead. Enjoy!
Vegan Rajas con Crema Tacos
Vegan Rajas con Crema tacos, roasted poblano peppers sautéed with onion, garlic, and corn and bathed in an almond crema.
Pin Recipe
Print Recipe
Ingredients
Filling:
5

Poblano peppers,roasted, peeled

seeded, cut into strips

¼

Water

1

large

Onion, white

thinly sliced

2

cloves

Garlic

minced

3

ears

Corn

kernels sliced off

½

cup

Vegetable stock or broth
Crema: (see note)
½

cup

Almonds

raw

1

clove

Garlic

¾

cup

Water

¼

cup

Almond milk, unsweetened or vegetable oil

(see note)

1

tbsp.

Lemon juice

fresh
Instructions
To make the filling:
Heat a large sauté pan to medium heat, add water. Add the onion and sweat for 2-3 minutes or until it is tender and translucent.

Add corn, garlic, and ½ cup of vegetable stock, cover and let steam until corn is tender, about 3 – 4 minutes.

Add the poblano peppers and let cook for 1 minute more. Season with salt and pepper. Remove from the heat and let cool slightly.
Almond Crema:
Place the almonds, garlic, water,almond milk, and lemon juice in the blender and process until smooth. Season with salt and pepper. Pour the almond crema over the cooled filling and mix well.

Serve with warm corn tortillas.
Notes
If you are a no-oil vegan use unsweetened almond milk for the crema, but if you don't mind oil use a mild vegetable oil for a super smooth sauce.
If you don't have a high powered blender soak the almonds the night before, peel them the next day, and use only 1/4 - 1/2 cup of water. 
Nutrition
Calories:
213
kcal
|
Carbohydrates:
28
g
|
Protein:
8
g
|
Fat:
10
g
|
Saturated Fat:
1
g
|
Polyunsaturated Fat:
3
g
|
Monounsaturated Fat:
6
g
|
Trans Fat:
1
g
|
Sodium:
157
mg
|
Potassium:
636
mg
|
Fiber:
7
g
|
Sugar:
10
g
|
Vitamin A:
741
IU
|
Vitamin C:
129
mg
|
Calcium:
96
mg
|
Iron:
2
mg
Here are some other delicious taco recipes you can try as well:
Spicy Zucchini Black Bean Tacos
Carrot and Sweet Potato Tinga Tacos