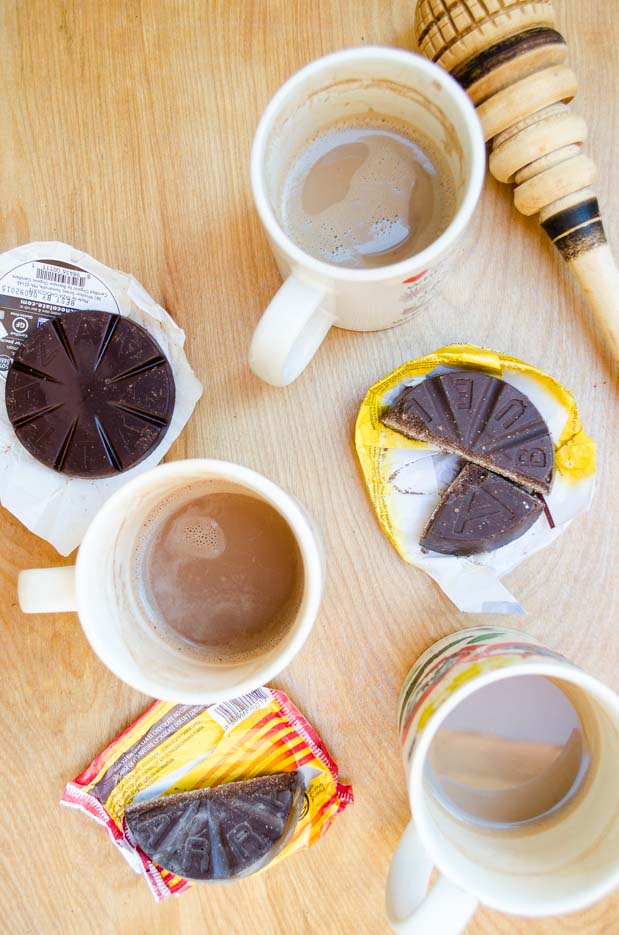 It's the irresistible aroma of chocolate and cinnamon that I first think of when I'm offered hot chocolate. Mexican hot chocolate is not your ordinary cacao powder and milk, oh no, and somebody needs to say this, but adding cinnamon to your hot chocolate does not make it Mexican. It is one of my culinary pet peeves. What is the best vegan brand of Mexican chocolate and what makes it so different?
Not only that it comes from Mexico, but the process used to make it is unique in itself. Mexican chocolate for beverages is sold in tablets not powder, it is made by toasting, and grinding cacao beans with sugar, vanilla, and cinnamon. It is then packed into a mold and formed into a tablet. To make into a beverage simply dissolve a couple of pieces of the tablet in hot milk. If the chocolate is of high quality you can dissolve it in water, milk is not necessary. The video below, from Saveur.com shows you exactly how chocolate tablets are made in Mexico.
The Best Vegan Brand of Mexican Chocolate
There are three brands of Mexican chocolate that are commonly found in grocery stores: Abuelita, Ibarra, and Taza. We tested all three of them for you with Califia Farms Toasted Coconut Milk.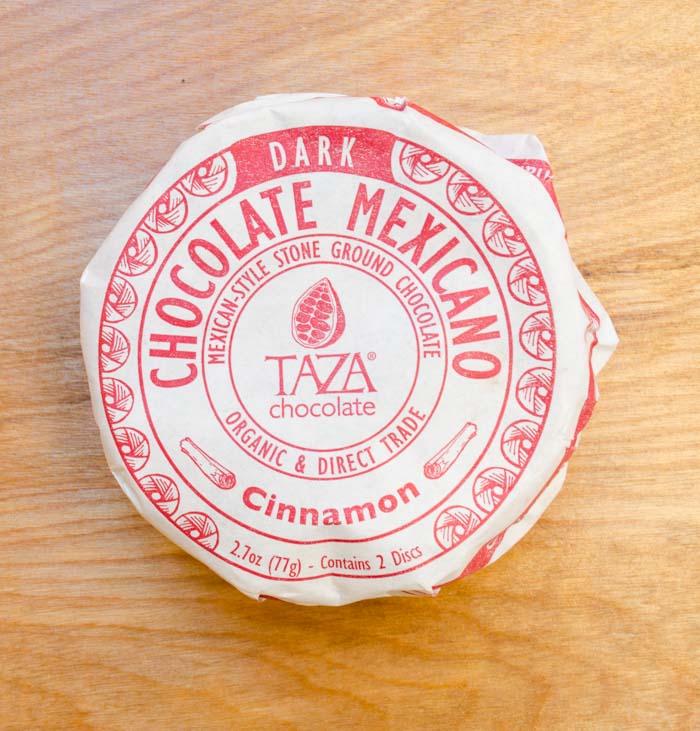 Best Overall: Taza Chocolate Mexicano Cinnamon
This one was my favorite. It is produced here in the US using the same process described in the video above. It is intensely chocolaty, aromatic, not too sweet, but with a hint of bitterness. The foam is thick, not at all airy. It contains only three ingredients: cacao beans, sugar, and cinnamon. It is also certified USDA organic, non-GMO, certified gluten-free, and vegan. The only downside is the price, $5.oo. It really isn't too expensive, but one package will only make you two cups of hot chocolate.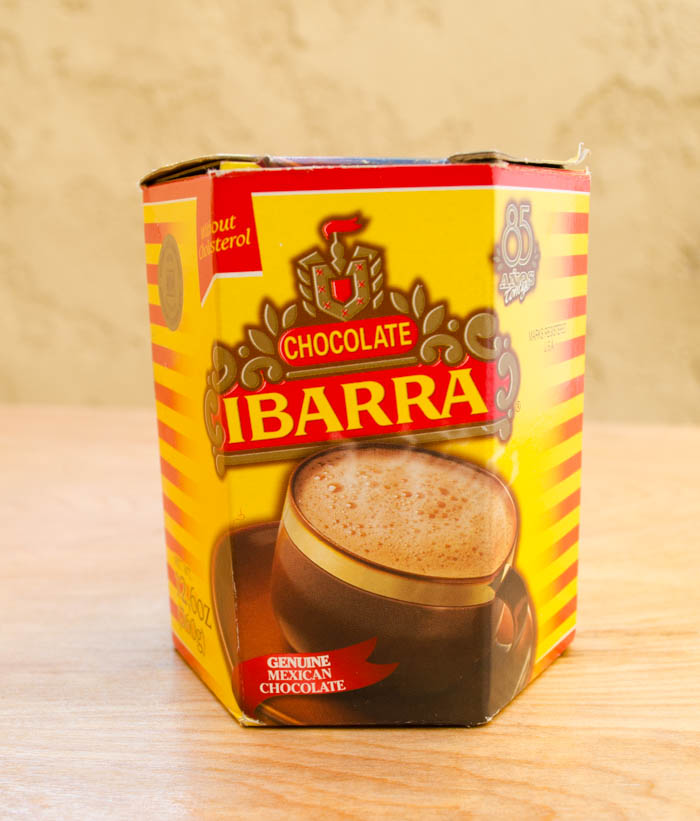 Best Budget-Friendly Chocolate: Ibarra
Ibarra is the one we buy more often, and it is a Mexican product. It has a medium chocolate flavor intensity and it is pretty sweet. There is no bitterness to it at all. The foam is airy and firm. It contains cocoa liquor, sugar, soy lecithin, and cinnamon flavoring. The price, $3.50, and it makes 24 cups of hot chocolate.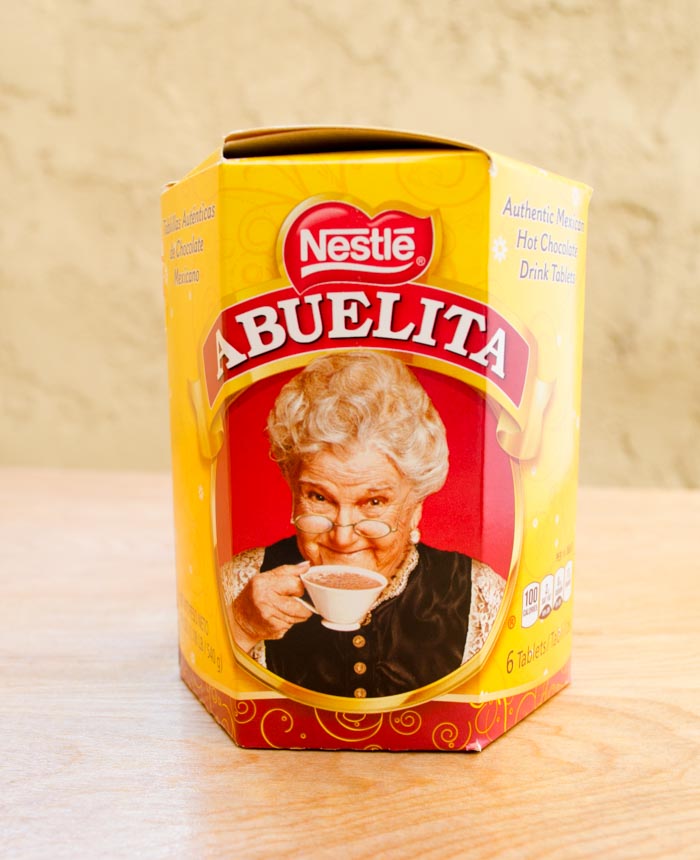 Last but Not Least: Abuelita
I contacted Nestle and they confirmed that it is NOT vegan.
NOTE: Even though Nestle has said that the product is not vegan there are  no animal products on the ingredient list. After further inquiry this is what Nestle responded: "The evaluation for vegan claims has not been performed on this item. We therefore would advise the product is not suitable for vegans."
Abuelita has a special place in my heart, it evokes a lot memories for me and it is extremely popular in Mexico. It has a medium chocolate flavor, is very sweet, and has no bitterness. The cinnamon flavor is strong and fragrant. The foam is airy and very firm. The downside is that it contains additives like vegetable oils, artificial flavor, and PGPR. The price, $3.25, and it makes 24 cups of chocolate.
Regardless of which one you think is the best vegan brand of Mexican chocolate, I urge to give Mexican hot chocolate a try. You won't be disappointed. What is your favorite brand?
https://dorastable.com/wp-content/uploads/2014/12/mexican-hot-chocolate5.jpg
935
619
Dora S.
https://dorastable.com/wp-content/uploads/2016/09/logo-dorastable.jpg
Dora S.
2015-01-14 23:57:53
2017-12-29 17:28:46
Best Vegan Brand of Mexican Chocolate