What is capirotada? Well, according to google it's Mexican bread pudding, but that's not quite right. It differs greatly from American bread pudding because it does not have a custard base. It is toasted bread soaked in a piloncillo, cinnamon, and clove syrup, then layered with bananas, peanuts, raisins and toasted coconut. Traditionally it contains cheese, but for the vegan version I have simply omitted it. Piloncillo
 is unrefined whole cane sugar, and it has a very unique flavor.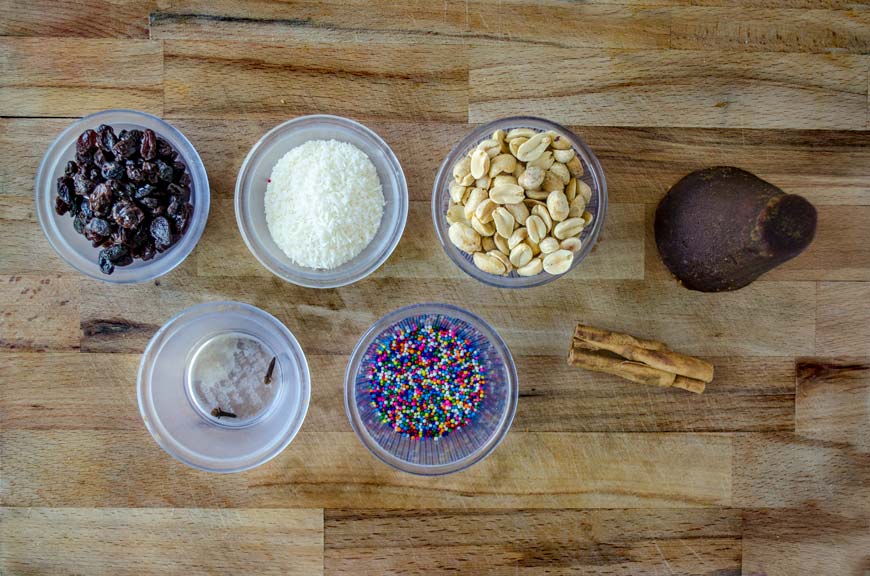 This vegan capirotada (Mexican bread pudding) screams it's Friday in lent. I realize it's Thursday, but you know how it is when you have three kids demanding every minute of your attention. The other thing you should now is that my husband hates this dessert. Maybe hate is too strong a word, let's just say he dislikes it very much. Though, I know many of you would agree that this is a dessert Mexicans hold close to their hearts, because it most likely reminds us of a special person who would make it without fail during lent.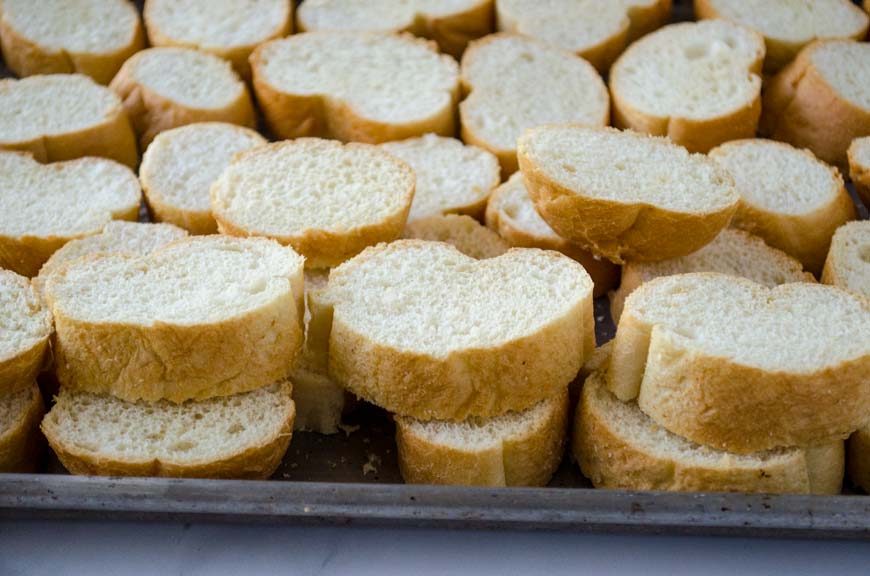 Easter is right around the corner, and I've kind of been procrastinating like I always do. Also this year Karina's birthday is on Easter. Any ideas for a vegan Easter-birthday party menu?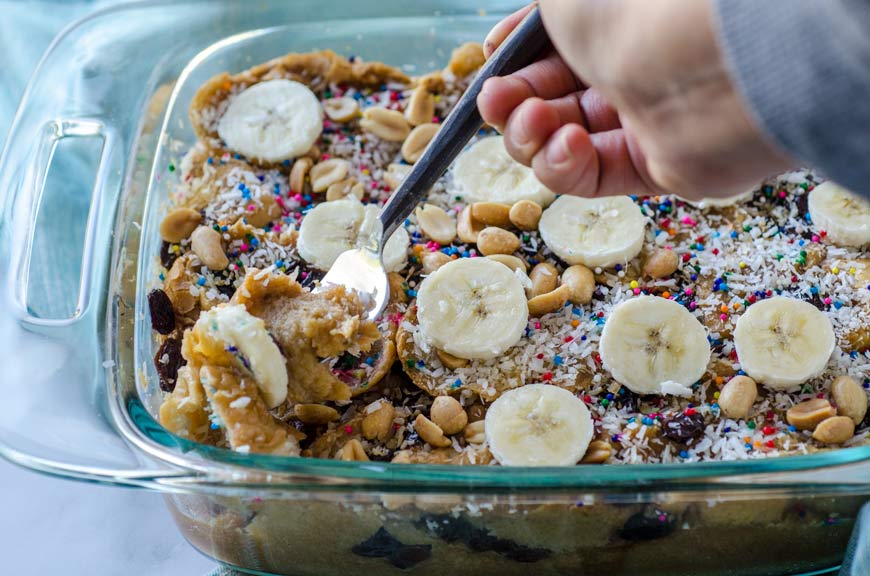 The Recipe: Vegan Capirotada
You can refrigerate the leftovers and eat it hot or cold.
If you cannot find bolillos feel free to use a baguette instead.
Toast the bread very lightly.
Feel free to add vegan cheese if you like. Enjoy!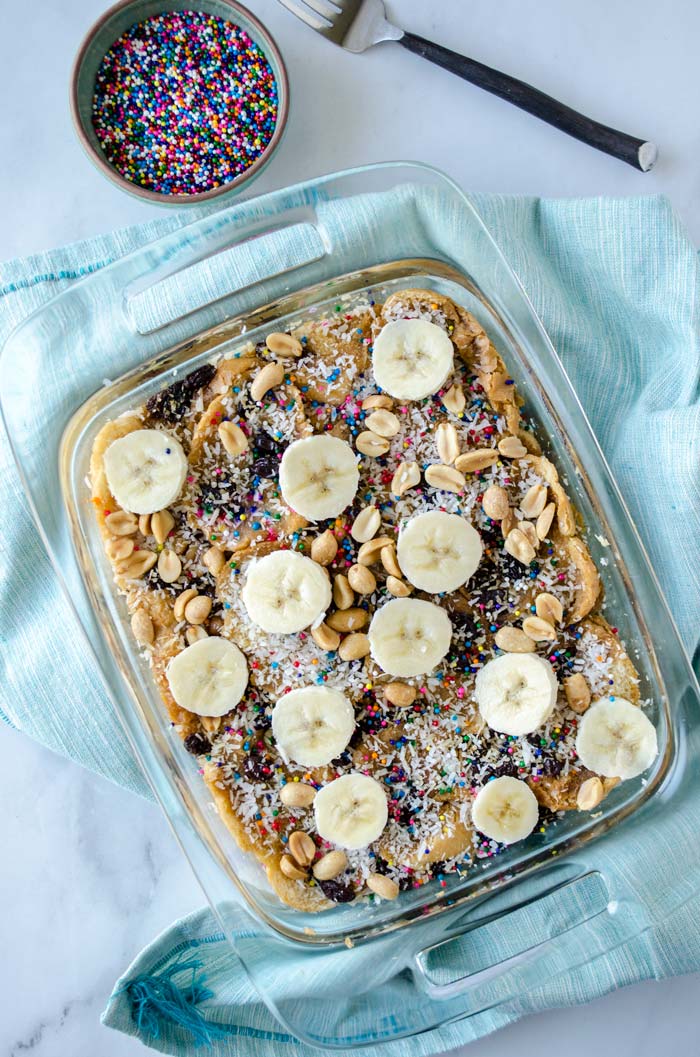 Vegan Capirotada
Pin Recipe
Print Recipe
Ingredients
5

Bolillos, large, stale,

cut into 3/4 inch slices

8

oz

Piloncillo

(1 cone)

½

Ceylon Cinnamon stick

4

cups

Water

2

Cloves,

whole

2

Bananas,

sliced into rounds

½

cup

Raisins

½

cup

Roasted peanuts

¼

cup

Coconut,

shredded, toasted, unsweetened

2

tbsp.

Sprinkles
Instructions
Turn on oven broiler on high.

Place sliced bread on a sheet tray and place under broiler 1 -2 min. or until bread is golden brown.

Flip the pieces of bread over and repeat the process. Remove from oven and set aside.

Preheat oven to 350F

In a small sauce pot, bring water, piloncillo, clove, and cinnamon to a boil. Turn down to a simmer and stir until the piloncillo has dissolved. Strain and place liquid back into the pot.

Add the raisins, and ¼ cup of the roasted peanuts to the liquid and bring back up to a simmer. Take off heat and set aside.

Line the bottom of an 8 X 8 square pan with a layer of bread. Pour ¼ of the liquid over the bread and cover with banana slices, raisins, and peanuts. Add another layer of bread and repeat the process. You should be able to fit 3 layers of bread.

When the final layer of bread has been laid down, pour the remaining liquid on top and cover with banana slices, toasted coconut, ¼ cup of remaining peanuts, and some sprinkles.

Cover with aluminum foil and bake for 15 to 20 min. or until syrup is absorbed. Remove from oven and let rest for 20 min. then serve
Notes
Refrigerate leftovers. Can be eaten hot or cold. If you cannot find bolillos use baguette or french bread.