What?? A vegan Mexican shrimp cocktail, how is that even possible? Well it is my friend, with a little creativity I was able to recreate my favorite cóctel de camarón. A mixture of artichoke hearts, onion, diced cucumber, avocado, and cilantro are tossed with a spicy lime tomato sauce. You can serve it with saltines or chips and it would be perfect with a light refreshing beer.
Last week was the start of lent, and in Mexico this also means the start of the lenten season food. Almost like when you know it's lent because everyone starts selling fish fillet sandwiches, but way better. Many of the lenten dishes are vegetarian, but most of them are seafood based. I am very excited about trying to veganize a lot of my favorite ones. In the mean time you can try these tempura cauliflower bites, cauliflower ceviche, hearts of palm aguachile, and this very traditional capirotada.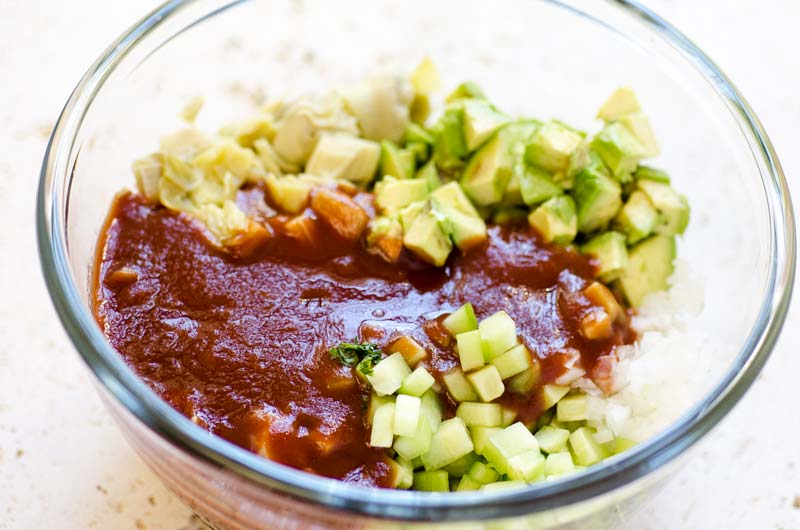 I was supposed to post this last week, but I got so busy with preparing my class and speech for the #weallgrow conference which was amazing by the way! I will be posting a recap of the whole experience soon. I'm still taking it all in. I have returned with renewed sense of purpose and I am very motivated to keep sharing recipes and helping spread the word about the vegan lifestyle.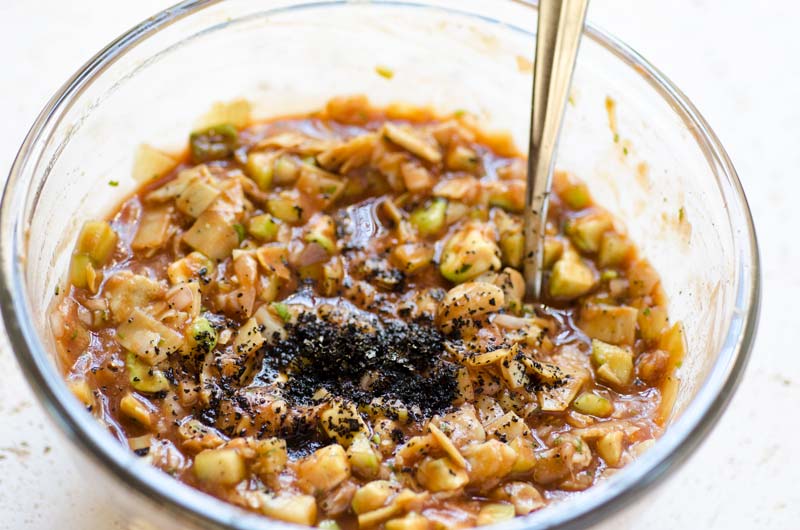 As far as my pregnancy goes, I am around 5 months along and I am hungry all the time!! All the time! It's hard not to spend the whole day eating. The good thing it's that I'm trying to avoid all the vegan junk food and focus more on whole foods. My blood tests have been completely normal, which is great, even though my mom keeps insisting I need more protein.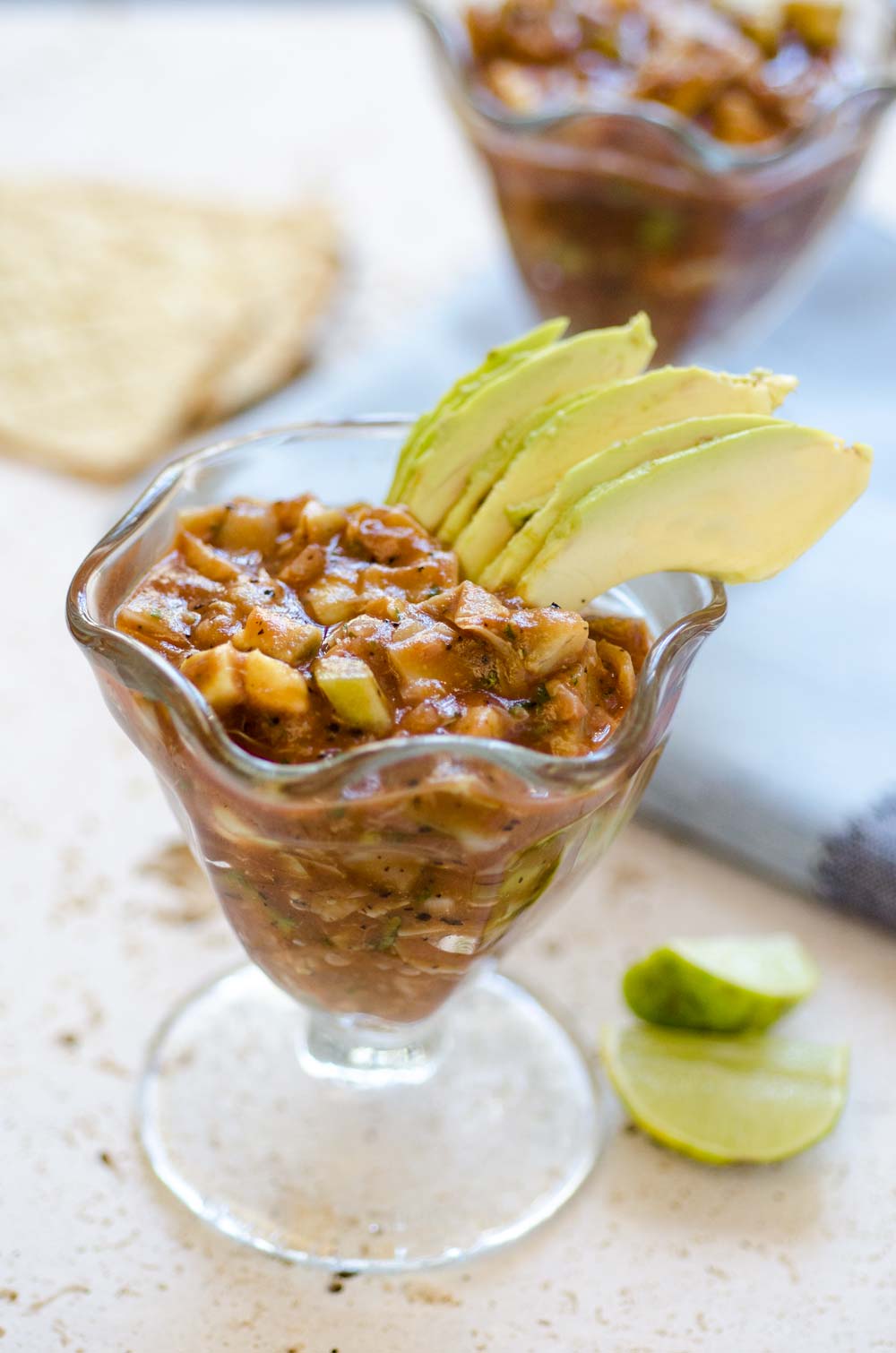 The Recipe: Vegan Mexican Shrimp Cocktail
I used artichoke hearts, because I couldn't find any hearts of palm and I was happy with the results. Ideally I think a combination of both would work better. To add a bit of fishiness to the recipe I chopped up some roasted seaweed and added that to the cocktail. This is completely optional, but a good choice if you are yearning for a seafood taste. Serve up your vegan Mexican shrimp cocktail with a light beer like Pacífico. Enjoy!
Vegan Mexican Shrimp Cocktail
Pin Recipe
Print Recipe
Ingredients
2

cans (14 oz.)

Artichoke hearts, packed in water,

drained

1/2

cup

Diced white onion

1

cup

Diced cucumber

1

cup

Diced avocado

2

tbsp.

Chopped cilantro

1

tbsp.

Chopped roasted seaweed (nori),

(optional)
Sauce
1 1/2

cups

Tomato purée

1/3

cup

Ketchup

1/2

cup

Orange juice

1

tbsp.

Soy sauce

1

tbsp.

Vegan Worcestershire

1 - 2

tsp.

Hot sauce (Valentina)

1/4

cup

Lime juice, fresh
Instructions
Cut off the bottom part of the artichoke hearts, if they are tough, and then chop the rest into chunks or medium cubes.

In a large bowl, combine the artichokes, onion, cucumber, avocado, cilantro, and chopped seaweed

In a separate bowl combine the tomato purée, ketchup, orange juice, soy sauce, vegan Worcestershire, hot sauce, and lime juice. Whisk together until incorporated

Pour the sauce over the mix of vegetables and mix well.

Let sit in the fridge for at least 30 min. before serving

Serve with saltine crackers, chips, or baked tostadas.
Notes
You can substitute the artichoke hearts for hearts of palm or use a combination of both. I was not able to find seaweed powder so I improvised by chopping my own seaweed. If you can't find tomato purée, you can make some yourself by blending a can of diced tomato.