Life is good right now, busy but fun. The kids are almost done with school and we're looking forward to staying in our pj's until well past 9am during the summer. The baby is probably going to be walking within a month, eek! We spent Mother's day at a friend's house celebrating her daughter's first communion. Dylan gave me a beautiful cross he made at school and my hubby gifted me several outfits to update my wardrobe. I joke that he's my stylist, but I really don't have any fashion sense at all, so I need all the help I can get.
The Recipe: Roasted Garlic and Orange Guacamole
I'm a minimalist when it comes to guacamole. All I need is mashed avocado, a sprinkle of lime juice, and a dash of salt. That's it! No fancy ingredients, fruits or anything else for that matter. That's the way we always ate it at home, so it was a surprise to me when at culinary school I was asked for the best recipe for guacamole. I kind of just stared at the instructor, but I was thinking, " A recipe? You don't need a recipe to make guacamole."
In reality, you can add pretty much anything to guacamole. This recipe is adapted from a Rick Bayless's show, One Plate at a Time. The major difference is that he uses a grill to char the garlic, peppers, and onions and I use the broiler in my oven.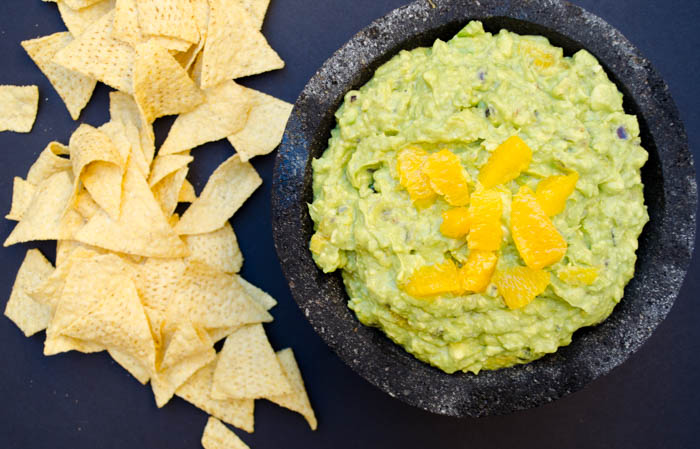 The recipe includes roasted garlic, which ads a beautiful smokiness to it. There are many ways to roast garlic as you can see in this post from Emma of cooknovel.com
I really enjoyed this guacamole, the acidity of the oranges contrasts the creaminess of the avocado, the smoky flavor of the roasted garlic and chiles permeates throughout, and finally the hint if sweetness from the orange brings it all together. Enjoy!
Roasted Garlic and Orange Guacamole
Recipe adapted from Rick Bayless's One Plate at a Time
Pin Recipe
Print Recipe
Ingredients
12

cloves

Garlic,

not peeled

1

Red onion,

thinly sliced

4

Serrano peppers

6

Avocadoes,

medium-large, pitted, flesh scooped

2

Oranges,

large, cut into segments

To taste

Lime juice,

fresh

¼

cup

Cilantro,

chopped
Instructions
Set your oven broiler on high.

Line a sheet tray with foil or parchment paper and place the garlic, sliced onion, and Serrano peppers on it.

Place under broiler for 7 min. Remove the garlic from the oven and set aside. Flip the peppers and toss the onion so it chars evenly. Return to oven for 5 -7 more minutes or until the peppers and onion are charred, but not burnt. Chop the onion and peppers and set aside.

Peel garlic and place in a molcajete, mortar and pestle or you can use your knife to turn the garlic into a paste.

Place the garlic paste in a large bowl and add the chopped pepper and onion, avocado, and chopped cilantro. Mash with a potato masher to the desired consistency (I like mine chunky).

Season with salt and pepper and lime juice to taste.

Cut the orange supremes in half and fold them into the guacamole. Serve with your favorite chips.
Notes
To cut segments from oranges, cut both ends off the orange. Stand it up and cut away the rind and white pith with a knife. Using a pairing knife, slide the blade between one of the segments and the membrane. Cut until you reach the center of the orange, repeat on the other side of the segment.