Who doesn't like a stuffed baked potato? There's nothing quite as satiating and versatile as a potato. This Mexican stuffed baked potato is my go-to lunch. It is made with ingredients I usually already have in my fridge. I just pop the potato in the microwave and stuff with broccoli, black beans, chopped tomato, and salsa verde. It hits all the right spots and it is packed with approximately 18 grams of protein.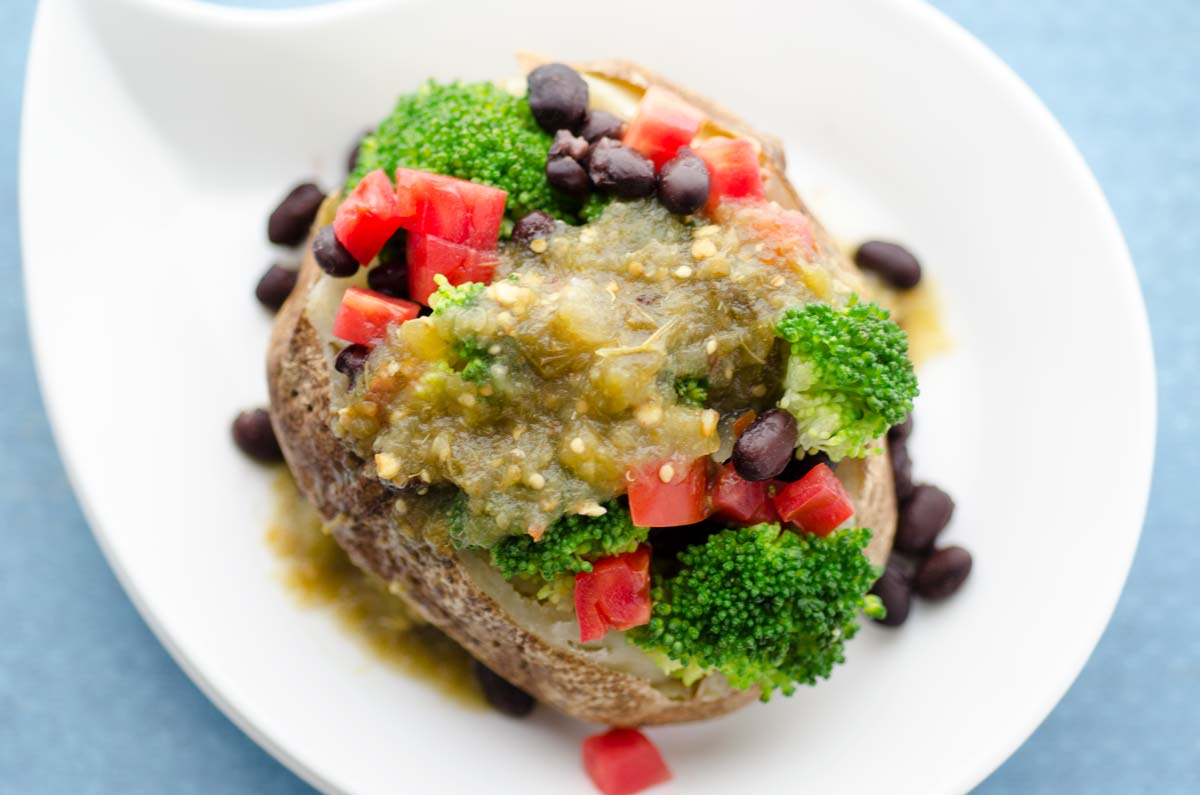 Hawaii keeps surprising me at every turn. I have joined a Catholic homeschool group to get to know some other families and ask all the questions possible about homeschooling before we make our decision. Recently we went on a hike with the group to Lulumahu falls. It was amazing, but if I had known it was going to be so challenging I probably wouldn't have gone! I was wearing my 2 yr old on my back, and I think she weighs about 29lbs. One of the moms assured me the hike was kid friendly, but that I should wear shoes because we would be walking through water. I thought to myself that we would probably cross a small stream or something. We climbed over boulders, crouched under fallen trees, walked through several streams, and walked deep into the rainforest. It took us about an hour, but we ended up at a beautiful waterfall. Dylan kept saying, " Mom, this is a real adventure!!" It really was, and mommy felt it all over her sore muscles the next day.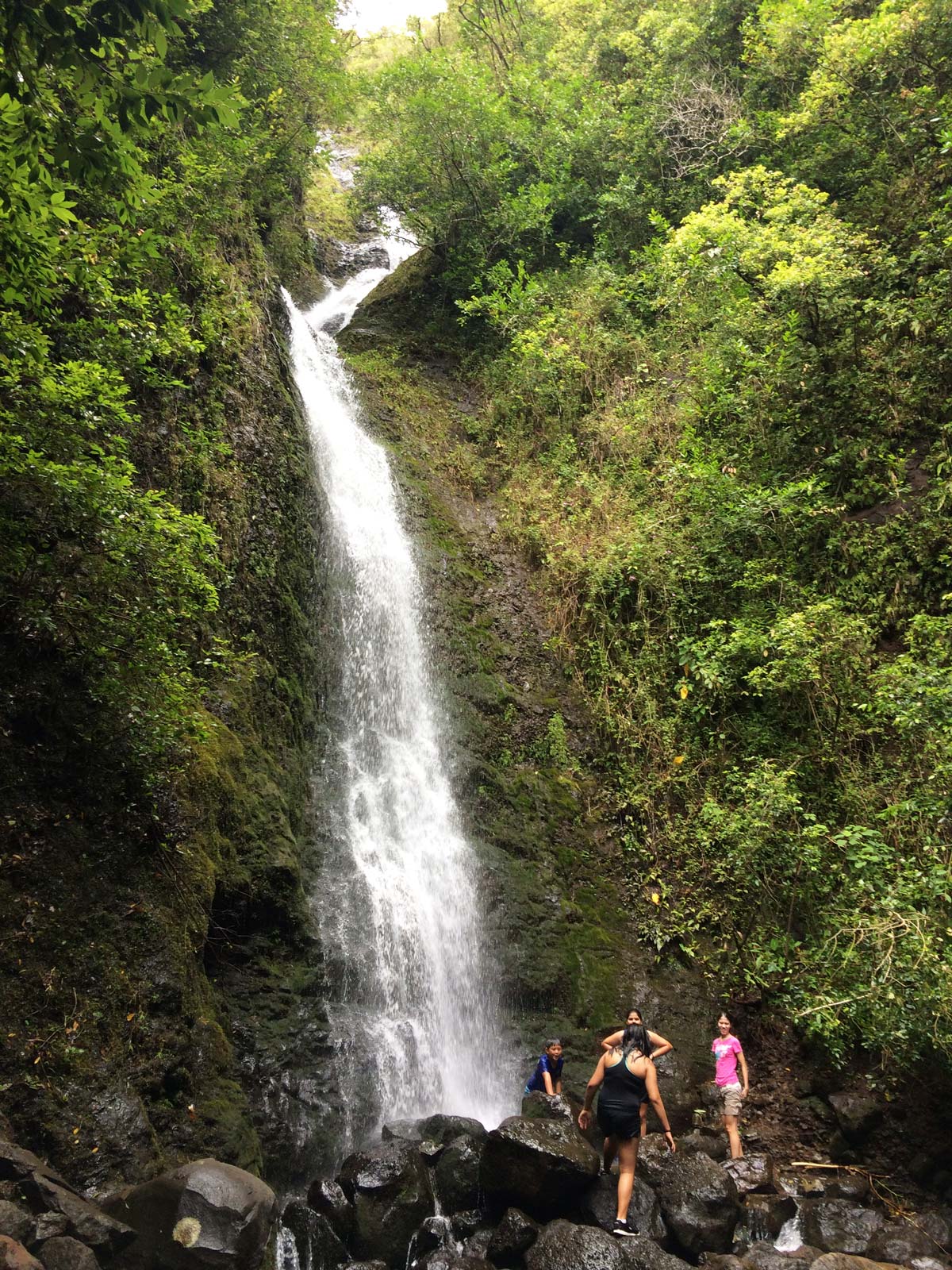 The other day we passed by a house that was selling mangoes. Their yard was riddled with giant mango trees, the bright yellow, red and green mangoes weighing down the branches. They were selling them for $1.50 a pound so I bought 6 lbs. I have to say the mangoes were some of the best I have ever tasted. The kids are eating them faster than I can peel them. Another day we were at the beach, and there was a beautiful woman sitting there staring at the sunset. There were hardly any people left at the beach, since it was so late. I kept staring at her because I though she was so beautiful with her long black hair and dark skin. All of a sudden she broke out a ukulele and started playing. I was so mesmerized I couldn't find my phone in time to record her. It was a beautiful spontaneous moment that can best depict what living in Hawaii has been like so far. I hope there are many more beautiful moment to come!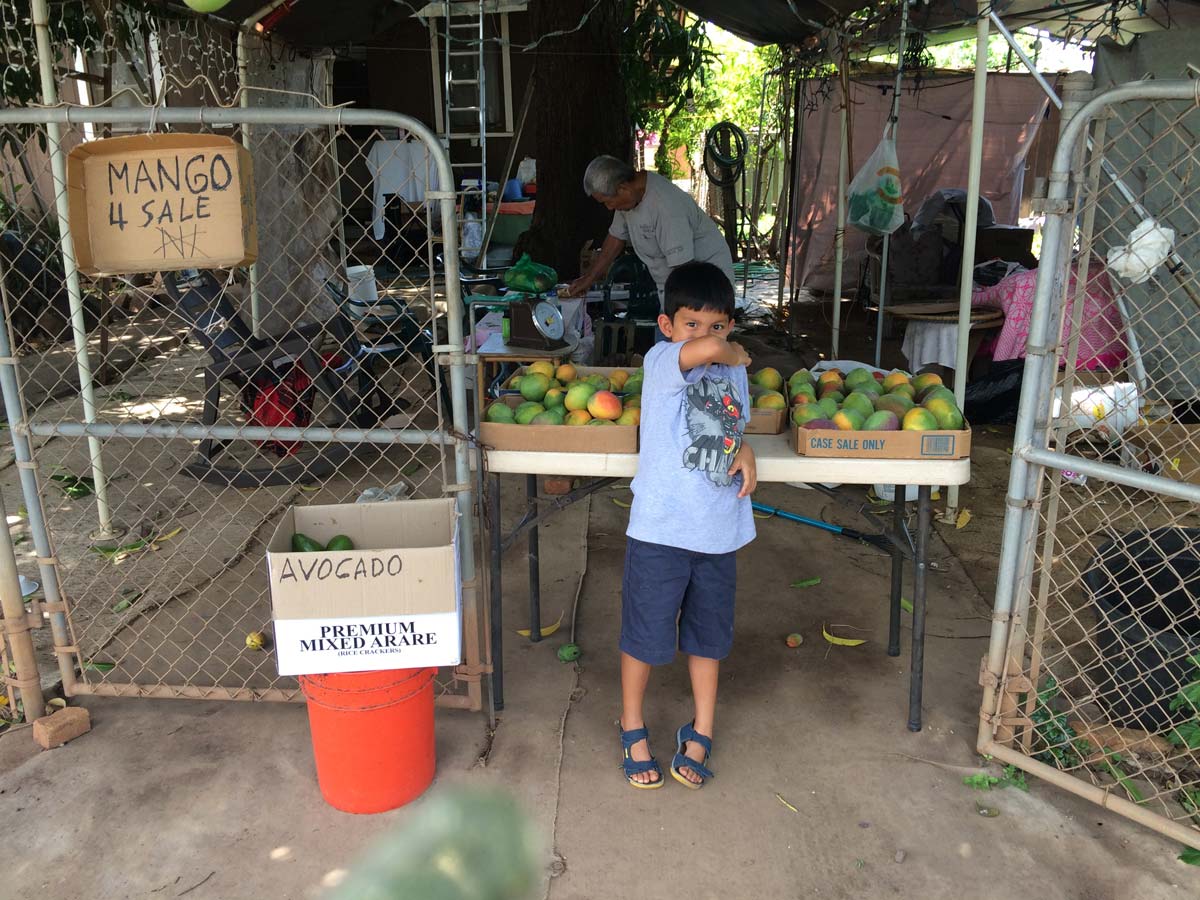 The recipe: Mexican Stuffed Baked Potato
This recipe is incredibly easy to make and very adaptable. If you don't have broccoli you can use zucchini. You can also add corn or cilantro. The possibilities are endless. I decided to use salsa verde because I really like it, and I had it in the fridge that day, but you can use any salsa you like. If you are looking for something more creamy you can use this spicy chipotle cream. Enjoy!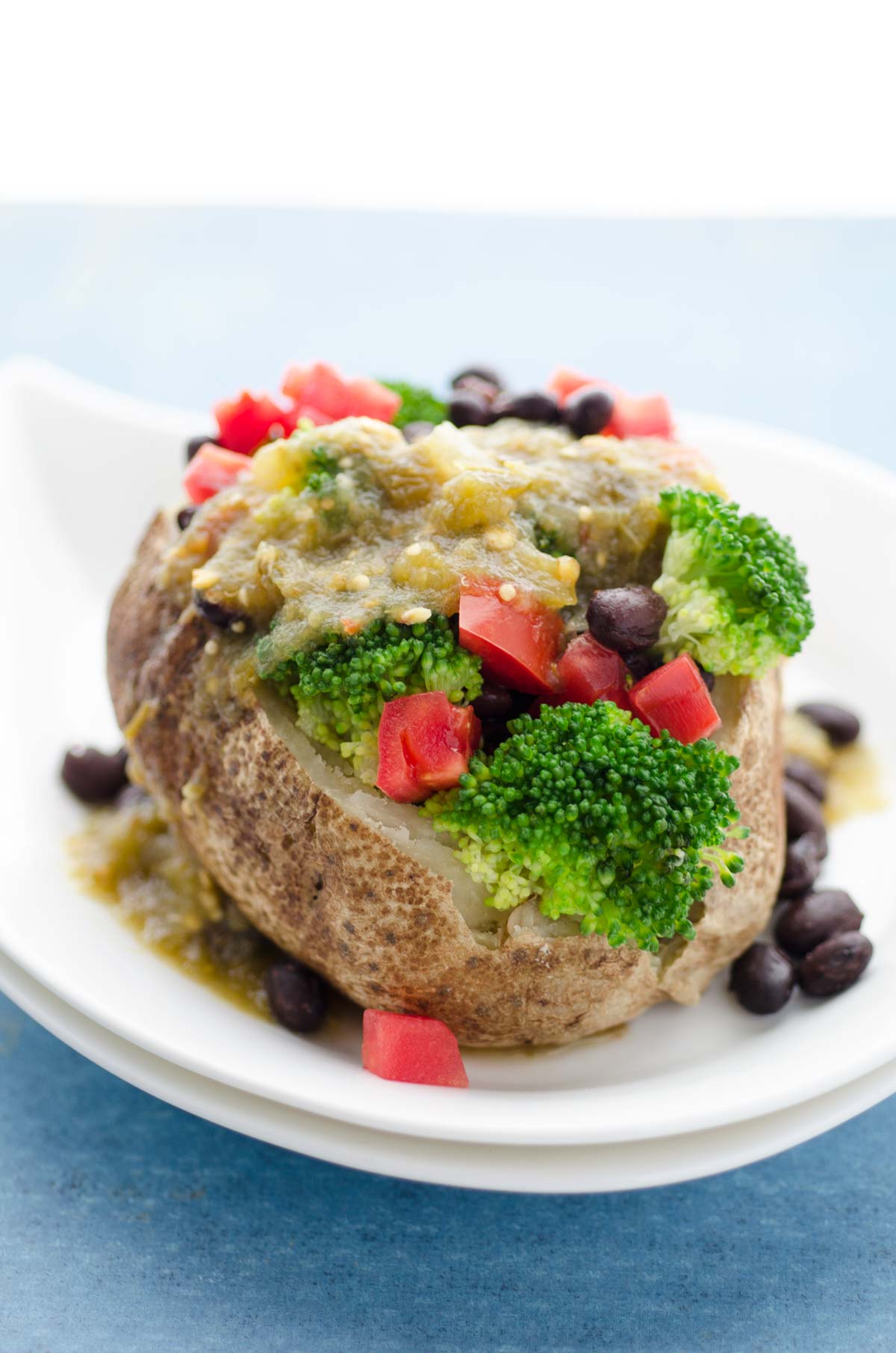 Vegan Mexican Stuffed Baked Potato
This stuffed potato is packed with protein and the perfect quick and easy lunch from ingredients you have on hand.
Pin Recipe
Print Recipe
Ingredients
2

Russet potatoes

large

1

hd.

Broccoli

cut into florettes, steamed or boiled

1

cup

Black beans

canned, drained

1

Tomato

large, diced

¾

cup

Salsa verde
Instructions
Cook potatoes on high in microwave for 5 minutes or bake in oven at 425F for 50 to 60 minutes.

Make a cut lengthwise in the potatoes and stuff with cooked broccoli, black beans, and diced tomato.

Pour salsa verde over the whole thing.
Notes
You can add corn and cilantro or any other vegetable you like. You can also use any salsa you like. If you are looking for a more decadent sauce you can use this chipotle cream sauce.
Nutrition
Calories:
333
kcal
|
Carbohydrates:
67
g
|
Protein:
13
g
|
Fat:
2
g
|
Saturated Fat:
1
g
|
Polyunsaturated Fat:
1
g
|
Monounsaturated Fat:
1
g
|
Sodium:
624
mg
|
Potassium:
1513
mg
|
Fiber:
11
g
|
Sugar:
8
g
|
Vitamin A:
1052
IU
|
Vitamin C:
24
mg
|
Calcium:
57
mg
|
Iron:
4
mg