These spicy and fragrant vegan birria tacos are going to change the way you eat tacos forever. A mixture of meaty oyster mushrooms and young jackfruit is simmered in a hearty sauce of dried chiles, aromatic spices, and roasted tomatoes, then served on warm corn tortillas. I like to dip the tacos or quesabirrias in the rich birria broth to slurp up all the goodness.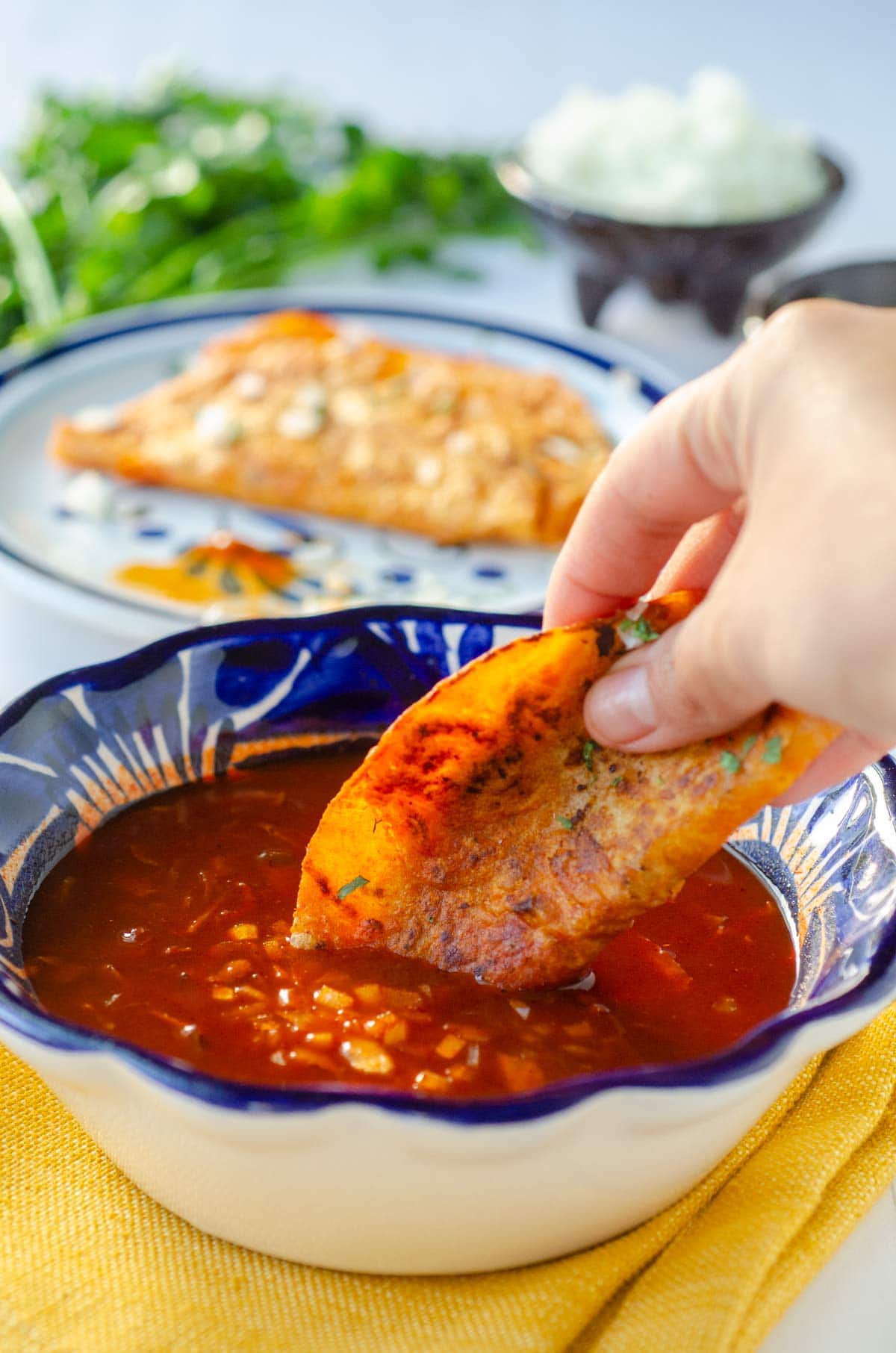 What makes this Recipe Great
Every time I make this I'm amazed at how the combination of jackfruit and shredded mushrooms gives the birria a meaty texture and appearance so delicious that it even fools the meat eaters in my family. I like to eat them as delicious tacos with onion and cilantro, but you can also make quesabirrias.
These are quesadillas filled with vegan cheese and birria, then cooked on a hot griddle with some of the birria sauce until the tortilla is golden brown and crisp and dripping with melted cheese. They are also vegan, gluten-free, and dairy-free.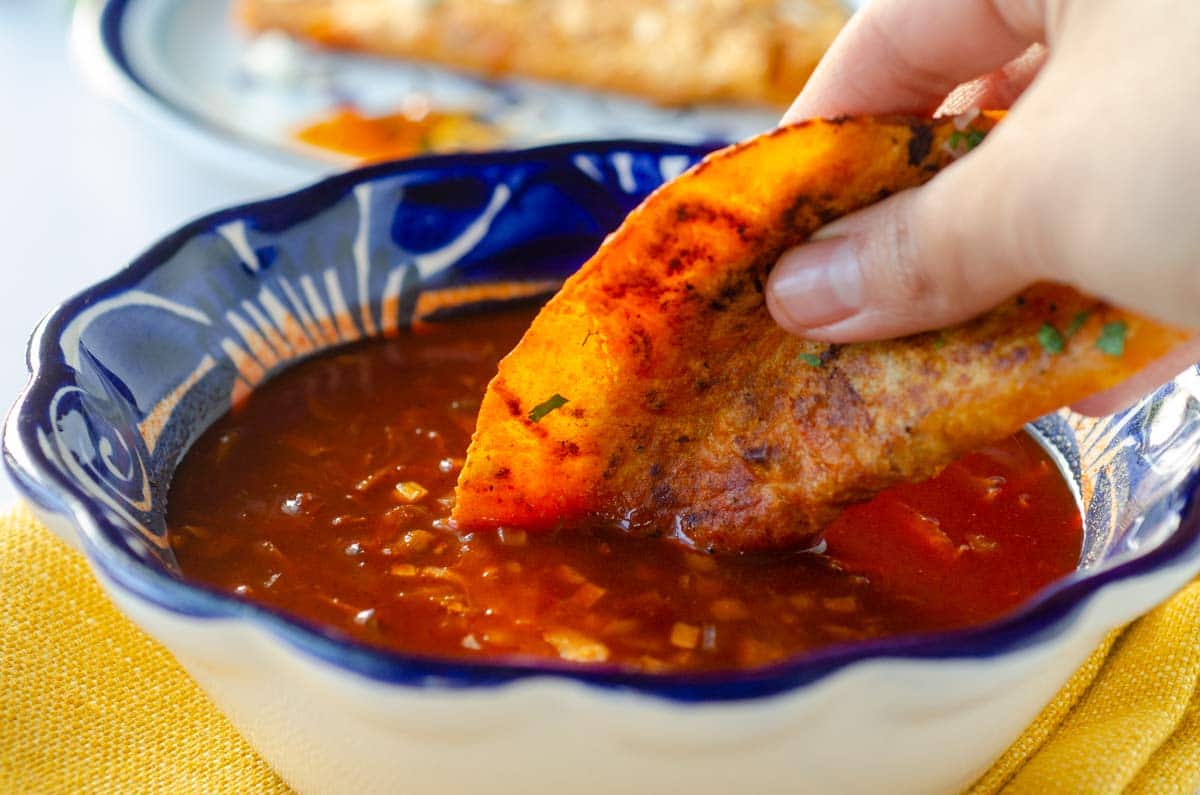 What is Birria?

Birria is a traditional Mexican dish, a type of barbacoa made with goat meat, that is popular in the states of Jalisco, Zacatecas, and Aguascalientes. According to the Larousse Diccionario Enciclopedico de la Gastronomia Mexicana, it is traditionally made by making a type of adobo sauce with dried chiles, spreading it on the meat, and letting it marinate for 12 hours.
It is then wrapped in maguey leaves and cooked in a pot sealed with masa until the meat is tender. For this vegan version I have taken my inspiration from the state of Jalisco, but the process is much simpler and it can be made in less than an hour.
Ingredients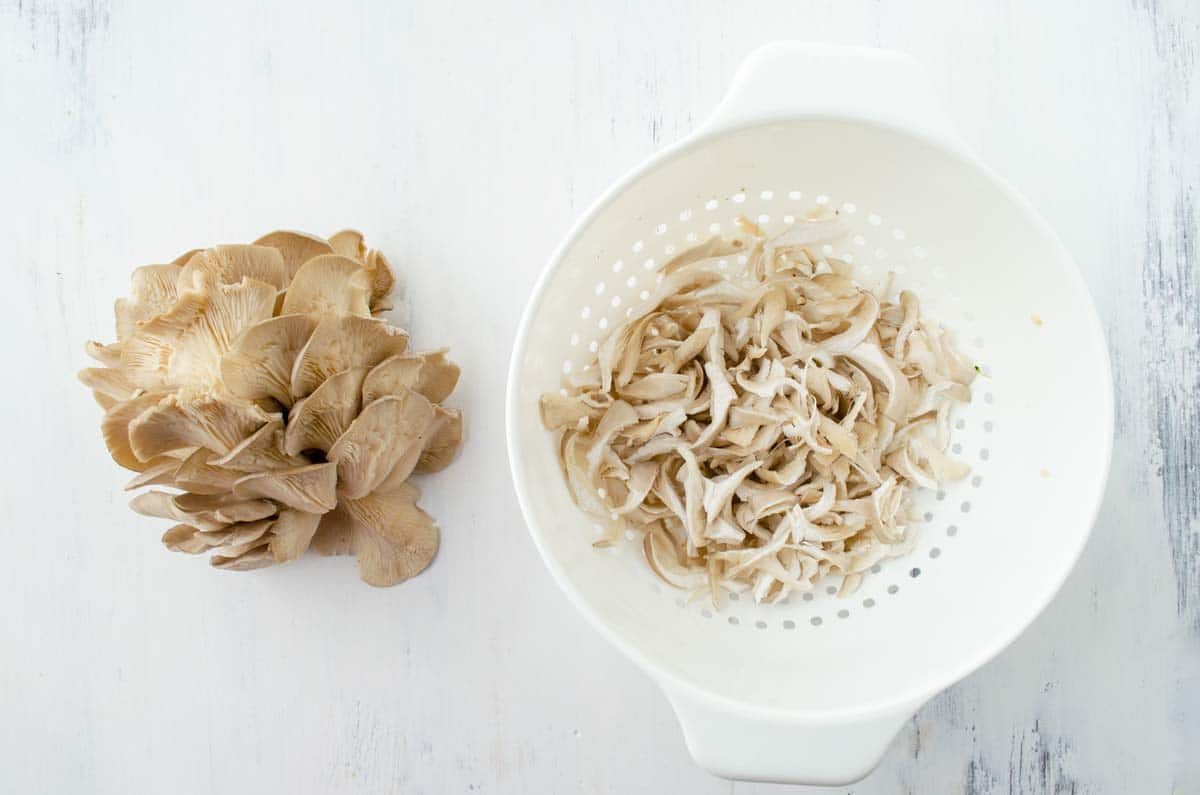 Jackfruit- For this recipe I use green jackfruit in brine that you can find canned at Asian markets, online, or even at Trader Joe's.
Oyster mushrooms- I like to use oyster mushrooms because you can shred them to the texture of meat, but any other mushroom will work.
Dried chile ancho, guajillo, pasilla- Dried chiles are commonly found in Mexican grocery stores or online. Guajillo peppers are mild, while ancho and pasilla are of medium heat.
Chile morita- This is a small smoky dried chile with medium-high heat and can be found in Mexican markets or online. If you have some leftover after making the recipe you can make this chile morita salsa.
Ceylon Cinnamon: You will need to use Ceylon cinnamon, also known as true cinnamon, because it has a thin bark that is easy to blend in the sauce. You can find it at your local Mexican market or online. If you can't find it use powdered cinnamon instead.
Vegan cheese: For the quesabirria I like to use Field Roast Chao cheese but any vegan mozzarella will work.
Spices: The spices are very important to this recipe, they give the sauce a rich flavor. You will need allspice, black peppercorn, cumin seeds, marjoram, thyme, bay leaves, and Mexican oregano.
Apple Cider Vinegar: You could use white vinegar as well, but I prefer apple cider vinegar because it adds a touch of sweetness.
How to Make Vegan Birria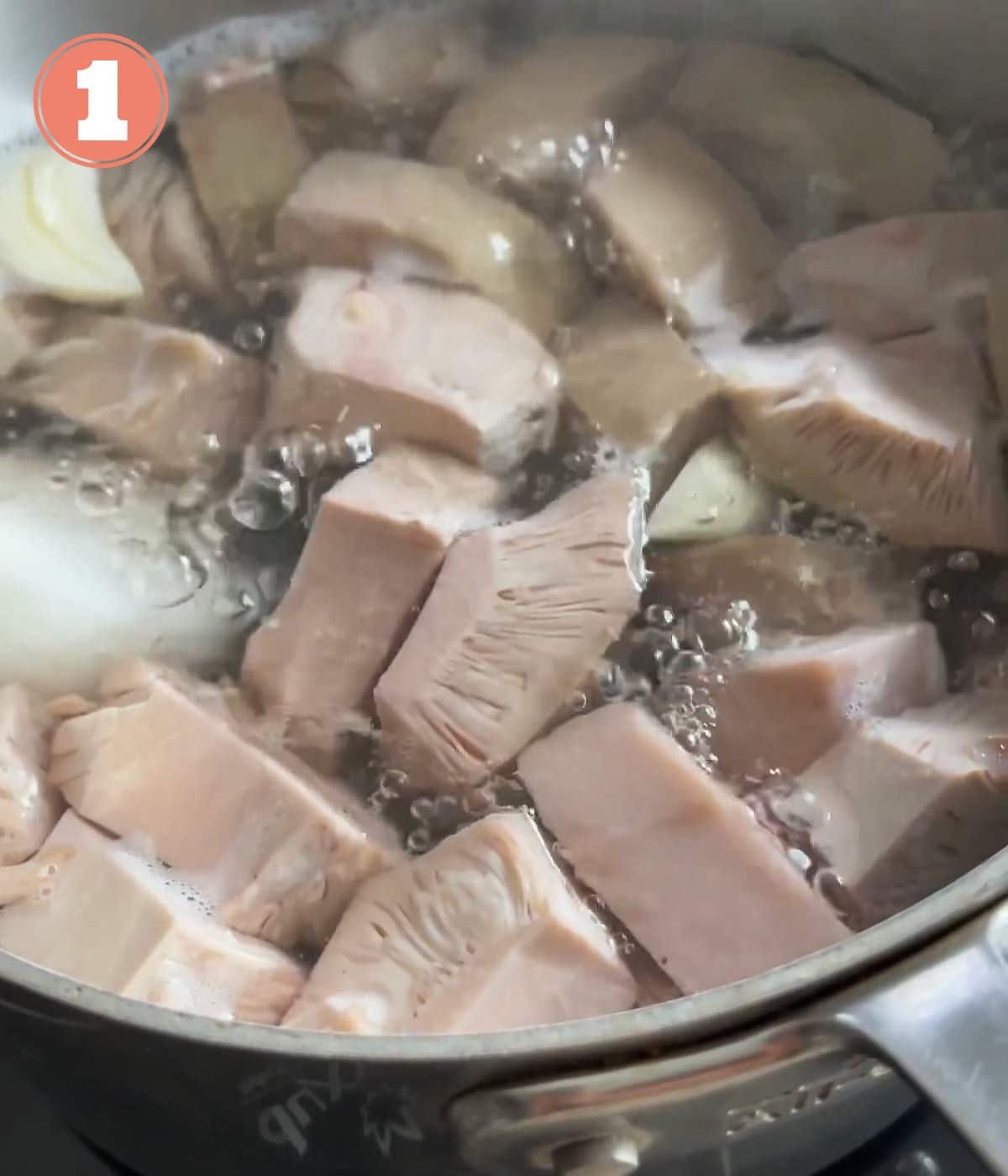 Simmer jackfruit in water with onion and garlic for 10 minutes.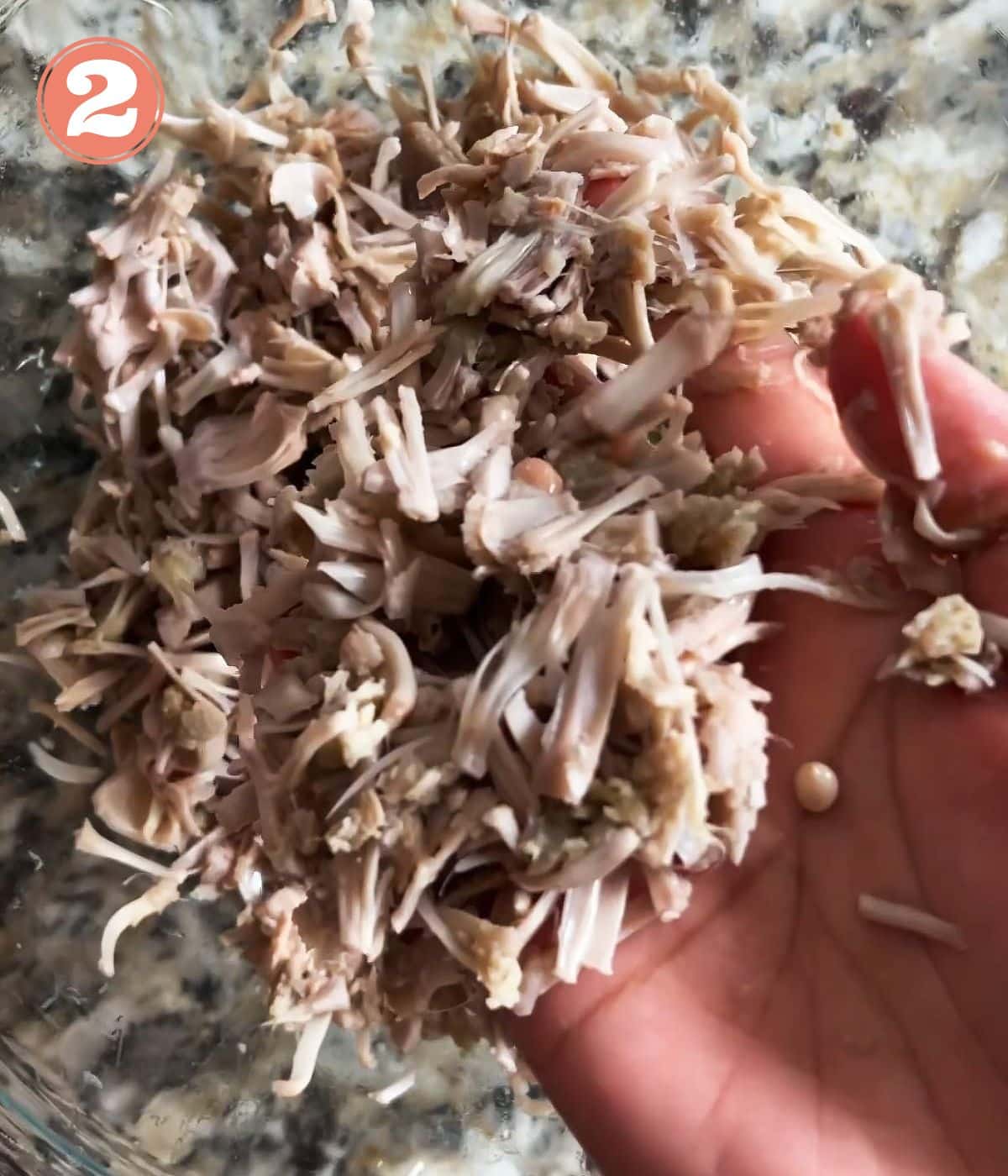 Drain and squeeze water out.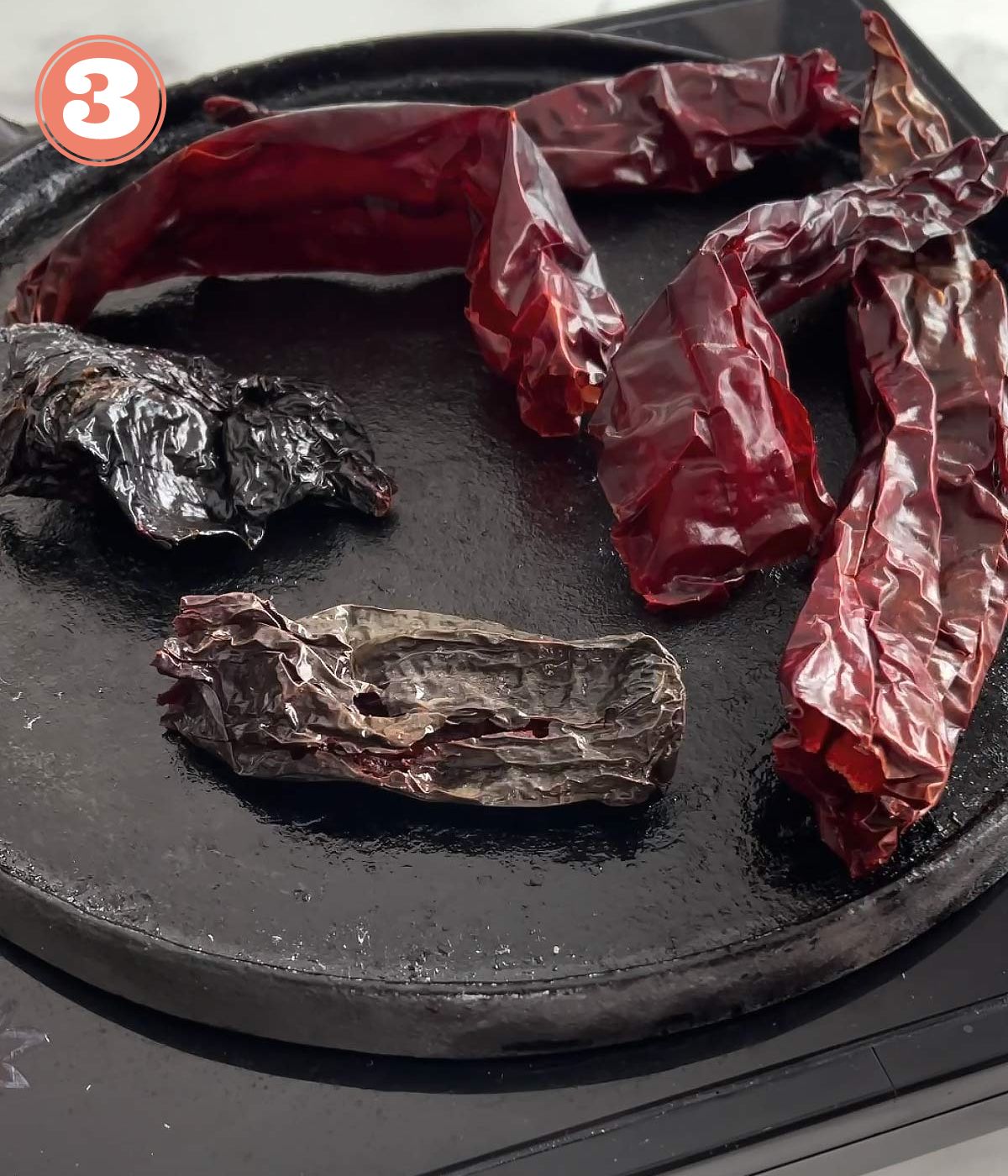 Toast dry chiles on a comal or skillet for 30 seconds on each side.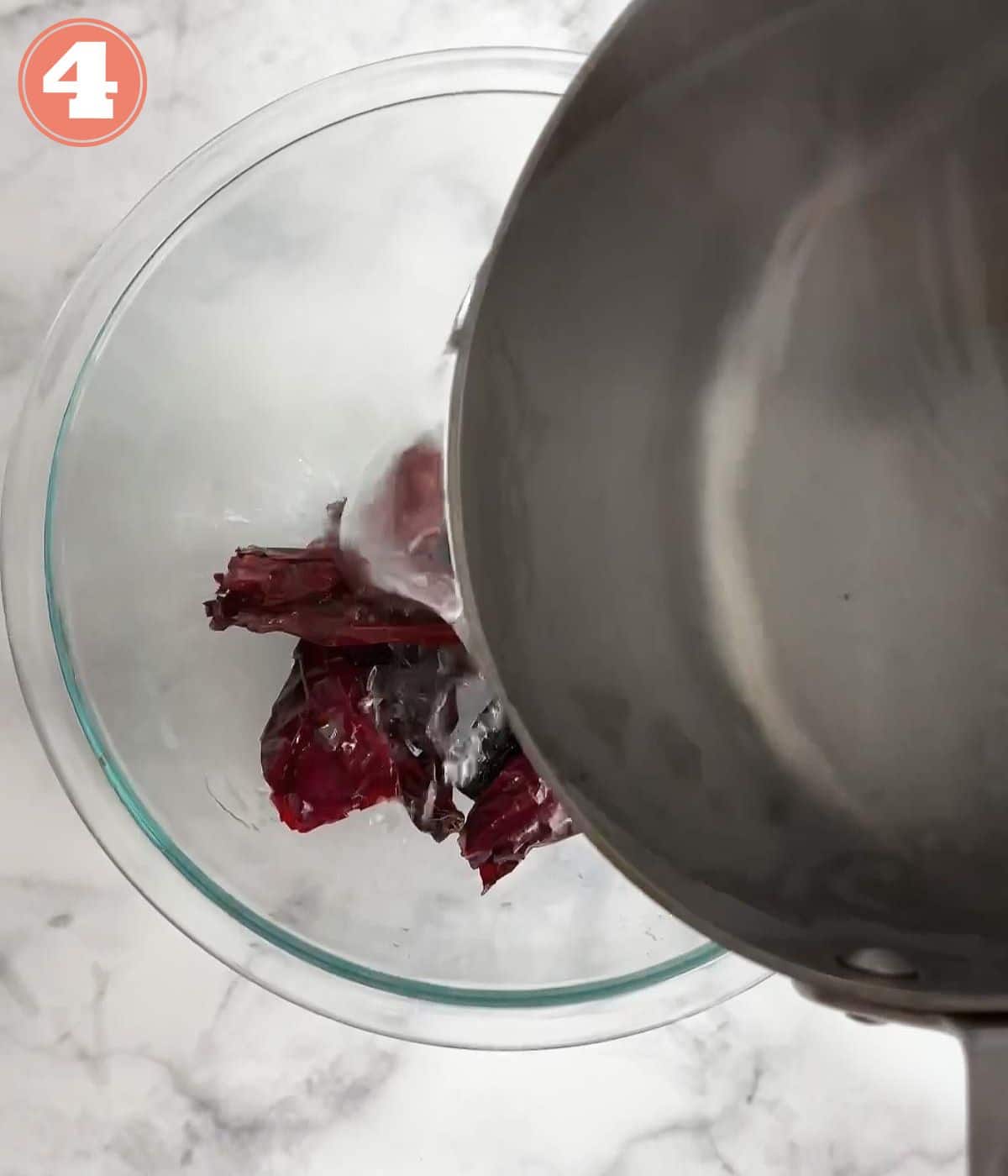 Pour boiling hot water over them and let them sit for 15 minutes.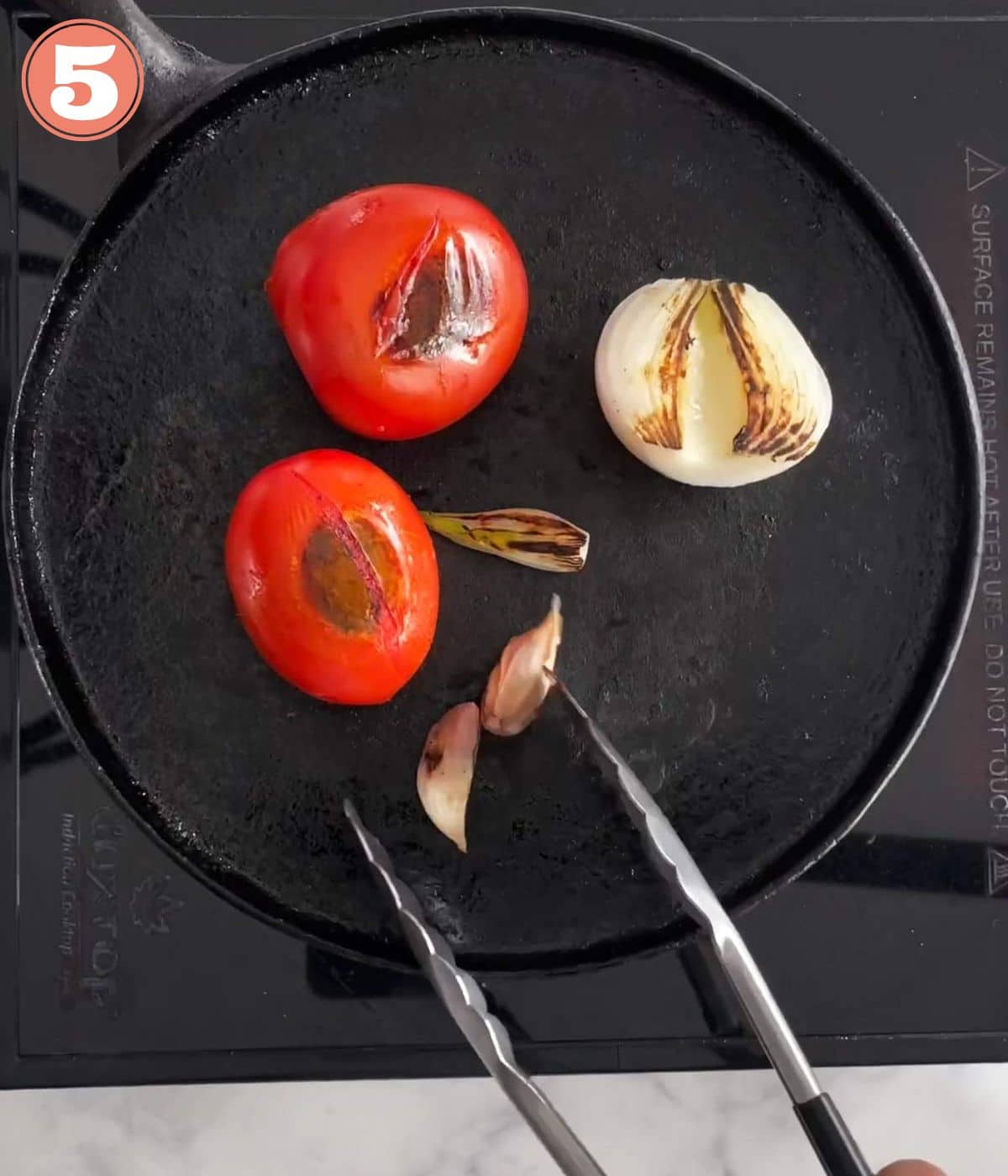 Char tomatoes, onion, and garlic.
Toast the allspice, peppercorns, cloves, cinnamon stick, and cumin.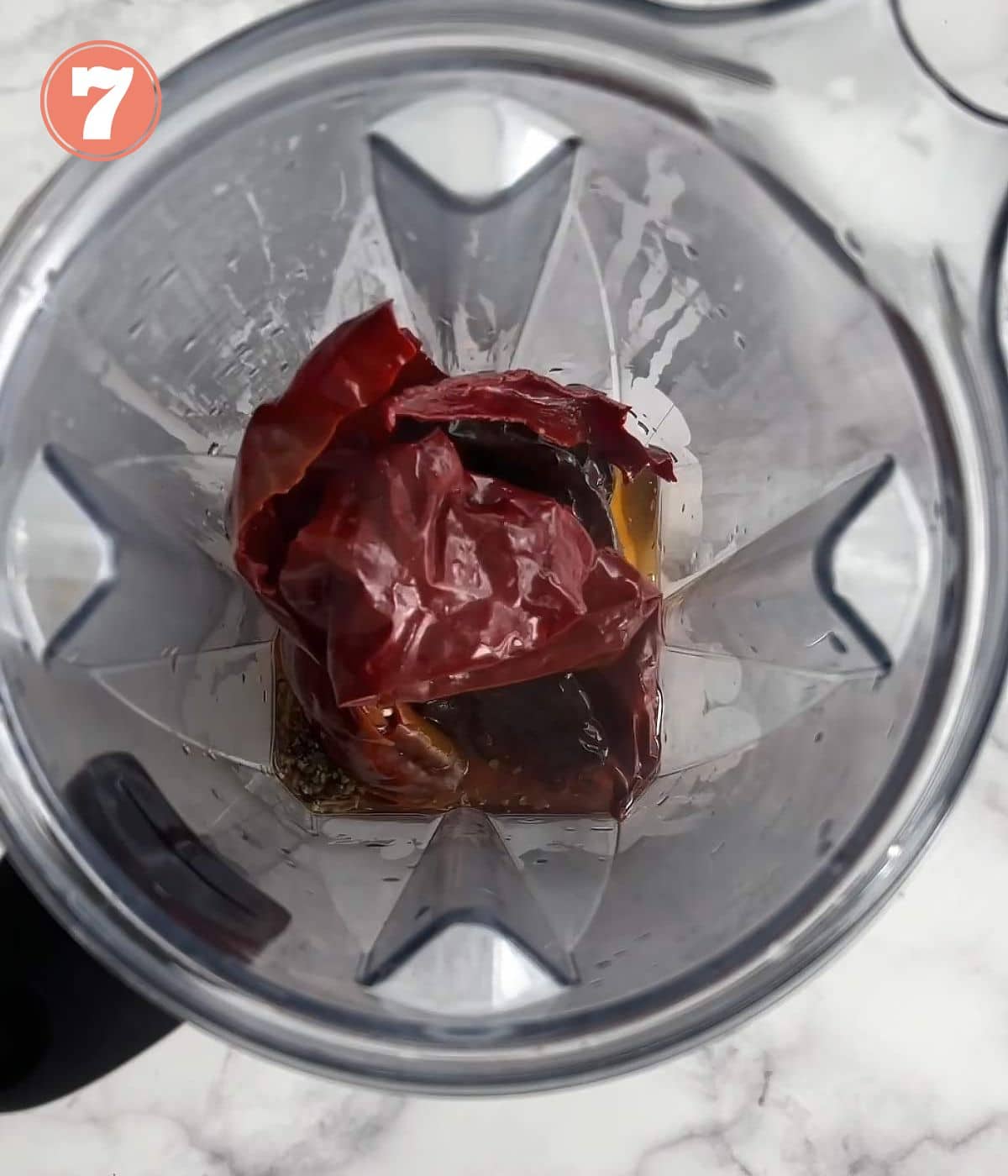 Add the drained chiles, toasted spices, and charred vegetables to a high speed blender. Puree until smooth.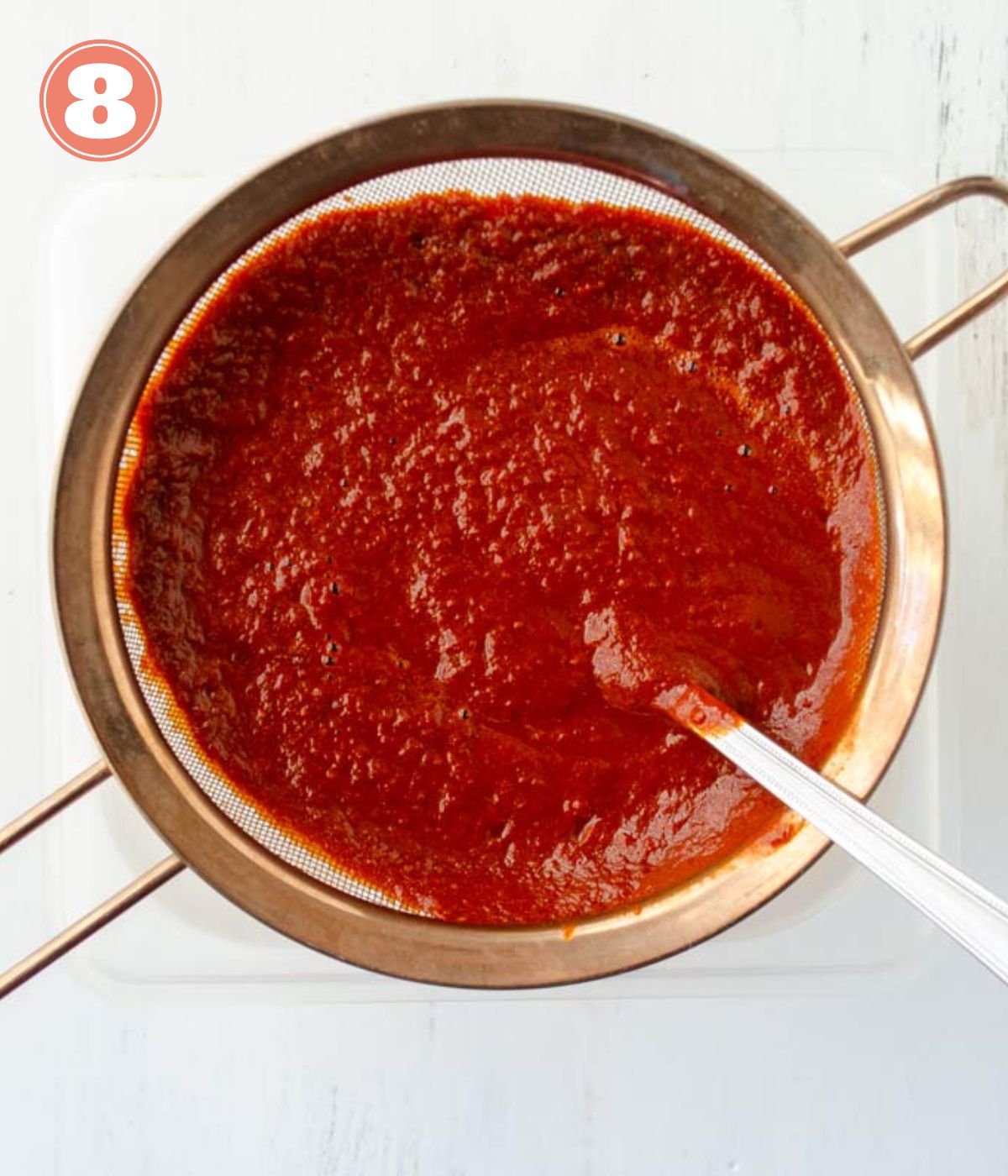 Pass the sauce through a fine mesh sieve.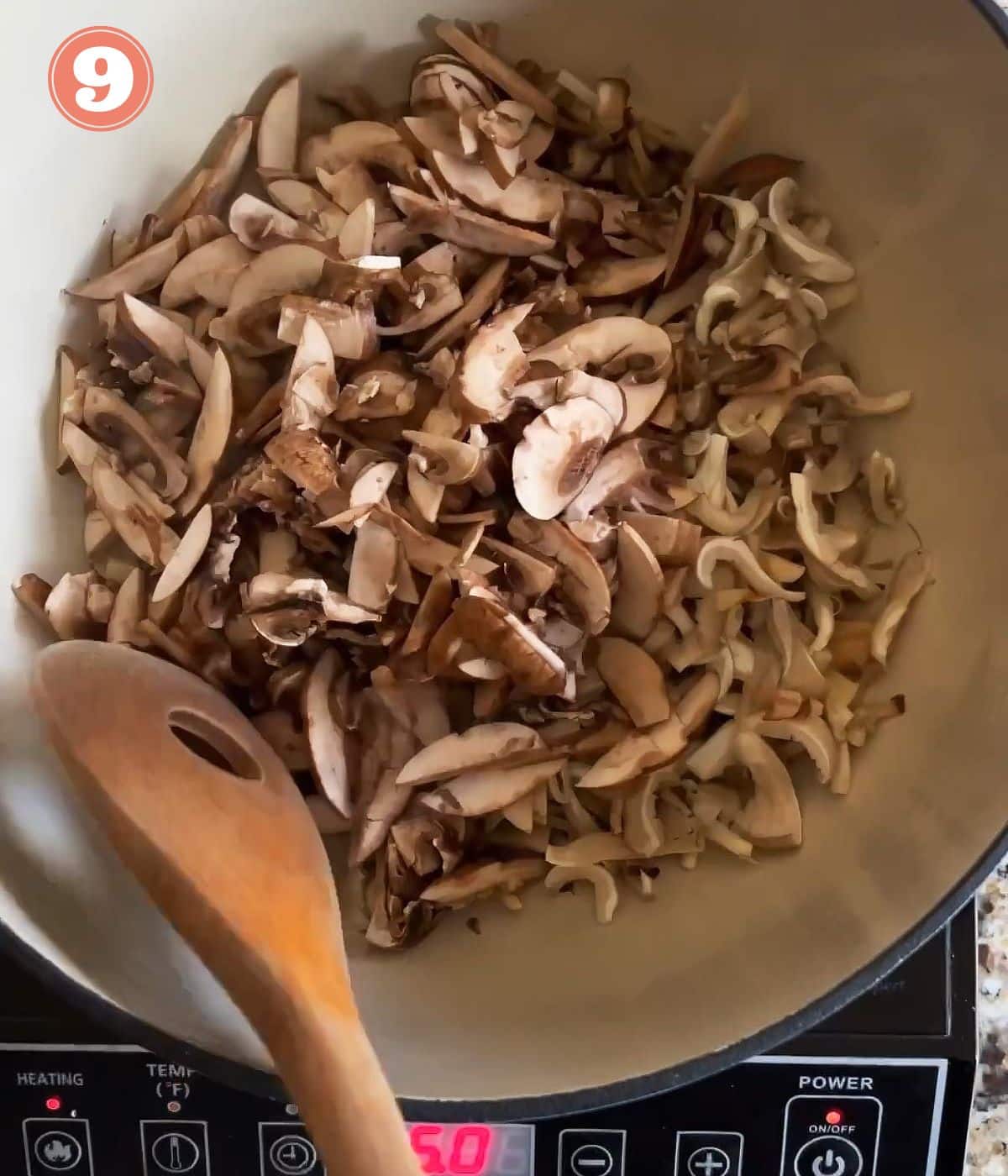 Saute mushrooms in a large skillet or pot with avocado oil until golden brown.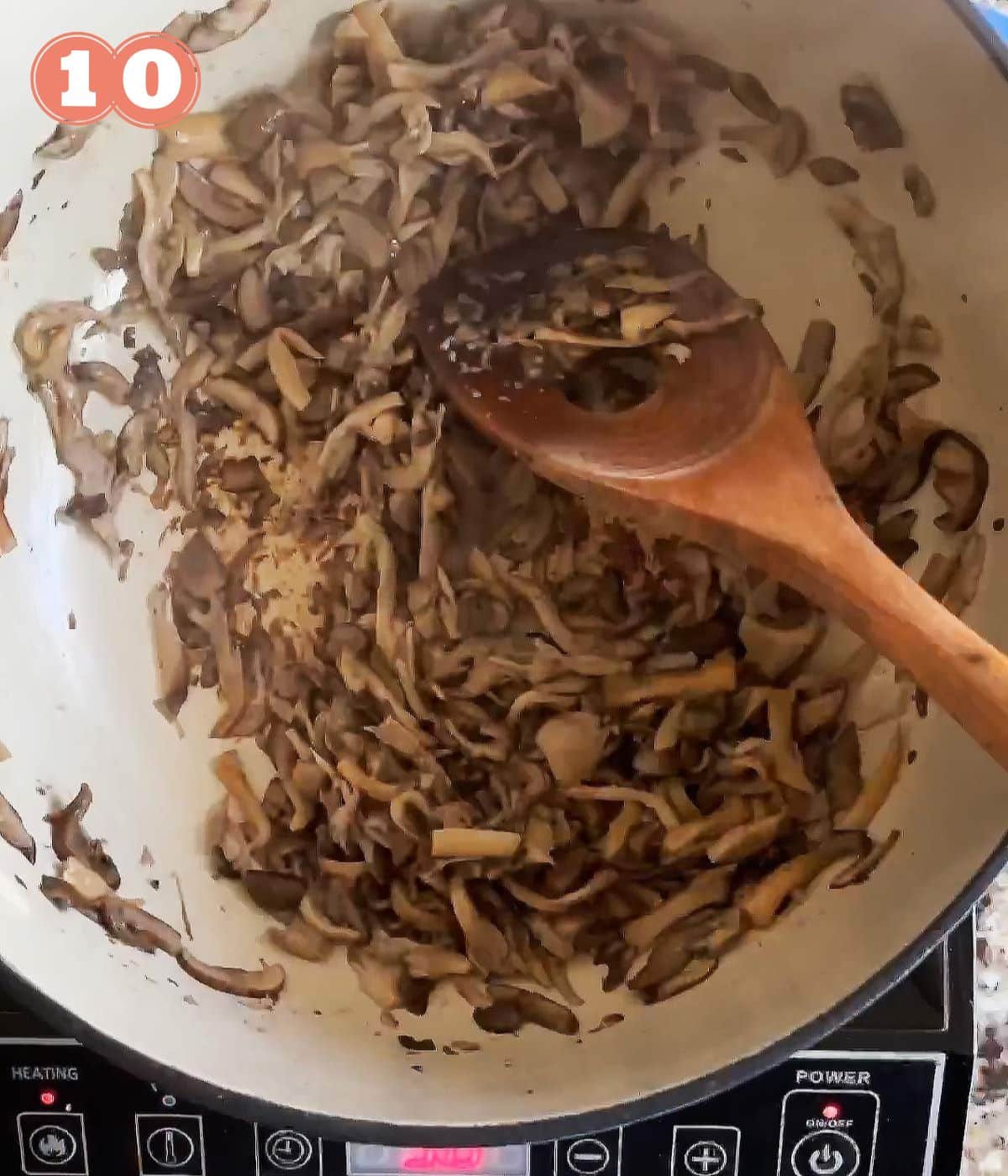 Add the jackfruit and cook until golden brown.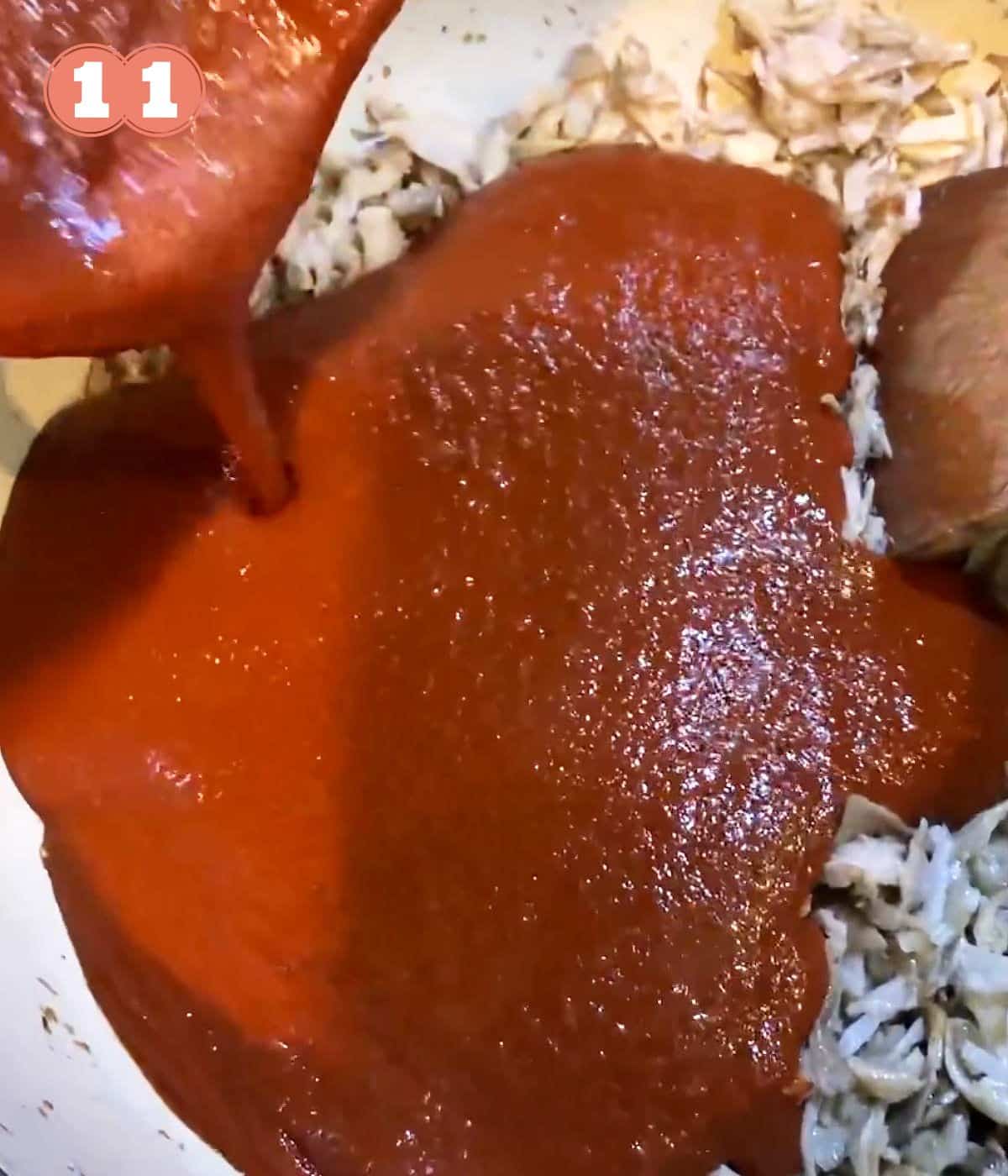 Pour in the sauce and let it simmer for 2 to 3 minutes.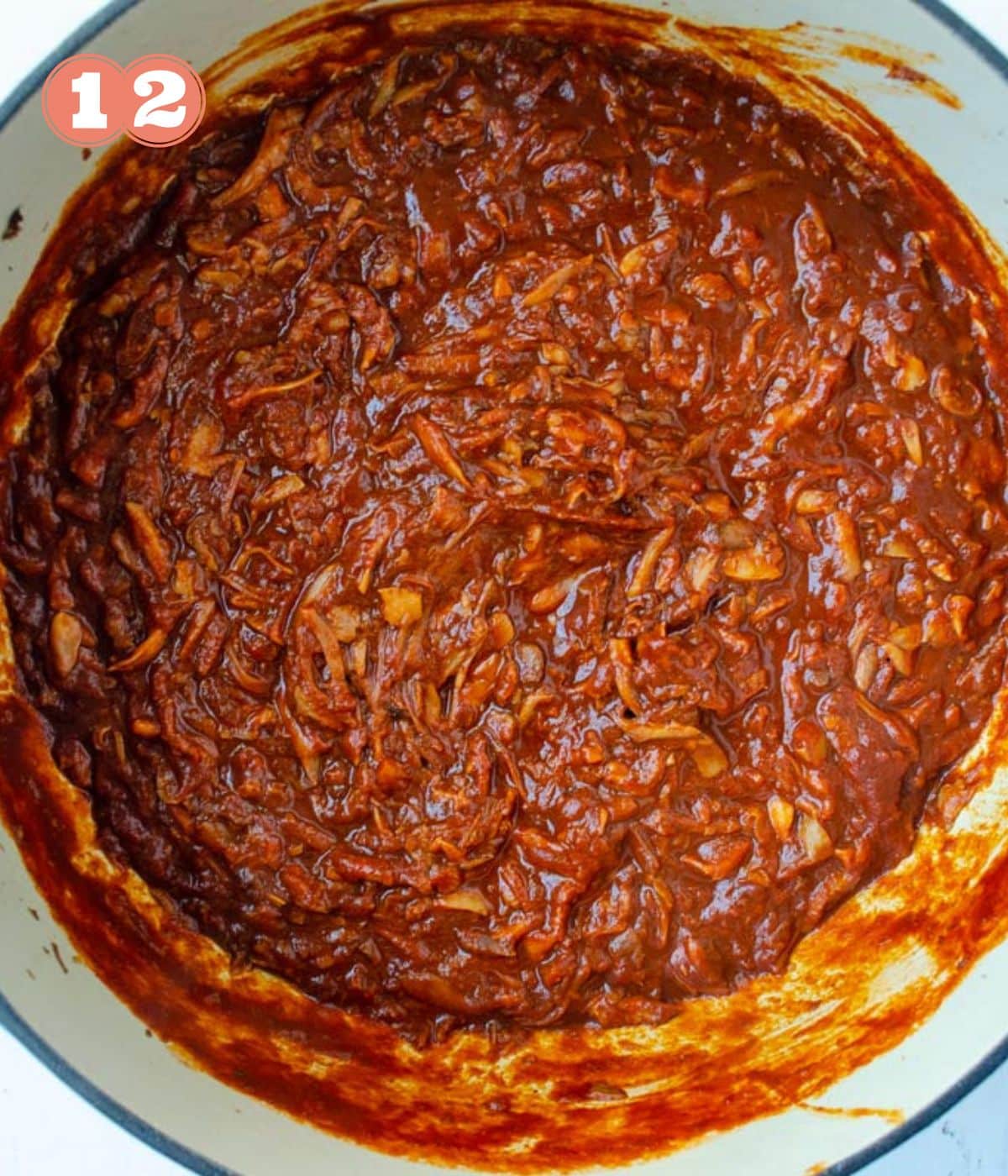 Pour in vegetable broth and simmer for 25 minutes.
How to Make Vegan Quesabirria Tacos
Dip the tortilla in the birria broth.
Transfer to a skillet heated over medium-high heat.
Add cheese.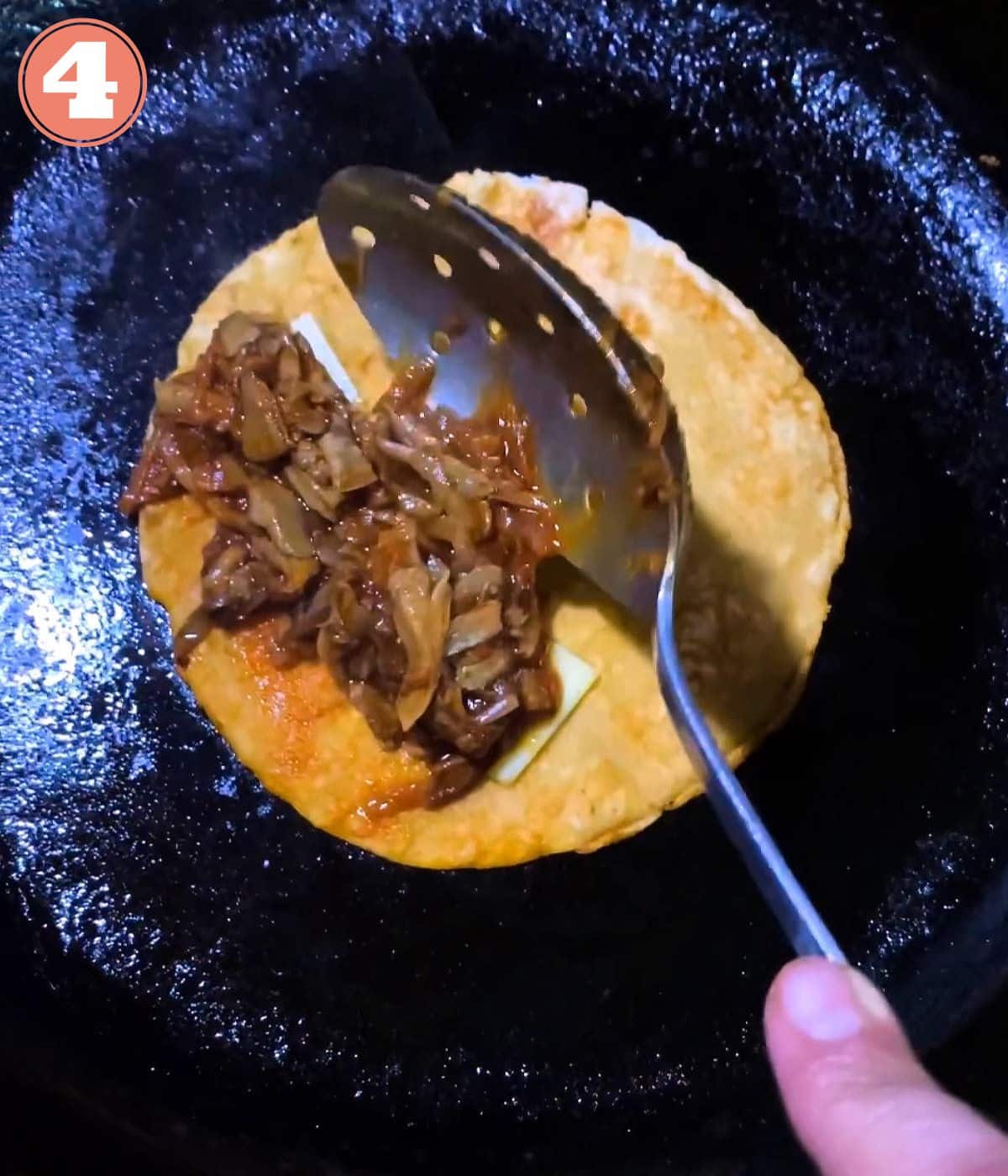 Drain some of the birria "meat" and add it to the tortilla.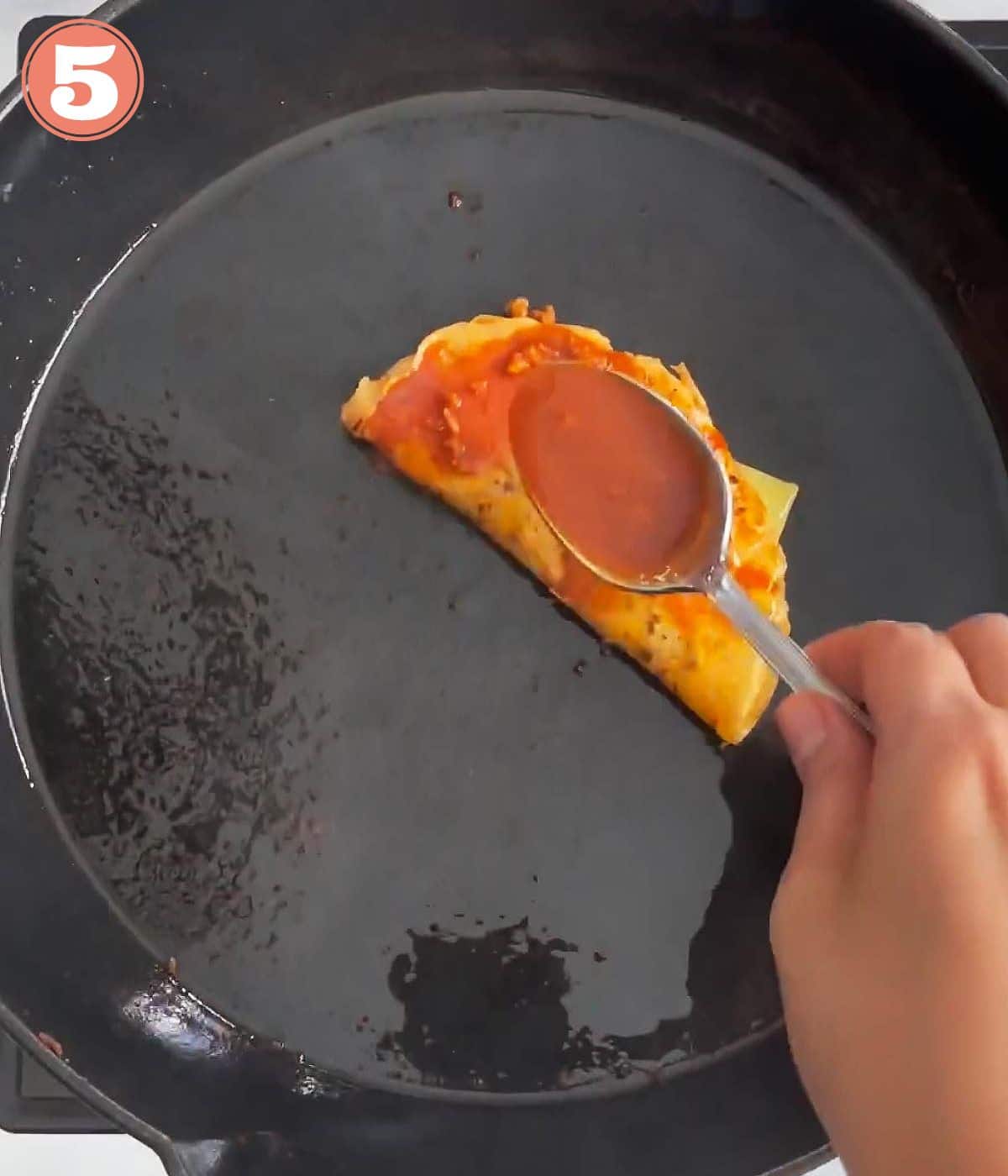 Fold the quesadilla in half and pour some broth over it. Let it cook for 2 to 3 minutes or until it begins to char and crisp.
Dip it on some of the birria broth.
SERVING
There are three ways to serve this.
Serve as a Soup: You can serve it in a big bowl with lots of broth, topped with diced onion, oregano, and a side of lime wedges.
Serve in tacos: Strain some of the "meat" and serve it on fresh corn tortillas, topped with cilantro and white onion, and a side of broth also known as consomé.
Serve in quesabirrias: Make quesadillas filled with the "meat" and serve with a bowl of broth to use as a dipping sauce.
STORING
You can store in the fridge in an airtight container for up to 4 days and in the freezer 6 months.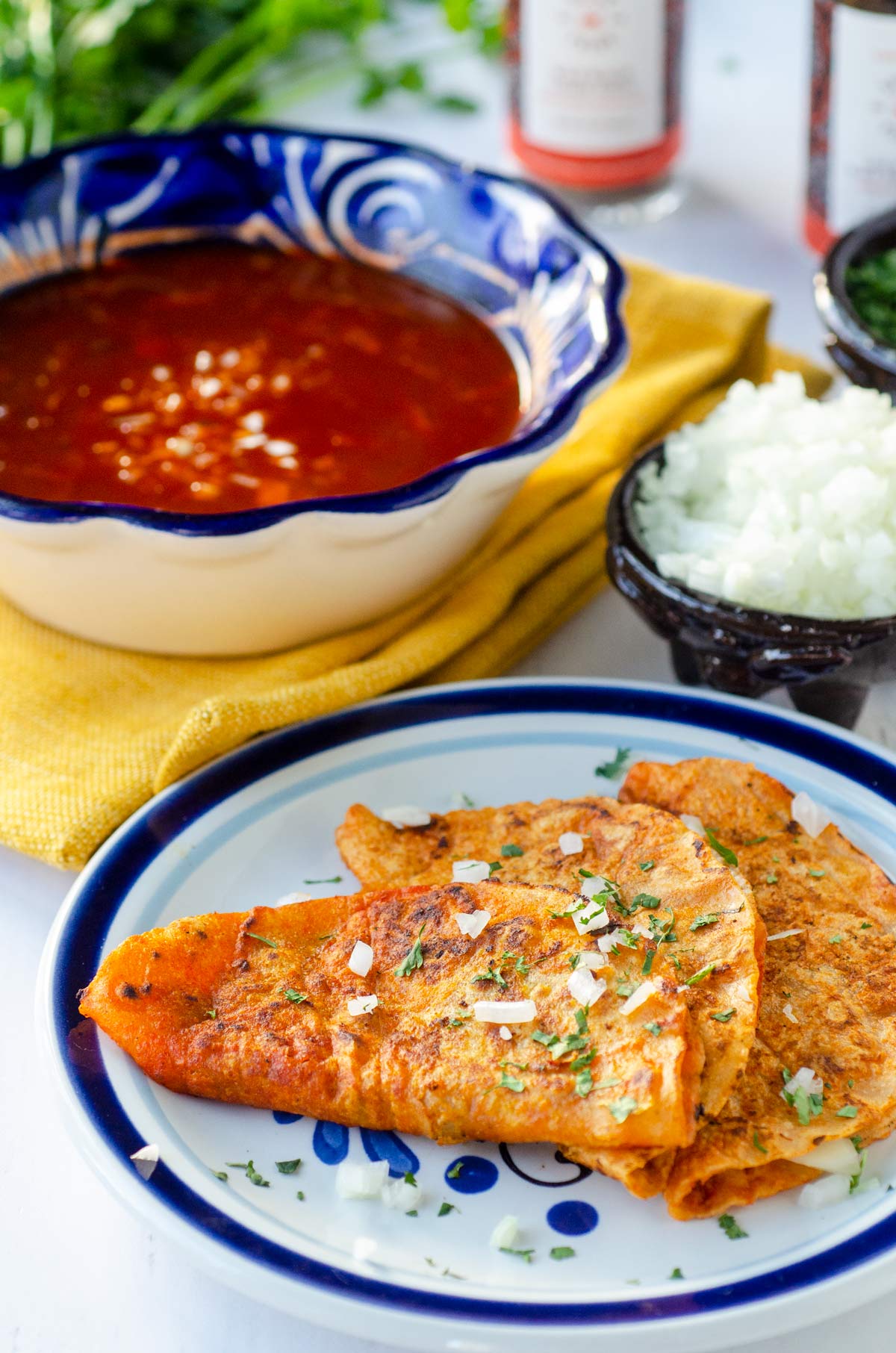 More Vegan Tacos to Try
Vegan Birria Tacos and Quesabirrias
A mixture of shredded oyster mushrooms and jackfruit is simmered in a sauce of dried chiles, spices, and roasted tomatoes, then served in warm corn tortillas.
Pin Recipe
Print Recipe
Ingredients
Jackfruit:
1

can (20 oz.)

Young green jackfruit in brine, drained

½

White onion,

peeled

1

Bay leaf
Sauce:
2

Chile ancho,

dried, deseeded, destemmed

5

Guajillo chiles,

dried, deseeded, destemmed

1

Pasilla chile,

deseeded, destemmed

2-3

Morita,

chiles dried (depending on how spicy)

4

Roma tomatoes,

medium

5

cloves

Garlic,

unpeeled

½

White Onion,

peeled

5

Allspice,

whole

10

Black peppercorns

2

Cloves,

whole

½

tsp.

Cumin seeds

1

stick

Ceylon cinnamon

(1 inch long)

¼

tsp.

Marjoram,

dried

¼

tsp.

Thyme,

dried

½

tsp.

Oregano,

dried

¼

tsp.

Ground ginger

2

Bay leaves

¼

cup

Apple cider vinegar

2

tbsp.

Vegetable oil

2

lb.

Oyster mushrooms,

pulled into shreds

3

-4 cups

Vegetable broth or stock
Serve:
½

cup

Chopped cilantro

½

cup

Diced white onion

12

Corn tortillas

4

Slices

vegan cheese

(optional)
Instructions
To make jackfruit:
Drain the jackfruit and rinse it with water. Cut the core of the jackfruit (tip of the triangle pieces). Remove the seed pods and shred them with your hands. Place in a medium pot and cover with water. Add the half onion and bay leaf. Bring to a simmer, and simmer slowly for 10 minutes. Remove from heat, drain, and let cool slightly. Squeeze all the water out with your hands or by placing it in a towel. Set aside
To make the sauce:
Set a cast-iron pan or comal at medium-high heat. Toast the chiles for a couple of seconds on each side until they began to change color. Place them in a pot and cover them with water. Bring to a boil and turn the heat off. Let soak for 10 minutes.

In the same cast-iron pan, place the tomatoes, garlic, and ½ an onion and let char on both sides until they are slightly blackened on all sides. (The garlic will take less time than the rest of the ingredients.) Peel the garlic and place these ingredients in the blender.

Toast the allspice, peppercorns, cloves, cinnamon stick, and cumin seeds in a small sauté pan set to medium heat until fragrant. Add to the blender.

Add the marjoram, thyme, oregano, ginger, bay leaves, and apple cider vinegar to the blender. Drain the chiles, but reserve the liquid. Add the chiles to the blender and 1 ½ cups of the chile soaking liquid. Blend until smooth. If necessary add more liquid to get a smooth puree. Strain and set aside.

Set a large pot to medium-high heat, add oil. Sauté mushrooms in batches until they are golden brown and slightly crispy. Remove from pot and set aside. Add more oil to the pot and sauté the jackfruit until golden brown. Add the mushrooms back into the pot, lower heat, and pour in chile puree. Stir. Let simmer for 2- 3 minutes, then add the vegetable stock. I like mine very brothy, but if you like your thick add less veg stock. Bring to a simmer, and let cook for 25 minutes. Season to taste with salt and pepper.
To serve:
To serve in tacos: Drain some of the mushroom meat, heat tortillas, and make tacos. Sprinkle them with cilantro and onion, and serve with a bowl of broth to dip in.

To serve in quesabirrias: Drain some of the mushroom meat and set aside. Heat a sauté pan to medium-high heat and add 1 tsp. of oil. Dip the tortilla in the hot broth and place in the sauté pan immediately, place a slice of cheese on one side of the tortilla, and add 1 tbsp. of mushroom meat. Use a spatula to fold over the other side of the tortilla to form a quesadilla. Let cook for 2 more minutes then flip it. Cook until the cheese is melted and the tortilla is slightly blackened. Sprinkle them with cilantro and onion, and serve with a bowl of broth to dip in.
Notes
To make this vegan birria I decided to substitute the meat with a mixture of jackfruit and shredded oyster mushrooms, but you could do all mushrooms or all jackfruit
You can store it in the fridge for up to 4 days and in the freezer 6 months.
To make this no-oil, omit the oil when sauteing the mushrooms and use a non-stick pan instead. If the mushrooms begin to stick, add a little bit of broth. 
Work ahead: You can make the sauce the day before and store it in the fridge to save time. The next day follow the recipe where you left off.
Nutrition
Serving:
3
tacos
|
Calories:
334
kcal
|
Carbohydrates:
54
g
|
Protein:
11
g
|
Fat:
11
g
|
Saturated Fat:
5
g
|
Sodium:
207
mg
|
Potassium:
1228
mg
|
Fiber:
14
g
|
Sugar:
11
g
|
Vitamin A:
4877
IU
|
Vitamin C:
14
mg
|
Calcium:
108
mg
|
Iron:
5
mg
Although dorastable.com attempts to provide accurate nutritional information, these figures should be considered estimates.