I'm still recovering from the Christmas and New Year celebrations. I can't seem to catch up with the kid's school work or any of my work for that matter. We spent almost 3 weeks in Mexico with my family, and it was incredible, as always. The kids were spoiled rotten by their grandparents and so was I. Since I didn't have to cook, clean or do laundry while I was there, we spent many hours sitting around in our pijamas, sipping hot tea and chatting, while the kids ran amok like wild animals.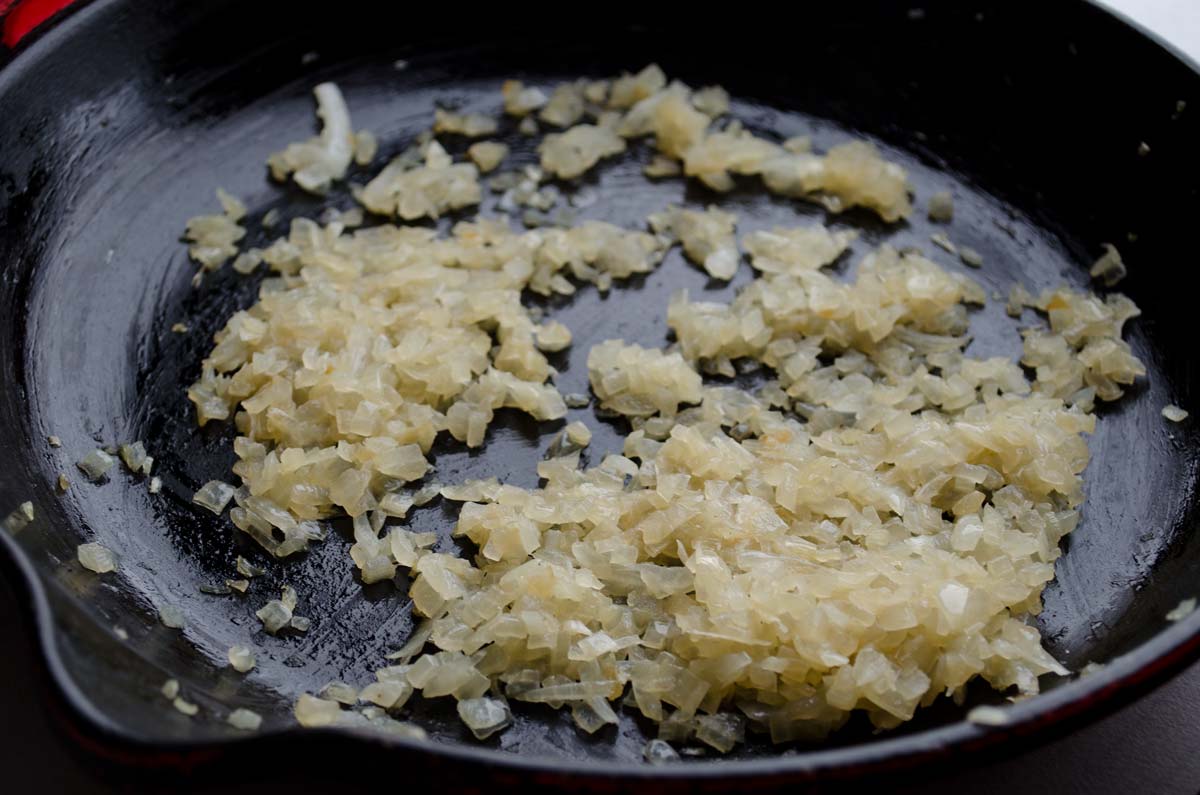 The hubby and I were even able to get away for a couple of days and go to Austin. It had been 6 years since we had been without the kids for more than a day! We kind of fell in love with Austin a little bit. It's a pretty cool town. Once we got back to California I was so sad. It hurts to be so far away from family, it's not right. I miss them terribly.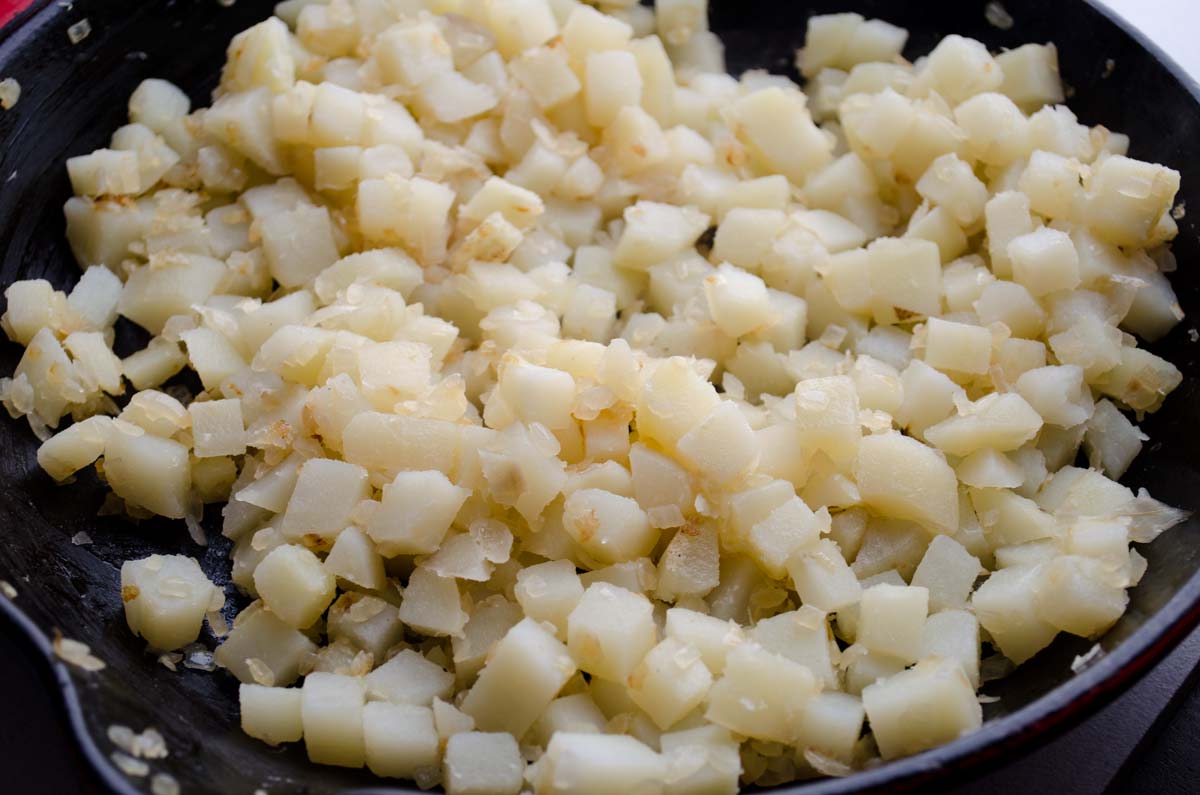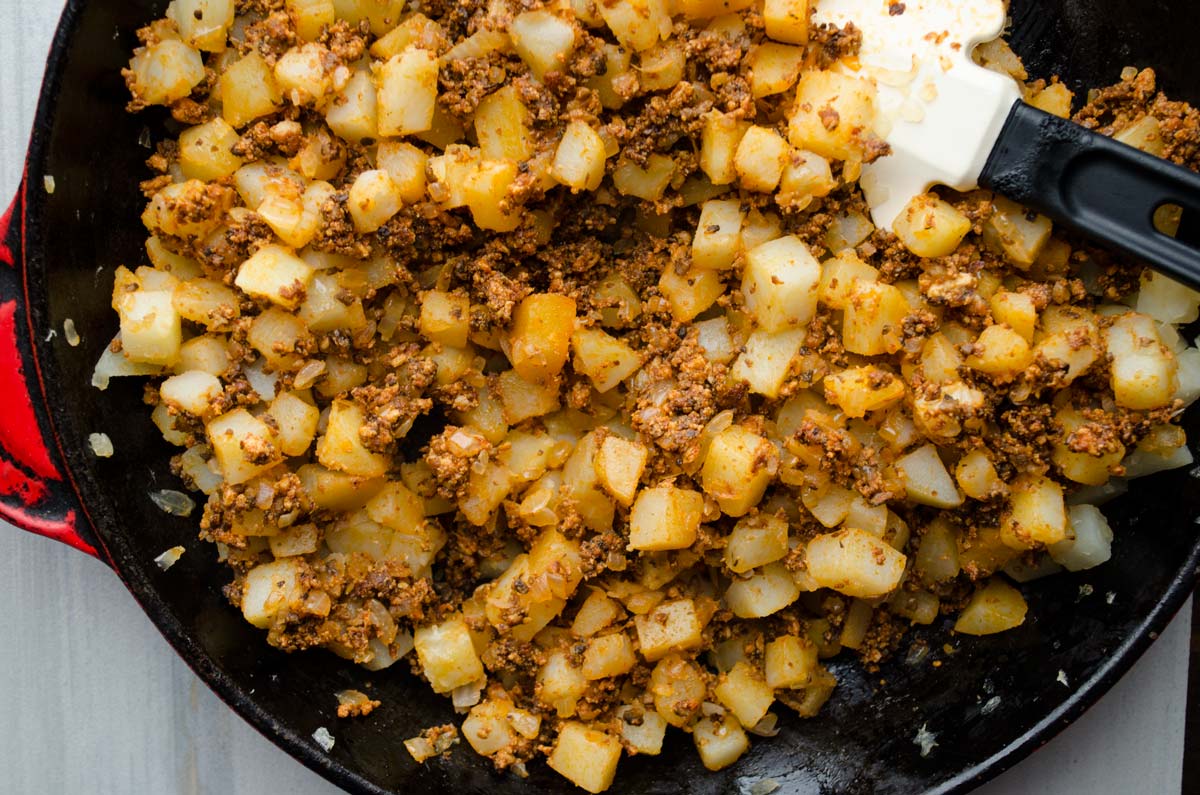 However, I did return with a renewed mission or purpose for this blog. My mother (the reason I started this blog) has continued to have health problems. This is motivating me to keep going and to keep creating delicious vegan Mexican recipes that my mom would like to eat, in the hope that maintaining a vegan (plant-based) diet can help improve her health. Just like my mom and I, there are many others who would like to continue eating the foods they love and grew up with without sacrificing their health or the lives of animals. I hope this blog and these recipes can help other Latino families make the transition to a vegan (plant-based) way of life.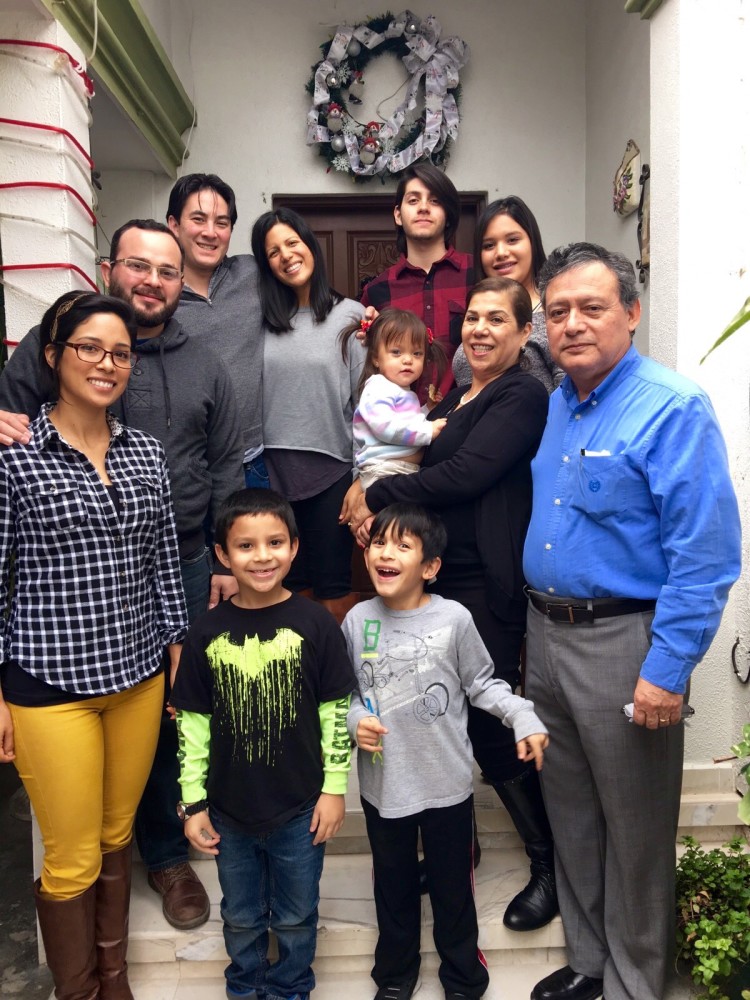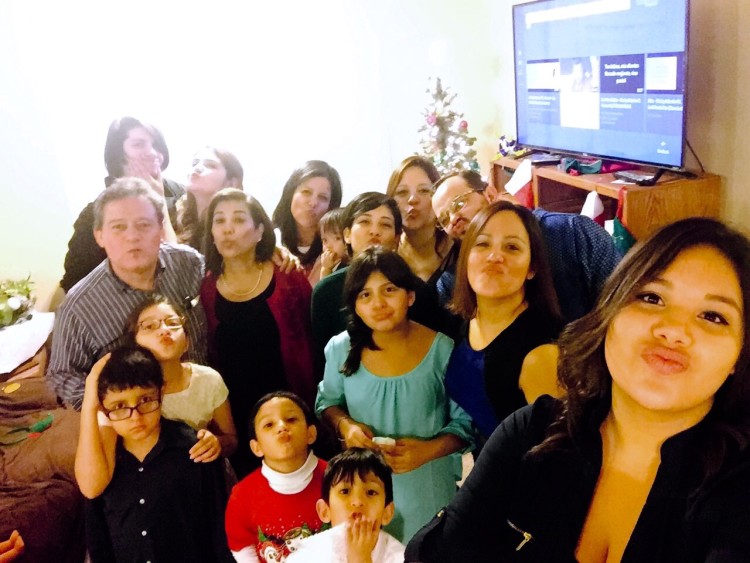 The Recipe: Vegan Potato and Chorizo Tacos
This is where these potato and chorizo tacos come in. Potatoes and chorizo or chorizo con papas is traditionally a breakfast dish, but I see no reason why this couldn't be a good lunch or dinner option. You can use store-bought vegan chorizo or you could make the homemade version. Either way, as soon as you mix the chorizo with the potatoes you will understand why this is such a popular dish in Mexico. Serve the crispy bits of spicy chorizo mixed with the slightly golden potatoes on a warm tortilla and top with salsa. Make sure you have good tortillas though. My favorite tortillas right now are the Tortilla Land uncooked corn tortillas. It really is like eating your tortillas recién hechas (just made). Enjoy!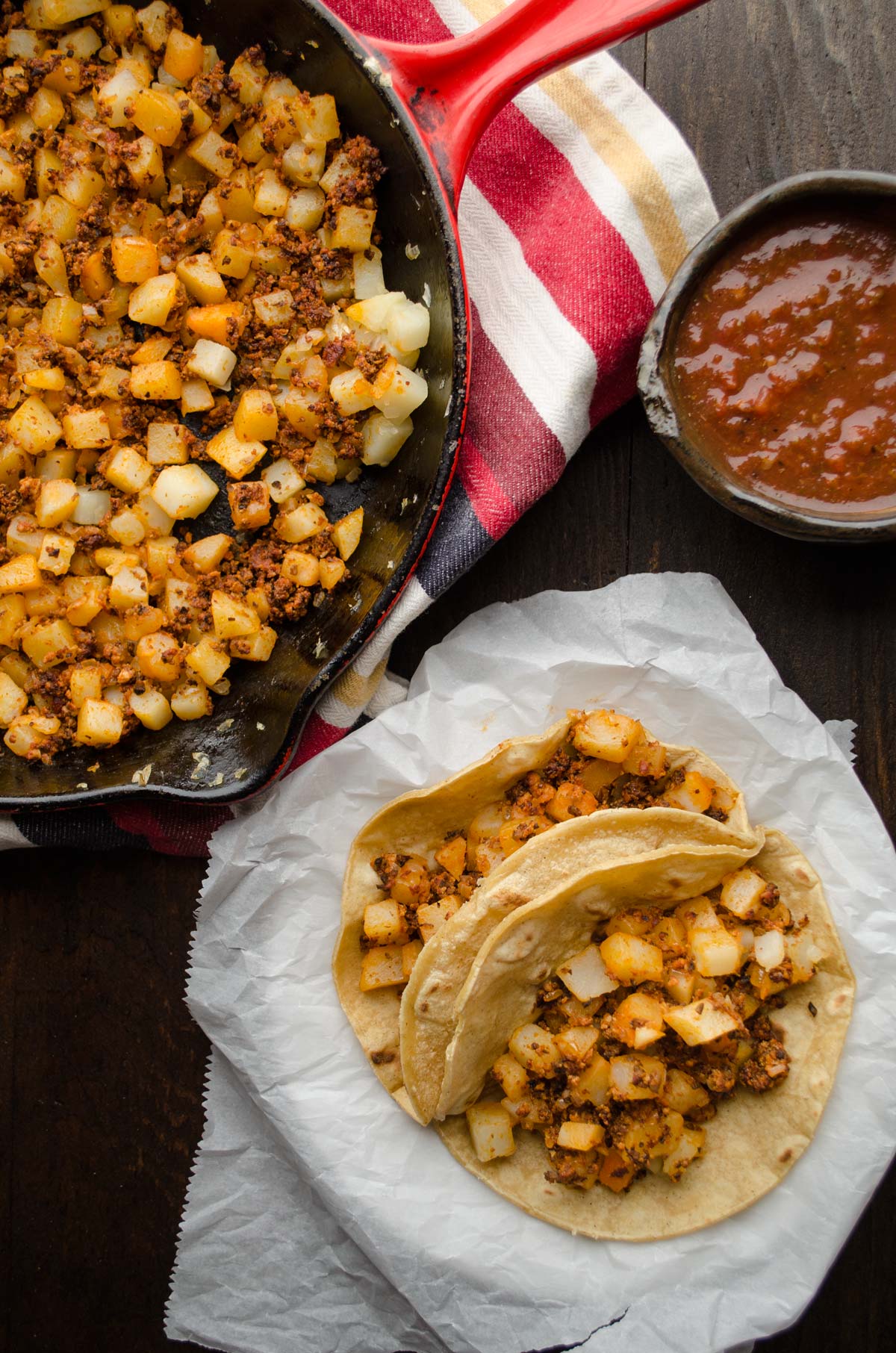 Potato and Chorizo Tacos
Potatoes and chorizo or chorizo con papas is traditionally a breakfast dish, but I see no reason why this couldn't be a good lunch or dinner option. 
Pin Recipe
Print Recipe
Ingredients
1

tbsp.

Vegetable oil

optional

1

cup

Onion

white, minced

3

cups

Potato

peeled, diced

1

cup

Vegan chorizo, cooked

(see note)

12

Corn tortillas

1

cup

Your favorite salsa
Instructions
Heat 1 tbsp. of oil in a large sauté pan at medium-low heat. Add onions and cook until soft and translucent, about 10 min. It's ok if they brown a little bit.

While the onions are cooking, place your cut potatoes in a small saucepot with salted water. Bring the water up to a simmer at high heat. Lower heat to medium and let the potatoes cook for 5 minutes.

Drain the potatoes and add them to the pan with the onion. Turn heat up to medium-high. Cook potatoes and onions for 5 minutes or until the potatoes begin to brown. Add more oil if necessary.

Add cooked chorizo to the pan and mix well. Cook for one more minute.

Season with salt and pepper.

Serve with warm tortillas and the salsa of your choice.
Nutrition
Calories:
414
kcal
|
Carbohydrates:
73
g
|
Protein:
14
g
|
Fat:
10
g
|
Saturated Fat:
1
g
|
Polyunsaturated Fat:
6
g
|
Monounsaturated Fat:
2
g
|
Trans Fat:
1
g
|
Sodium:
714
mg
|
Potassium:
1197
mg
|
Fiber:
13
g
|
Sugar:
6
g
|
Vitamin A:
318
IU
|
Vitamin C:
35
mg
|
Calcium:
146
mg
|
Iron:
4
mg