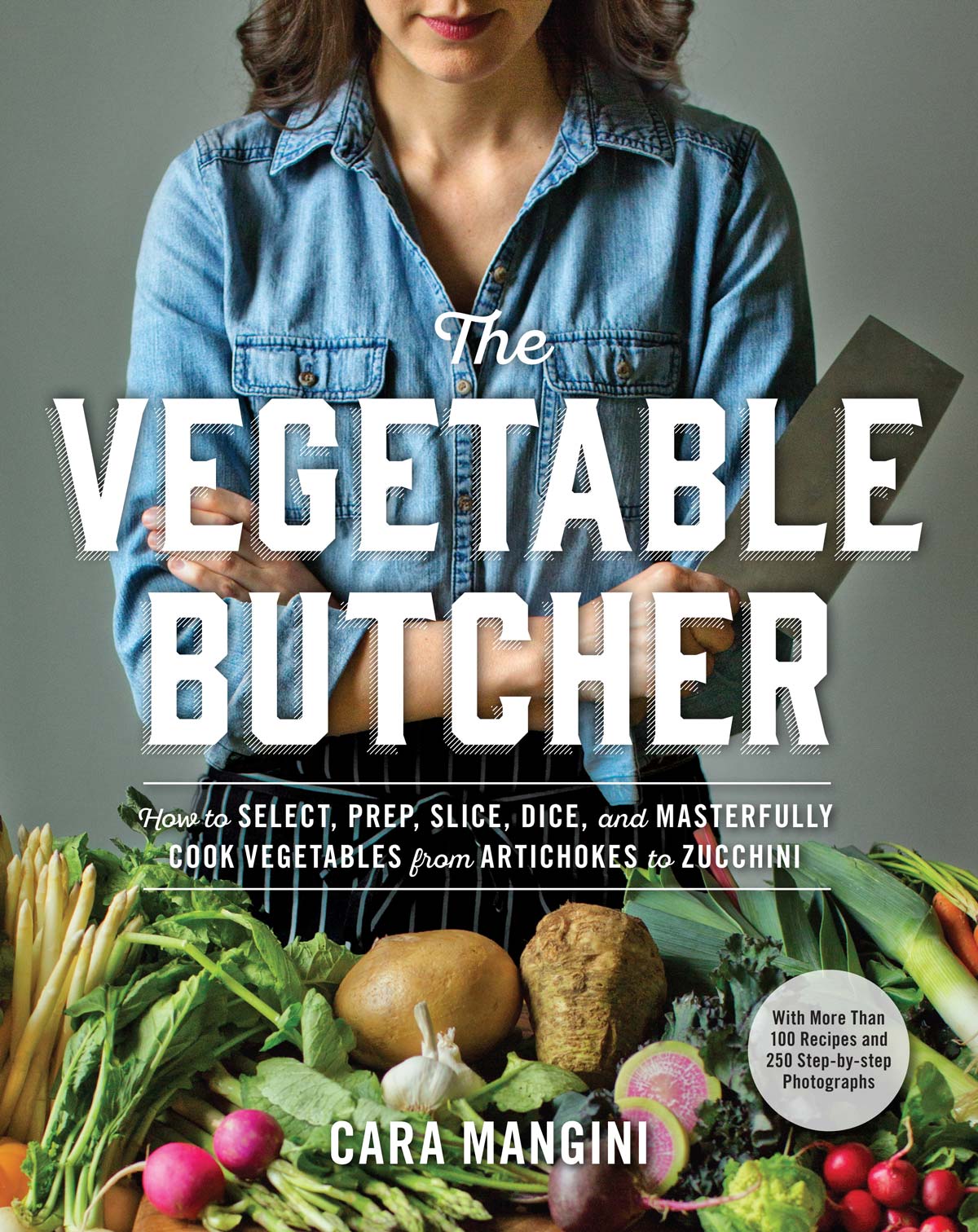 This is the book I've been waiting for! Whenever somebody approaches me about wanting to transition to a vegan or vegetarian diet I can see the concern in their faces. Vegetables, all you eat is vegetables? The problem with vegetables is not that they are not tasty, it's that hardly anybody knows how to prepare them. Vegetables are some of the most versatile of all natural food items. Just think of the countless dishes and recipes that you can make using just potatoes. This book does a great job of demystifying vegetables and offering practical ways of preparing them in your own home.
Parsnip and Ginger Cake. Photo by Matthew Benson
The Vegetable Butcher was written by Cara Mangini. Cara comes from a family of old school butchers, and over the years found that her passion was in vegetables not meat. She trained as a professional chef and worked in New York, St. Helena, and now Columbus, OH, where she runs her own produce stand and vegetable centric restaurant, Little Eater Produce and Provisions. She has spent years devoted to teaching and helping others discover how to make delicious meals from vegetables.
Grilled Smothered Artichokes. Photo by Matthew Benson
Her book takes you through 53 vegetables from A to Z detailing the season in which the vegetable can be found, the varieties, and how to select and store them. There are also step-by-step pictures on how to prep and breakdown these vegetables, cooking methods that can be used to cook them, and several recipes where you can put your new found knowledge to use.
Potato Gnocchi. Photo by Matthew Benson.
I really enjoyed the crisp pictures, the detail in which each vegetable is approached, and the recipes. Even though the recipes are not necessarily vegan, they can be easily adapted. I can't really say I disliked any part of the book, rather I wish the less accesible vegetables like crosnes had been left out and more emphasis had been given to other vegetables, like how to prep and work with a greater variety of mushrooms.
I loved Cara's approach to being vegetable centric. There is no preachy speech on how you should eat more vegetables, there's no mention of saving animals, and there is one (only one) reference to health. Vegetables are spectacular. They can be luscious, sexy, satiating, and this book is just what you need to make that happen in your kitchen.
Jicama Grapefruit Salad
This jicama grapefruit salad with sweet soy dressing from The Vegetable Butcher  is refreshing, tangy, crunchy, and the right amount of sweet.
Jicama and Grapefruit Salad
This jicama grapefruit salad with sweet soy dressing from The Vegetable Butcher  is refreshing, tangy, crunchy, and the right amount of sweet.
Pin Recipe
Print Recipe
Ingredients
½

head

Red cabbage, cored, and neatly sliced

(about 6 cups ; see Notes)

1

tbsp.

Sea salt

plus extra as needed

¾

cup

Whole pecans

2

tbsp.

Canola or grapeseed oil

plus extra as needed

2

tbsp.

Brown sugar

¼

cup

Soy sauce

1

tbsp.

Rice wine vinegar

1

tbsp. + 1 tsp.

Freshly squeezed lime juice

plus extra as needed

1

tbsp.

Granulated sugar

1

tsp.

Minced garlic

¼

tsp.

Crushed red pepper flakes

or to taste

1

medium

jicama, cut into matchsticks or shredded

(about 3 cups)

2

medium

carrots, cut into matchsticks or shredded

(about 1 1⁄2 cups )

½

cup

Loosely packed fresh mint leaves

coarsely chopped

2

Pink grapefruits, skin and membranes removed

cut into segments (see Notes)

Freshly ground black pepper
Instructions
Place the cabbage in a large bowl, add 5 cups of water and 1 tablespoon of salt, and let stand for 15 to 30 minutes while you prepare the rest of the salad. (This will make the cabbage less chewy and more crisp.)

Place the pecans in a medium-size skillet over medium heat, and toast, stirring frequently (watch them closely to ensure they don't burn), until they become fragrant and golden, 4 to 6 minutes. Add 2 teaspoons of the canola oil and a generous pinch of salt and stir to coat the nuts. Add the brown sugar and continue to stir to melt the sugar and coat the pecans, about 2 minutes. Remove from the heat and spread out the pecans on a piece of parchment paper to cool. Coarsely chop them completely.

Meanwhile, whisk together the soy sauce, vinegar, lime juice, granulated sugar, garlic, and red pepper akes in a small bowl.

Toss together the jicama, carrots, and remaining 1 tablespoon plus 1 teaspoon of oil in a large bowl. Drain the cabbage well, wrap it in a kitchen towel to absorb excess moisture, and squeeze it with your hands to encourage softening. Add the cabbage to the jicama mixture, then drizzle with the dressing to taste and toss to coat. Add about three quarters of the mint and three quarters of the grapefruit, half of the pecans, and salt, pepper, and lime juice to taste. Toss to combine.

Transfer the salad to individual plates and top with the remaining mint, grapefruit, and pecans.
Notes
A food processor will cut down your prep time. For the cabbage, use the thinnest slicing disk and quarter cabbage half to fit in the feed tube. For the carrots and jicama, use the shredding disk. Cut the carrots into lengths to fit in the feed tube and stack them in the feed tube, horizontally, on their sides. Push them through to shred them. Do the same with the jicama, cutting it in half lengthwise, then cutting each half into thirds lengthwise to fit in the feed tube.
To segment (or supreme) grapefruit: Cut a small piece on both ends, and stand the grapefruit on its widest at end. Moving from top to bottom, slide your chef 's knife just under the skin, between the fruit and the pith, cutting them away and turning the fruit as you go until peel and pith are completely removed. Then hold the fruit in one hand, and slide your knife at about a 45-degree angle, between the fruit segment and its membrane, releasing it from both sides. If your grapefruits are particularly juicy, release the segments over a bowl to catch the juices.
Recipe courtesy of The Vegetable Butcher by Cara Mangini (Workman Publishing Company; April 19, 2016); reprinted with permission.
Nutrition
Calories:
278
kcal
|
Carbohydrates:
37
g
|
Protein:
5
g
|
Fat:
14
g
|
Saturated Fat:
1
g
|
Polyunsaturated Fat:
6
g
|
Monounsaturated Fat:
6
g
|
Sodium:
1539
mg
|
Potassium:
631
mg
|
Fiber:
11
g
|
Sugar:
19
g
|
Vitamin A:
5410
IU
|
Vitamin C:
92
mg
|
Calcium:
96
mg
|
Iron:
2
mg