I love tequila!! I really do, and I hate the negative reputation is has in this country. I've been drinking tequila since I was 15 yrs old, with adult supervision of course. My parents decided it was best to teach me how to drink tequila properly, before I turned 18 and went out into the world. I never got drunk off of it, at least not until college, which I totally blame on you eager American college kids. I'll spare you the drunk college stories for fear of embarrassing myself and others involved. Needless to say, I almost gave up tequila. Thankfully my mom started sending me bottles of sangrita to chase my tequila with, which reminded me that tequila, good tequila, is meant to be sipped and enjoyed. The best sangrita is the best tequila chaser you'll find. It is a combination of hot chiles, orange juice, onion, tomato juice, and just a touch of sugar. You can buy it pre-made, I recommend Viuda de Sanchez, or you can make it yourself.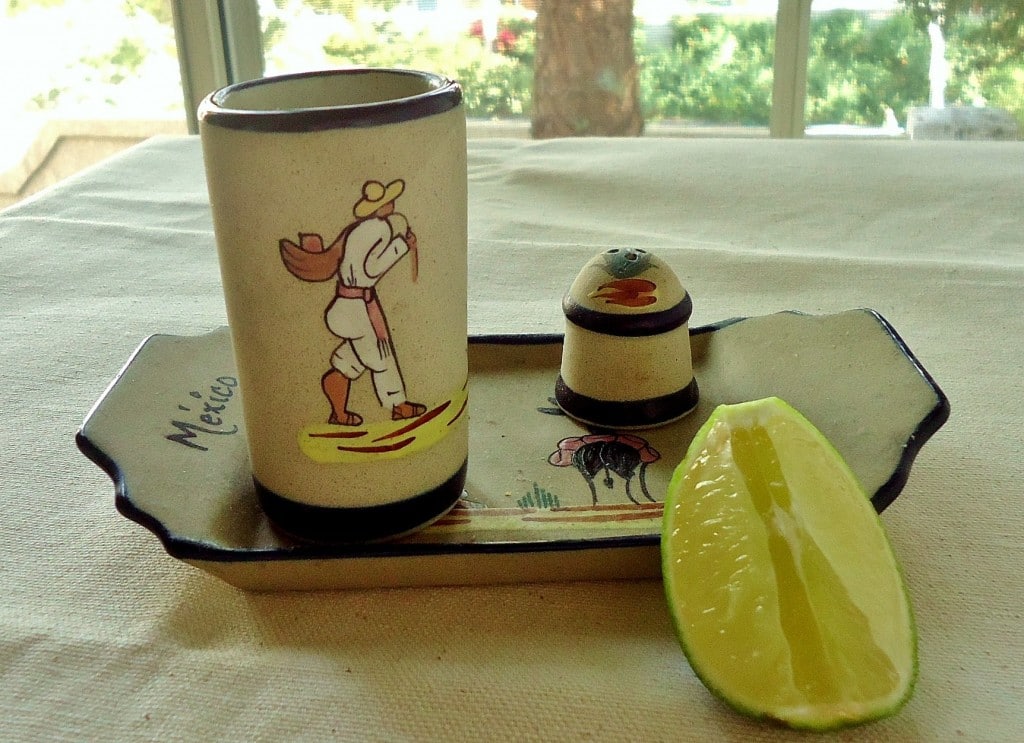 Now, let me introduce you to the many wonderful ways in which Mexicans drink their tequila. First there's the "bandera" or flag, it consists of 3 shots, one of lime juice, one of tequila, and one of the best sangrita. It is meant to be sipped but can also be shot. It's called a flag because of the colors reflect those of the Mexican flag: green, white, and red. The shot glasses are not your regular shot glasses either. They are known as "caballitos" or little horses. If you would like to know why, you can visit the Mexican Academy of Tequila for some interesting facts. All you really need to know is that while a regular shot glass fits one fluid ounce of liquor, the "caballito" fits one and a half. Another way to drink tequila is with lime and salt, lick the space between your thumb and your forefinger, add some salt, lick salt, take shot, and suck on a lime. Please don't call it training wheels, it drives me crazy, yes it's supposed to lessen the harshness of the alcohol, but tequila shouldn't be harsh. Surprised? This leads me to the final way of drinking tequila, which is, served in a snifter and sipped.
All of these ways of drinking tequila would be greatly improved if you invest in a good tequila. Try Corralejo or Don Julio Blanco for margaritas, the "bandera", and the salt-shot-lime version, or for any other mixed drink. Don Julio (my lover), also comes in Reposado, Anejo, and 1942. Don Julio 1942 is for sipping, and while quite expensive you should definitely try it t least once. If you're looking for a surprisingly smooth tequila try Clase Azul, plus it comes in a really unique bottle. I hope this helps and maybe persuades you to try tequila one more time before vowing never to touch it again.
The Recipe: The Best Sangrita Recipe
Sangrita
Pin Recipe
Print Recipe
Ingredients
2

cups

Tomato juice

1 1/2

cups

Orange juice,

fresh

1/2

cup

Lime juice,

fresh

2

tsp,

Onion

white, large, minced

1

tsp.

Worcestershire Sauce,

vegan

4

tsp.

Valentina,

Mexican hot sauce
Instructions
In a large bowl, combine all ingredients, whisk them together, and season.

Refrigerate.
Notes
Serve cold. The quality of the sangrita depends on the quality of the tomato juice, so get a good one.
Nutrition
Calories:
288
kcal
|
Carbohydrates:
71
g
|
Protein:
7
g
|
Fat:
1
g
|
Saturated Fat:
1
g
|
Sodium:
708
mg
|
Potassium:
2038
mg
|
Fiber:
3
g
|
Sugar:
52
g
|
Vitamin A:
2992
IU
|
Vitamin C:
311
mg
|
Calcium:
106
mg
|
Iron:
3
mg
Although dorastable.com attempts to provide accurate nutritional information, these figures should be considered estimates.