It has taken me some time to finally come up with an acceptable vegan version of Mexican hot chocolate. First, we tested different types of Mexican chocolates until we found the best one. Then we tested different types of plant milk until finally, we did it! This creamy, foamy, rich, and delicious vegan Mexican hot chocolate has a hint of cinnamon and just the right amount of sweetness.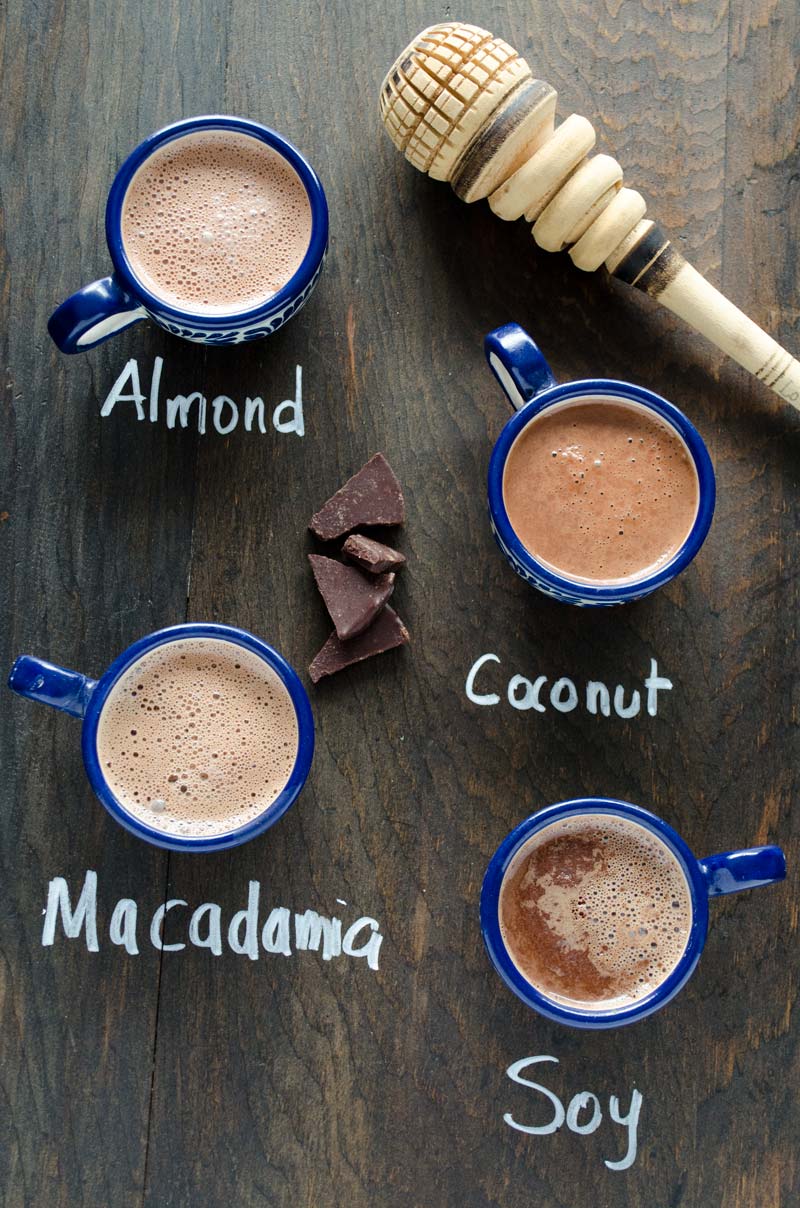 We tried 4 different types of plant milk for this recipe: coconut, almond, macadamia, and soy. I chose not to test rice and oat milk because I thought they would be too thin and watery. The almond milk was our least favorite, which was a surprise because I thought it was going to be the best one. The flavor was a little bit bitter, the texture thin, but it did foam up really well.
Our next least favorite was coconut milk. The coconut flavor completely overpowered everything, and the texture was almost too fatty. You could feel the fat coating your mouth, and not in a good way. The foam was average. One of our favorites was the macadamia nut milk. The flavor of the macadamia milk was very subtle, and the texture was creamy without being overpowering. The foam was average. Our favorite out of all of them was soy milk. This was a complete surprise to me. The soy milk really let the chocolate shine through, the texture was just the right amount of creamy, and the foam was thick and bubbly.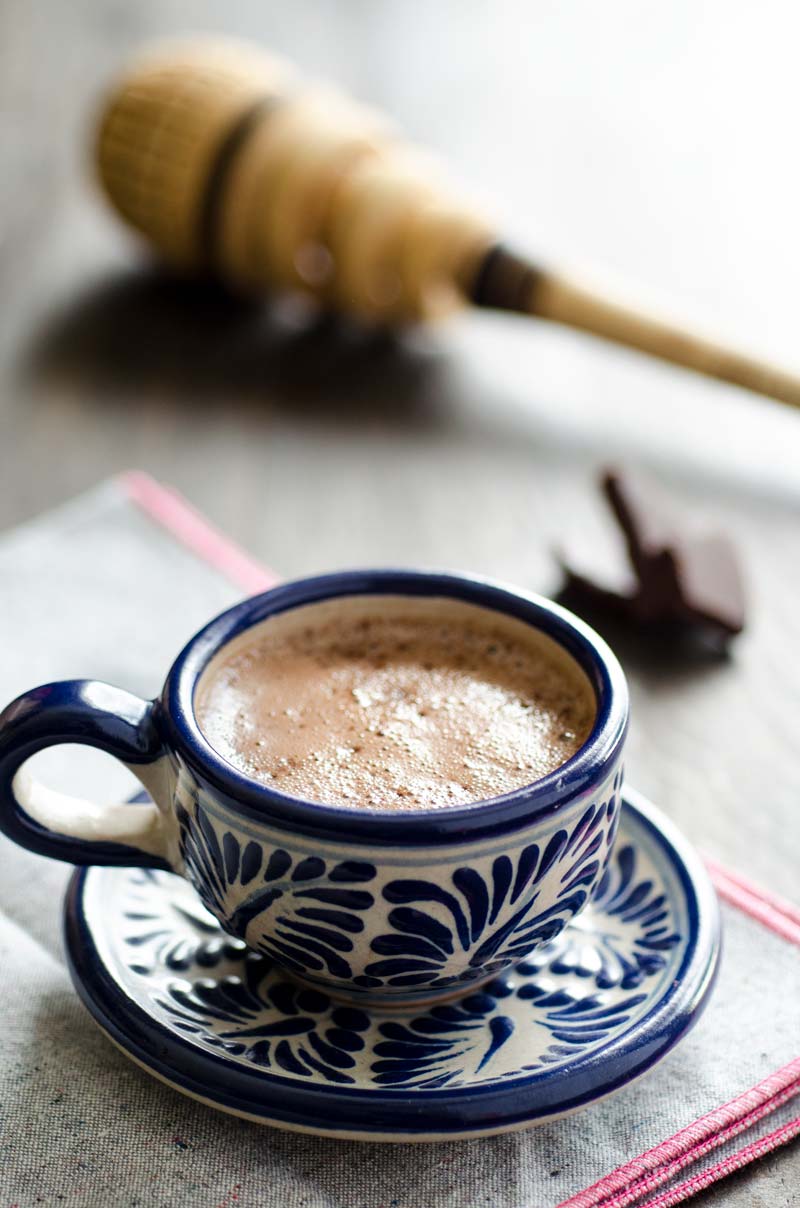 (Just on a side note: The beautiful napkin you see in the picture is from Kari of the site Beautiful Ingredient., a vegan blog focused on bringing in more plant- based meals into your daily life. The napkins are handmade and vegan. You can also find coasters, pot holders, and dishcloths. You can find them on her site or on her shop on Food52.)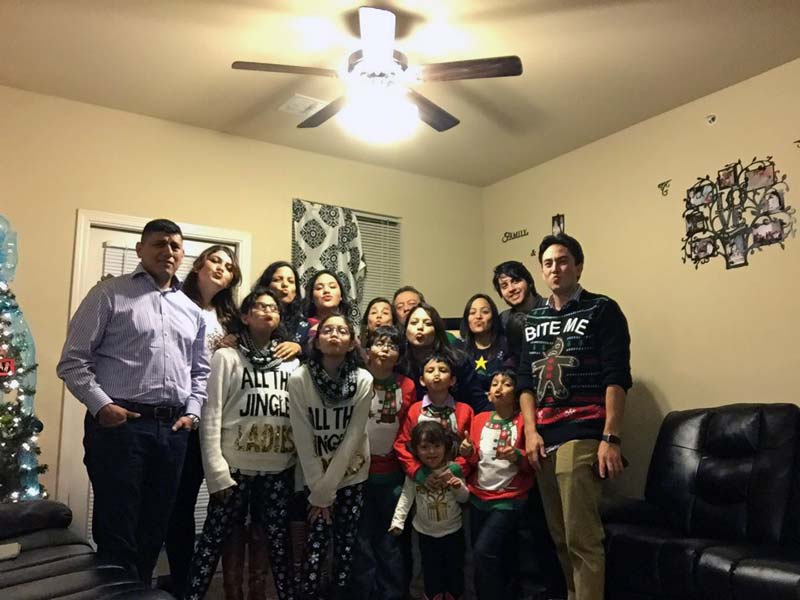 The family and I are still enjoying time at my parents' house and we are having a blast. Christmas and New Years were great, I didn't realize how much I really missed them, and how far away from Hawaii really is. It's time to get back to work though, and I've been busy trying to find the best spot to take pictures and start developing new recipes. I didn't make any New Years' resolutions this time, instead, I chose a word to keep me motivated the whole year. My word is perseverance: steadfastness in doing something despite difficulty or delay in achieving success. No matter what this year brings, good or bad, we will persevere. With God's help of course. How was your holiday?
The Recipe: The Perfect Vegan Mexican Hot Chocolate
To make this amazing vegan Mexican hot chocolate we used Hernan Mexican Chocolate, soy milk, and a hand blender to get the foam just right. If you are a traditionalist you can use a molinillo or if you prefer convenience you can use a blender. Serve with these marranitos de piloncillo or these vegan conchas.
The Perfect Vegan Mexican Hot Chocolate
The perfect frothy Mexican hot chocolate. Made with authentic Mexican chocolate.
Pin Recipe
Print Recipe
Instructions
In a medium sauce pot, heat the milk over medium heat until just about to simmer.

Add the chocolate tablillas to the pot.

Whisk until the chocolate dissolves. Be careful not to overheat the milk.

Remove the pot from the heat and froth with a molinillo, hand blender, or blender.

Serve while hot and frothy.
Nutrition
Calories:
111
kcal
|
Carbohydrates:
8
g
|
Protein:
7
g
|
Fat:
5
g
|
Saturated Fat:
1
g
|
Polyunsaturated Fat:
3
g
|
Monounsaturated Fat:
1
g
|
Sodium:
118
mg
|
Potassium:
341
mg
|
Fiber:
1
g
|
Sugar:
6
g
|
Vitamin A:
927
IU
|
Vitamin C:
17
mg
|
Calcium:
331
mg
|
Iron:
1
mg