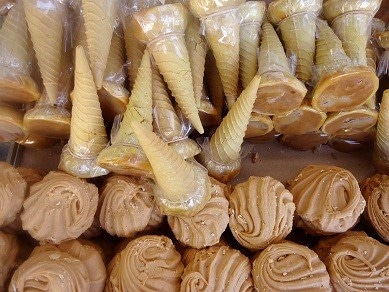 I'm beginning to think maybe I should call this a Mexican food blog. It's my last couple of days in Mexico and I'm sad to leave, but sooo looking forward to Cali. Everytime I come home I try to eat a little bit of everything, like the tacos al pastor they sell on the corner in front of Merco (a grocery store), the yukis (shaved ice) in front of the car wash on Hidalgo street, the mangonadas (mango and chile popsicles) at the Paleteria Aguirre (ice cream shop), and the elote en vaso (steamed mexican corn served with a chile mix, crema, butter, lime juice, and cheese), they sell outside of the Narvaez Hospital. Well, you get my point, I could go on and on. It's not a coincidence that all the foods I just named are street foods, street food is king in Mexico. In fact, some of the best food in Mexico is street food. Of course there are nice restaurants, cafe's, and taquerias (taco shops), but there's just something about simple, hot, just made, delicious food, that's hard to resist. It's the ultimate non-processed fast food.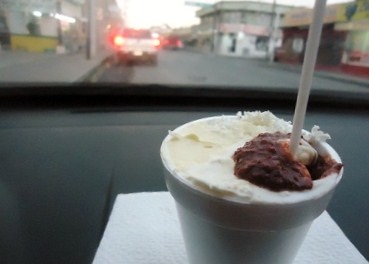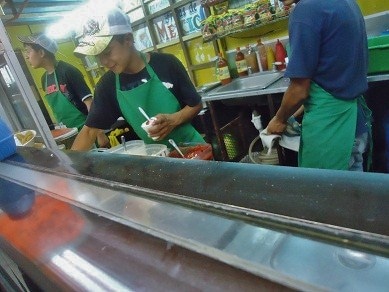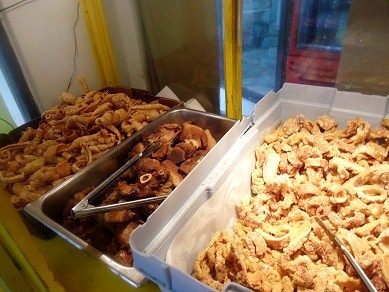 Once I leave Mexico, it seems that I spend the rest of the year, in my kitchen, trying to recreate every Mexican dish possible. This week's recipe is a simple salsa and a couple of cocktails. Chips and salsa in Mexico are not quite like chips and salsa in the U.S. Don't get me wrong, I actually like both versions, but they're just different. You can make your own authentic chips and salsa in less than 20 min. or as they're called in Mexico: totopos con salsa.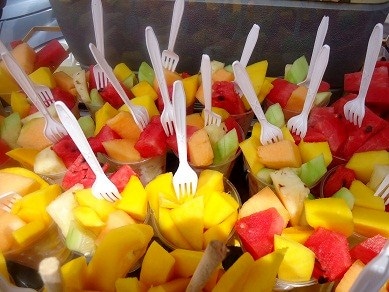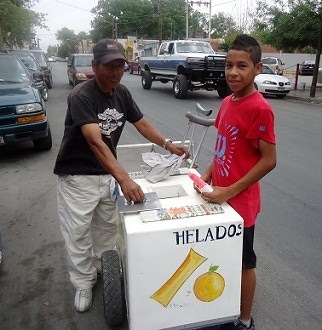 For the chips, buy a pack of corn tortillas, not the frozen ones please, and cut into quarters. Fry them in 350F oil until golden brown. Remove the chips from the oil and sprinkle them with salt.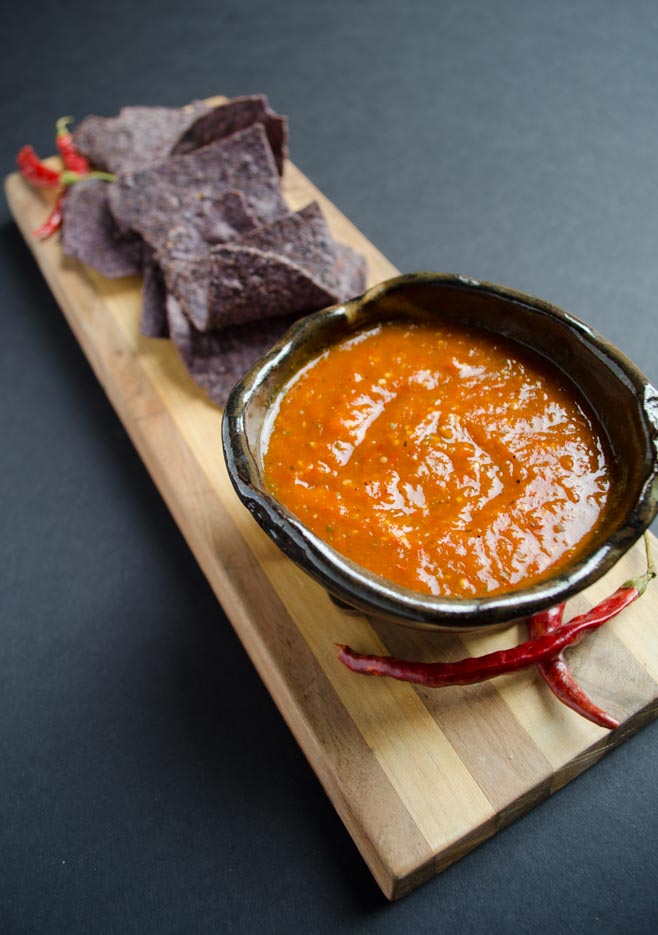 The Recipe: Chile de Arbol Salsa
Chile de Arbol Salsa
Pin Recipe
Print Recipe
Ingredients
8

Tomatillo,

husks removed

3

Garlic,

cloves, unpeeled

1/2

oz (3/4 cup)

Chile de Arbol

1/2

Onion. white chopped

2

tbsp.

Cilantro,

chopped
Instructions
Heat cast iron pan or griddle to high heat. Place tomatillos and garlic cloves in pan. Let the tomatillo's skin burn and blacken on all sides. The garlic needs to be only lightly toasted on each side, about 1 -2 min.

Remove garlic from pan, peel, and set aside.

Once the tomatillos are soft and mostly black, remove them from pan and place in a medium bowl. Cover with plastic wrap and let sit for 5 min.

Bring 3 cups of water to a boil in a small sauce pan.

Remove the stem and seeds from the chiles. Place them in the pot of boiling water and simmer from 5 to 7 minutes or until chiles are soft.

Drain the chiles from the water.

Place the tomatillos in the blender with the garlic, onion, cilantro, and chile de arbol. Blend, season, and add water is necessary to thin out sauce.
Notes
As an alternative you can place the tomatillos under the broiler in your oven for 15 to 20 min. until blackened and soft all over.
https://dorastable.com/wp-content/uploads/2011/05/chile-de-arbol-salsa2.jpg
464
700
Dora S.
https://dorastable.com/wp-content/uploads/2019/10/DORAS-TABLE-GUIDELINE-19.png
Dora S.
2011-05-18 18:29:29
2017-03-23 20:23:43
Chile de Arbol Salsa