3/12/12: We're going on a date tomorrow!! A real date. We will be joining the ranks of civilized people who eat without having to wrangle a 2 yr old while trying to enjoy a decent meal. We haven't had a real date in months. The last time we tried to spend some time alone we ended up dropping the munchkin off at the sitters and coming back home to watch TV. You can hardly call that a date. There is only one problem. I'm still not eating any kind of animal product. How will I be able to resist the cheese?? The soft and pungent Robiola or the nutty Pecorino.
Eating out on a plant based diet hasn't been difficult yet. In the past two weeks we have eaten twice at Native Foods in Aliso Viejo. Native Foods is a cafe that serves vegan food made from scratch. If it wasn't for this lenten experiment that we're conducting we would've never given Native Foods the time of day. Remember how I said I was going to try away from "fake" foods like vegan cheese and anything that slightly resembled a "real" food. Well, this restaurant has proved me wrong. They make an excellent seitan meatball sandwich, and their burger is not bad, not bad at all.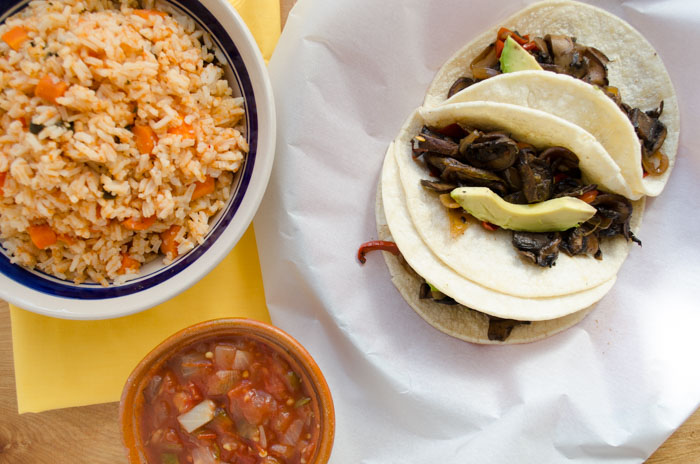 We also ate at Seabirds food truck, which basically serves vegan street food. I had a fried avocado taco, with a garlic aioli, and cole slaw. Their sweet potato fries were good, but the kale, apple, and currant salad was the best. Even though a fried avocado taco isn't exactly healthy it was a nice treat. Who knew vegans could be unhealthy as well??
This week we made:
Spicy Red Lentil Daal and Brown Basmati Rice
Ribollita
Cocoa Peanut Vegan Cookies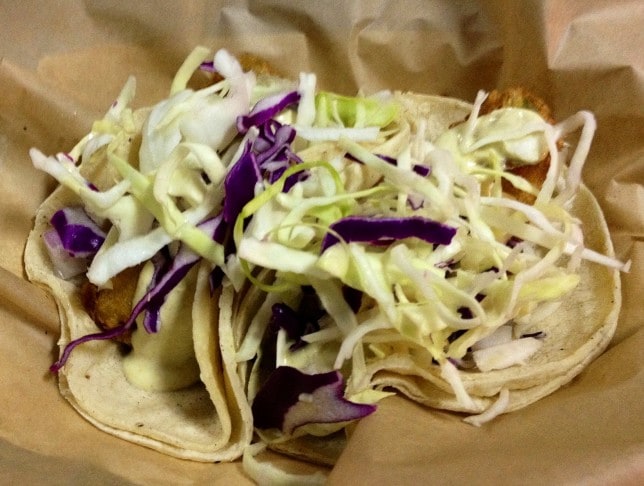 I have been looking for good vegan recipe sites or blogs and I came across HealthyHappyLife. The pictures are beautiful and the recipes I've tried so far have been excellent. They have a huge vegan recipe index with everything from breakfast to dessert.
3/14:  Dinner last night was great. I was weak and ended up eating all kinds of deliciousness. It was worth it.
Mushroom Fajitas
Mushroom is a great fajita filling. It soaks up your cooking flavors and has a great texture.
Pin Recipe
Print Recipe
Ingredients
1

tbsp.

Oil

(optional)

1

lb.

Button mushrooms

sliced 1/4 in. thick

1

lb.

Portobello mushrooms

sliced 1/4 in. thick

1

Yellow onion, thinly sliced

5

Garlic cloves, minced

2 ½

tbsp.

Soy sauce
Instructions
Set a large sauté pan to medium-high heat. Pour in oil. Add mushrooms when pan is hot and cook for about 3-5 min, until all the liquid released by the mushrooms has evaporated and they are golden brown

Remove mushrooms from pan.

Add onion into the pan and cook for 2-3 min. until slightly browned. Add garlic and peppers. Cook for 3-4 min. more or until the peppers are tender.

Place mushrooms back in the pan. Pour in soy sauce. Season with salt and pepper. Cook for 1-2 min.

Serve with tortillas, guacamole and roasted tomato salsa.
Notes
Feel free to add any variety of mushrooms or make your own combination.
Nutrition
Calories:
105
kcal
|
Carbohydrates:
12
g
|
Protein:
7
g
|
Fat:
5
g
|
Saturated Fat:
1
g
|
Polyunsaturated Fat:
3
g
|
Monounsaturated Fat:
1
g
|
Trans Fat:
1
g
|
Sodium:
534
mg
|
Potassium:
848
mg
|
Fiber:
3
g
|
Sugar:
6
g
|
Vitamin A:
1
IU
|
Vitamin C:
6
mg
|
Calcium:
22
mg
|
Iron:
1
mg