Pozole is a hearty, spicy, satisfying Mexican soup. It is said to be a hangover cure, which I cannot confirm, but it is certainly a special occasion dish and is often served on Christmas and New Year's. There are three varieties most commonly served: rojo, verde y blanco. Traditionally pozole is made with pork shank, trotters, and shoulder, but of course, this will no longer work for us, so I have created this jackfruit vegan pozole rojo recipe just for you.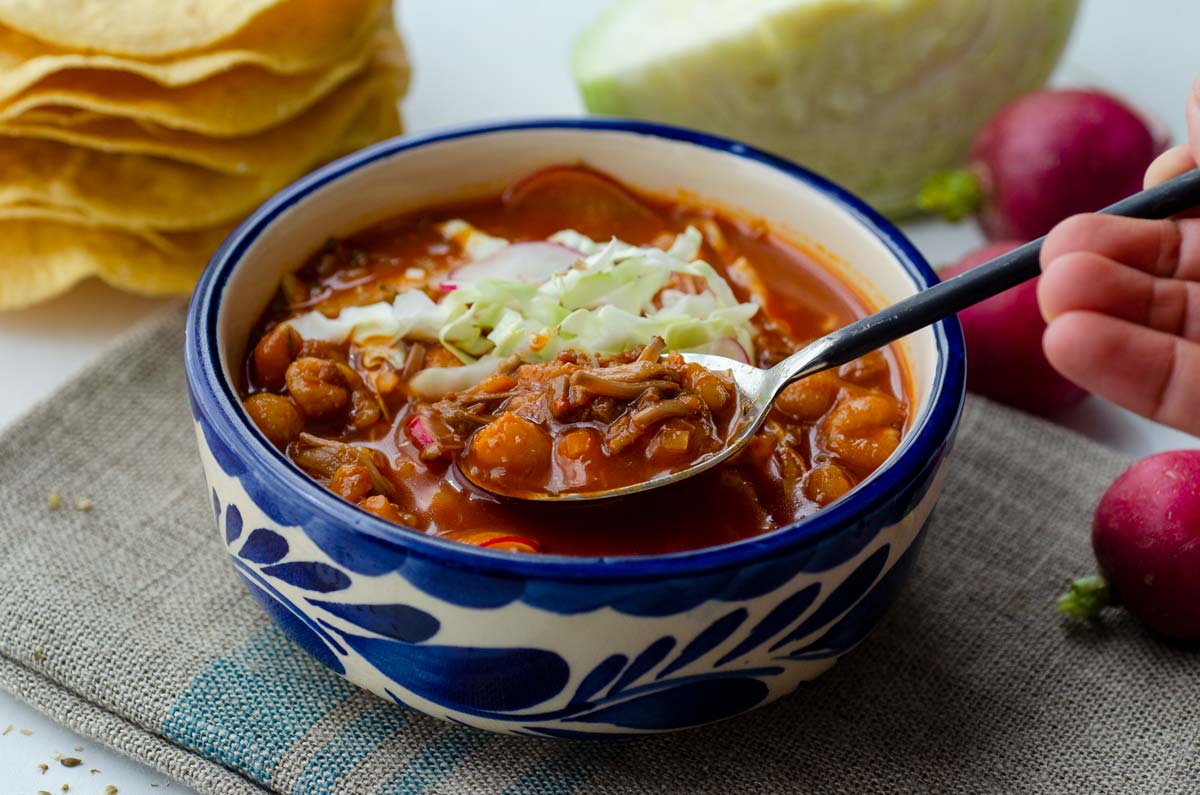 This is an adaptation of my grandmother's famous recipe. Every Christmas for as long as I can remember my grandmother would make two of the biggest pots of pozole and menudo I have ever seen. The adults would salivate over it, talk about how good it was going to be, and would go over to the kitchen and stir the pots to see how much longer it would be until they finally had their pozole.
One year I decided I was going to see what the big deal was, and I waited until the kitchen was empty. Then I went over to the pot and grabbed the ginormous ladle. I gave the whole thing a stir and almost fainted and threw up all over myself at the same time! (I must have been about 8 yrs. old.) When I stirred the pot a couple of pork trotters rose up to the surface and I swear I saw a pig snout, but I might have imagined that. After that, it took me years to give pozole a try, but I eventually became one of those salivating adults waiting for the pozole to be done each Christmas.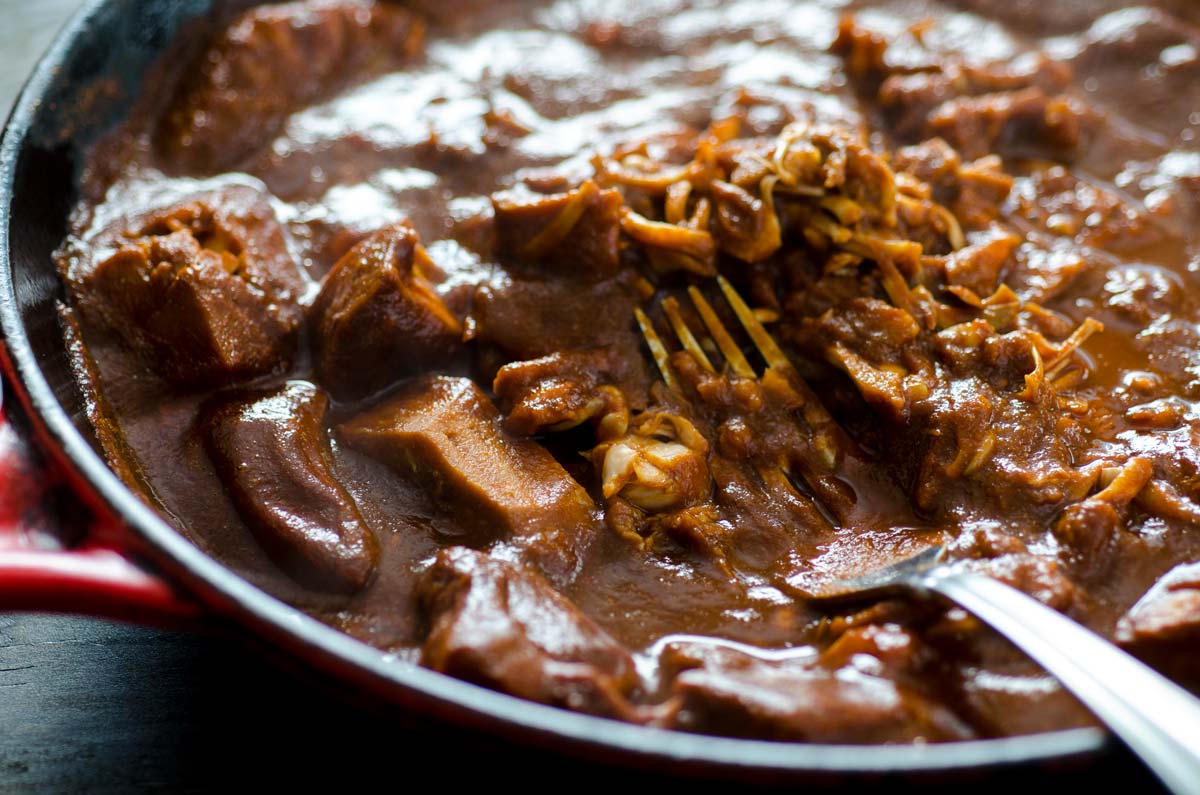 Now that I no longer eat meat it was only natural that I made a vegan version of this dish. Originally, I was going to make this with mushrooms instead of jackfruit, since I know jackfruit is not easily accessible to many. However, when I went to the grocery store I discovered that here in Hawaii button mushrooms are $8.00 a pound! I quickly decided instead to pay about $5 for two cans of green jackfruit. I am so happy with the result and I know you will be too. It is just as I remember it, so deeply satisfying.
The Recipe: Jackfruit Vegan Pozole Rojo
I have used canned hominy to speed things up, but if you have access to dried hominy you can use that instead. (Dried hominy takes about 2 hours to cook.) Pozole is all about the toppings. Serve with dried oregano, diced white onion, lime wedges, sliced radishes, and shredded cabbage. My grandma used to serve a salsa macha on the side as well for the ones who wanted more heat. Here is a recipe from Mexico in my Kitchen that is very similar to my grandma's, only she used chile piquín instead of árbol. Enjoy!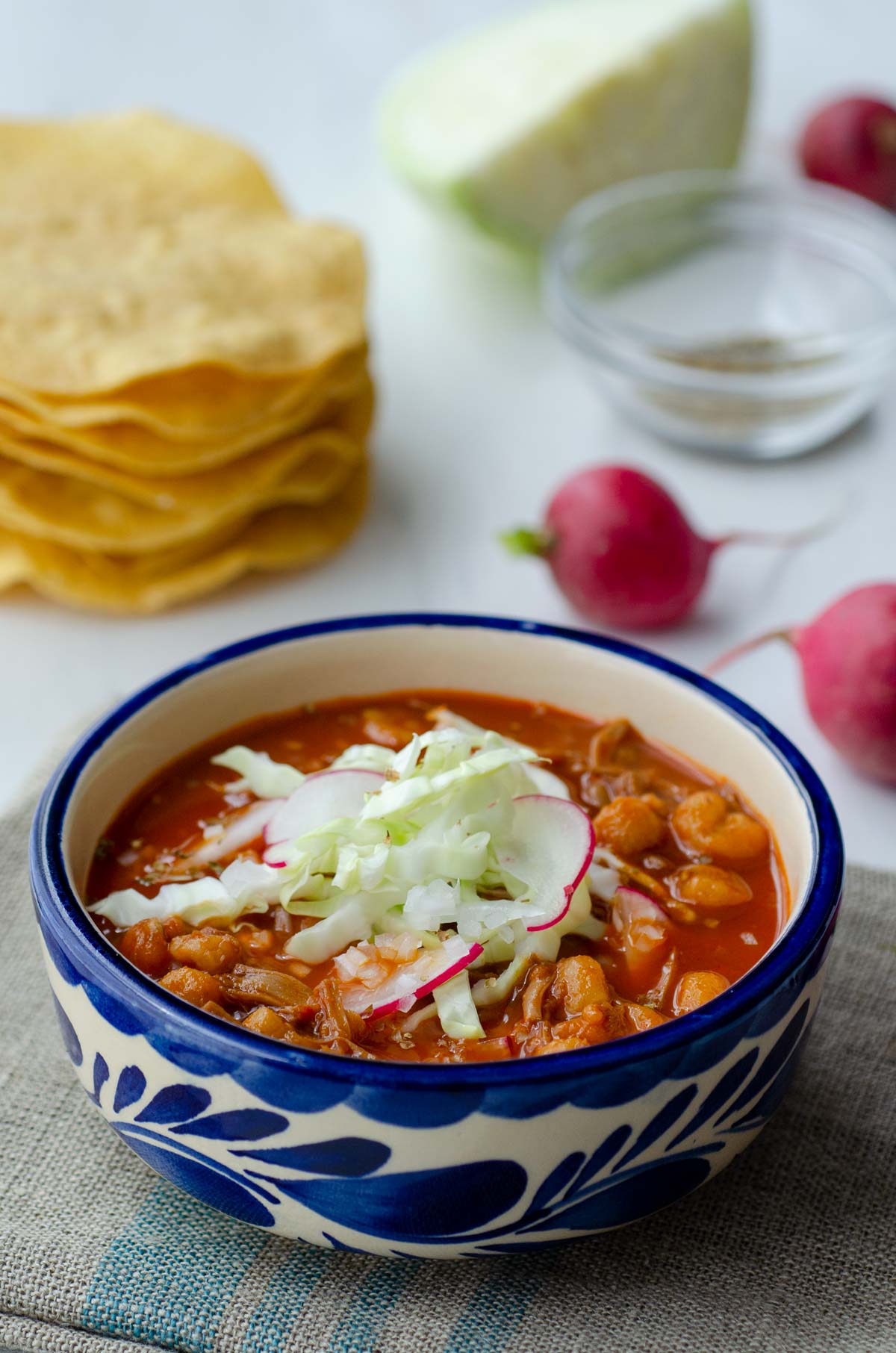 Jackfruit Vegan Pozole Rojo
Vegan Jackfruit Pozole Rojo, a spicy soup made with dried chiles, hominy, jackfruit, and veggies.
Pin Recipe
Print Recipe
Ingredients
3 cans

(15 oz.)

White hominy,

drained, rinsed

2 ½

quarts

Vegetable Stock

5

Chile guajillo, dried,

stemmed and seeded

2

Chile ancho, dried,

stemmed and seeded

5

Chile de árbol, dried,

stemmed and seeded

6

cloves

Garlic

½

Onion,

white

1

tbsp.

Vegetable oil

(optional)

2 cans

(20oz./ea)

Young green jackfruit brine,

drained (see note)

1

Zucchini,

medium, cut into dice
Toppings
1

White onion,

small, minced

6

Red radishes,

sliced into batons

2

tbsp.

Oregano,

dried

½

Green cabbage,

cored, thinly sliced

4

Limes

cut into quarters

1

bag

Corn chips or tostadas
Instructions
In a large pot, combine the vegetable stock and hominy and bring to a LOW simmer.

While the hominy is simmering, remove stems and seeds from the chile ancho, arbol, and guajillo. Rinse and place in a medium pot with water.

Bring pot to a boil over medium-high heat. Reduce heat and simmer for 10 min.

Drain chiles, but reserve 1 ½ cups of the chile water. Place chiles, garlic and onion in the blender, add the chile water and blend until smooth. Strain.

To prepare the jackfruit, drain the jackfruit, rinse, and pat with paper towels. Cut out the core of the jackfruit (tip of the triangle pieces), and cut pieces in half. Heat 1 tbsp. of oil in a large sauté pan set to medium heat. Add the jackfruit and cook for 3 -4 minutes on each side or until it begins to brown. Pour the chile sauce over the jackfruit and reduce heat to low-medium. Simmer for 10 minutes or until jackfruit begins to break down and the sauce has thickened slightly. Use a fork to shred the jackfruit as it cooks down. Season with salt and pepper.

Your hominy should still be simmering very slowly. Scoop out one cup of the hominy-vegetable stock mixture and blend until smooth. Pour this back into the pot with the hominy

Raise heat to medium-low, and add the zucchini and shredded jackfruit with sauce. Let simmer for 8- 10 minutes or until the zucchini is tender. Season to taste with salt and pepper.

Serve your pozole with all of the toppings on the side.
Notes
To remove the briny taste from the canned jackfruit you can simmer it in water, 1/2 onion, and  1 bay leaf for 10 min. Drain it, and squeeze out all the liquid. Now you can continue with the rest of the recipe.
If you don't have access to jackfruit you can use 2lbs. of mixed mushrooms or soy curls instead. You can substitute the zucchini with chayote with excellent results. If you like your pozole really spicy serve it with this salsa macha from Mexico in my Kitchen
Nutrition
Serving:
1
bowl
|
Calories:
158
kcal
|
Carbohydrates:
33
g
|
Protein:
4
g
|
Fat:
4
g
|
Saturated Fat:
2
g
|
Polyunsaturated Fat:
1
g
|
Monounsaturated Fat:
1
g
|
Sodium:
1615
mg
|
Potassium:
664
mg
|
Fiber:
10
g
|
Sugar:
15
g
|
Vitamin A:
5060
IU
|
Vitamin C:
55
mg
|
Calcium:
149
mg
|
Iron:
4
mg