Every country across the world has its own way of celebrating Christmas. Mexico has many wonderful Christmas traditions, but one of the most important is the food. It's not Christmas without pozole, tamales, buñuelos, or ponche. Another one of those important dishes is this vegan Bacalao a la Vizcaína.
This post contains affiliate links.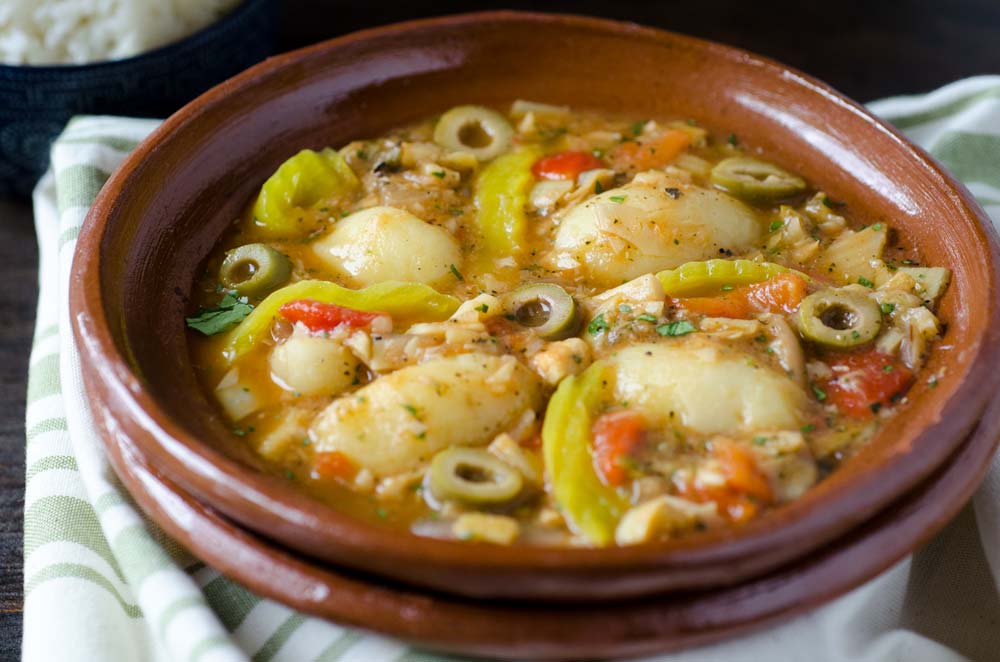 Bacalao a la Vizcaína is a braised salt cod dish with tomatoes, garlic, olives, capers, roasted peppers, and potatoes. Depending what part of the country you are in they also add raisins and slivered almonds. For this vegan version I️ have used mashed chickpeas to replace the salt cod. The dish is an adaptation of a Spanish classic, and is mostly consumed in central and southern Mexico on Christmas Eve. Serve it with rice or crusty bread to soak up to the last drop of the stew.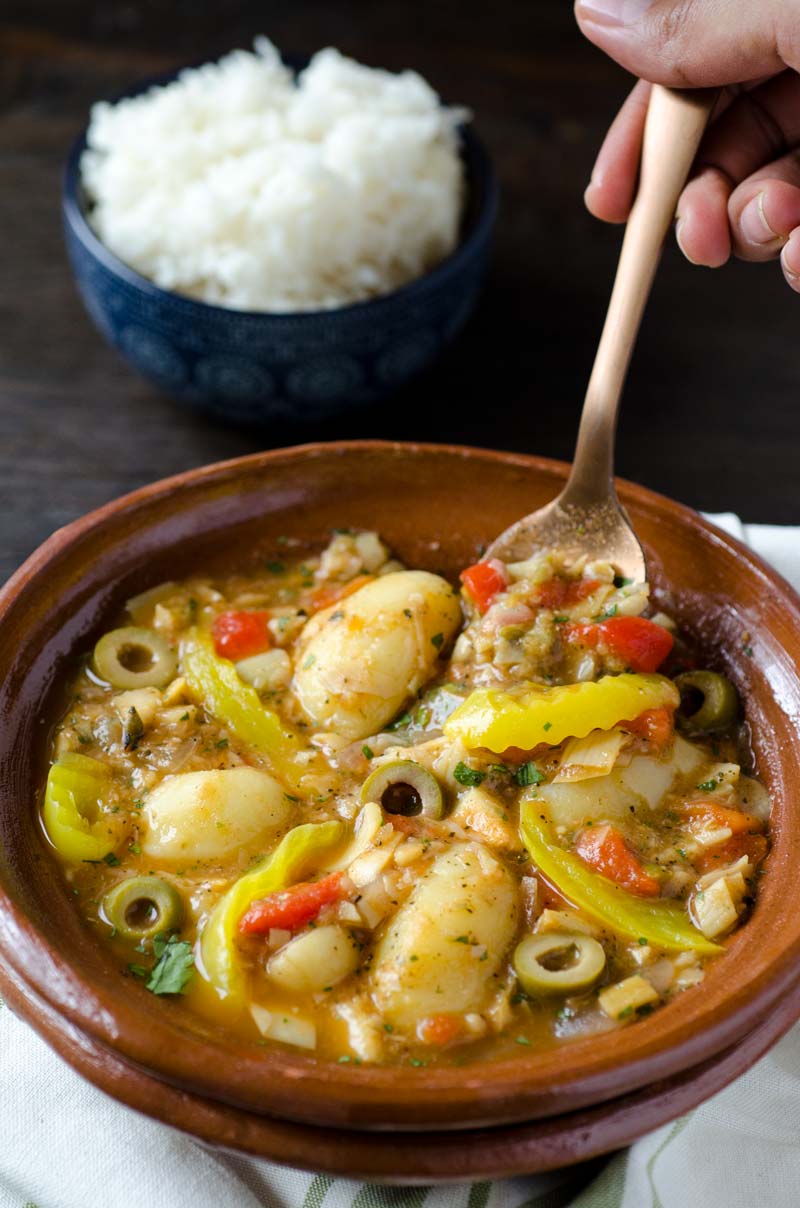 What are some of your favorite Christmas foods? My favorite is without a doubt tamales, and the are super easy to veganize! My favorite Christmas traditions are decorating the tree as a family, pedir posada, and singing Happy birthday to Jesus, and then having the kids kiss little baby Jesus on Christmas Eve. Ok, so there's a lot of stuff I️ like about Christmas! I️ would love to hear some of your traditions.
The Recipe: Vegan Bacalao a la Vizcaína
I have used two cans of chickpeas, but if you want to add a different texture you can add a couple of hearts or artichoke hearts, but feel free to use one or the other. To give this a fishy flavor you can use dulse flakes
or finely chopped nori seaweed. Enjoy!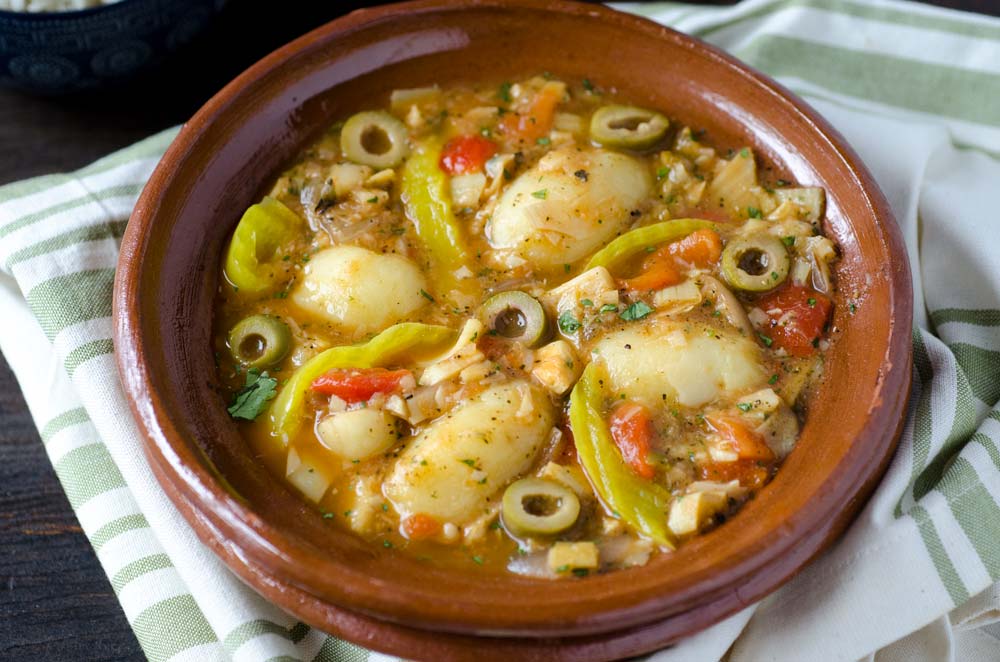 Vegan Bacalao a la Vizcaína
This vegan bacalao a la vizcaína is an adaptation of a Spanish classic, and is served in central and southern Mexico on Christmas Eve.
Pin Recipe
Print Recipe
Ingredients
10

Plum tomatoes, medium,

(3 cups roasted tomato puree)

1

White onion,

diced, (about 2 cups)

6

cloves

Garlic,

minced

2

cans (14 oz.)

Chickpeas, drained, mashed with a fork

1/3

cup

Sliced,

pitted manzanilla olives

1

tbsp.

Capers

3

Red bell peppers,

roasted, peeled, cut into strips

1

bay leaf

1-2

tsp.

Finely chopped nori flakes

1

lb.

New potatoes,

cooked, peeled, cut in half

1/4

cup

Parsley,

chopped

3

Pickled pepperoni or banana peppers

whole or sliced
Instructions
Preheat oven broiler to HI. Place tomatoes on a sheet try and place under the broiler for 4 minutes, until the tomatoes begin to brown and be covered in black spots.

Turn the tomatoes and leave in oven for 4 more minutes. Remove from oven. Using your blender, process until you have a smooth puree. Strain and set aside.

Heat a large pot to medium-low heat and add ¼ cup of water. Add onions and let cook until tender and transparent, about 4 minutes. Add garlic, and cook for 1 more minute.

Pour in tomato puree, and bring it up to a simmer.

Add chickpeas, olives, capers, red peppers, bay leaf, and nori flakes. Continue to simmer for 5-6 minutes. Stir well.

Add parsley, potatoes, pickled banana peppers. Let simmer for 8 more minutes. If the sauce thickens too much, adjust with vegetable stock or water.

Season with salt and pepper to taste.
Notes
If you are looking for a fishy taste use 2 tsp. of nori flakes. Serve with rice or crusty bread. The pickled pepper can be spicy or mild depending on your preference. In some states they add raisins and slivered almonds, you can add those as well. If you would like to add more texture to the dish you can add hearts of palm or artichoke hearts.
Disclaimer: This post contains affiliate links, meaning at no additional cost to you, I will earn a commission if you click through, and make a purchase. Thank you for your support!