Jeni from Thyme and Love has just released her book The Vegan Mexican Cookbook: Plant-Based Recipes Inspired by Mexico and I couldn't be more excited! Jeni lived in Mexico city for a time with her husband, and she fell in love with the cuisine and it definitely shows in this book. I found Jeni online about two years ago, she was still living in Mexico at the time, and I quickly became a fan. It is exciting to find other bloggers that share your love of Mexican cuisine, especially vegan Mexican cuisine.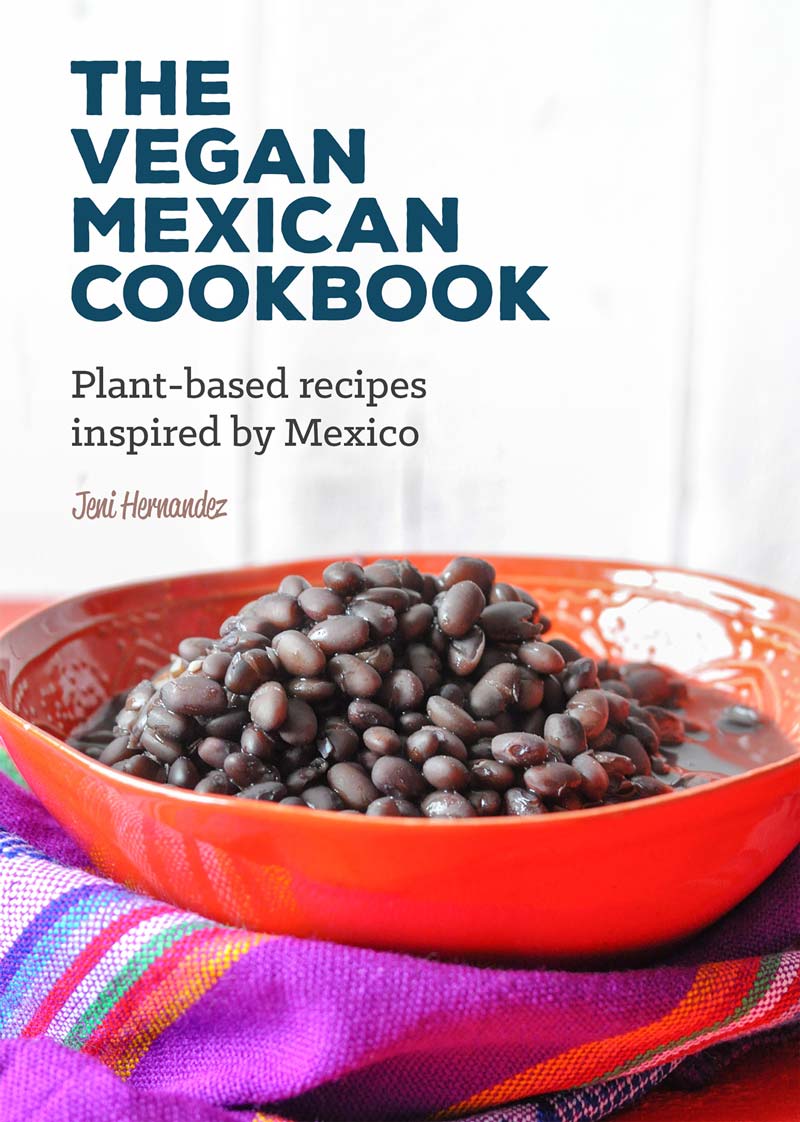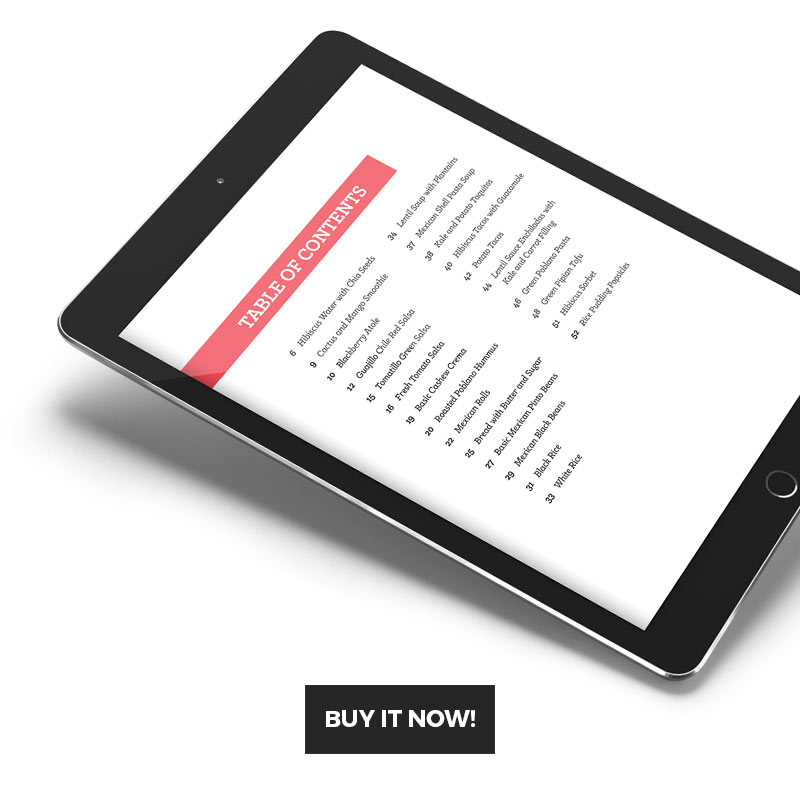 The book has 25 recipes, they are all quite easy to make, and all plant-based (vegan). The book also has great photography, all done by Jeni herself. My only complaint is that there aren't more recipes! I'm looking forward to trying the kale and potato taquitos, the hibiscus tacos with guacamole, and the rice pudding popsicles. The best part is that it is only $6.99. The book is only available in electronic form. I encourage you to stop by Thyme & Love and enjoy some of her recipes, and of course to show Jeni some support by buying her book. To get 30% off of your book purchase use the code dorastable30. Thank you Jeni!
Today I am going to share with you a recipe from Jeni's book: Roasted Poblano Hummus. The smoky flavor of the poblano pepper really pulls through in this smooth hummus, and the acidity of the lemon and lime really complements the chickpeas and tahini. It is super easy to make and a great appetizer for sharing.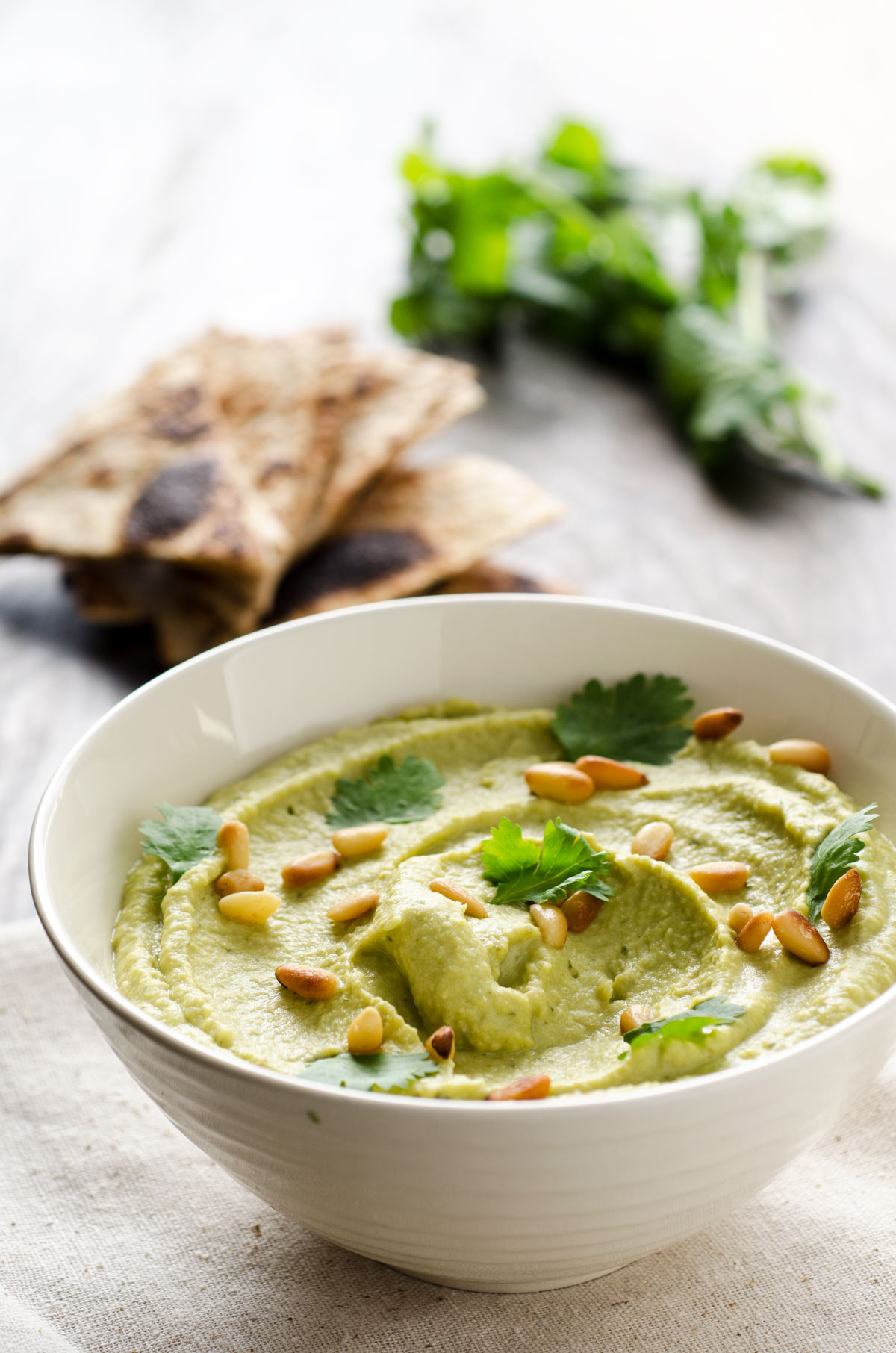 The Recipe: Roasted Poblano Hummus
If you have never roasted your own poblano peppers before you can use canned ones, but roasted them is not complicated at all. The recipe calls for canned chickpeas, but you can cook your own if you like. If you prefer your hummus on the less lemony side I would reduce the amount of lemon and lime. Enjoy!
Roasted Poblano Hummus
Pin Recipe
Print Recipe
Ingredients
2

Poblano Peppers

1 (15 oz.)

can

Chickpeas, drained,

rinsed

2 1/2 - 3

tbsp.

Tahini

3

tbsp.

Olive Oil

1

Garlic, clove,

peeled

2

tbsp.

Lemon, juice

2

tbsp.

Lime. juice

3-4

tbsp.

Water

1/2

tsp.

Sea Salt, or taste

1/4

cup

Toasted pine nuts for garnish,

optional

1

Pinch

Cilantro for garnish,

optional
Instructions
Roast the poblano peppers on a comal or heavy skillet over medium heat. Cook until blackened, turning the chiles often. Depending on the thickness of the comal or skillet, it can take 15-20 minutes until all sides of the chiles are blackened.

Once the chiles have blackened, transfer them to a plastic ziploc bag and let them steam for 15-20 minutes. Once the chiles have steamed, peel off the skin. Them cut a slit along the side of the chile and remove the seeds and veins. Roughly chop the chiles and add to a high speed blender or food processor.

Add the chickpeas, tahini, olive oil, garlic, lemon juice, lime juice, water and salt to the blender or food processor. Blend until completely smooth, scraping down the sides as necessary. Add a tablespoon of water if needed.

Refrigerate until ready to serve. If using toasted pine nuts to garnish, add them to the hummus just before serving. Serve with chips or assorted veggies.
Notes
To toast the pine nuts, preheat the oven to 350F. Line a baking sheet with parchment paper and add the pine nuts. Toast for 8-10 minutes. remove from the baking sheet and transfer to a bowl until ready to serve.