These vegan coconut paletas (paletas de coco) are super easy to make and have only 3 ingredients. They are creamy, without being too rich, and full of toasted coconut flakes. These were my favorite growing up, now I can't decide between these and the mango-chile paletas. However, I do think this vegan version is even better than the versions made with cow's milk. They are definitely kid approved!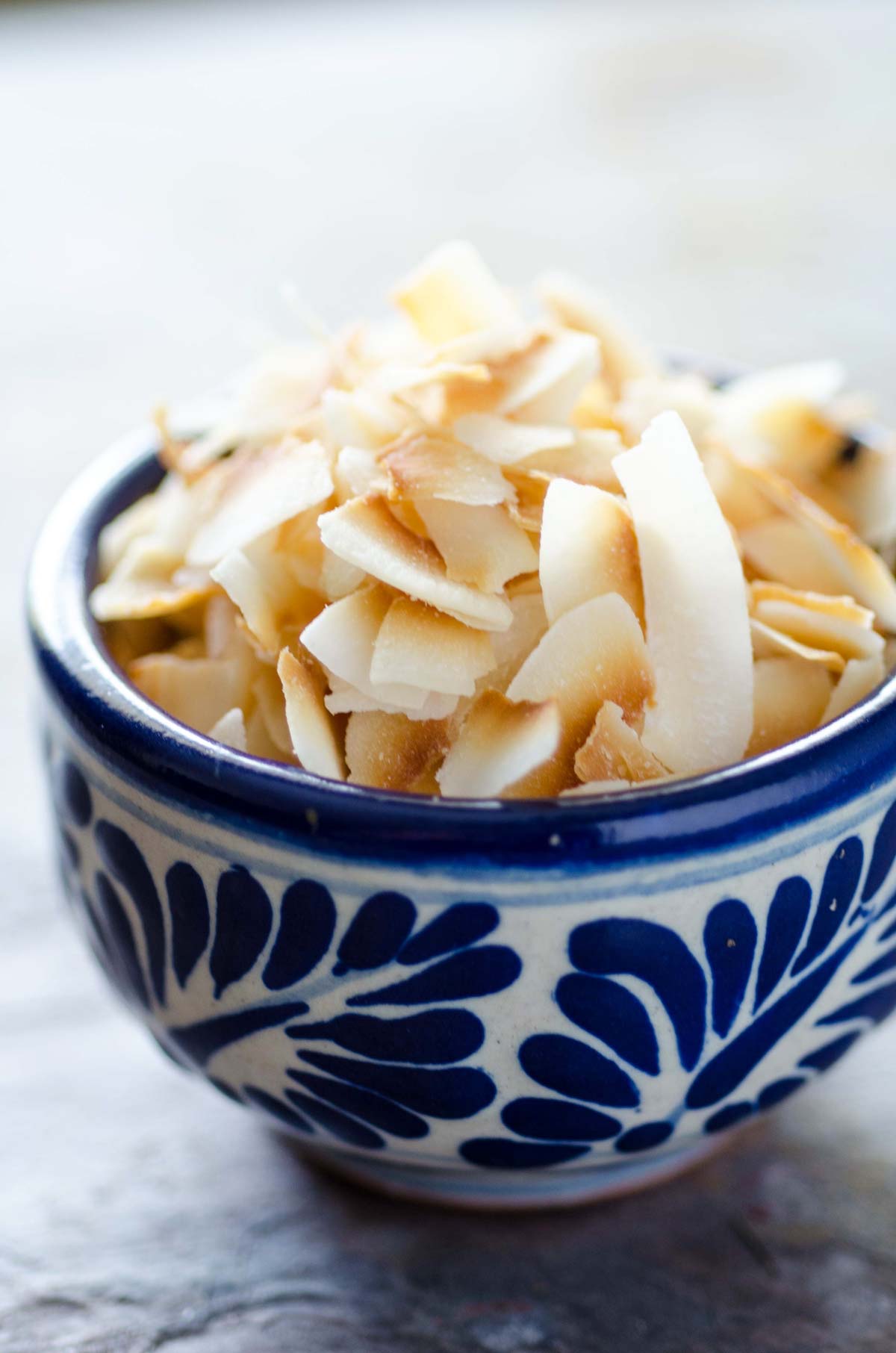 I had a kitchen nightmare the other night. I hadn't had one in years! A kitchen nightmare is common among professional cooks and chefs. They usually entail something forgotten in the oven, the ticket machine spitting out ticket after ticket, or chef yelling at you. I don't even know what caused me to have one, but chef was yelling at me. I was trying to explain myself and only digging the whole deeper. You should know, even in dreams, your response should always be, "Yes, chef." I woke up a little freaked out, only to realize that my sweet two year old was trying to wake me up with kisses. I cannot even explain to you the huge relief I felt.
Sometimes I miss being a cook in a restaurant, but then I see how hard and tirelessly my husband works and how much we miss him, and I forget about it. Sometimes being a mom entails many tedious and repetitive tasks, and a great exercise in patience, but those sweet kisses cannot be replaced with anything. Not even the rush of adrenaline you get from working the line on a busy night, or the first sip of beer after getting your butt kicked on a Saturday. That morning I was really grateful that I get to be a stay-at-home mom/blogger, that is until I had to wipe up some poop off the bathroom floor!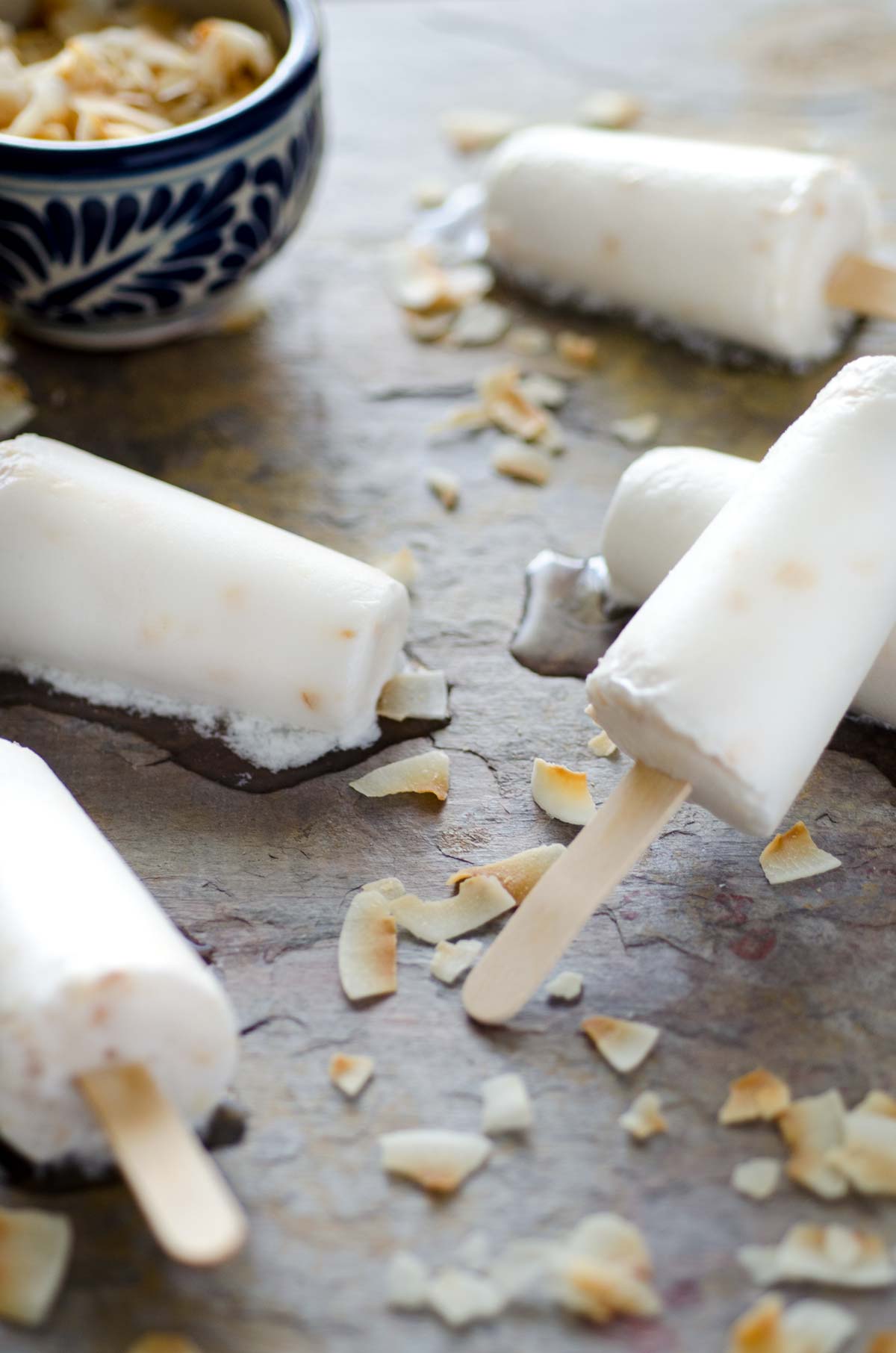 The Recipe: Vegan Coconut Paletas
I was going to go all out and buy a fresh coconut to make these, since they are so accessible here in Hawaii, but I quickly changed my mind when I imagined trying to crack a coconut with my two kids pulling at my legs. This is the easy version. I used light coconut milk to minimize the amount of fat, but feel free to use full fat coconut milk if that is what you desire. Enjoy!
Vegan Coconut Paletas
Pin Recipe
Print Recipe
Servings:
8
(3 oz) popsicles
Ingredients
2

(13.4 oz) cans

Coconut milk,

light

2/3

cup

Sugar,

granulated

2/3

cup

Shredded coconut,

unsweetened
Instructions
Combine the coconut milk and sugar in a medium sauce pot and bring to a simmer.

Turn heat off and let cool in fridge. Once completely cool, strain.

Add coconut and mix well. Pour into popsicle molds and freeze for 5 hours
Notes
If you are using popsicle molds without an insert, refrigerate popsicles for 30 min. then insert wooden popsicle sticks. Coconut can be toasted or untoasted.