This recipe for vegan red lentil dahl has been adapted from an amazing book by Rebecca Katz called The Cancer-Fighting Kitchen. It is the perfect combination of sour, sweet, and salty. It is one of those dishes that bring true comfort.
We are already half way through lent and I haven't told you guys that the hubby and I decided to do the plant-based diet thing again. Just to recap, we've given up all animal products for 40 days. Not having cheese in my life has been hard, but manageable. Seriously though, this time around it has been much easier. The challenge, however, remains the same. Coming up with a variety of dished has been difficult, especially when you don't have items like bacon, cheese, or eggs in your fridge.
There are some great blogs and books out there with many, many recipes. I don't know if it's just me, but they all seem to be very similar. How many versions of veggie burgers can you make? They all seem to revolve around the same recipes, lentil loaf, quinoa (lots of quinoa), chili, marinated tofu, and of course some dish involving chickpeas. If you have any vegan or plant-based blogs to suggest I'm all ears. Instead we've been eating a lot of Korean, Indian, Thai or Chinese food.
I'm planning on doing some research on cuisines around the world that were once plant heavy or remain so. Hopefully then I'll be able to come up with recipes that are not poor versions of meat dishes, and let the vegetables and grains be the centerpiece. We'll see how it goes.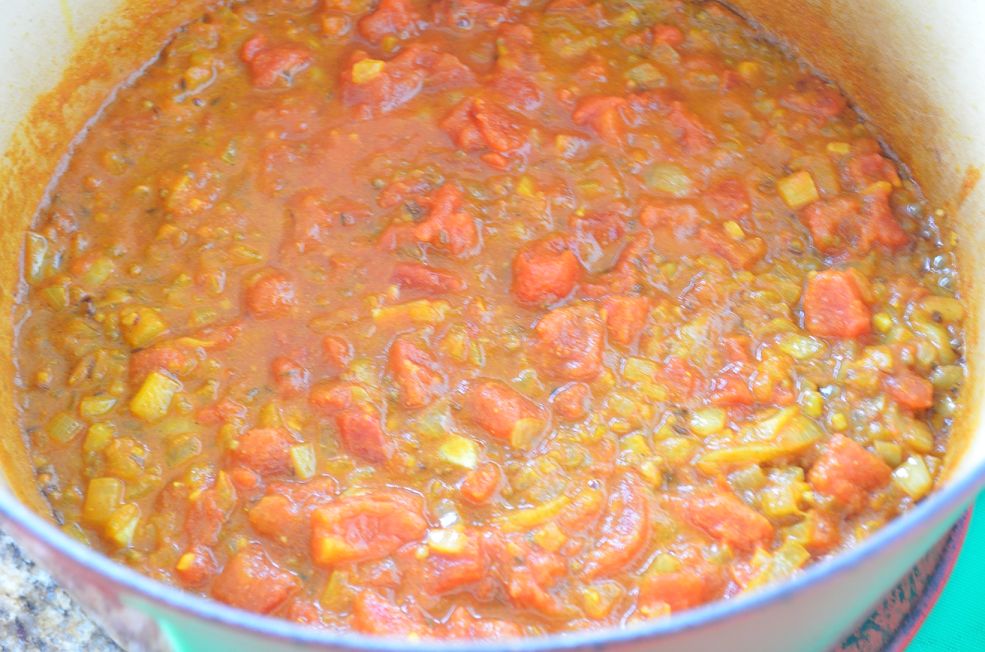 The Recipe: Vegan Red Lentil Dahl
This recipe for lentil dahl is one of my favorites. You can serve it with basmati rice, a salad, and some kind of flatbread.
Vegan Red Lentil Dahl
Pin Recipe
Print Recipe
Ingredients
1

tbsp.

EVOO

3/4

tsp.

Cumin,

seeds

3/4

tsp.

Mustard seed

1/2

Onion,

yellow, diced small .

1/2

tbsp.

Ginger,

fresh, minced

1

tsp.

Turmeric,

ground

1

tsp.

Cumin,

ground

1/2

can (7 oz.)

Diced tomatoes

6

cups

Chicken or Vegetable Stock

1

cup

Red lentils,

rinsed well

1/2

Cinnamon,

stick

1

tsp.

Lime juice,

fresh

Mint or Cilantro

finely chopped 1/
Instructions
Set a large pot to medium heat and add oil. Add the cumin and mustard seeds and saute until they begin to pop, then quickly add onion, ginger, turmeric, ground cumin, and a pinch of salt. Saute until onion begins to soften, about 3 min.

Add the tomatoes and saute for 2 more minutes. Pour in ½ cup of broth and reduce by half.

Add the red lentils and stir, then add remaining broth, and cinnamon stick. Bring to a boíl, then turn heat down to a simmer, cover and let cook for 30 min. or until tender.

Add salt and let simmer for another 5 min. Remove the cinnamon stick and pour in lime juice.

In a blender, puree the soup until very smooth. Adjust consistency according to preference with more broth.

Return soup to pot and reheat. Serve with chopped cilantro.
Notes
To leave this soup a bit chunky, using a hand held blender, pulse several times to puree the soup slightly.
Recipe adapted from The Cancer-Fighting Kitchen by Rebecca Katz