Yesterday was Karina's 1st birthday. It's amazing to me how much she has grown and how much has happened since then. I've spent the last two weeks making all the preparations for her birthday party. We decided to have a Korean 1st birthday (Doljanchi). Thomas, my husband, is half Korean and he had a traditional party when he was 1 and so did our son. This time around though, I got to plan everything and I think I went a little overboard.
I'm a perfectionist, ambitious, and very type A person. I have always had a hard time saying no to projects, because I want to be the best at everything. Having two children has definitely taught me that just because I want to be the best at everything doesn't mean I can or have time to, I mean unless I want to neglect my children completely. This was a special occasion though, so I decided to indulge in my perfectionism and plan an amazing party.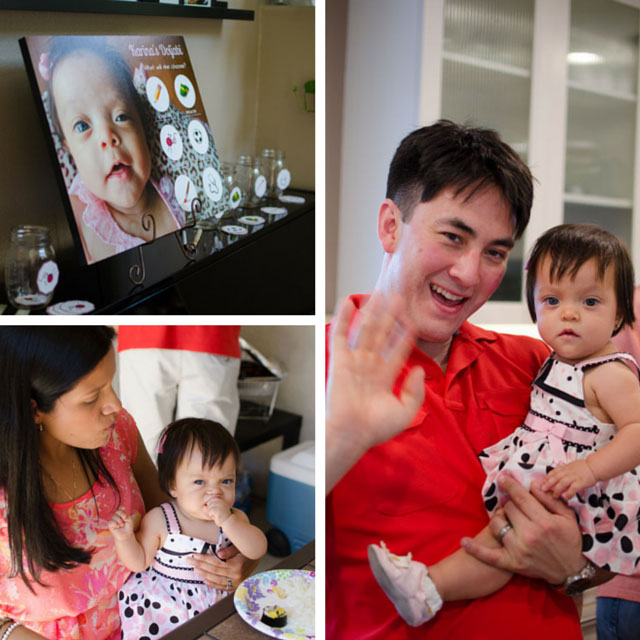 There is a lot of symbolism in a Korean Dol. Some of the symbolisms we used are:
Dress: Birthday babies wear a hanbok (traditional dress) and a jobawi or gulle (traditional headgear) for baby girls and a bokgeon or hogeon (traditional headgear) for baby boys. We purchased the dress at Kim Mehee in LA.
Dol sang (birthday table) with banner backdrop and customized dol go im or dol towers. Food is stacked high to symbolize a long prosperous life for the child.
Dol towers were traditionally used in 60th/70th dol parties to signify lifetime achievements; they have come to represent future accomplishments. I found a great tutorial on how to make your own towers.
Dduk (korean rice cakes) represents purity and a long lasting life. The rice cakes should be colorful since the colors will represent a bright future. Rainbow rice cakes represent a dream come true. We purchased our rice cakes and kimbap at Zion Market in Irvine.
Food stacking food is stacked high to symbolize a life of prosperity for the child.
Ceremony The highlight of a doljanchi is a ritual where a child is placed in front of food and objects. The child is urged to pick one, and the item the child picks is believed to foretell the child's future. This ritual is called Doljabi. Guests are urged to guess what the child will pick and to submit their guesses. A raffle is then held and the winner receives a prize. I made a doljabi poster on Canva and then had it printed for the raffle.
(Source: littlelotusparty.com)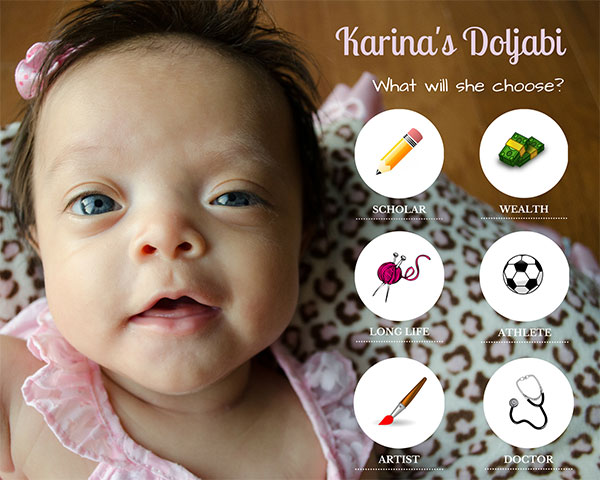 The party was a success and you can check out the video below to see what Karina chose in the doljabi ceremony. I do have to say that the best part of the celebration was being able to play and spend time with our friends. We are blessed to be a part of a wonderful community of people who we love and care about very much. We hope to share many more birthdays together. The one thing that was missing, our family. They all live far away and couldn't attend and they were missed dearly.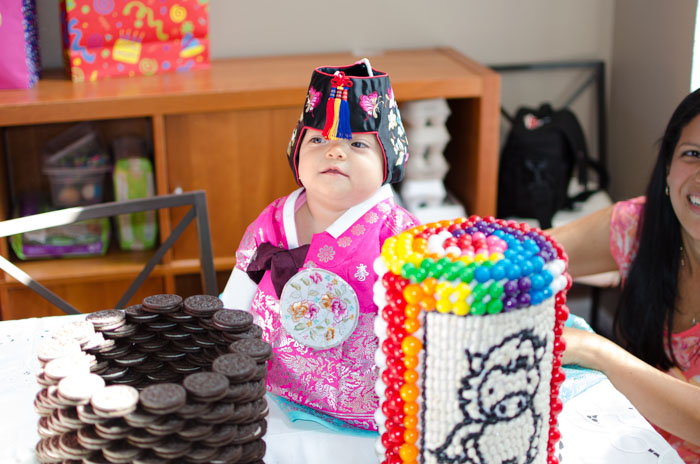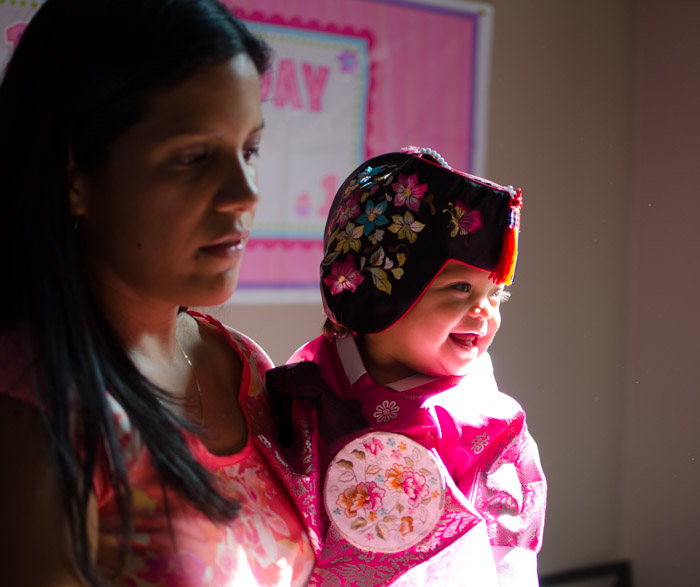 Unfortunately, we didn't take pictures of the food, so no food pictures or recipes this time. I'll be back to posting soon. Happy Easter!