Disclaimer: The post is in partnership with Hernán & may include affiliate links.
Learn how to cure a molcajete in four easy steps. Curing or seasoning a molcajete can be daunting, but it doesn't have to be. It is actually rather simple, but I won't lie to you, it is time-consuming. That's why I will walk you step-by-step through the process, and answer every question you have ever had about a Mexican molcajete.

What is an authentic Mexican molcajete?
A molcajete is a mortar and pestle made out of volcanic rock (basalt) that stands on three legs. It has been used in Mexico since pre-Hispanic times to grind spices and grains. The word molcajete comes from the word "mollicaxtli" which means stone box for making salsa or mole. It is probably the most used and loved tool in every Mexican kitchen and it is often passed down from generation to generation. (Fun Fact: the hand grinding tool or pestle is called tejolote)
Where to buy a molcajete?
Did you know that some stores sell molcajetes that are made with a mixture of cement and rock?? These molcajetes are usually cheap, very smooth in appearance, and light in weight. Before you buy a molcajete make sure it is from a reputable source. If your molcajete is made with cement it will never stop releasing grit into your food! I bought my molcajete from Hernan Mexico and I highly recommend them.
How to Cure a Molcajete?
A molcajete must be seasoned or cured before using it for the first time. To season a molcajete first:
Wash really well with water and a stiff brush.
Pour a handful of uncooked rice and grind to a powder using your pestle (tejolote). Make sure to use the whole circumference of the molcajete bowl, not just the center. You can add a little bit of water to the rice to make the grinding easier. Your first grind will result in a grayish rice paste. Discard the ground rice, and rinse molcajete.
Repeat the process as many times as needed until the ground rice is white in color and has no grit in it. This will take a while but will allow you to really get to know your molcajete and make it truly yours.
The final test is to grind 3-4 cloves of garlic and kosher salt evenly around the inside of the molcajete. Check for grit. Rinse the molcajete and tejolote and allow to air dry. Your molcajete is now ready to use!!
Beginners Tip: Place a kitchen towel under your molcajete before grinding to avoid damage to your countertops.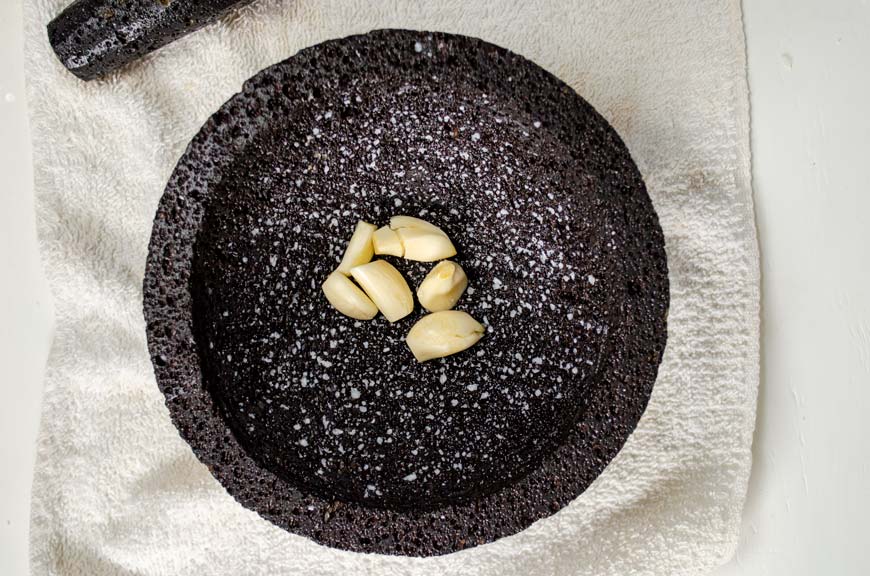 How to Clean a Molcajete
Now that your molcajete is seasoned, after every use simply wash with water and a stiff brush and allow to air dry. NEVER use soap, soap can get into the crevices of your molcajete and change the flavor of your food.
The Best Molcajete Salsa
They say the taste of salsa made in a molcajete cannot compare to one made in a blender. Grinding in a molcajete allows the spices and herbs to release their natural oils and aromas, resulting in a deeper and more profound flavor. For me, using a molcajete makes me feel connected to the women, my ancestors, who hundreds of years ago ground their salsas in a molcajete. I don't know, it almost feels like a special ritual, one that is worth repeating over and over again.