The first day of school is only eleven days away. It will mark the end of what seems to be an endless summer. The munchkin and I really need to meet some people. We are starting to get bored and that can only lead to trouble.
We have been living in Bluffton, SC for almost two months and so far we have been unimpressed with the food scene here and in Hilton Head Island. At first we were kind of disappointed, but then decided that we should just cook more at home. However, last week we took a day trip to Charleston and were pretty happy to eat some good food and enjoy some drinks while the munchkin played at Play Garden. (Drop-in childcare is the best! I'm baffled at why every city doesn't have this, it's genius.)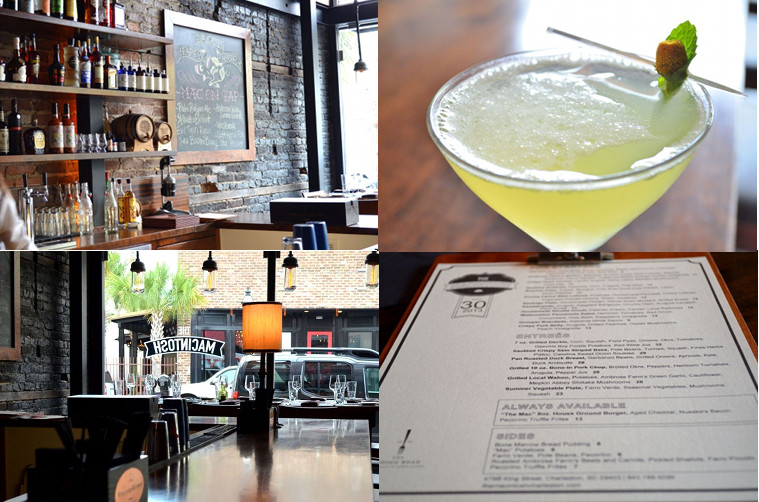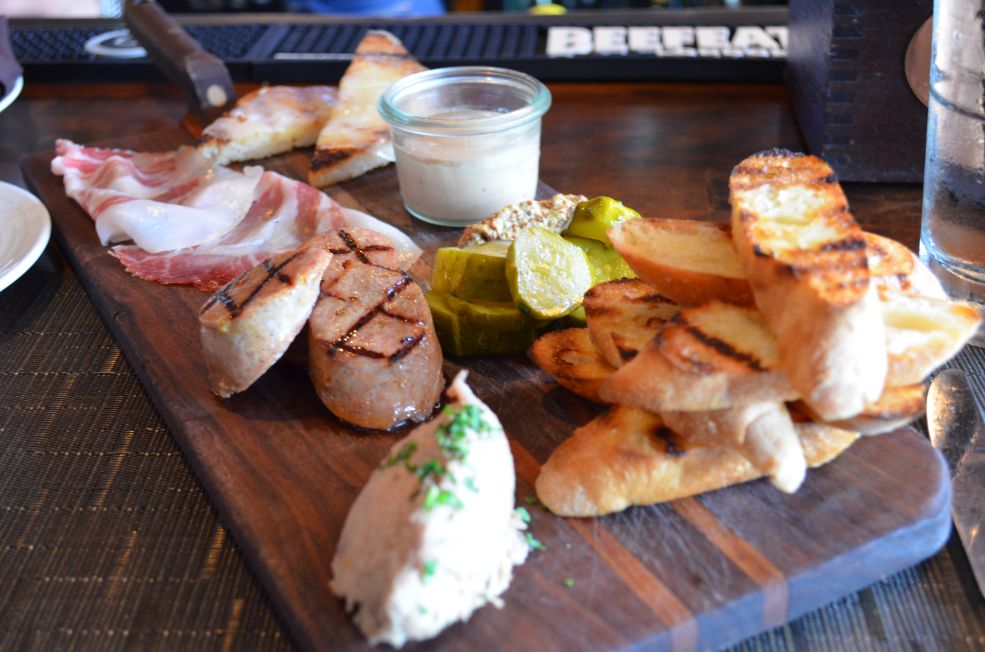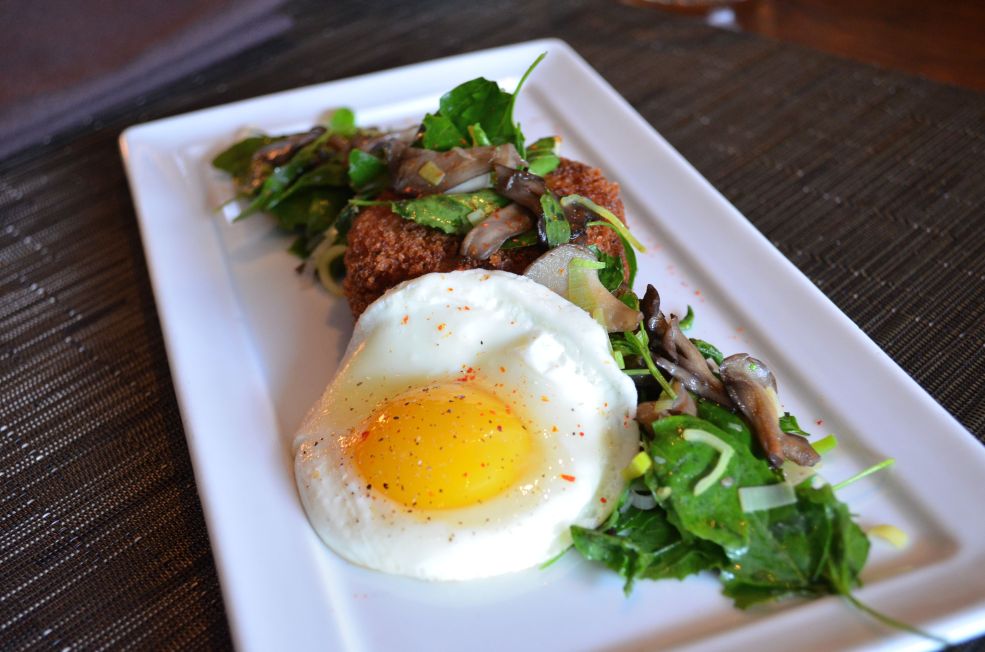 On the way there we stopped by the Carolina Cider Company. Their store is located on the side of the highway between Savannah and Charleston. It is an unadorned white house with a couple of signs advertising cider and free samples. We almost drove right past it! Its shelves are lined with jams, jellies, preserves, pickles and relishes. There are also homemade pies and sweet cherry, peach, and muscadine cider. We happily enjoyed a cold glass of cider on the porch. It was a welcome rest from driving.
We didn't get to see much of Charleston. Since we only had couple of hours to ourselves we were not looking to do the tourist thing, we just wanted to eat.  We had appetizers at The Macintosh, drinks at the The Cocktail Club, and even more drinks at The Gin Joint. I have to say that I'm really enjoying this whole cocktail resurgence movement. Classic cocktails made with fresh ingredients are making a comeback, goodbye sour mix, hello handcrafted bitters, soda, and vermouth. We had some pretty great cocktails, but I especially enjoyed the butcher plate at Macintosh. The silky foie gras parfait, the glistening lardo, and the rich pork rillette paired perfectly with the homemade pickles and coarse mustard.
We were pleasantly surprised at what Charleston had to offer. All of the bartenders and servers we spoke to were very knowledgeable and professional. You could tell they had a real passion and respect for the craft. We are definitely going back! Inspired by our visit the hubby recreated a 100 yr. old punch recipe at home and I made charred okra and grits.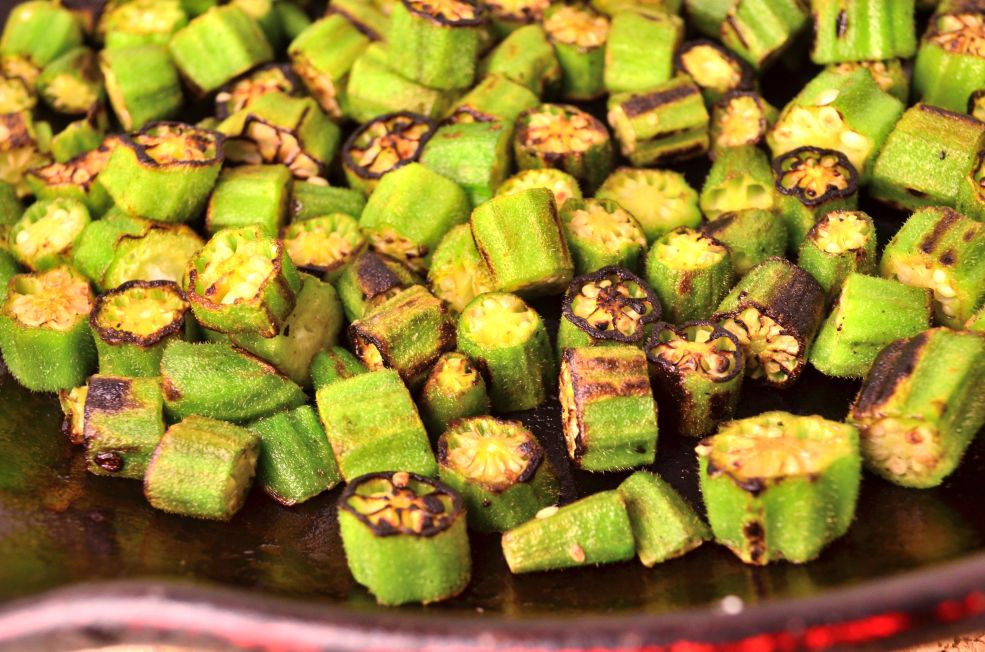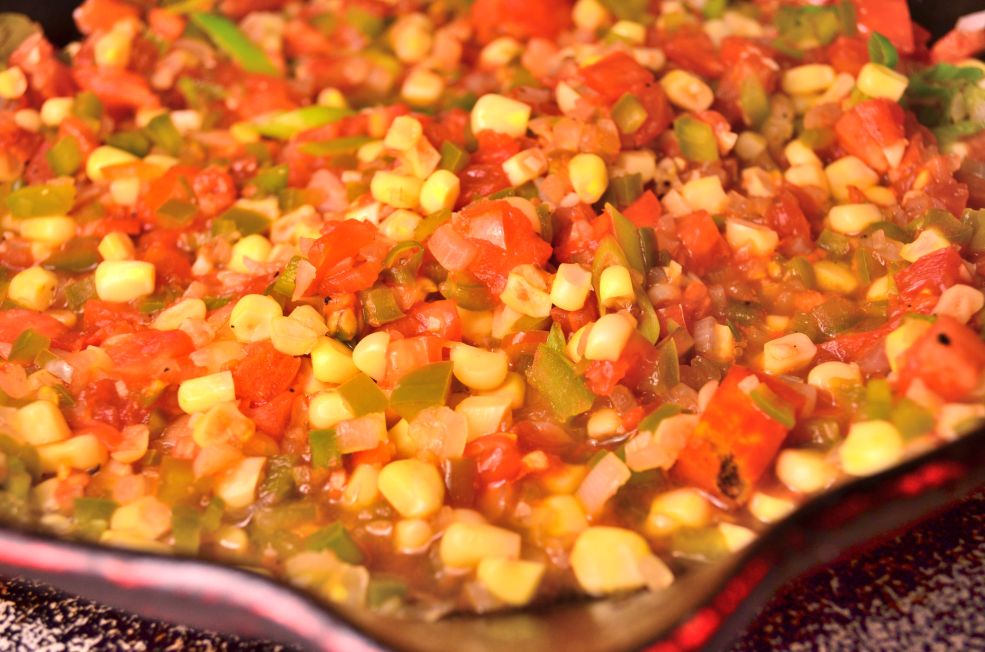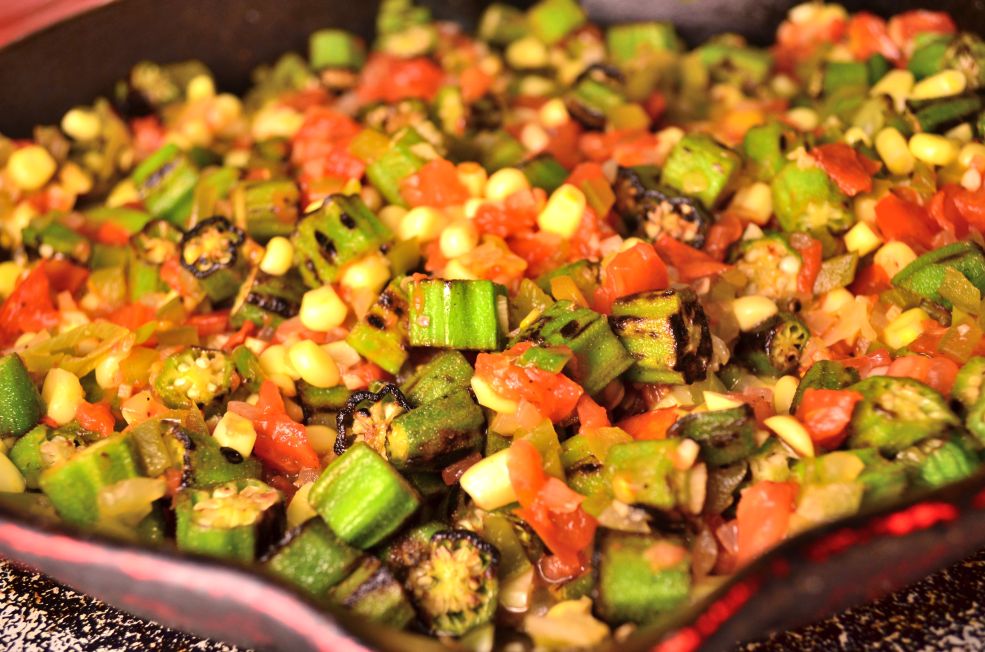 The Recipe: Southern Vegan Grits
Charred okra, sautéed with corn, tomato, green bell pepper, garlic, and onion top a plate of creamy grits. This dish is inspired by the classic shrimp and grits. Enjoy!
Southern Vegan Grits
Pin Recipe
Print Recipe
Ingredients
1

cup

Grits,

white or yellow, coarse grind

4 + 1/4

cup

Vegetable Broth

1

tbsp.

Vegetable oil

1

lb.

Okra,

cut into ½ in. pieces

1

Onion,

yellow, diced

1

Ear of corn,

cut into kernels

3

Garlic,

cloves, minced

1

Green bell pepper,

seeded, diced

1

Tomato,

large, diced

1/4

cup

Green onion,

thinly sliced

1

tsp.

Red pepper flakes

To taste

Salt

kosher

To Taste

Black pepper

ground
Instructions
In a large heavy bottomed pot, bring 4 cups of broth to a boil. Add the grits in gradually while stirring constantly.

Lower heat to a simmer and cover. Stir constantly every five minutes to prevent grits from sticking.

Cook for 20 to 25 min. or until grits are tender. Remove from heat and season with salt and pepper.

While the grits are cooking, set a large sauté pan to high heat and add 1 tbsp. of oil.

When the pan is hot, add the okra and cook for 5 – 6 minutes. Shake the pan every two minutes to let the okra brown evenly. Remove the okra from the pan and set aside.

Using the same pan, turn heat down to low and add the onion and sweat for 2 -3 min. until translucent.

Add corn and ¼ cup of vegetable broth. Cover and cook for 5 min. or until corn is tender and the liquid is close to evaporating.

Add garlic and green bell peppers. Cook for 2 min. then add tomatoes, green onion, and red pepper flakes.

Cook for 5 more minutes, until the tomatoes have begun to soften. Add okra back into the pan. Season with salt and pepper and serve over grits.
Notes
The okra is cooked at a high heat to prevent it from getting slimy. Make sure your pan is hot!