I was in bed at 9:30pm last night! I put both kids down and then laid down for a bit, thinking I would just close my eyes for a second and then go wash the dishes, but it did not happen quite like that. Which I completely regretted in the morning once I saw the huge pile of dishes in the sink!
We had an amazing southern meal for dinner: fried okra with lemon mayonnaise, frog more stew (spicy cajun sausage, shrimp, potatoes, corn, and old bay), and chess pies with blueberries. We cooked the meal ourselves , which always leads to me ask my hubby why we even bother eating out. There aren't many places to eat out in Bluffton, SC.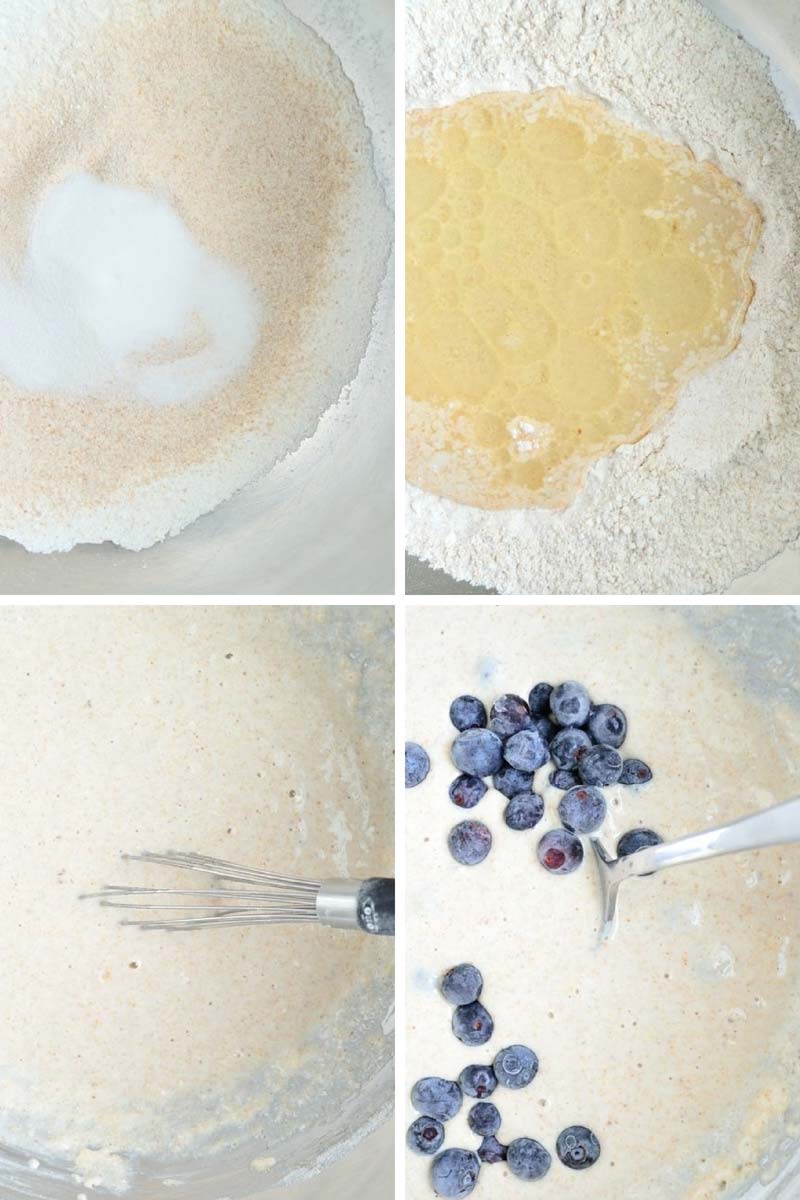 It was after this wonderful dinner that we ended asleep before 10pm. Sometimes I have no idea how tired I am until my head hits the pillow. Having two kids is definitely more energy and time consuming than having one. Still, I try to enjoy the little things, like making blueberry pancakes on Saturday morning, and sitting around the kitchen table in our pjs watching those little hands and faces get sticky with maple syrup. It's moments like those that I know we are making wonderful memories for our children that inevitably will be associated with the aroma and flavor of fluffy blueberry pancakes. What are some of your favorite food memories?
The Recipe: Vegan Whole Wheat Blueberry Pancakes
This recipe has been adapted from Post Punk Kitchen's Fluffy Pillow Pancakes. The pancakes are super easy to make and you can adapt them in a million different ways. I use this same recipe to make carrot cake pancakes or chocolate chip ones. Be sure to keep the kids away from the batter. You don't have to worry about the batter having eggs, but if you're not careful they will eat it by the spoonful. Enjoy!
Vegan Whole Wheat Blueberry Pancakes
Pin Recipe
Print Recipe
Ingredients
1

cup

Flour

all-purpose

1/2

cup

Flour,

whole wheat

3 1/2

tsp.

Baking powder

1

tsp

Salt,

kosher

2

tbsp.

Sugar,

granulated

1

cup

Almond milk

2

tsp.

Apple cider vinegar

1

tbsp.

Flaxseed,

ground

1/2

cup

Water

3

tbsp.

Canola oil

1/2

tsp.

Vanilla

extract

1

cup

Blueberries

frozen
Instructions
Sift flour, baking powder, sugar and salt into a large bowl.

In a small bowl combine the almond milk, ground flaxseed, and vinegar. Mix well.

Add water, vanilla extract, and canola oil to the almond milk mixture. Whisk to incorporate.

Make a well in the center of the flour bowl and add liquid mixture. Whisk until a lumpy batter forms.

Let rest for 10 min.

To cook pancakes, heat a skillet to medium-low heat and grease lightly. Pour batter onto pan and place 6 – 7 frozen blueberries on the pancake batter. Let cook for about 4 min. or until fluffy and golden brown.

Flip and cook pancake on other side for 3 more minutes.

Serve with maple syrup.
Notes
The granulated sugar can be substituted with 1/4 cup. of maple syrup or 1 ½ tbsp. of agave nectar.