This recipe for spicy bean avocado toast (molletes) was one of my favorite dishes as a child, of course not the vegan version I'm sharing with you now, but the ones slathered in cheese. Oh cheese, melty, fatty, wonderful cheese! Sometimes I really miss cheese, but the avocado in this recipe makes up for it. I have a love hate relationship with vegan cheese, mostly hate, that's why I don't use it very often. Last week I tried making an almond cheese and the result was unfortunate. It looked like cheese, smelled like cheese, but it definitely was not cheese. I think I'll just stick to nut sauces from now on.
Summer is creeping along, and we've exhausted our list of things to do. Bluffton is a small town and Hilton Head is a tourist trap right now. I briefly considered going home to Mexico for the rest of the summer, but the plane tickets are crazy expensive.
One if the things I'm really enjoying right now is cooking with the munchkin. He helps out with peeling vegetables, grating cheese, mixing, tossing and stirring. We are focusing on reading recipes, following directions, and cleaning. So far our favorite recipes are chocolate cupcakes,       carrot cake pancakes, and alphabet soup. It's easier to involve him in baking, and it keeps him away from the stove. I really like that he's proud of our creations. The other day we had our neighbor over to play and he said, " Do you want to try my famous alphabet soup?" Things can get a bit messy, but what's life without a little mess to it.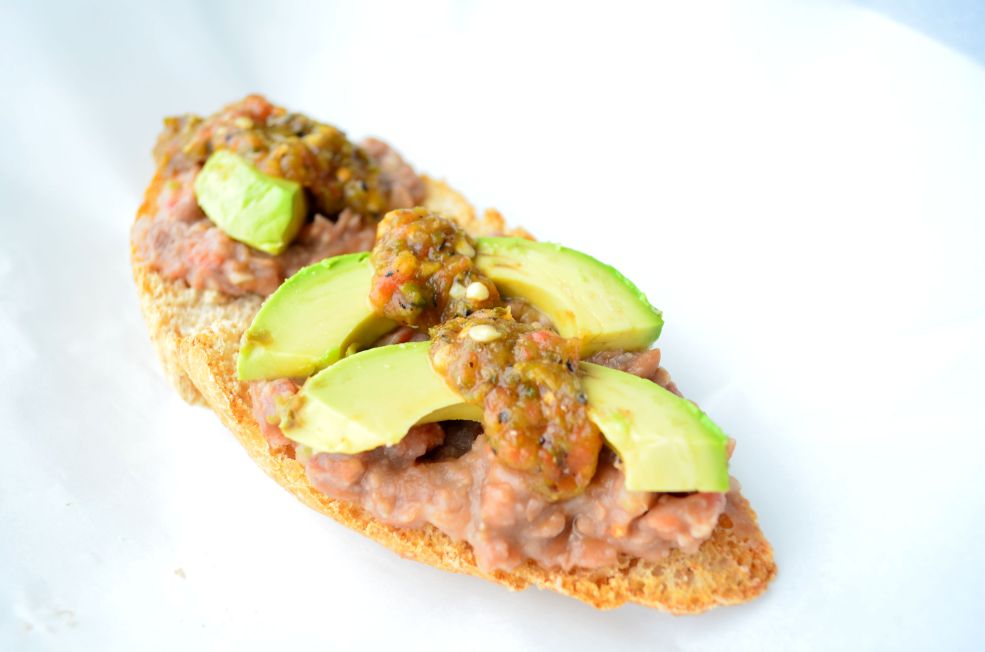 The Recipe: Spicy Bean Avocado Toast (Molletes)
You only need a couple of ingredients for this quick breakfast or lunch. They secret is really good bread! Slather the bread with beans, avocado, and top with salsa molcajeteada. You could also add slices of tomatoes or radishes. Enjoy!
Spicy Bean Avocado Toast (Molletes)
Pin Recipe
Print Recipe
Ingredients
3

Bolillos,

whole wheat

1 ½

cups

Refried beans

2

Avocado,

pitted, sliced

1 1/2

cups

Salsa,

homemade
Instructions
Preheat oven to 350F

Cut bolillos in half and place them on a sheet tray.

Toast in oven, face up, for 3 to 4 min or until golden brown on top.,

Remove from oven and spread warm beans on each half.

Top with avocado and homemade salsa.

Serve immediately.
Notes
Bolillos are easily found now in the bread department of local grocery stores, if you cannot find them whole wheat French bread will work as well.