How did I not know this book existed until now! Decolonize your Diet by Luz Calvo and Catriona Rueda Esquivel is part manifesto, part cookbook, and part love story. It is a book that hopes to impulse a movement to help others heal their bodies, reclaim the culture of their ancestors, and revolt against the colonial systems that aim to suppress indigenous traditions.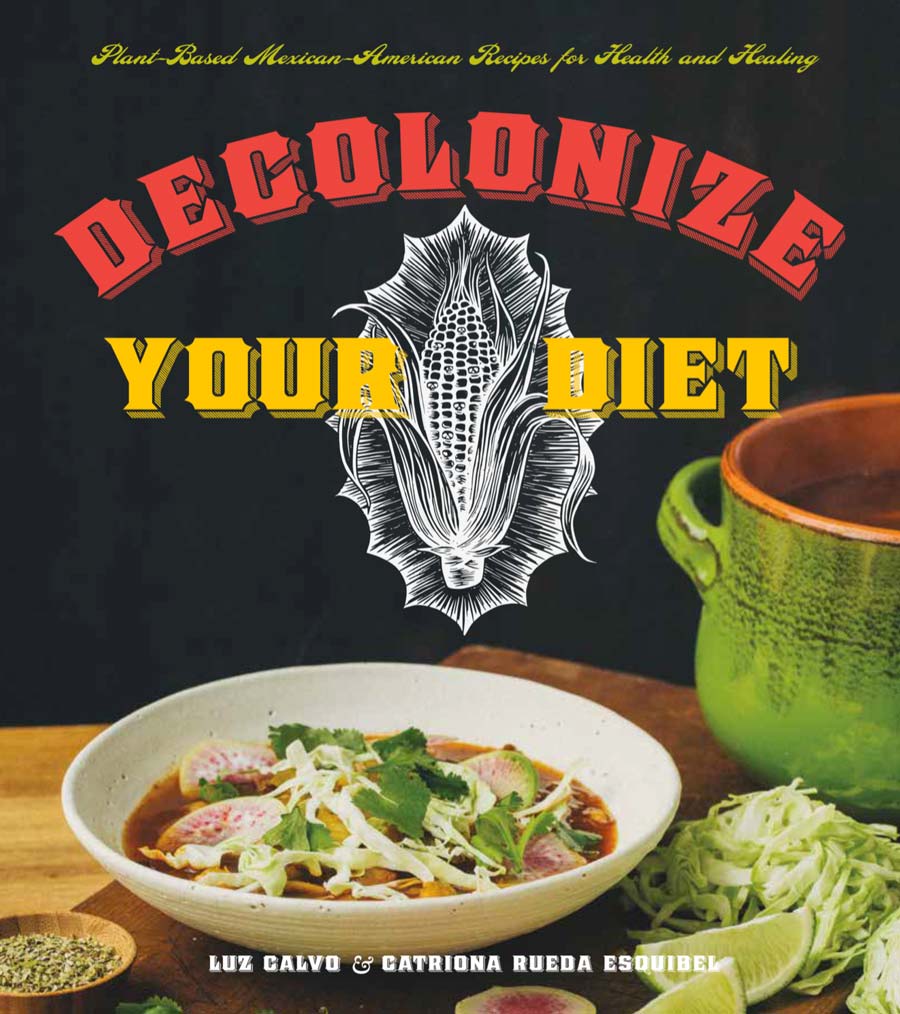 It all begins when Luz is diagnosed with breast cancer. This forces her to reexamine not only what she had been feeding her body, but to come up with a plan to survive the cancer. This led to her doing extensive research on breast cancer in Latino communities and what she found began a whole new way of life for both Luz and Catriona.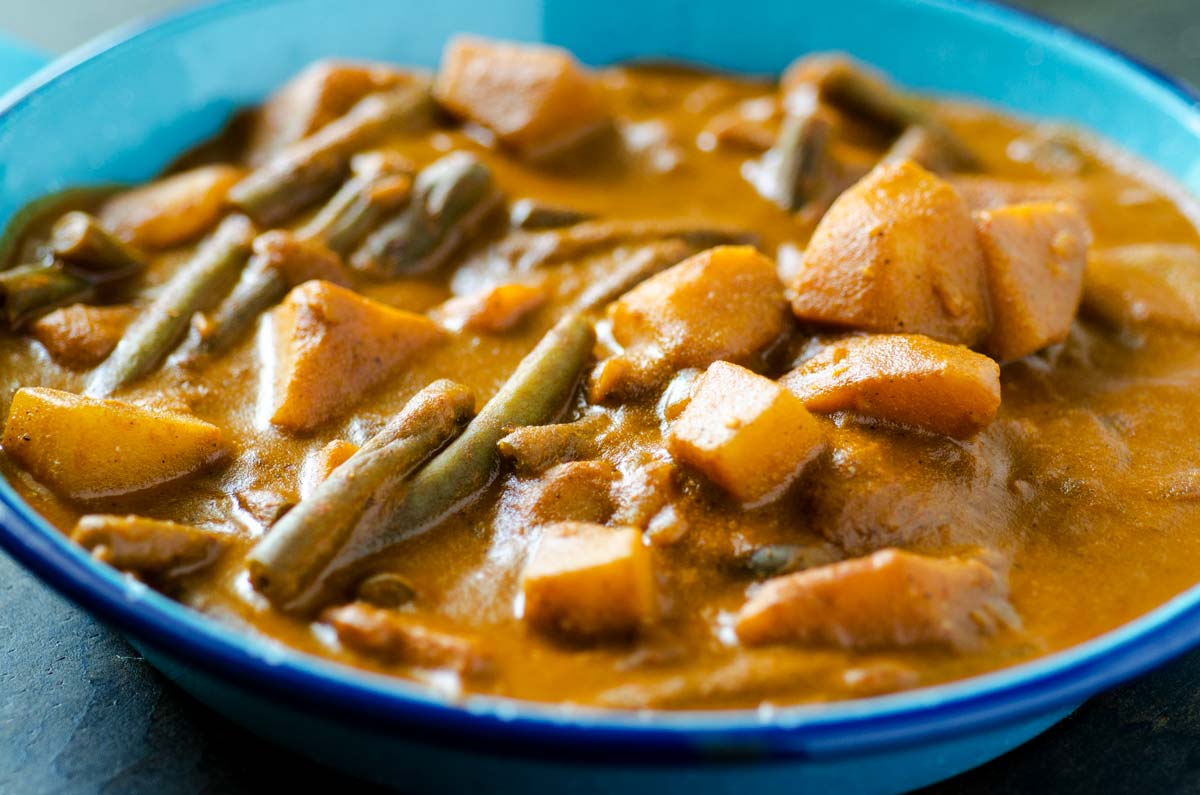 In her research it was clear that immigrant Latinos had significantly lower breast cancer rates than those born in the US. Primarily, because immigrants led a diet closer to that of their ancestors, based on beans, corn, squash, wild greens, nopales, fresh fruit, nuts, and seeds. After this discovery, Luz and Catriona began to decolonize their diet.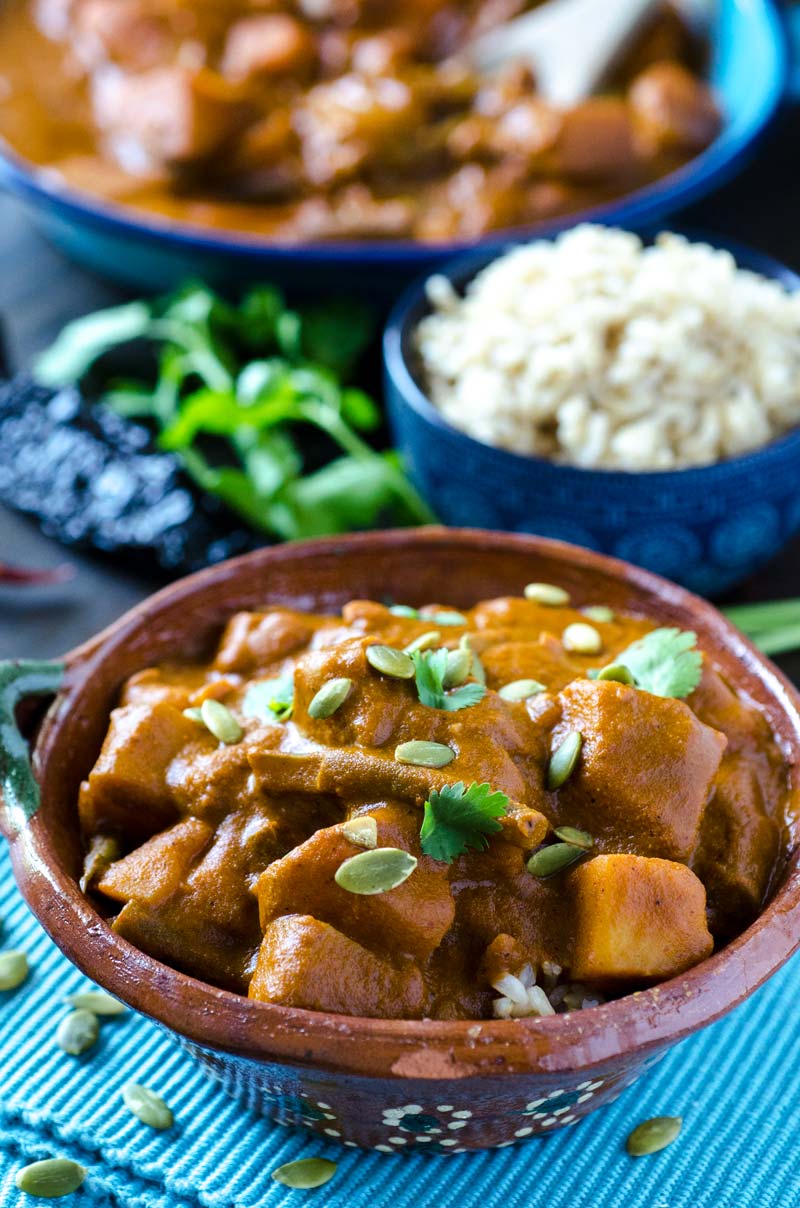 The book also touches on how decolonizing your diet fits in perfectly with the Chicana/o movement, in that it aims to preserve our indigenous cooking traditions. This part in particular pulled at my heart strings. I am technically not a chicana myself, because I was born in Mexico, though I have been living in this country for 13 years. My children however are chicanos, and as a mom it feels like every day is a fight against a culture that is not my own. I speak only Spanish to them, I cook Mexican food at home, and we continue traditions that my mother taught me, and her mother taught her. I want them to be proud of their heritage and a big part of that is food. Just like Luz and Catriona say in their book, food is a nexus connecting generations.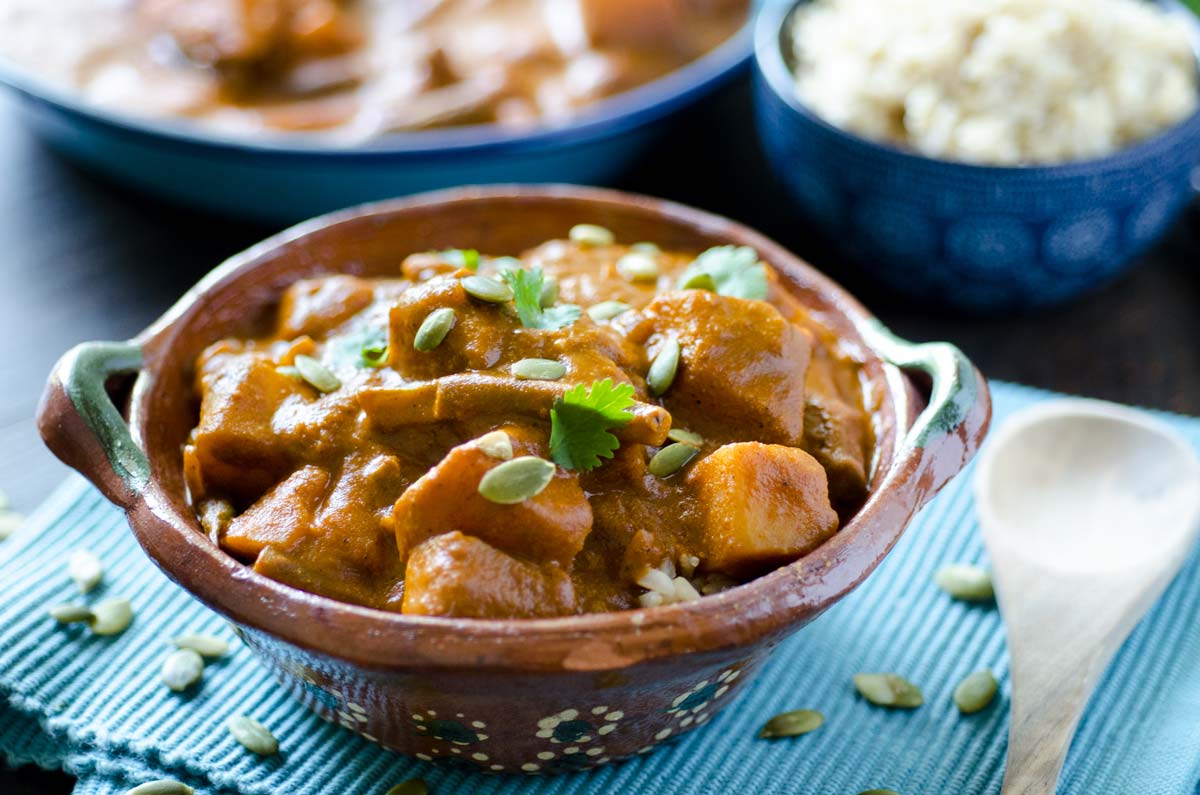 There are over 120 recipes in this book, not all of them are vegan, but most of them include a vegan option. The recipes are wonderfully researched, the cooking techniques explained in detail, and there's even a section with menu ideas. My favorite ones so far are Verdolagas & Nectarine Summer Salad, Chipotle Pumpkin Soup, and the Tlacoyos con Quelites.
Thank you, Luz and Catriona, for the inspiring me to continue to publish plant-based recipes that honor Mexican culture and traditions. I hope to meet you guys some day and maybe share a meal that honors our ancestors!
You can purchase Decolonize Your Diet on Amazon, Barnes & Noble and Indibound.
The Recipe: Pipian Rojo Over Rice
I have chosen this Pipian Rojo Over Rice recipe to share with you, because it is perfect for the coming fall and winter months. The sauce is a hearty, stick to your ribs kind of sauce, made with roasted pumpkin seeds, roasted tomato, and dried pasilla, arbol, and ancho chiles. The sauce is served over potatoes, green beans, and chayote. You can serve this over a bed of rice with a green salad. Enjoy!
Pipian Rojo Over Rice
The sauce is a hearty, stick to your ribs kind of sauce, made with roasted pumpkin seeds, roasted tomato, and dried pasilla, arbol, and ancho chiles.
Pin Recipe
Print Recipe
Ingredients
Sauce
2

Corn tortillas

3

Guajillo chiles, dried, deseeded

5

Pasilla chiles, dried, deseeded

1

Chile de Arbol, dried, deseeded

1

White onion, peeled,

and quartered

2

Garlic, whole, unpeeled

2

Medium tomatoes

¾

cup

Pumpkin seeds, raw, hulled

(pepitas)

8

Allspice berries, whole

6

Peppercorns

1 tsp.

Achiote, ground

½

tsp.

Sea salt

¼

tsp.

Pepper
Stew
5

Purple potatoes, medium-sized, scrubbed

½

lb.

Green beans, ends removed

1

Chayote, peeled

1

Onion, diced

3

tbsp.

Olive oil (optional)

4

cloves

Garlic, minced

½

tsp.

Sea salt

2

tbsp.

Pumpkin seed oil (optional)

2

cups

Cooked rice (white or brown)

¼

cup

Pumpkin seeds, raw, hulled

for garnish

¼

cup

Cilantro, leaves only
Instructions
To make sauce
On a griddle on medium high-heat, toast corn tortillas until crispy and slightly charred. Set aside. On the same griddle, toast dried chiles for 1 minute on each side, taking care not to burn. Put chiles in a bowl and cover with boiling water. Use a small plate to keep chiles submerged for 30 minutes.

On same hot griddle, slightly char onions and garlic, about 4 minutes. Peel garlic and place it with onions in blender. Put whole tomatoes on griddle and turn often to char on several sides, then add to blender. When chiles have finished soaking, drain, and add to blender.


On same hot griddle, toast pumpkin seeds until they begin to puff up. Reserve 1/4 cup of pumpkin seeds for garnish, and add the rest to the blender. On griddle, toast allspice and peppercorns for a few seconds and add to blender wth achiote, salt, and pepper.

Break charred tortillas into quarters and add to blender. Purée until ingredients form a smooth sauce. If necessary, work in batches or add a small amount of water to blender to process smoothly. Sauce should have the consistency of a tomato sauce or just a little bit chunkier.
To make stew:
Coarsley chop potatoes, green beans, and chayote into hearty, bite-sized chunks and set aside. In a large pot on medium heat, sauté onions in olive oil for 5 minutes. Add garlic and stir until fragrant. Add potatoes, green beans, and chayote and stir to combine.

Season vegetables with salt. Add just enough water to cover vegetables and bring to a boil. Stir in pipian sauce. Lower heat to medium simmer, stirring occasionally, for about 30 minutes or until vegetables are fork-tender. Adjust seasonings.

Divide rice between bowls and serve pipian over rice. Garnish each serving with a drizzle of pumpkin seed oil, pumpkin seeds, and cilantro leaves.
Notes
Recipe from the book Decolonize Your Diet by Luz Calvo and Catriona Rueda Esquibel. Recipe used with permission from author. 
Nutrition
Calories:
262
kcal
|
Carbohydrates:
30
g
|
Protein:
7
g
|
Fat:
14
g
|
Saturated Fat:
2
g
|
Polyunsaturated Fat:
4
g
|
Monounsaturated Fat:
6
g
|
Trans Fat:
1
g
|
Sodium:
255
mg
|
Potassium:
498
mg
|
Fiber:
5
g
|
Sugar:
4
g
|
Vitamin A:
2419
IU
|
Vitamin C:
17
mg
|
Calcium:
59
mg
|
Iron:
2
mg
Disclosure: I received a free copy of this book to complete this review.