The incredible Ale Graf, from the blog Piloncillo & Vanilla, is doing a guest post for me this week while we continue our new baby bliss here in the Stone household. ¡Thank you Ale! 

These kale potato tacos topped with cilantro cream sauce are the easiest thing in the world to make, they are also delicious and nutritious. Imagine, that with each bite you get the full flavor of the potatoes, the texture of the kale, and the explosive flavor of the cilantro cream sauce…..yum!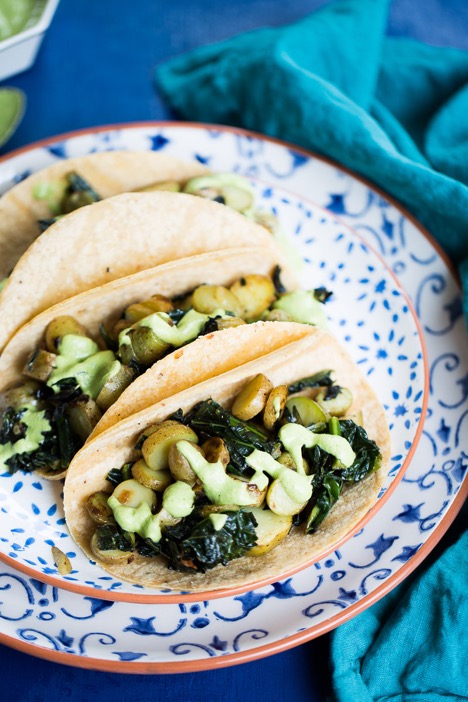 Sometimes I draw a blank and I can't figure out what to make for lunch or dinner. I open the fridge three hundred times and I just can't seem to figure it out, but the truth is making a delicious lunch or dinner doesn't have to be that hard. I made these tacos for the first time on one of those days, when I kept opening the fridge and didn't feel like cooking at all. Which is rare, because I always feel like cooking.
But when the onion sizzled in the sauté pan and the aroma hit me, everything changed. That's when I knew that what I really wanted to eat was tacos, like the good Mexican that I am. Once the onion was tender and transparent, I added the potatoes, and that's when I realized that kale was the perfect addition to these tacos.
I always try to add greens to everything I cook, it's a really easy way to consume them and this way you don't have to eat them only in salads. Greens go well with everything. I like to add them to soups and sandwiches. Anyway, once the potato and kale mixture was ready I decided to make the cilantro cream sauce.
This cilantro cream sauce can be prepared in one day and it keeps up to one week in the refrigerator. It's one of those sauces that pairs really well with everything and brings out other flavors. I am leaving the recipe below, I hope you like it, and that it will be useful on those days when you just don't know what to make for dinner.
The Recipe: Kale Potato Tacos & Cilantro Cream Sauce
Kale and Potato Tacos & Cilantro Cream Sauce
Pin Recipe
Print Recipe
Ingredients
2

tbsp.

Olive or vegetable oil

1/3

cup

Diced onion

2 1/2

cups (1 lb.)

Diced potatoes (I used fingerlings)

3

cups

Dinosaur kale or other leafy green

1/2

tsp.

Salt

8

Corn tortillas
Cilantro Cream Sauce
1/4

cup

Diced onion

1/2

cup

Raw cashews soaked for 3 hours

3/4

cup

Washed and chopped cilantro

1/2

Serrano chile

1

Lime, juice of

1/3

cup

Water

1/2

tsp.

Salt
Instructions
Heat a large sauté pan to medium heat, add oil and onion. When the onion is translucent and tender add the potatoes.

Cook for approximately 10 minutes or until the onion and potatoes are golden brown.

Add the kale and salt and continue cooking until the kale and potatoes are tender.

In the meantime, place the onion, soaked cashews, cilantro, chile serrano, lime juice, water, and salt in the blender and process until smooth. Taste and adjust seasoning as necessary.

To make the tacos, heat the corn tortillas, add 2-3 tbsp. of the kale and potato mixture and top with a tsp. of cilantro cream sauce.
 Here are some more delicious taco recipes