Esquites (vegan Mexican street corn) are the perfect snack or party appetizer. Tender corn is simmered with dairy-free butter, onion, garlic, and epazote, then topped with your choice of mayonnaise, crema, lime juice, chile powder, and vegan queso fresco.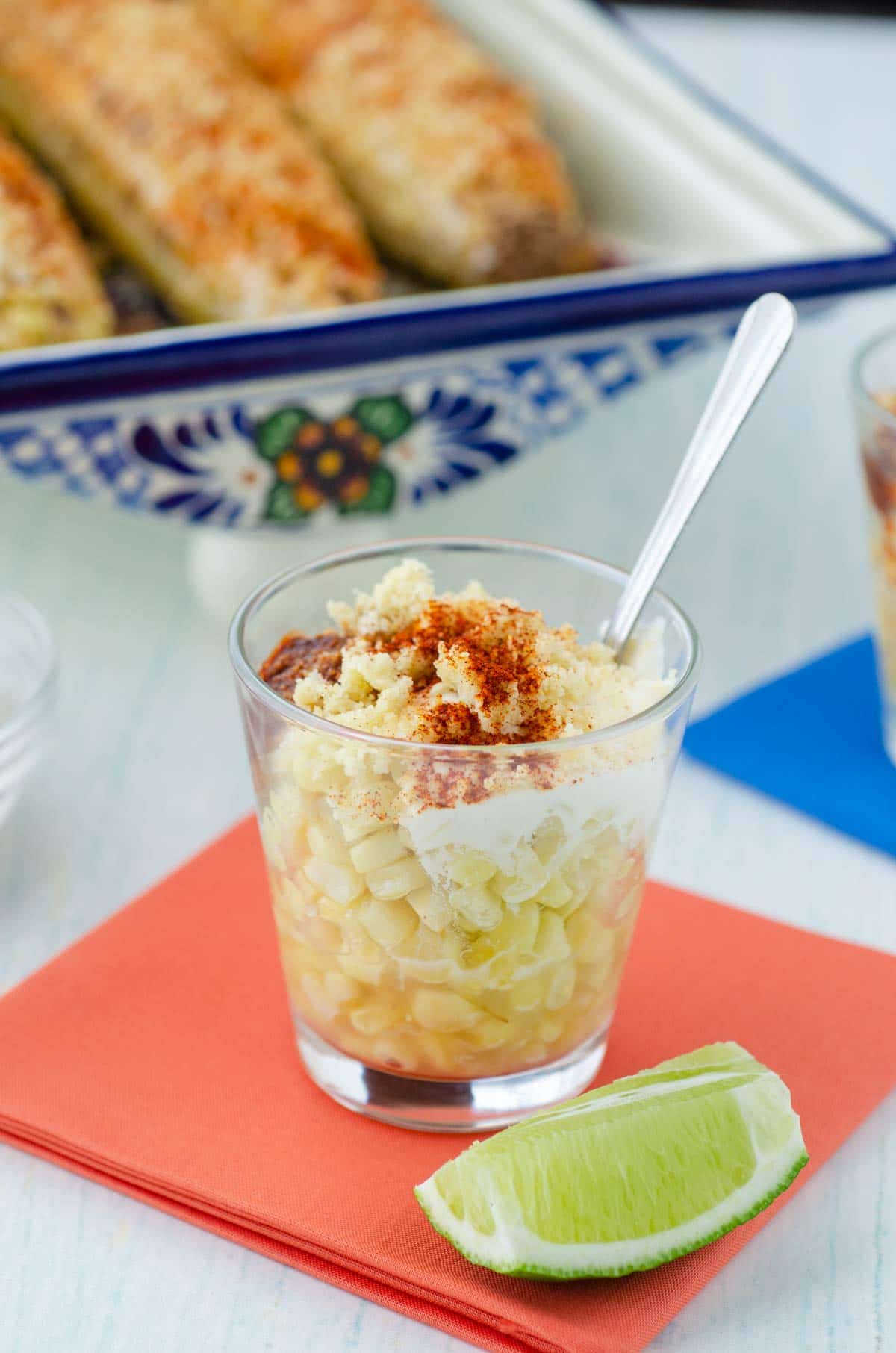 A History
The word esquite comes from the nahuatl word izquitl, which means to toast corn. Throughout Mexico, they are also known as trolelotes, chaska, or elote en vaso. Corn kernels are prepared usually by cooking them with water, salt, and epazote, then served with various toppings. They are sold on the streets in small carts or booths, outside of movie theaters, plazas, churches, or anywhere where large groups of people gather.
It is said that esquites were created by Tlazocihuapilli, the only women to ever govern the Xochimilcas, which are also known for dishes like Necuatolli (atole with honey), and Tlapiques (stews cooked in corn husks). However, the modern variation of vegan Mexican street corn is not pre-Hispanic since it was the Spanish themselves that brought limes, cow's milk cheese, and crema. Mayonnaise wasn't invented in France (or Spain depending on who you ask) until 1756, and brought commercially into Mexico until 1947.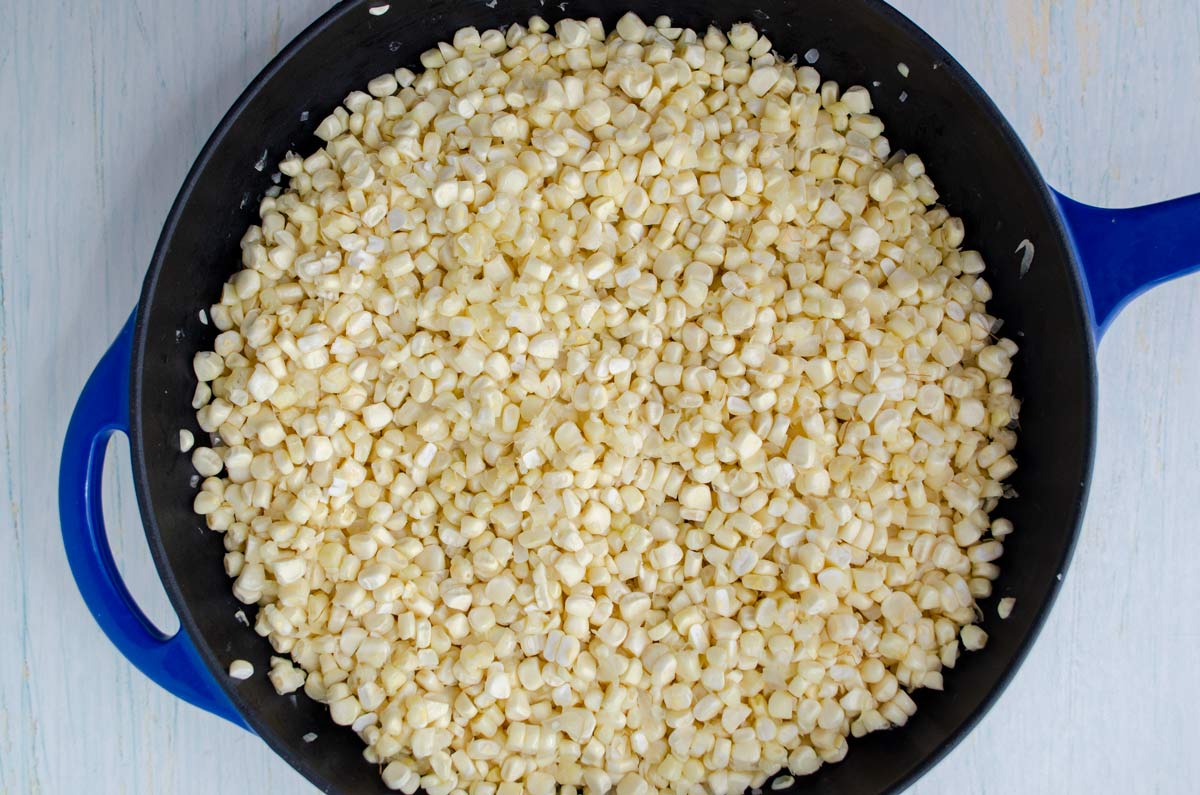 Regional differences
Mexican cuisine changes so much according to the region or state that you are in, and the same is true with esquites. In Coahuila where I'm from the corn is simmered in water, and served in a cup with the various toppings which always includes crema.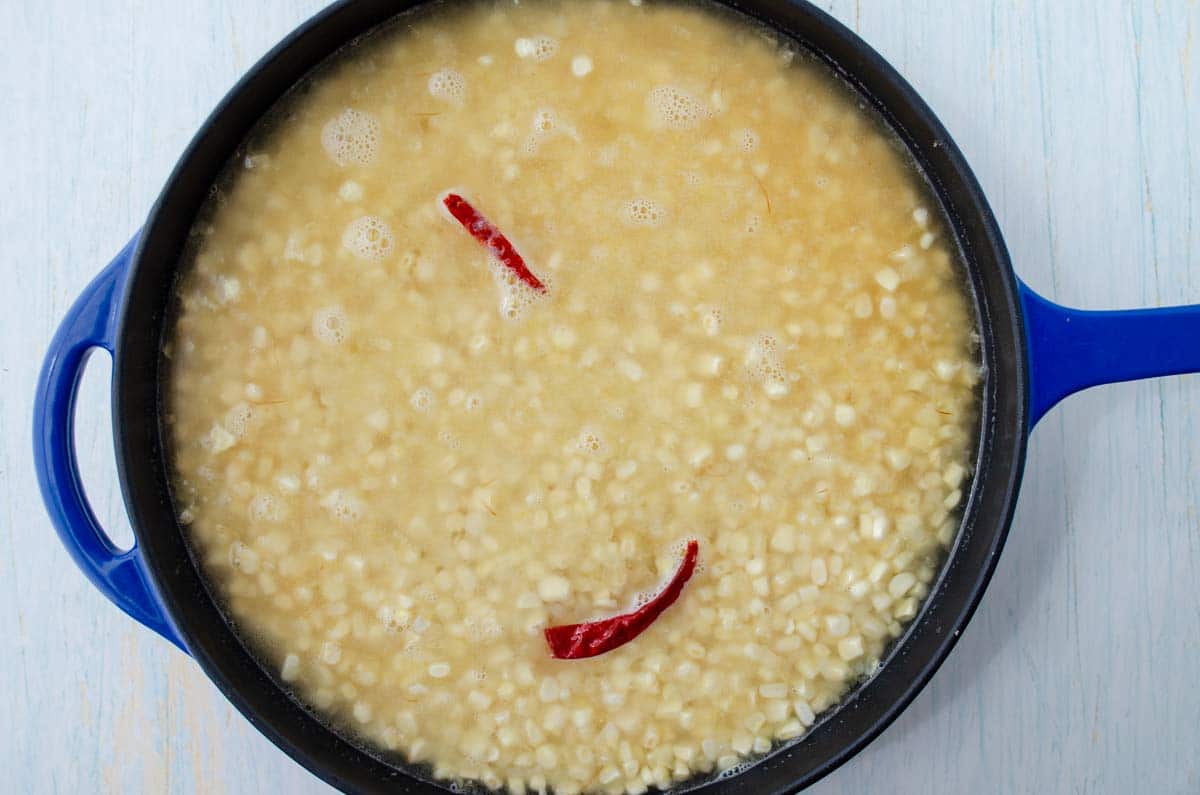 In Hidalgo, they are made with pulque (fermented drink made from the sap of maguey), onion, garlic, jalapeño, and epazote. In Hermosillo, they are sweet, simmered in a type of piloncillo sugar. In Tlaxcala, they are sautéed with epazote and green chile. Everywhere in Mexico, it's super popular right now to crush Takis and use them as a topping! How is it served in your home state?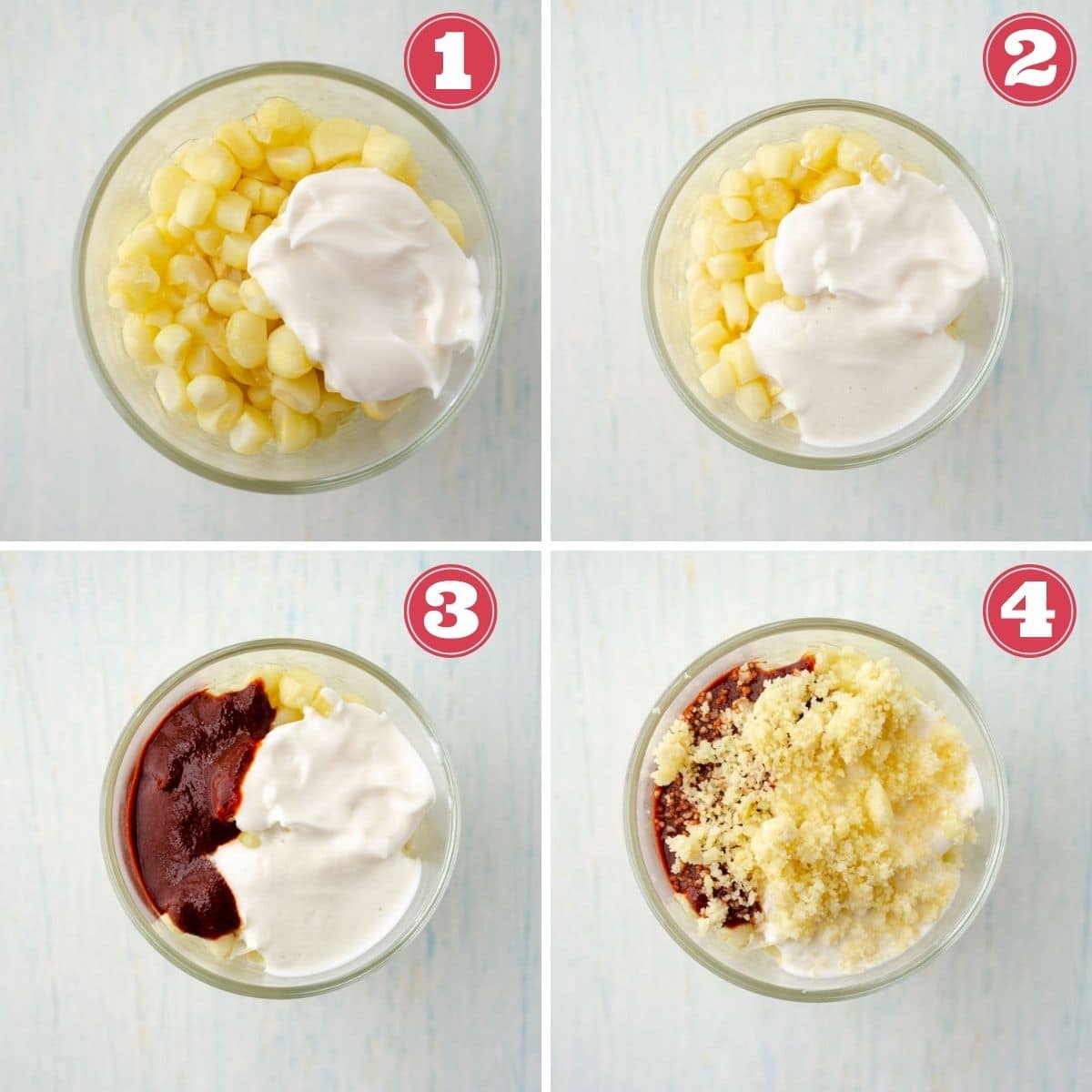 Ingredients
Corn: This is a tricky one. Corn in Mexico is not sweet at all, it is similar to what is known as field corn in the US. I recommend you use white corn, not sweet yellow corn to make this.
Vegan Crema: You can find my recipe for almond crema here.
Vegan Queso Fresco or Cotija: I used both if these but if you're looking for a quick version use the vegan cotija. I make my queso fresco with almonds or macadamia nuts.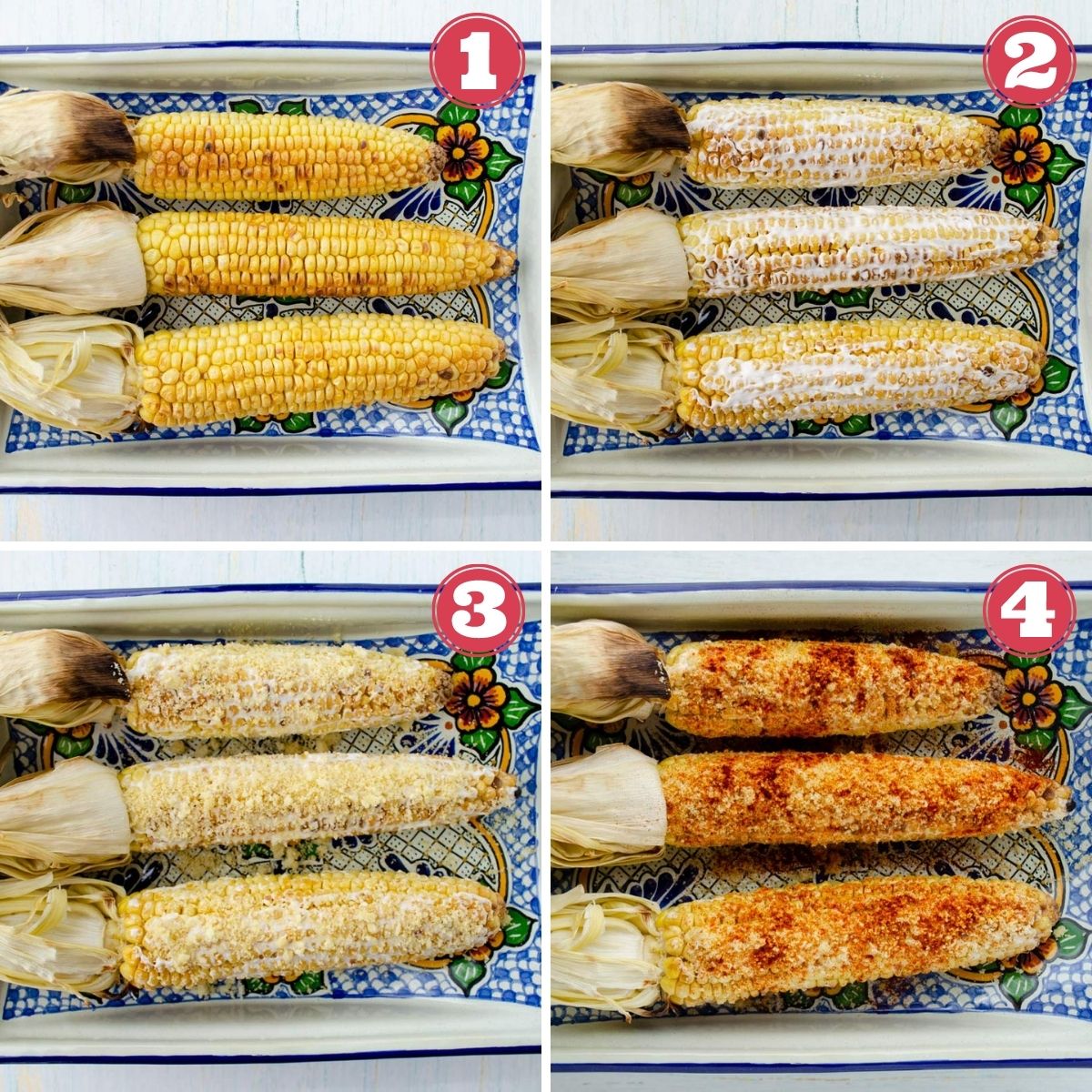 Vegan Mayo: I used the new Primal Kitchen Avocado Oil Mayo. It is certified paleo, keto, vegan, dairy-free, sugar-free, and Whole 30 approved. It is creamy and tangy, so go easy on the lime. . It is available at your local Target.
Primal Kitchen has so many great vegan condiments and sauces. I highly recommend them. Our absolute favorite is the Organic Unsweetened Ketchup which is sweetened with balsamic vinegar!!
Chile powder: Use a chile powder that doesn't have lime in it. In Coahuila, we like to make this into a paste, by adding water and lime juice to the chile powder. I think it comes out much better this way.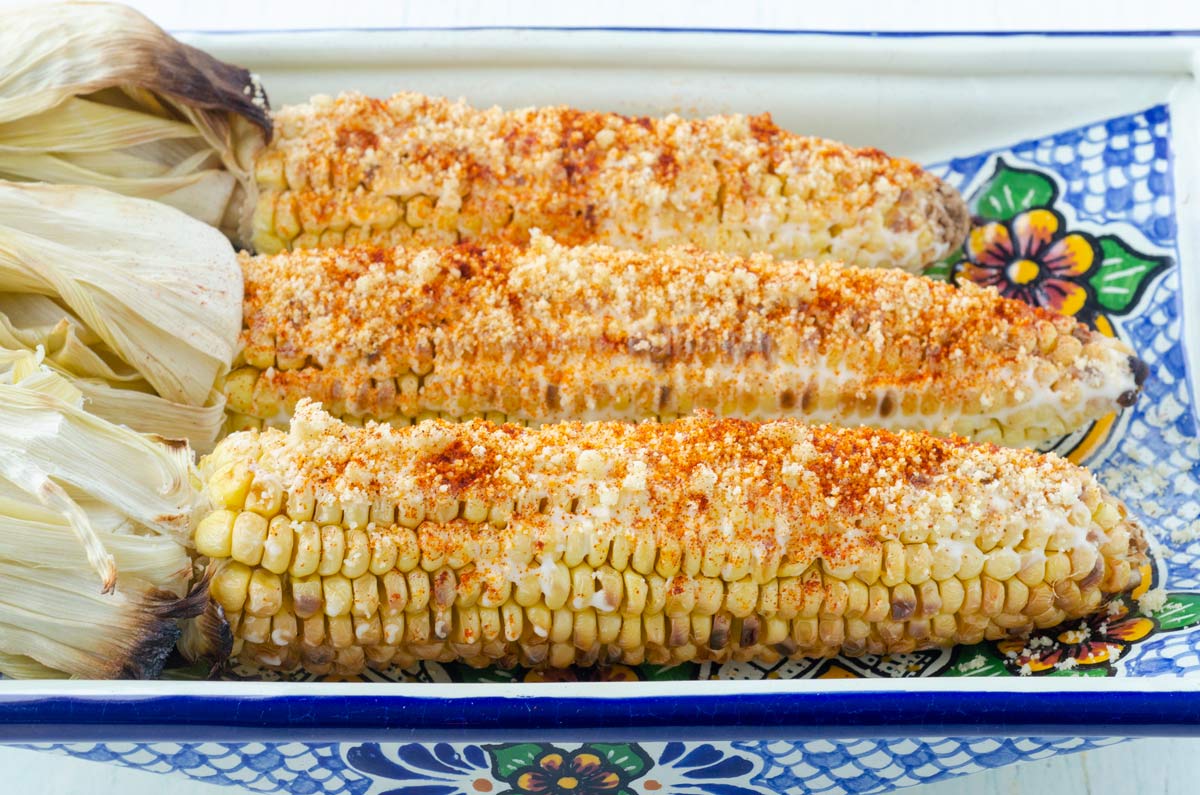 Serving
Serve in a cup and let everyone choose their own topping or if you want to leave the corn on the cob throw it on the grill then brush it with butter, mayo, vegan cheese, and chile powder.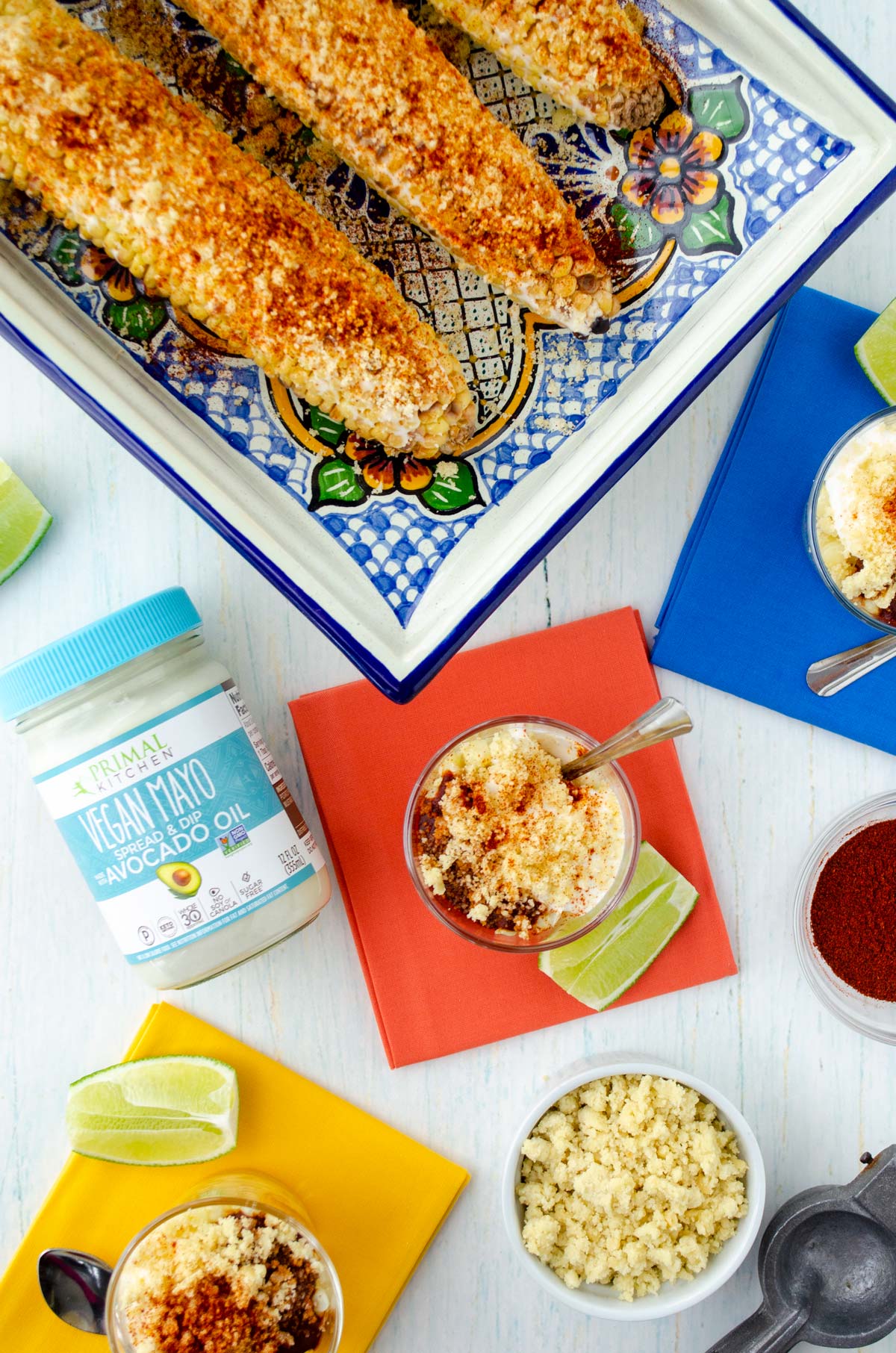 Storing
Store the corn without the toppings in the fridge for 5 days. This would not do well with freezing.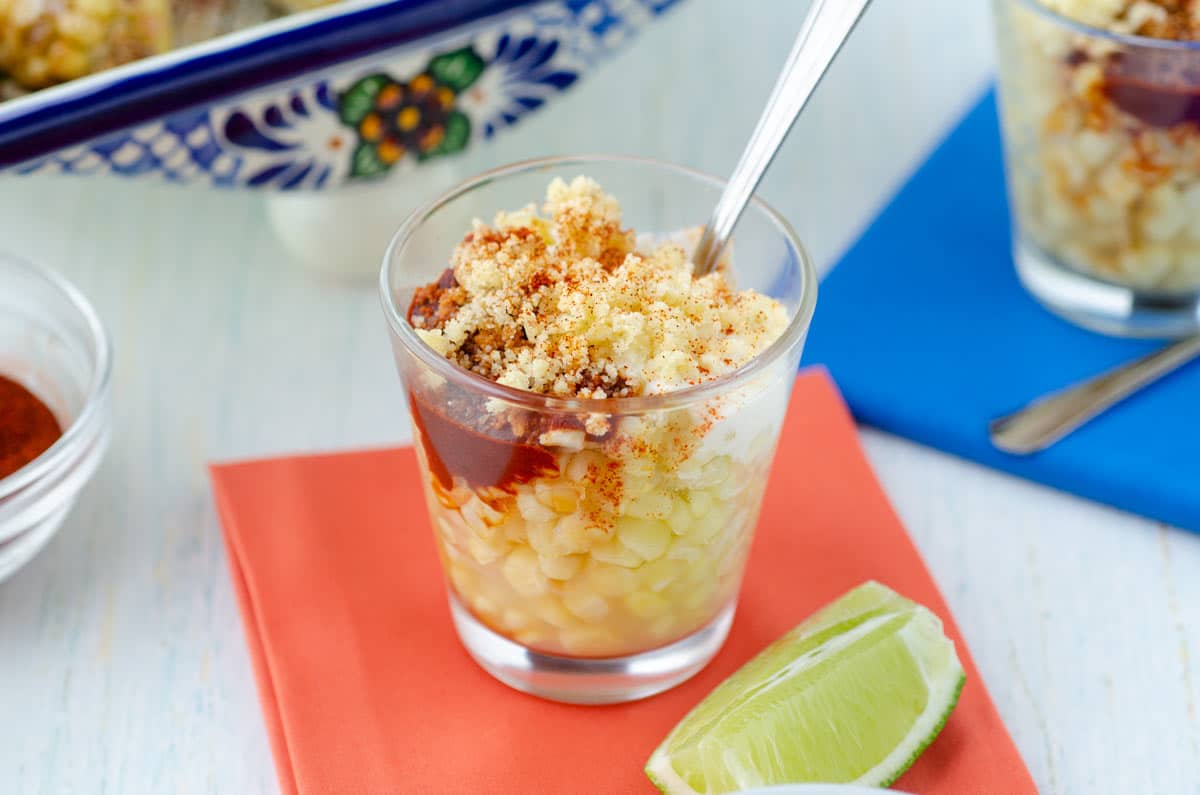 Related Recipes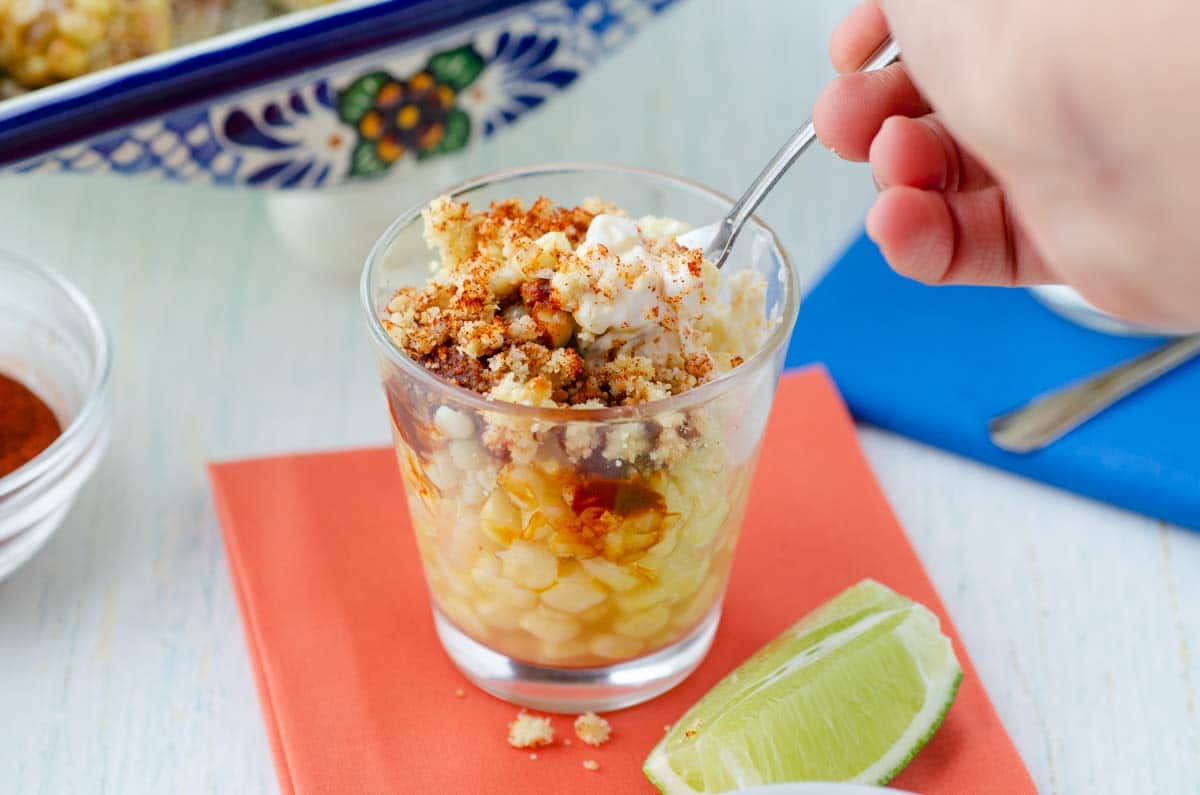 Vegan Mexican Street Corn (Esquites)
Esquites (vegan Mexican street corn) this popular Mexican snack gone vegan is just as delicious as the original, but dairy-free!
Pin Recipe
Print Recipe
Ingredients
4

ears

Corn (3 1/4 cups)

kernels cut off

1

sprig

Epazote

fresh

2

Arbol chiles

dried

2

cloves

Garlic

minced

½

cup

Onion

diced

1 ½

tbsp.

Vegan butter

2-3

cups

Vegetable stock
Instructions
Heat a large sauté pan to medium heat. Add butter, as soon as butter begins to melt add onion. Let cook for 3-4 minutes or until onion is tender and translucent.

Add garlic, stir, and continue to cook 2 more minutes or until you begin to smell the garlic.

Add corn, epazote, and chile de arbol. Stir to combine. Add vegetable broth, enough to barely cover the corn, and lower heat to a simmer. Simmer for about 8 min. or until the corn is tender. Season to taste with salt.

Drain some of the corn with a slotted spoon, and place it into cups. Add a squeeze of lime juice, 1 tbsp. vegan mayo, 1 tbsp. almond crema, 1 tbsp. Vegan queso fresco to each cup. Sprinkle some chile powder on top, and some more lime juice if needed. Serve immediately.
Notes
Use white corn for better results. I recommend you use a chile powder that doesn't have lime in it. You can substitute chile jalapeño or serrano for the chile de arbol. To make this with corn on the cob, grill your corn then slather with vegan butter, vegan mayo, vegan queso fresco, and chile powder. You can also use my vegan queso cotija.
Nutrition
Serving:
1
serving
|
Calories:
365
kcal
|
Carbohydrates:
25
g
|
Protein:
5
g
|
Fat:
30
g
|
Saturated Fat:
7
g
|
Trans Fat:
1
g
|
Sodium:
1061
mg
|
Potassium:
367
mg
|
Fiber:
8
g
|
Sugar:
6
g
|
Vitamin A:
4721
IU
|
Vitamin C:
12
mg
|
Calcium:
86
mg
|
Iron:
3
mg