This post was created in partnership with California Strawberries. All thoughts and opinions are my own.
These stuffed conchas are filled with a creamy vegan nutella and sliced California strawberries. A sweet treat that the whole family will enjoy!
What are conchas?
Conchas are a Mexican sweet bread in the shape of a shell. It one of the most well known " pan dulce ". It is a pillowy pastry with a crunchy cookie top. It is perfect for dipping in hot chocolate or a hot cup of coffee.
They are amazing eaten alone, but if you want to take your concha to the next level you have to try it with this homemade vegan nutella and fresh California strawberries.
How do you make Vegan Nutella?
I chose to make this chocolate-nut spread with cashews instead of the traditional hazelnuts. The soaked cashews give it a mild nut flavor that lets the bittersweet chocolate stand out. The secret to the creaminess of this spread is a little bit of avocado! I promise you won't even know it's there.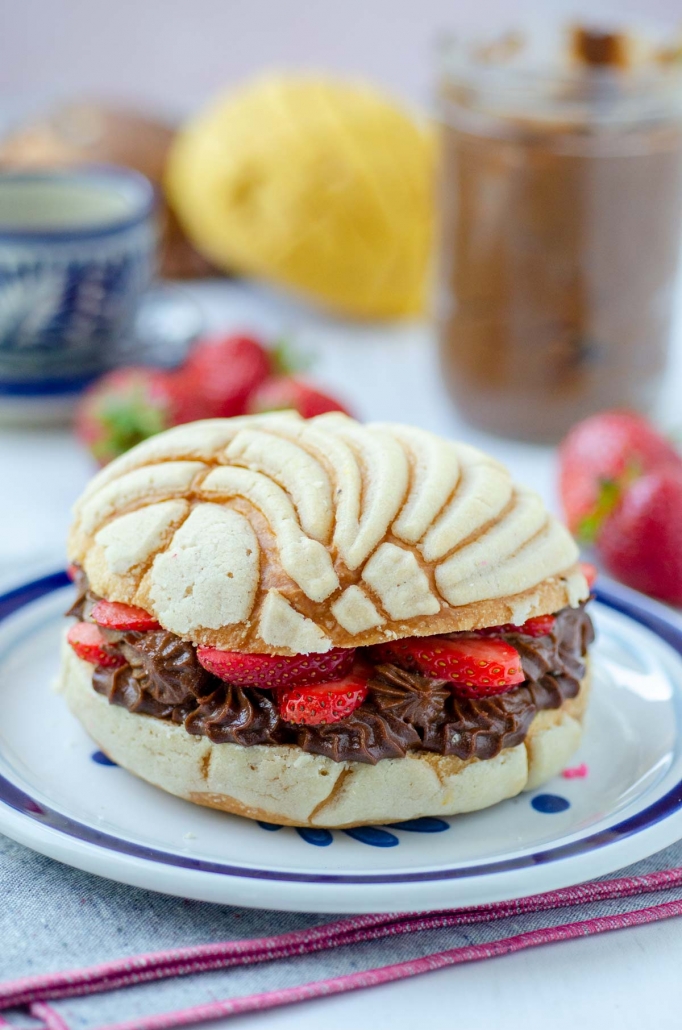 We Love Strawberries!!
We love strawberries in this house we like to add them to our desserts like this stuffed concha, but we also love to make paletas, salads, pancakes, and even tamales. The best part is that they are not only delicious but healthy! Strawberries are full of vitamins and nutrients. Did you know that one serving of strawberries has a full day's value of vitamin C?? They are also packed with antioxidants, and potassium, folate, and fiber.
California Strawberries:
California is the nation's leading producer of strawberries. Which means that it's probable the strawberries you are getting from your local grocery store are from California. California's rich, sandy coastal soils, western ocean exposure and moderate temperatures are the perfect combination for a year-round strawberry growing season. We actually lived in California for about 3 years and we loved going strawberry picking at our local Orange County farm. California strawberries are so sweet and juicy right of the vine!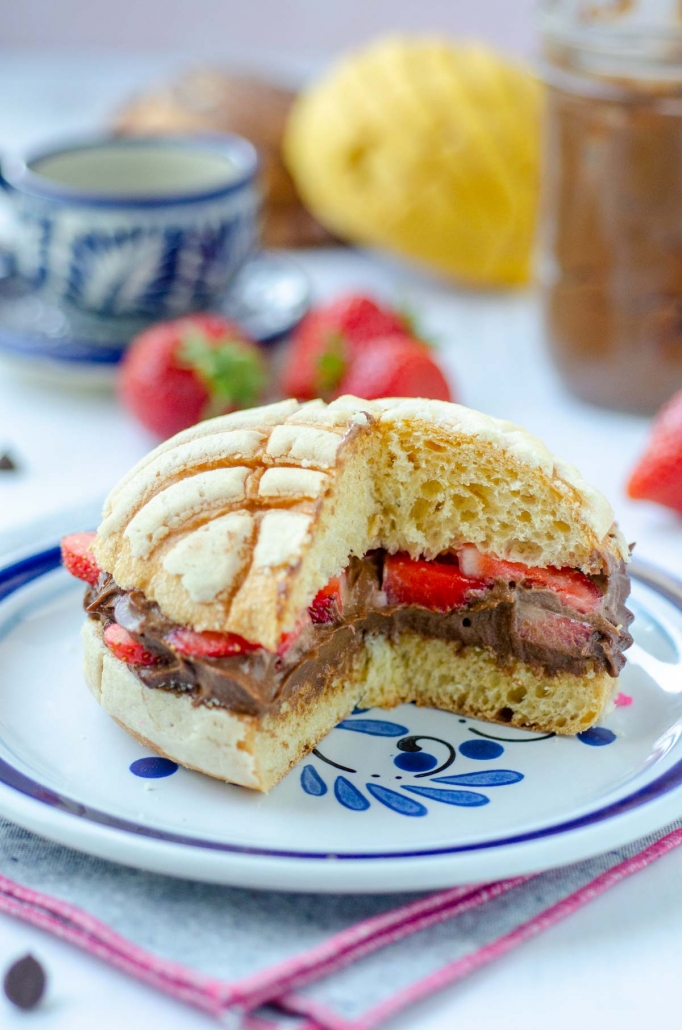 The Recipe: Stuffed Conchas with Vegan Nutella and Strawberries
I used my vegan concha recipe for this, but you can also purchase your own conchas if you don't feel like making them.
If you are allergic to cashews you can use almonds or go back to the traditional hazelnut.
I used my food processor for this, but you could also use a high powered blender.
This post was created in partnership with California Strawberries. THIS IS WHERE YOU CAN FIND THE RECIPE FOR THE STUFFED CONCHAS WITH CHOCOLATE NUT SPREAD AND STRAWBERRIES.