These vegan meatballs are made with a mixture of black beans, rice, and sautéed mushrooms and served in a   tomato and chile ancho broth. They are ridiculously easy to make and they are one of those meals that remind you of long afternoons sitting at your abuela's table eating as a family. (If you're looking for more meaty vegan meatballs you can try these.)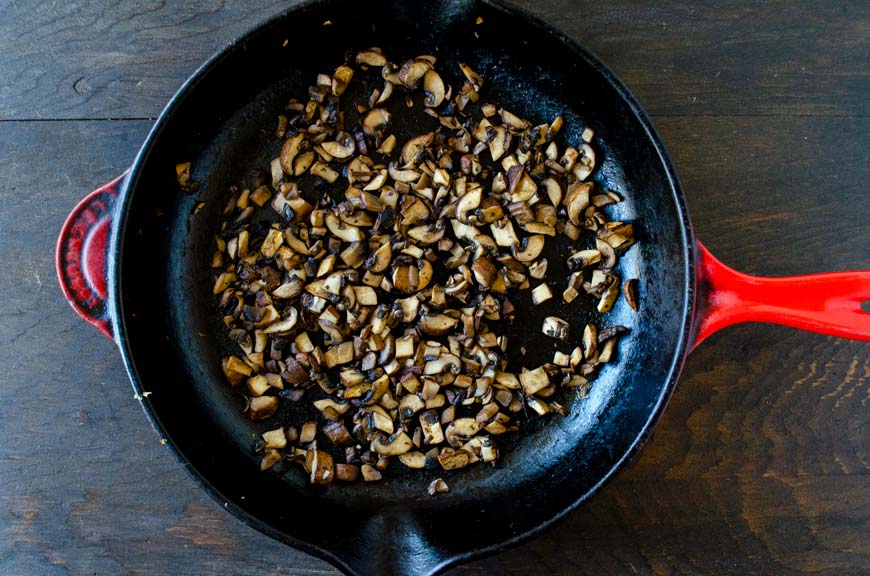 This recipe is part of an amazing project called Our Vegan Mexico, where 32 talented cooks will be showcasing, right here on Dora's Table, 32 vegan Mexican recipes. Each recipe will be representing one state of the Mexican union.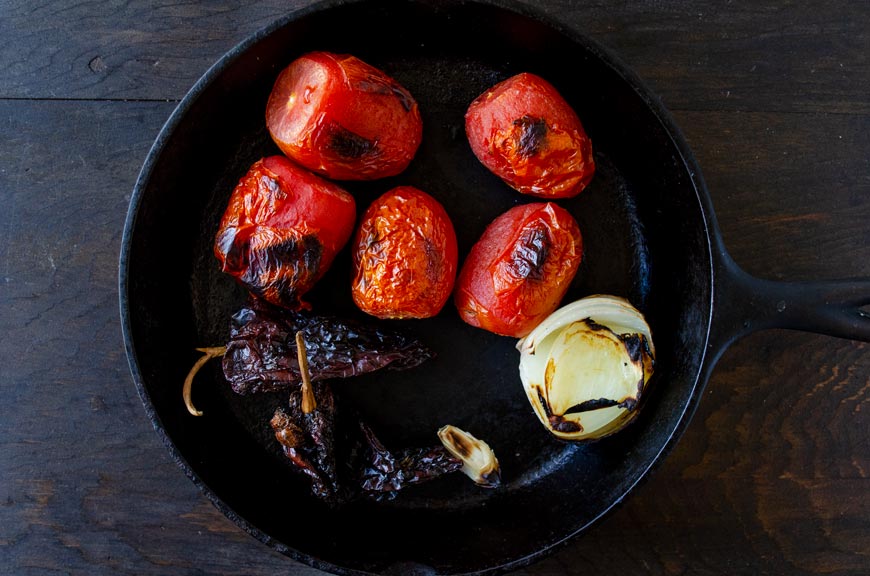 With this project, I am hoping to encourage the Mexican community in the U.S., and the people of my country to take a chance and make the change to a plant-based diet. This recipe, which is representing the state of Durango, is the creation of Gaby from @unamamavegana, here she tells you a bit of her story.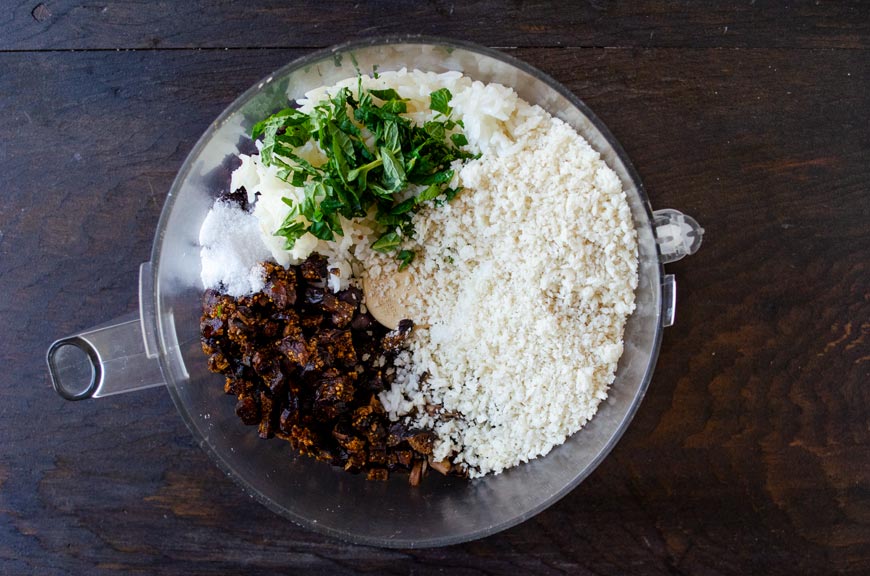 Gaby's Story:
Many people ask me why I am vegan. On March 2015 my husband, then 40 years old, underwent a complicated open-heart surgery. A hereditary medical condition, of which he wasn't aware of, completely blocked 2 of his arteries. We lived a very difficult stage as a family.
My children were so little, and their dad was very young. It was a case that the doctors just couldn't believe. Fortunately, everything went well, and my husband drastically changed his habits and began to take great care of himself. Shortly after, I was diagnosed with several autoimmune diseases and the doctors recommended a Mediterranean anti-inflammatory diet as part of my treatment.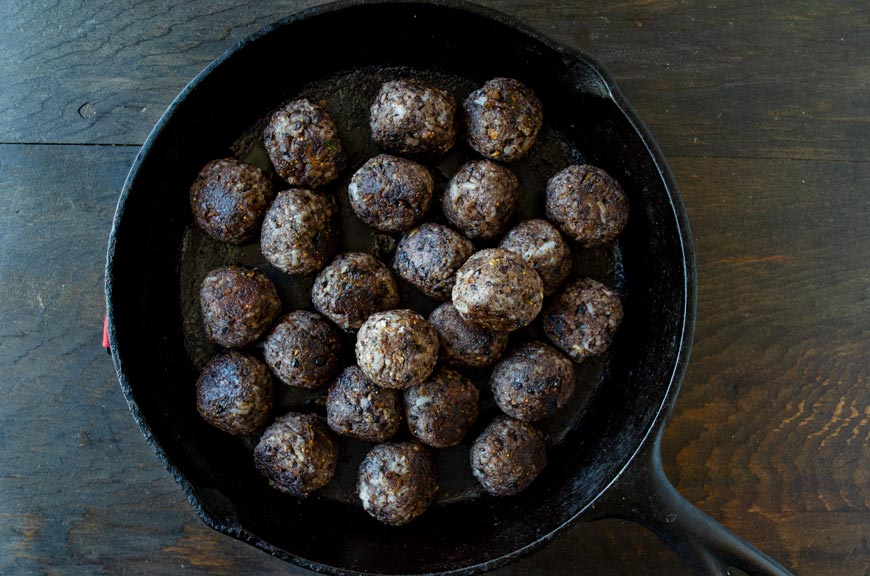 So three years ago we hardly ate meat, and shortly before last summer, he decided to become vegan, and I told him," Yes, I'll do it with you!"  Because it's what I can do from my trench, it's how I can take care of him because I love him, and it's also how I can motivate and encourage him. From there on everything came naturally, it became a decision and commitment that we made as a family, very convinced that we are on the right path.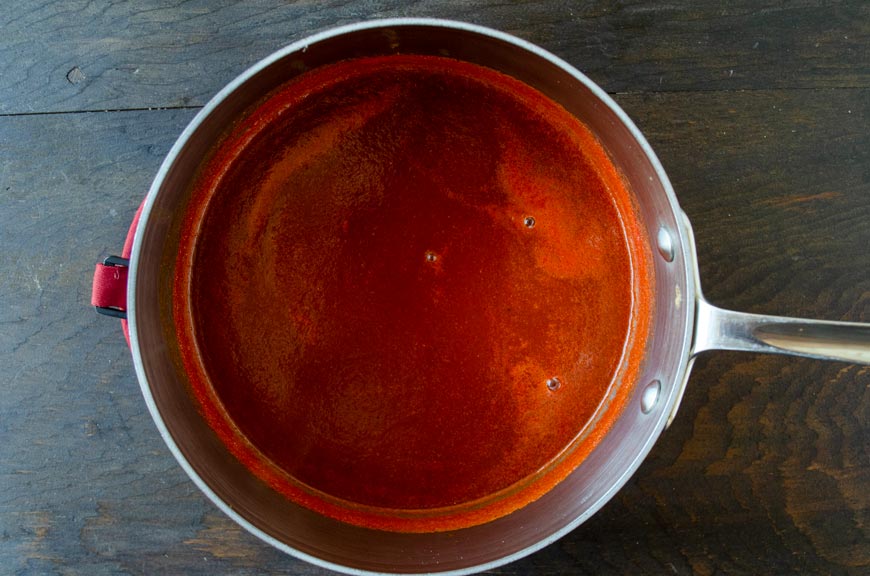 The Recipe: Mexican Vegan Meatballs in Tomato Chile Broth
The cuisine of Durango has a very defined mestizo quality. Its gastronomy has a strong pre-Hispanic and Spanish heritage. Because of its location in the northwest of the country, Durango sheltered in its desert lands semi-nomadic peoples, this characteristic that led them to dehydrate their food for transportation. Among them meat, chiles, and fruits.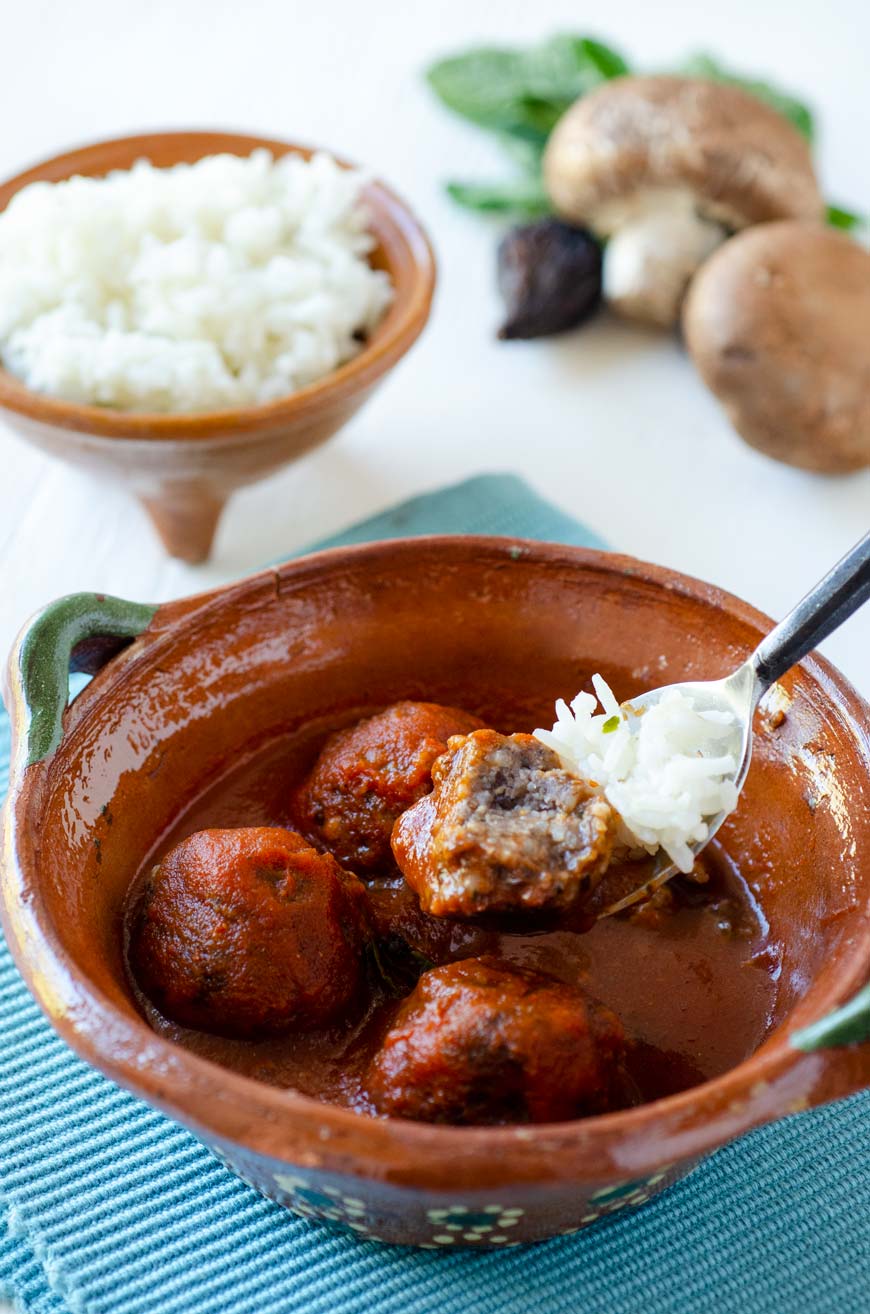 Reading a little about their typical dishes, I wanted to find a recipe that would rescue their mestizo identity. Rice and beans are key ingredients, and the mushrooms replace the meat. The figs and mint will give the perfect touch to these meatballs.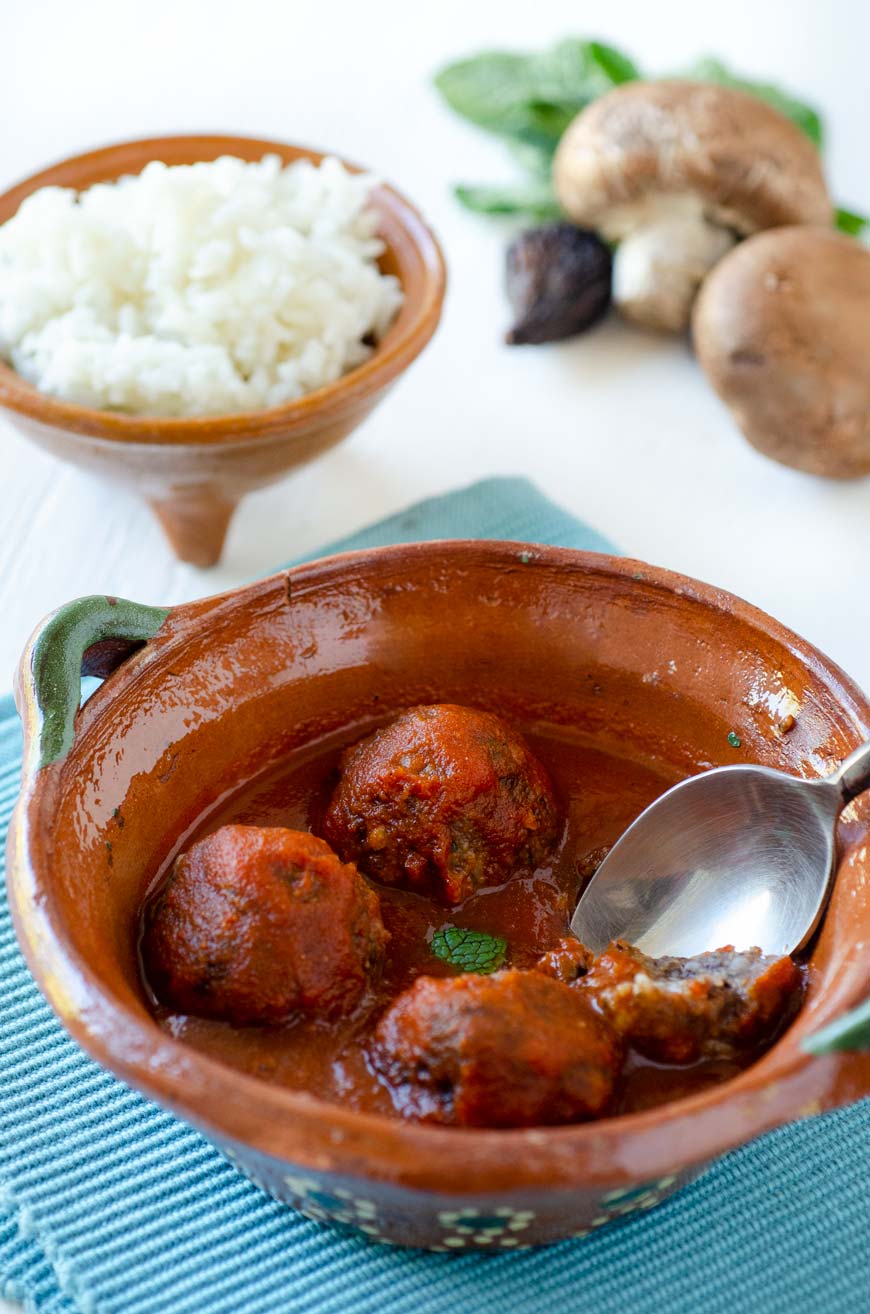 Mexican Vegan Meatballs in Tomato Chile Broth
These vegan meatballs are made with a mixture of black beans, rice, and sautéed mushrooms and served in a  tomato and chile ancho broth. 
Pin Recipe
Print Recipe
Ingredients
Meatballs:
7

oz.

Sliced cremini mushrooms

(about 10 mushrooms)

2

cups

Cooked white rice

2

cups

Cooked black beans

drained

1

srpig

Fresh mint

finely chopped

5

Dried figs

finely chopped

1 ¼

cups

Bread crumbs

adjust for consistency

1

tsp.

Salt
For the broth:
5

Tomatoes

medium size

½

White onion

medium size

1

clove

Garlic

2

Ancho chiles

deseeded

Salt to taste

1

cup

Water or vegetable broth

1

tsp.

Olive oil
Instructions
To make the meatballs:
Heat a large sauté pan to medium-high heat, add a little bit of oil (optional), and sauté mushrooms until golden brown, about 6-7 minutes. Remove mushrooms from pan and set aside.

Using a food processor, mix the mushrooms, rice, black beans, figs, mint, bread crumbs, and salt. Pulse a couple of times until everything incorporated together, but is not completely mashed. Try to preserve some of the texture of the beans and rice.

Shape the mix into equal sized balls. In the same sauté pan, set to medium heat, brown the meatballs in a little bit of oil until golden brown all over. (You can also bake them at 375°F for 20 to 30 min, flipping them half-way through.)
To make the tomato chile broth:
In a comal or cast-iron skillet set to médium-high heat, dry roast the tomato, chiles, garlic, and onion until they have dark spots all over.

Add the tomato, chile, garlic, onion, and vegetable broth to the blender and process until you have a smooth broth. Strain.

In a medium sauce pot heat 1 tsp. of olive oil. Add the tomato broth and let simmer for 5 minutes or until it changes to a dark red color and slightly thickens. Season to taste with salt and pepper.

Serve your meatballs in the tomato chile broth.
Nutrition
Calories:
487
kcal
|
Carbohydrates:
95
g
|
Protein:
19
g
|
Fat:
5
g
|
Saturated Fat:
1
g
|
Polyunsaturated Fat:
2
g
|
Monounsaturated Fat:
2
g
|
Sodium:
758
mg
|
Potassium:
1406
mg
|
Fiber:
18
g
|
Sugar:
20
g
|
Vitamin A:
5933
IU
|
Vitamin C:
28
mg
|
Calcium:
148
mg
|
Iron:
6
mg