These enchiladas de suelo are a regional specialty from the northern state of Sinaloa. They are open-faced, meaning they are not rolled, but instead the fillings are piled on top. The tortillas are dipped in a smoky chile ancho sauce, pan-fried, then topped with sauteed vegan chorizo, lettuce, radishes, cucumber, and vegan queso fresco.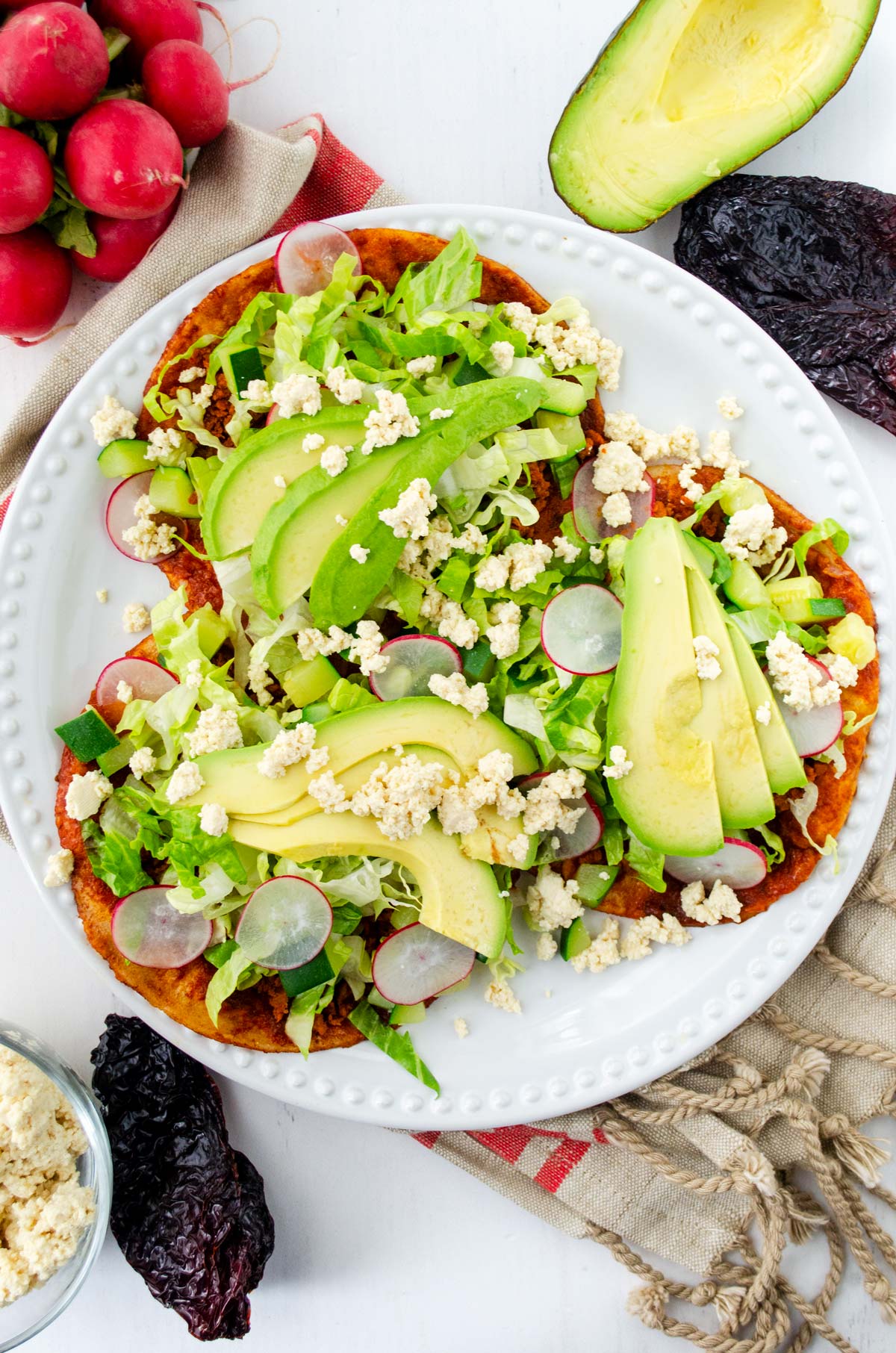 A History
Enchiladas are what we in Mexico call antojitos, which translates into "things you crave". They are appetizers or snacks eaten before the main meal, and are mostly corn-based, like sopes, gorditas, quesadillas, and tlacoyos.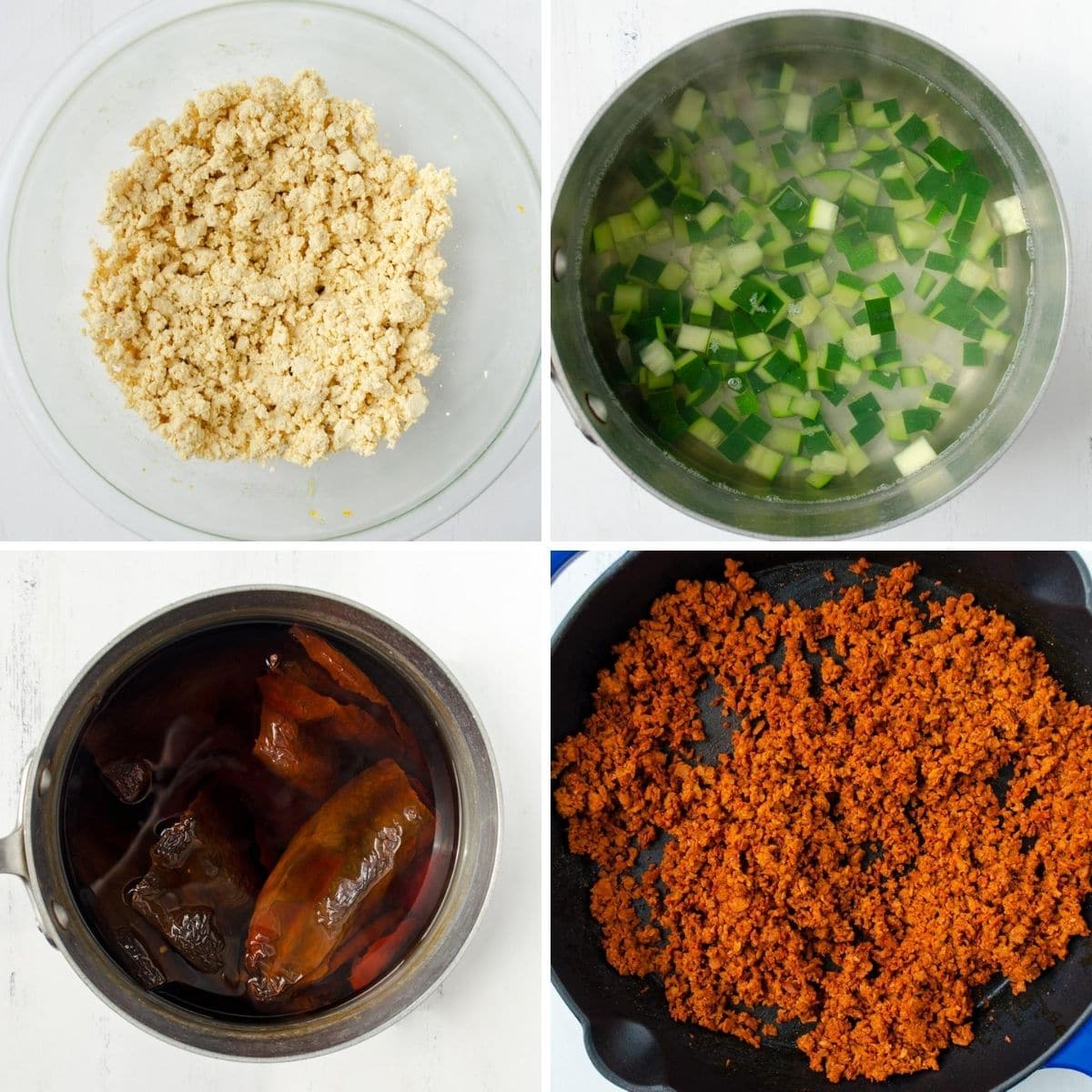 It is not known who invented enchiladas, but what we do know is that it is a pre-Hispanic recipe. There is evidence that the ancient civilizations of Mexico ate a dish made with tortillas and chiles, however, with the arrival of the Spanish cheese and crema were added to it.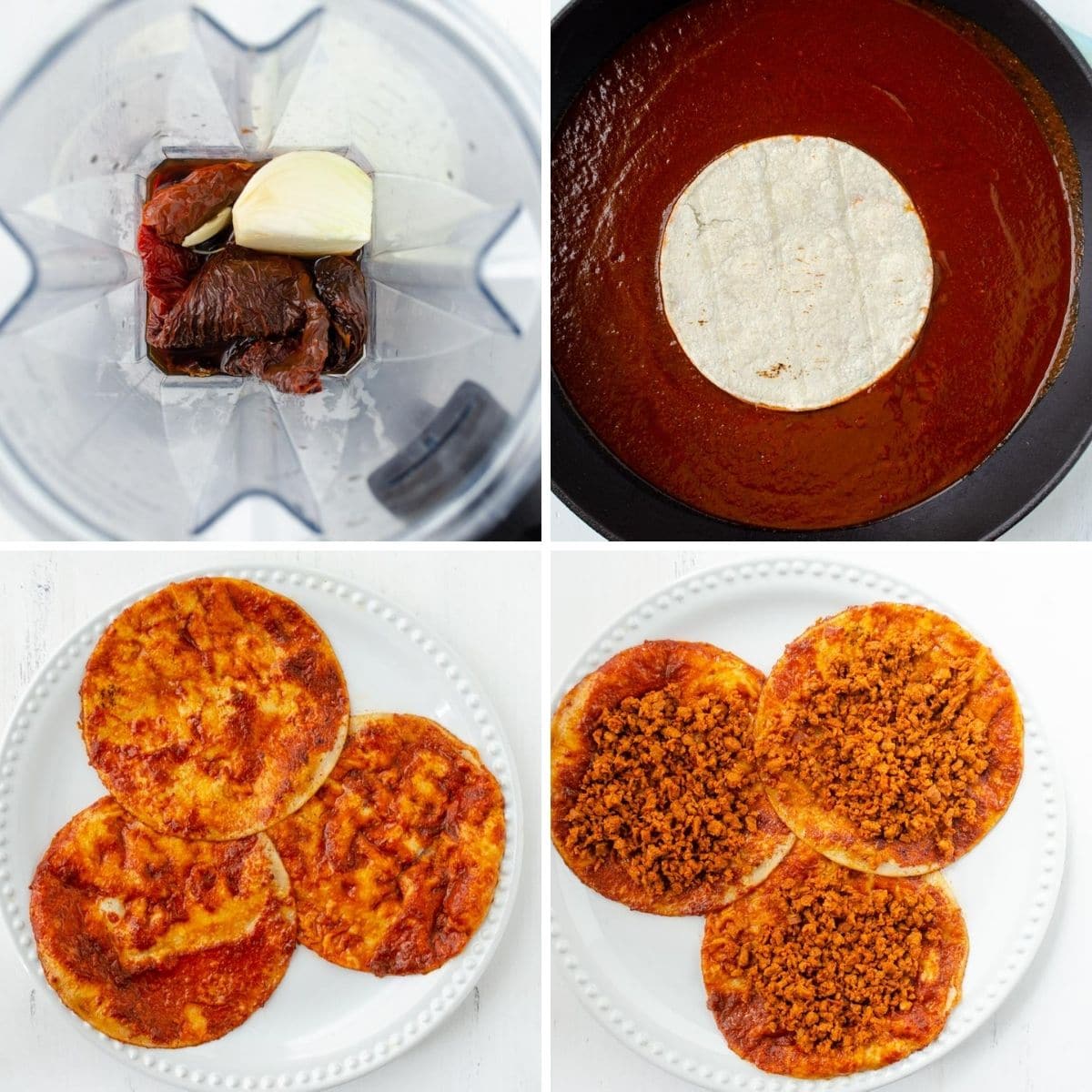 Regional Differences
Mexican cuisine varies greatly from region to region, and it is no different with enchiladas. The most common ones are enchiladas rojas and enchiladas verdes, but there are also enchiladas mineras, enmoladas, encacahuatadas, enchiladas suizas, enchiladas potosinas, and many more.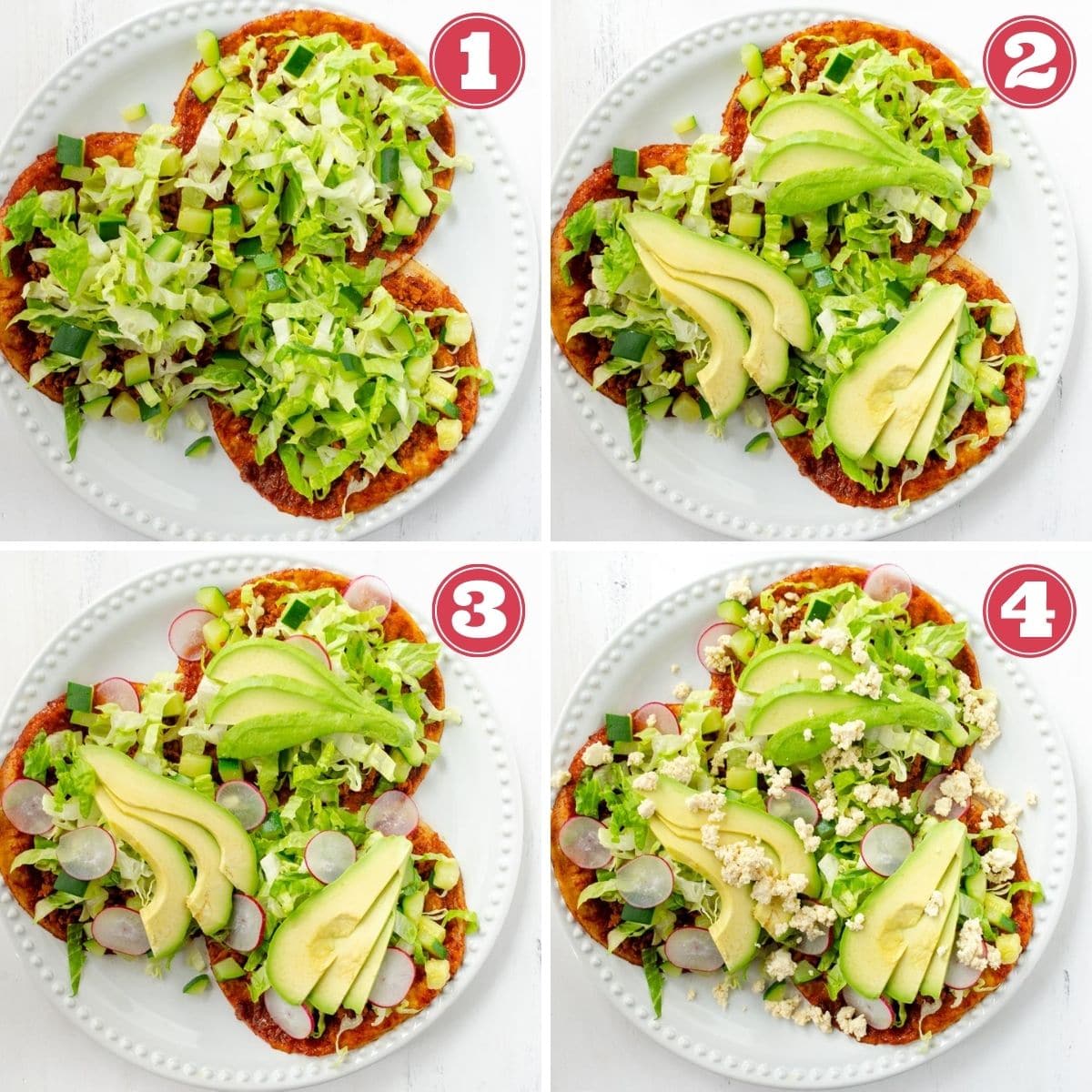 This particular recipe is from northern Mexico. Sinaloa is famous for its chorizo, so it was only natural that they would choose to fill their enchiladas de suelo with chorizo. I have to say this is absolutely one of my favorite versions of enchiladas, they are just the right amount of spicy and I love how all the toppings make them fresh and light. The one thing that makes them unique is that in this case the tortilla is first dipped in the sauce then pan-fried, this brings out the smokiness in the sauce!
Ingredients
Vegan chorizo- You can make your own vegan chorizo or you can use soy chorizo available at most grocery stores.
Tofu queso fresco- There's a recipe on how to make it below, but you can also use this macadamia nut queso fresco, or your favorite vegan cheese. The cheese is meant to be eaten as is, no need to melt it or cook it.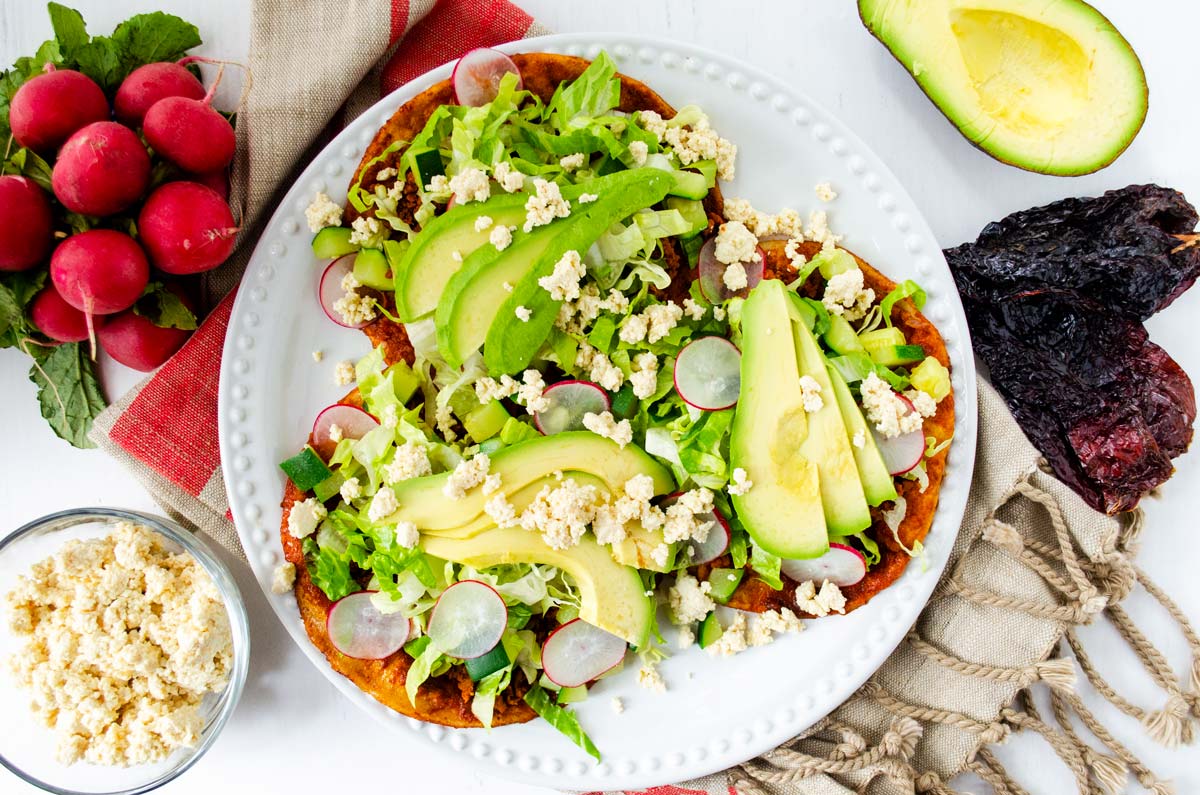 Tortillas – Please use corn tortillas to make this. Some of my favorite brands are El Milagro and La Banderita Clasica, but if you can find a local tortilleria in your town that would be your best option.
Toppings: The most common toppings are cooked zucchini, lettuce, radishes, and cheese, but you could also add cooked potatoes and carrots, tomato, cucumber, and vegan crema.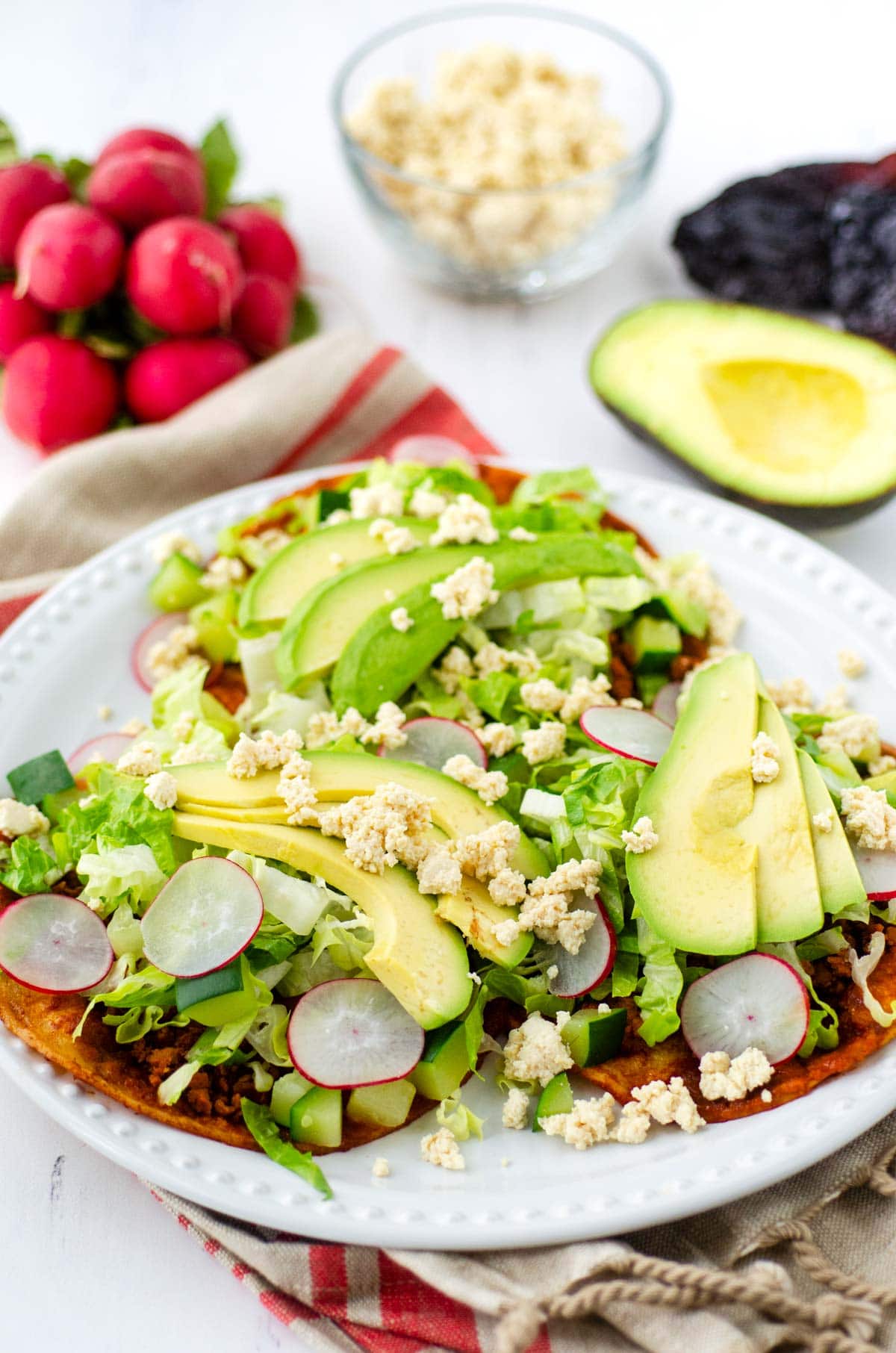 Serving
Serve immediately after plating, because they are open-faced they do cool down fast. If you are serving a large crowd I recommend you roll them, and keep them warm in the over, then serve them with the topping on the side so everyone can choose their own.
Storing
Store everything separately for up to 4 days in the fridge. If you store the enchiladas after they have been assembled the tortillas will get soggy and disintegrate.
Related Recipes
Enchiladas de Suelo
These enchiladas are a typical dish from the northern Mexican state of Sinaloa. They are open-faced, meaning they are not rolled, but instead the fillings are piled on top. They are filled with vegan chorizo, and veggies then topped with a smoky chile ancho sauce.
Pin Recipe
Print Recipe
Ingredients
Tofu Queso Fresco
1

pkg.

Extra Firm Tofu

(14oz.)

1-2

tsp.

Salt

2

tbsp.

Nutritional yeast

1

tsp.

Garlic powder

1

tbsp.

Apple Cider vinegar

½

Lime

juiced
Sauce
5

Chiles ancho

destemmed, deseeded

1

clove

Garlic

¼

White onion

½

tsp.

Oregano

¼

tsp.

Cumin

1

tsp.

White vinegar

1.5

cups

Chile water,

leftover from cooking
Enchiladas
2

cups

Diced zucchini

12

oz.

Soy Chorizo

1

cup

Vegetable oil

12

Tortillas

1

cup

Tofu Queso fresco

2

cups

Shredded lettuce

4

Radishes

sliced

1

Avocado

sliced
Instructions
To make the queso fresco: Press tofu for 30 min. Crumble tofu into a bowl and add the salt, nutritional yeast, lime juice, and garlic powder. Using your hand mix well. Let sit overnight.

To make the sauce: bring a medium pot, filled with water, to a boil. Add zucchini and let cook for 2-3 minutes or until it's slightly tender. Remove the zucchini with a strainer, and set aside.

In the same boiling water drop the chiles and simmer slowly for 7 minutes. Strain the chiles, but save 1.5 cups of the chile water.

Place the soaked chiles, onion, garlic, cumin, oregano, white vinegar, and chile water in the blender. Process until smooth. Season to taste with salt. Set aside.

To make the enchiladas: heat a large sauté pan to medium heat and add the chorizo, cook stirring often for 4-5 minutes until the chorizo is golden brown. Remove the chorizo from the pan and set it aside.

Heat the pan you cooked the chorizo in, to low heat, and pour in the enchilada sauce. Bring to a simmer and turn off.

Heat the vegetable oil in a separate sauté pan to 350°F. Dip one of the tortillas in the enchilada sauce, make sure both sides are covered in sauce. Take this tortilla and drop it in the oil. Almost immediately flip the tortilla, then quickly remove it from the oil. Place it on the plate. (You must do this quickly or the tortilla will get soggy and fall apart). Repeat this process with the rest of the tortillas.

To assemble the enchiladas: top the tortillas with the chorizo, add the cooked zucchini, shredded, lettuce, sliced radishes, queso fresco, and avocado. Serve immediately.
Notes
You can also top your enchiladas with chopped tomatoes, pickled red onion, cooked potatoes, and vegan crema. If you don't do soy you can use your favorite vegan cheese or you can make this vegan macadamia nut queso fresco. To make this oil free, simmer the sauce for 5 minutes after blending, then dip the tortillas in the warm sauce and continue with your toppings.
Nutrition
Serving:
3
enchiladas
|
Calories:
578
kcal
|
Carbohydrates:
99
g
|
Protein:
31
g
|
Fat:
28
g
|
Saturated Fat:
4
g
|
Sodium:
1756
mg
|
Potassium:
2040
mg
|
Fiber:
29
g
|
Sugar:
25
g
|
Vitamin A:
11986
IU
|
Vitamin C:
35
mg
|
Calcium:
260
mg
|
Iron:
10
mg
Although dorastable.com attempts to provide accurate nutritional information, these figures should be considered estimates.