Prickly pear juice is made from a fruit native to Mexico and South America, but it can be found in France, Italy, Spain, Portugal, Egypt, and parts of the Middle East. It is known for its thick spiny skin and soft, sweet, & watery interior. There are many varieties, but the most well known are green, red, yellow, brown and pink. It's the perfect summer fruit, it tastes like a weird combination of pear, cucumber, watermelon and pineapple. It has only one monstrous defect, besides the tiny spines that line its exterior, the flesh of the fruit is riddled with seeds. It is commonly used to make drinks, candy, or jelly.
You can find them at your local Mexican or Hispanic market. I found them at my favorite grocery store, Crown Valley Market Place in Mission Viejo or you can find them at El Nopal Market in San Juan Capistrano. They are in season from early spring to late fall.
To prepare them, use a paring knife to cut off both ends of the fruit and make a 1/4 of an inch deep cut lengthwise. Please, please, please wear gloves when working with this fruit. Even though you can find them without the large spines at the store, the tiny and almost hair like spines remain and can get lodged in your flesh. They truly are tiny! Place your finger in between the flesh and the outer skin and simply pull back, the outer layer should come off easily. You can store them in your refrigerator for up to a week or at room temperature if you are going to eat them in one or two days.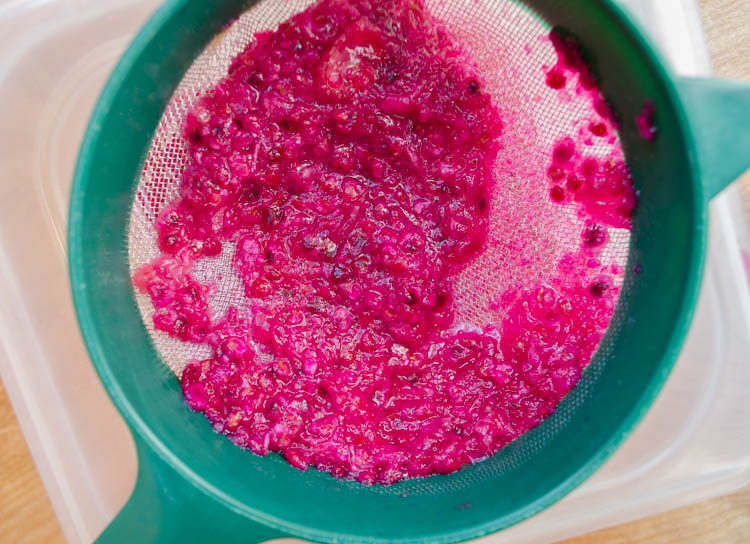 The Recipe: Prickly Pear Juice
My favorite preparation is this prickly pear juice. After prepping the fruit, cut it into slices, place it in the blender, barely cover it with water and blend it for 10 – 20 seconds. Strain the liquid to remove the seeds and serve over ice. The addition of basil or mint makes a good pairing, and if you want to get creative or boozy add it to your margarita. Another way to eat them is sliced and sprinkled with chile powder, but I recommend that you swallow the seeds whole, since they are very hard and quite annoying. It is a summer fruit worth trying.
Agua de Tuna
Prickly pear is such a unique taste and I love making this fresh for my kids.
Pin Recipe
Print Recipe
Ingredients
3

Prickly pears

red, large

1

cup

Water

½

cup

Orange juice

freshly squeezed

1

tsp.

Agave syrup

light
Instructions
Slice both ends of the prickly pear off. Make one long vertical slice down the body of the prickly pear. Peel back the skin, by pushing it back with a knife or your hand. The skin should come right off, and you should be left with just the prickly pear.

Place peeled prickly pears in blender with 1 cup of water. Blend at the lowest speed for 1 minute.

Strain and discard the seeds and pulp.

Place prickly pear juice back in the blender, with orange juice, and agave syrup. Blend until smooth.

Serve over ice.
Nutrition
Calories:
188
kcal
|
Carbohydrates:
49
g
|
Protein:
1
g
|
Fat:
1
g
|
Saturated Fat:
1
g
|
Polyunsaturated Fat:
1
g
|
Monounsaturated Fat:
1
g
|
Sodium:
9
mg
|
Potassium:
434
mg
|
Fiber:
8
g
|
Sugar:
33
g
|
Vitamin A:
191
IU
|
Vitamin C:
42
mg
|
Calcium:
34
mg
|
Iron:
1
mg