I love mole, but it takes quite a while to make and it requires so many ingredients. What if I told you that you could make it in under 40 minutes? That's right 40 minutes and vegan! This recipe for enmoladas de plátano macho, otherwise known as plantain mole enchiladas, combines the spiciness and richness of mole, with the sweetness of a garlic-plantain mash.
The secret to fast mole is my dear friend Doña Maria, she is quite something, as you can see in the picture above. I called Herdez, the company that manufactures Doña Maria, and they confirmed that there are no animal products used in this mole. There are some preservatives in it, so I usually try to make my own, but having an 8 month old that refuses to be put down does not make a good mole making partner. I make a couple of additions to this mole paste in order to bring out some of the flavors.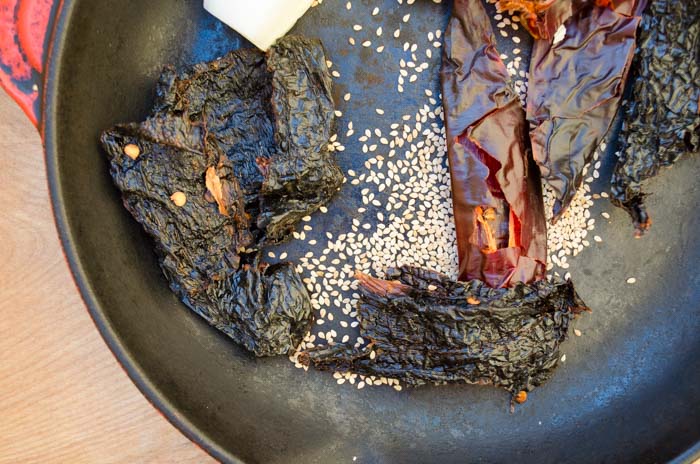 The first thing you need is to have the right dried chiles and chocolate. (I'm thinking of doing an ingredients page, with pictures of the ingredients, a small description, and where you can find it. Would that be something you would like to see?) The chiles are ancho and guajillo and you definitely need to make sure you use Mexican chocolate, some brands commonly available are Ibarra and Abuelita. The rest is pretty easy.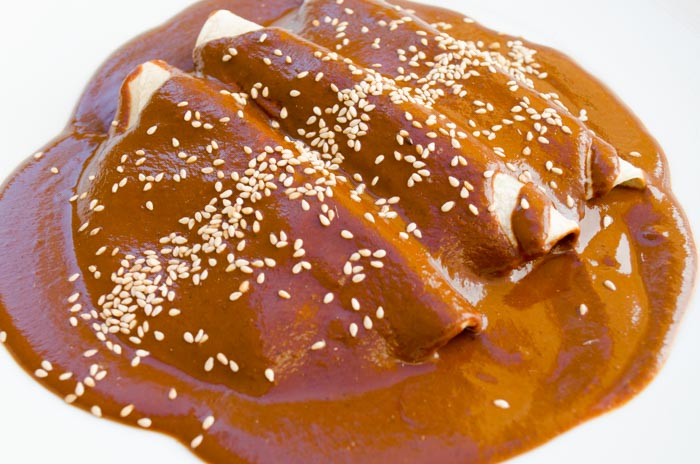 We just got back from watching Big Hero 6 and I loved it! Dylan, who is 5, is obsessed with angry birds. Who was the genius that downloaded it to the phone? Me, of course. He can't stop talking about angry birds, angry birds Star Wars, angry birds transformers, etc. We keep telling him over and over again that he can't play with the phone too much, because his brain will shrink and get smaller and smaller. That instead he needs to read and play so his brain will grow and he will get smarter and smarter. That's why it was refreshing to see an animated movie that made being smart look cool. It also had really strong female characters. Go Disney! Christmas is coming up soon and I'm hoping to get some good recipes on here. In the mean time go and enjoy your enmoladas.
The Recipe: Plantain Mole Enchiladas
If you don't have access to plantains you can fill these plantain mole enchiladas with mashed garlic potatoes or a vegetable sauté.
Plantain Mole Enchiladas
Pin Recipe
Print Recipe
Ingredients
Mole
1

Chile ancho, dried,

seeded

1

Chile guajillo, dried,

seeded

2

tsp.

Sesame seeds, raw

½

in.

Mexican Cinnamon stick

1

Clove,

whole

¼

Onion,

white

1

Garlic clove

1

Bay leaf

5

cups

Vegetable stock

1

piece

Mexican chocolate (see note)

1

jar (8.25 oz.)

Doña Maria mole paste

1

tbsp.

Peanut butter,

unsweetened

12

Corn tortillas
Plantain Mash
2

Plantains,

green, peeled and cut into 1 in. slices

4

Garlic cloves,

minced

1

tbsp.

Olive oil or vegetable oil

1

cup

Vegetable stock
Instructions
Mole:
Boil water in a small pot.

Set a comal or cast iron pan to medium-high heat and toast the chiles, sesame seed, onion, and garlic for 2 – 3 min, and set aside. (We do not want to burn them.)

Place the chiles in boiling hot water and let simmer for 10 min. Drain.

In the blender, process the soaked chiles, sesame seed, onion, garlic, cinnamon stick, bay leaf, and 1 cup of vegetable stock, until smooth.

Add the chocolate, mole paste, peanut butter, and 2 cups of vegetable stock to the chile mixture and blend until smooth. Strain and set aside.

Add the mole to a large pot set to medium heat and bring to a simmer. Add 1 or 2 cups of vegetable stock to adjust consistency to your liking. Simmer for 7 minutes. Stir often. Season to taste.
Plantain Mash
Boil water in a small pot. Add plantain slices, and boil for 20 min. or until fork tender.

Remove from pot and mash with a fork, set aside.

Heat 1 tbsp. of oil in a small sauté pan to medium heat. Add minced garlic and cook for 1 min. Add mashed plantains and stir into the garlic.

Gradually add 1 cup of vegetable stock to the plantains. You can continue to mash them or stir them vigorously with a wooden spoon. Add enough liquid so that they reach the consistency of mashed potatoes. Season to taste. Set aside.
Assembly:
Wrap the tortillas in a moist paper towel and cook in the microwave for 1 min. or until they become flexible and you are able to fold them.

Fold tortillas in half and fill them with plantain mash. Place a spoonful of sauce on plate and place the filled tortillas in a row slightly overlapping each other. Pour enough sauce on top to coat them and sprinkle with sesame seeds.
Notes
* Mexican chocolate comes in round tablets that are divided into triangles. For this recipe use 1 triangle. Use hot vegetable stock to adjust the consistency of the mole.