My husband said something to one of our friends that I can't stop thinking about. He said, " Dora isn't vegan, she just eats vegan." I guess he was referring to my one cheat day a week. (He's asleep as I am writing this so I will have to ask him tomorrow what he meant.) In his mind, if I really was vegan I wouldn't cheat at all. Yes, I cheat once a week. I know some of you animal lovers will be horrified at this, but I'm just not quite there yet in my transition into veganism.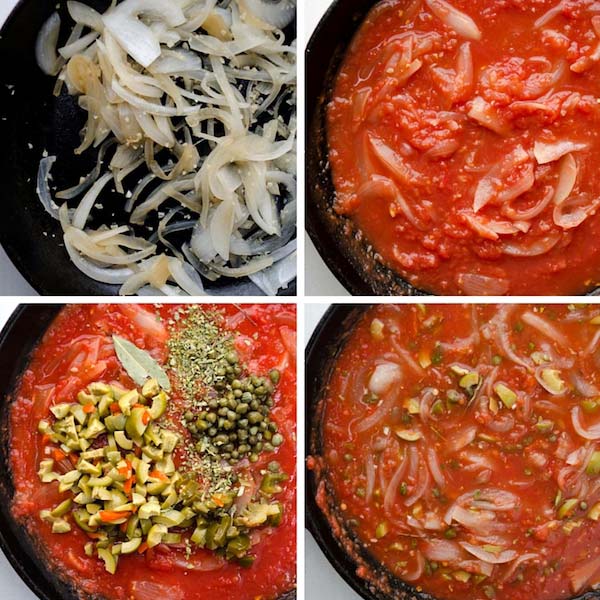 I could sugarcoat it and tell you that going vegan is easy, it is not. Especially if you are a die-hard carnivore or cheese lover like me. There can be many obstacles, like an unsupportive family, difficult access to fresh fruits and vegetables, and not knowing how to cook. One of the things that is not talked about enough is that you have to completely change your mindset. We are so used to seeing meat and potatoes on our plate that when someone gives us a plate of only potatoes it feels like we are missing something. This is why it takes time to change. Some people can quit animal products cold-turkey and that's great, but there's also many of us who do better with a gradual approach. Lindsay from Happy Herbivore has a great mantra, "Progress not perfection," and I try to live it out everyday.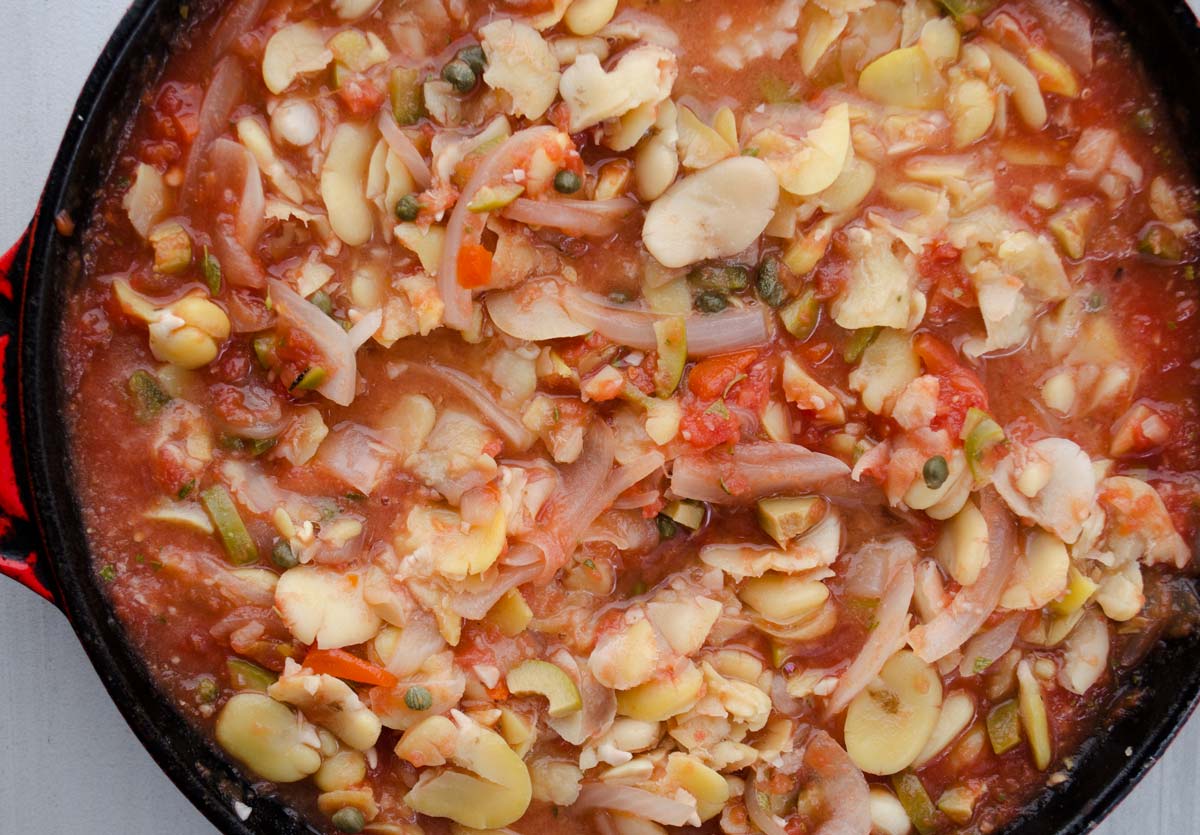 As time has passed (this is my 3rd year being an imperfect vegan) the health benefits of going vegan or plant-based have become clearer and clearer. When I do eat animal products I feel pretty gross, and now, even though I became vegan for health reasons, every time I take a bite of an animal protein I can't help think about the suffering of the animals.
So yes, Mr. Stone, I am vegan. I might not be a perfect one, and maybe I will never be, but I like to think that my imperfect veganism contributes to making this world a little better. I know my health is definitely better, and I know yours can be too.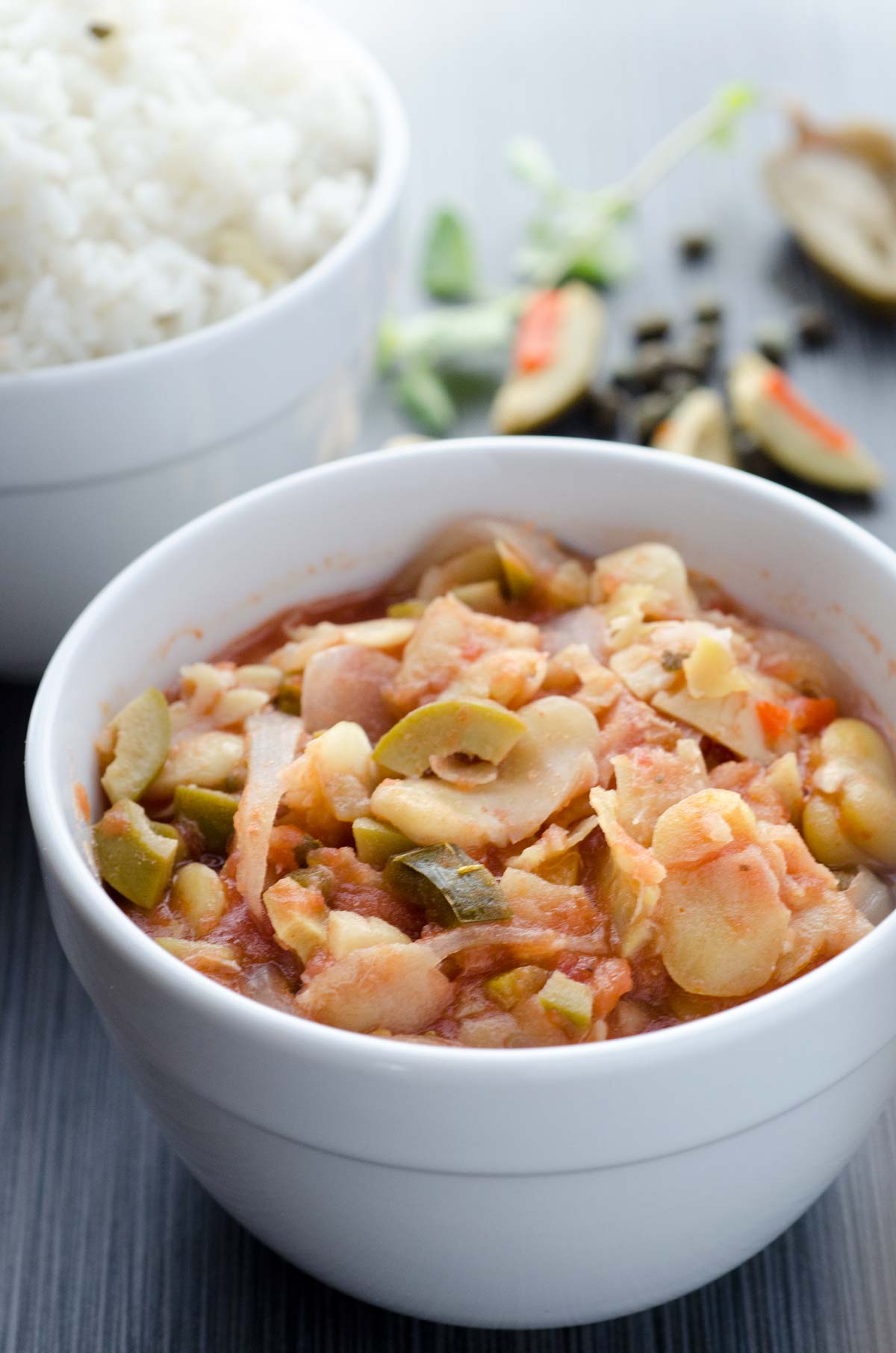 What are some of the things you struggled with while transitioning to a vegan lifestyle? Do you have any tips and tricks for other newbies?
Now, onto…
The Recipe: Veracruz-Style Fava Bean Stew
I'm sure by now you've heard of fish cooked Veracruz-style. The fish is baked or braised in a sauce of onions, garlic, tomatoes, capers, olives, and pickled jalapeños, but since this is obviously a vegan blog I did not use fish for this recipe. Instead I made a hearty stew of dried fava beans Veracruz-style. It is comforting, spicy, tangy, and it pairs perfectly with rice.
The fava beans take about 40 minutes to cook and you do have to soak them overnight, so this recipe can take a little bit of time to prepare. If you cannot find fava beans or do not like them you can substitute with potatoes. Enjoy!
Veracruz-Style Fava Bean Stew
I made a hearty stew of dried fava beans Veracruz-style. It is comforting, spicy, tangy, and it pairs perfectly with rice.
Pin Recipe
Print Recipe
Ingredients
1

cup

Fava beans

dried

1

tbsp.

Vegetable oil

optional

1

Onion

white, thinly sliced (julienned)

3

cloves

Garlic

minced

1

can (14.5 oz)

Crushed tomato

½

cup

Manzanilla olives

sliced

1

tbsp.

Capers

1

tsp.

Oregano

dried

1

Bay leaf

dried

2

Pickled jalapeños

chopped

1

cup

Vegetable stock or broth
Instructions
Place fava beans in a large pot and cover with water. Bring to a simmer and let cook for 40 minutes or until the beans are tender.

While the beans are cooking, heat oil in a large pot set to medium heat. Add onions and sweat for 3-4 minutes or until the onions are tender and translucent. Add the garlic and cook for 2 more minutes.

Pour the crushed tomatoes over the onions and simmer for 3 minutes.

Add the olives, capers, oregano, pickled jalapeños, and bay leaf. Mix well.

Drain the cooked fava beans and add them to the pot with the onion mixture.

Pour 1 cup of vegetable broth into the pot and simmer for 15 minutes.

Season to taste and serve with rice.
Notes
If dried fava beans are hard to find you can use potatoes instead.
Nutrition
Calories:
127
kcal
|
Carbohydrates:
14
g
|
Protein:
4
g
|
Fat:
7
g
|
Saturated Fat:
1
g
|
Polyunsaturated Fat:
2
g
|
Monounsaturated Fat:
3
g
|
Trans Fat:
1
g
|
Sodium:
729
mg
|
Potassium:
203
mg
|
Fiber:
4
g
|
Sugar:
3
g
|
Vitamin A:
354
IU
|
Vitamin C:
4
mg
|
Calcium:
58
mg
|
Iron:
1
mg