This vegan purple sweet potato ice cream is studded with chunks of fresh pineapple and toasted pecans. It is perfectly sweet and creamy, without all the fat of traditional ice cream.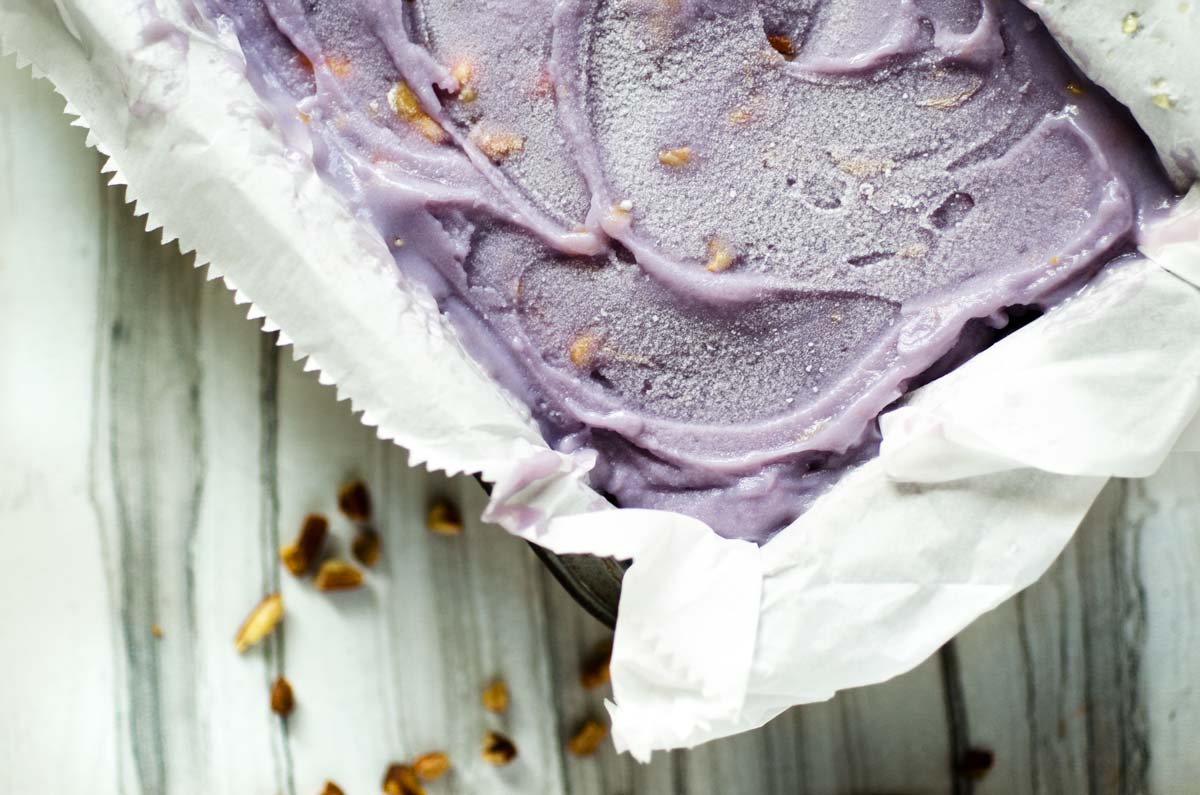 There's a beautiful Hawaiian purple sweet potato, also known as okinawan sweet potato, and it is incredibly sweet and full of fiber, vitamins and antioxidants. When I tried one for the first time all I could think about was that it was as sweet as candy. It turns out, there is also a purple sweet potato that is cultivated in Mexico. It is not the same variety, but I thought it would be fun to take something that both Hawaii and Mexico have in common and run with it.
This ice cream is also inspired by a famous Mexican candy called Camotes de Santa Clara. It is candied sweet potato (purple, yellow, or orange) and citrus, rolled into a tube and wrapped in wax paper. Often fruit and nuts are mixed in as well. This candy is sold on the streets of Puebla, where the Santa Clara convent originally produced them.
After high school, I was a missionary for a year in Mexico City, and the nuns would often take us to Puebla on field trips. We would walk the market and buy a bunch of candy. That's where I first tried the Camotes de Santa Clara. I don't really remember them as being my favorite, but I know I did enjoy them.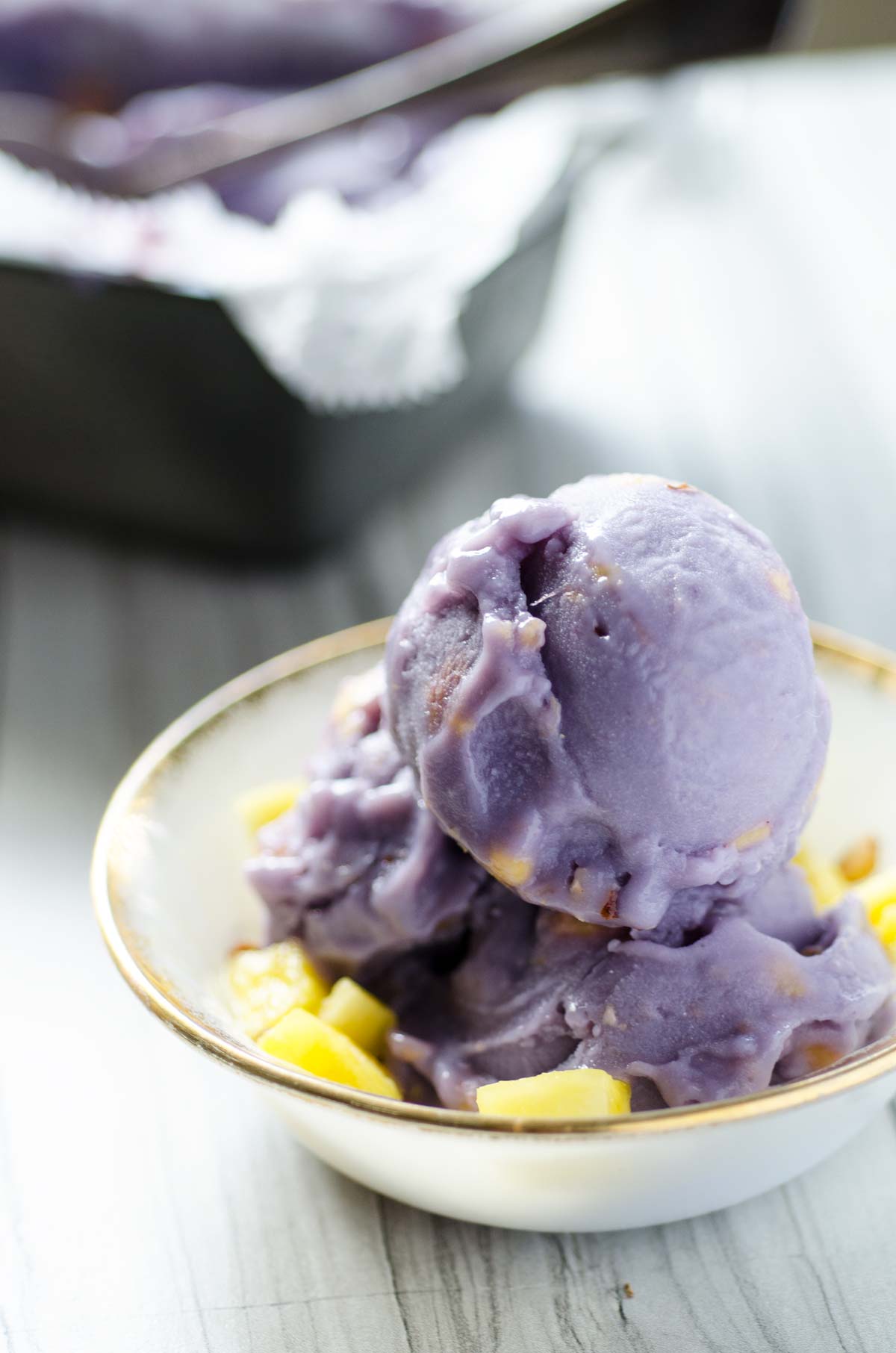 The Recipe: Purple Sweet Potato Ice Cream
This ice cream is especially creamy and sweet, even when it has almost no fat at all, because of the starch and natural sugars of the sweet potato. The pineapple adds a welcome tartness to it and the pecans a crunchy texture. If you can't find purple sweet potatoes you can use any other variety of sweet potatoes. I  have used almond milk, but you can use any plant-based milk. Enjoy!
Purple Sweet Potato Ice Cream
Pin Recipe
Print Recipe
Ingredients
1

lb.

Purple sweet potatoes,

peeled and cut into cubes

2 3/4

cup

Almond milk,

unsweetened

2/3

cup

Sugar,

granulated

1/4

cup

Maple syrup

1

tsp.

Vanilla extract

1

tsp.

Lime juice,

fresh

2

tsp.

Vodka or tequila reposado,

optional

1/4

cup

Pecans,

toasted

1/2

cup

Pineapple,

chopped
Instructions
Place sweet potatoes in a medium saucepan and cover with water. Bring to a simmer and cook for 20 minutes or until potatoes are tender.

Let cool to room temperature.

In a blender, combine the sweet potatoes, almond milk, sugar, maple syrup, vanilla, lime juice, and tequila. Process until smooth. The mixture should have the thickness of a heavy cream.

Chill for at least an hour in the refrigerator, then pour into your ice cream maker according to the manufacturer's instructions.

You can mix in the pecans and pineapple in to the ice cream after the machine has finished spinning or you can add them to the machine when the ice cream is about to be done.

Eat right away or freeze up to 5 hours to let the ice cream harden a bit.
Notes
The addition of the alcohol is completely optional. It is added to make homemade ice cream softer, because this ice cream has no preservatives or gums it will get hard in the freezer. Before eating it, take it out of the freezer fro 5 to 10 minutes to soften it up a bit. If you can't find purple sweet potatoes you can use any other variety of sweet potato