Christmas is so close and you can't have Christmas without baking cookies. Here is a recipe for coconut shortbread cookies filled with a chocolate ganache. They are also known as garabatos or scribble cookies. These cookies are very popular in Mexico city, and you will fall in love with them too. Who can resist two coconut shortbread cookies, sandwiched in a smooth chocolate filing, and drizzled with warm chocolate? The best part, they're 100% vegan.
I'm sitting on the couch right now watching Call the Midwife eating one of these delicious cookies, which according to my husband, are the best things I've ever made. The nerve of that man, do you know how many immensely complicated dishes I have cooked for him, and he thinks the best thing I've ever made are cookies!
As I avoid falling into a vortex of binge watching, I can't help but enjoy the quiet moments when the kids are asleep and I can take some time to myself to enjoy the little things. I love, love, love Christmas. I know it's all commercialized and everything, but here in our home as in many home we try to keep Christ in Christmas. Even if you're not a believer, it's a great time to start traditions and spend some quality time with family, and eat good food of course. We will be traveling to my mom's house in Mexico for Christmas and I just can't wait to get there. I will be posting pictures on instagram, Facebook, and twitter. I have so many things to do until we leave, so I will just have to sign off for now. Enjoy!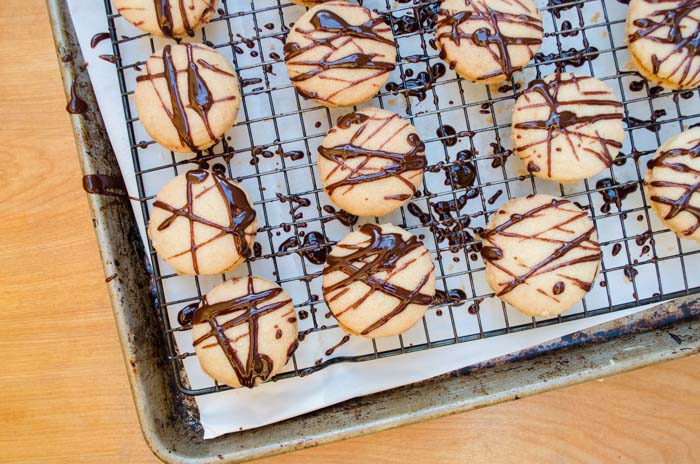 The Recipe: Vegan Coconut Shortbread Cookies
This recipe can be a little bit time consuming but totally worth it. Your chocolate will take some time to set and harden as it cools. Do not refrigerate the cookies. The coconut oil will solidify and make them hard as rocks!
Coconut Shortbread Cookies
Pin Recipe
Print Recipe
Ingredients
Cookie
3

cups

All-Purpose flour

¾

cup

Confectioner's sugar

1 ½

cups

Coconut oil

½

tsp.

Vanilla
Filling
5.5

oz

Chocolate,

semi-sweet

¼

cup

Agave syrup

light

1

tbsp.

Coconut oil

½

tsp.

Vanilla

1

tbsp.

Almond-coconut milk,

unsweetened
Glaze
3

oz.

Chocolate

semi-sweet

¼

cup

Almond-coconut milk

1

tbsp.

Coconut oil
Instructions
Preheat oven to 350F

To make the cookies: place the flour, confectioners sugar, coconut oil and vanilla in the food processor and pulse until the mixture starts coming together. Turn out unto a lightly floured surface and knead until you get a uniform dough (1 -2 min.).

Roll out ¼ inch thick and use a 2-inch cookie cutter to cut out 40 circles. If the dough gets too soft you can place in the refrigerator for a couple of minutes. It will harden fast so be careful. You can also re-roll the scraps to get the right amount of circles.

Place circles on a parchment lined sheet-tray and place in freezer for 5 min. Remove from freezer and bake for 15-20 minutes or until the edges are golden brown. Let cool for a couple minutes then transfer to a cooling rack.

To make the filling: Bring a medium pot of water to a simmer. Place the chocolate in a bowl and set on top of the pot. Make sure the bottom of the bowl is not touching the water. Stir with a spatula until chocolate is completely melted. Remove from the heat and add agave, coconut oil, vanilla and almond milk. Let cool to room temperature.

Once the filling is at room temperature place in a piping bag. Turn over 20 cookies and pipe about 1 tbsp. of the filling in the center. Place the other 20 cookies on top to make a sort of cookie sandwich.

To make the glaze: Return the pot of water to a simmer. Place the chocolate, coconut oil, vanilla, and almond milk in a bowl and set on top of pot. Stir with a spatula until chocolate is completely melted. Remove from heat and use right away or keep warm.

Drizzle the warm chocolate over the cookies so that it looks like a scribble. Place the cookies in a cool place so the chocolate cools down and sets. Do not refrigerate cookies.