Have you heard of a California burrito? If you haven't been to California you are seriously missing out. This vegan California burrito is stuffed with oven baked french fries, pico de gallo, portobello asada, spicy salsa, vegan cheese, and guacamole. It is the perfect meal after a long day surfing on a sunny beach. I must confess that when I first moved to California a couple of years ago, I was puzzled by this behemoth of a burrito, but somehow this strange combination works!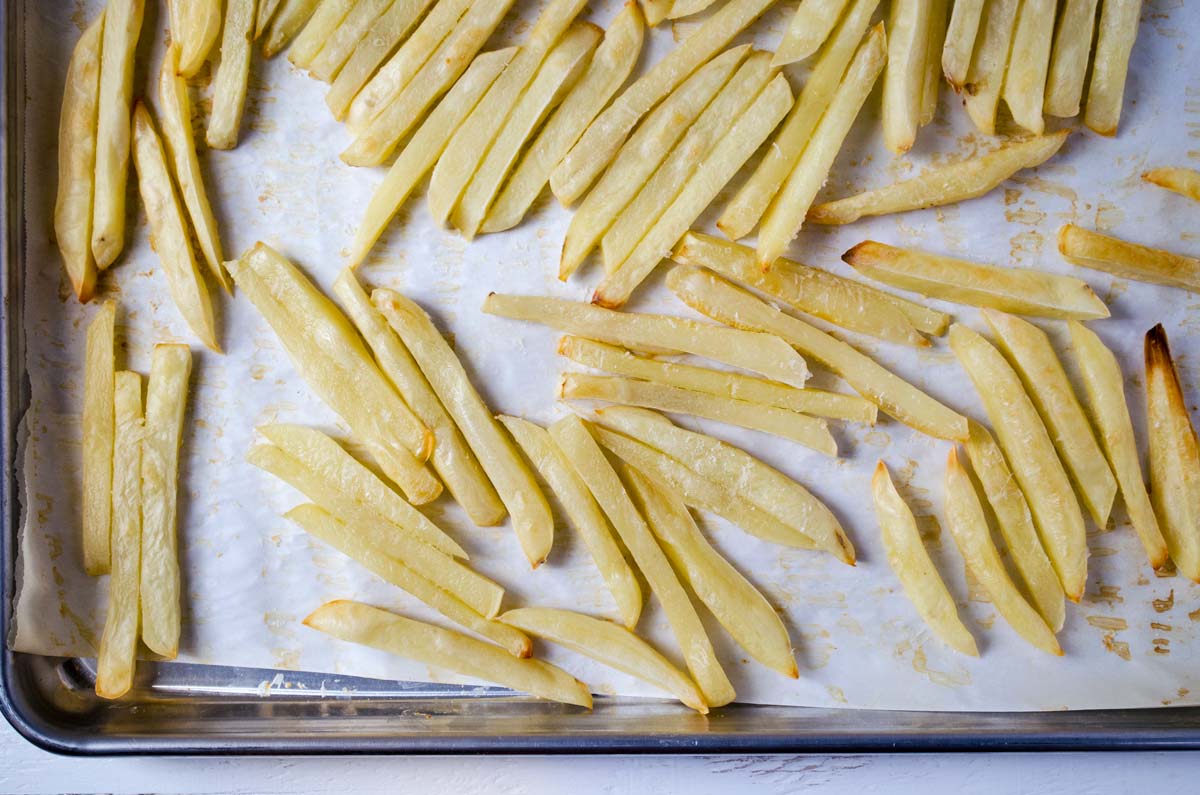 I am still in Mexico, and finding a flour tortilla large enough to make this burrito was a huge challenge. None of the grocery stores seemed to have them. I had to go to a tortilleria and ask them to make them for me. Even then they were very confused. They kept telling me that the tortillas they already sold were perfect for burritos, and I'm sure they were, but they were pretty small. I had to demonstrate with my hands a tortilla the size of my head. They kind of looked at me like I was crazy, but they made a couple of tortillas for me. The burritos in my part of Mexico are more like slightly large flour tortilla tacos, nothing like the giant burritos you buy in the US, that's why the ladies at the tortilleria were so surprised at my request.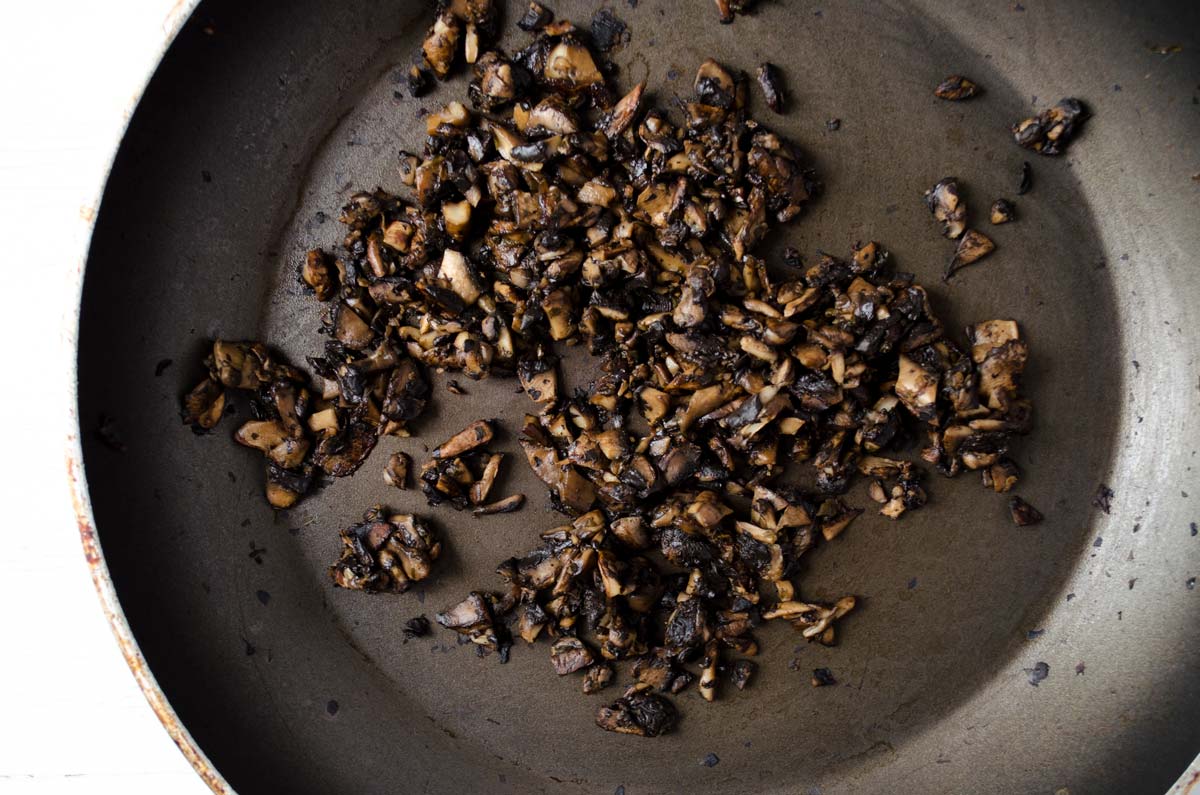 I hope you enjoyed the Easter holiday with your loved ones as much as I did. We had lots of family come in from out of town and had lots of fun and activities. I'm still exhausted! I had forgotten how wonderful and stressful it is to have a really big family. I had the opportunity to see some of my cousins that I hadn't seen for years, and it was so nice to talk and have our children play together. I look forward to doing it again soon.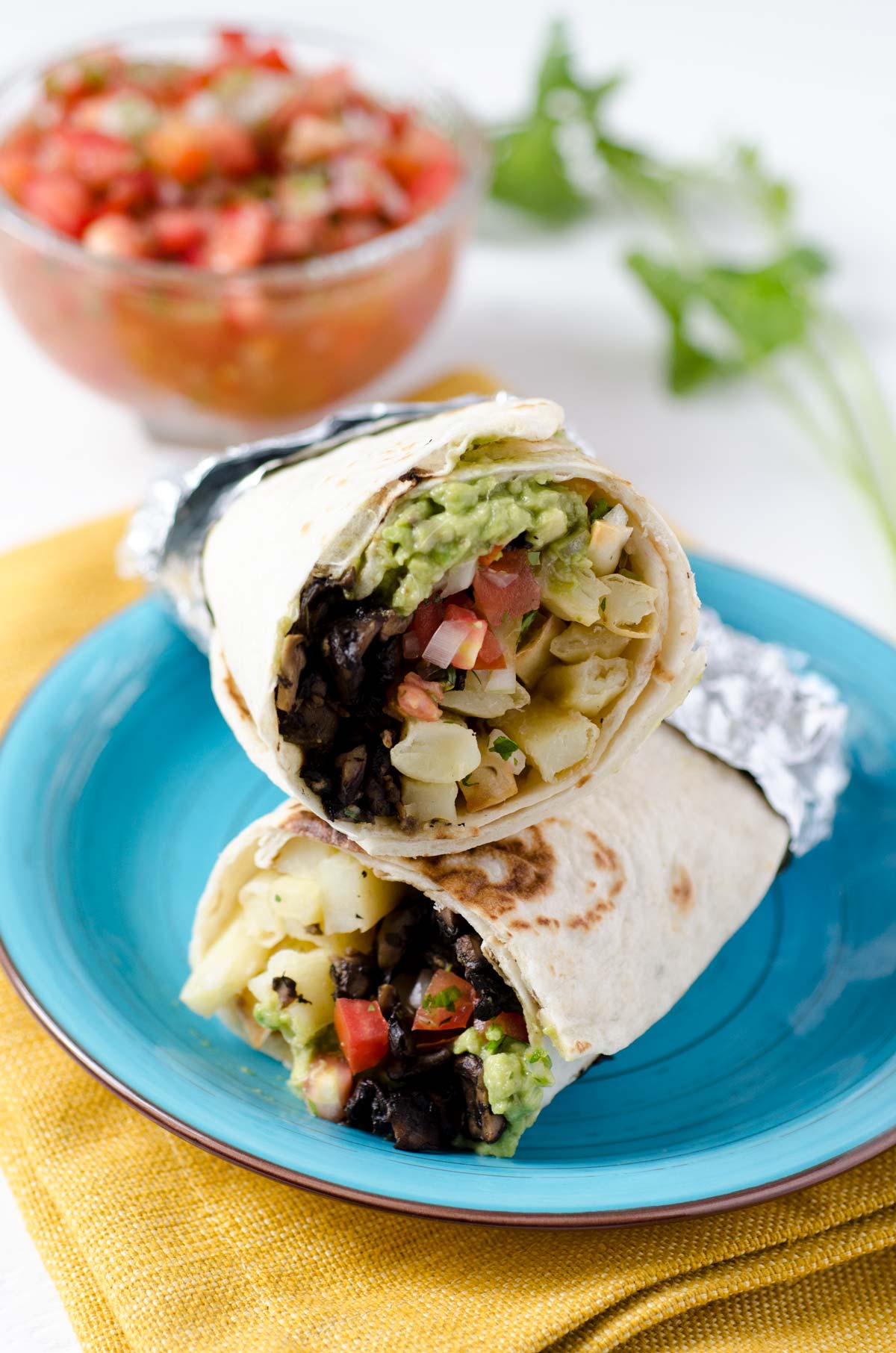 The Recipe: Vegan California Burrito
I used portobello mushrooms, in place of steak, but you can use the recipe for the marinade on tempeh or seitan if you prefer. I also omitted the vegan cheese, because of my dislike for all vegan cheeses, but if you have a favorite brand you are more than welcome to add it to your burrito. (I would love to hear what your favorite brand of vegan cheese is.) Make your burrito as big or small as you like and enjoy!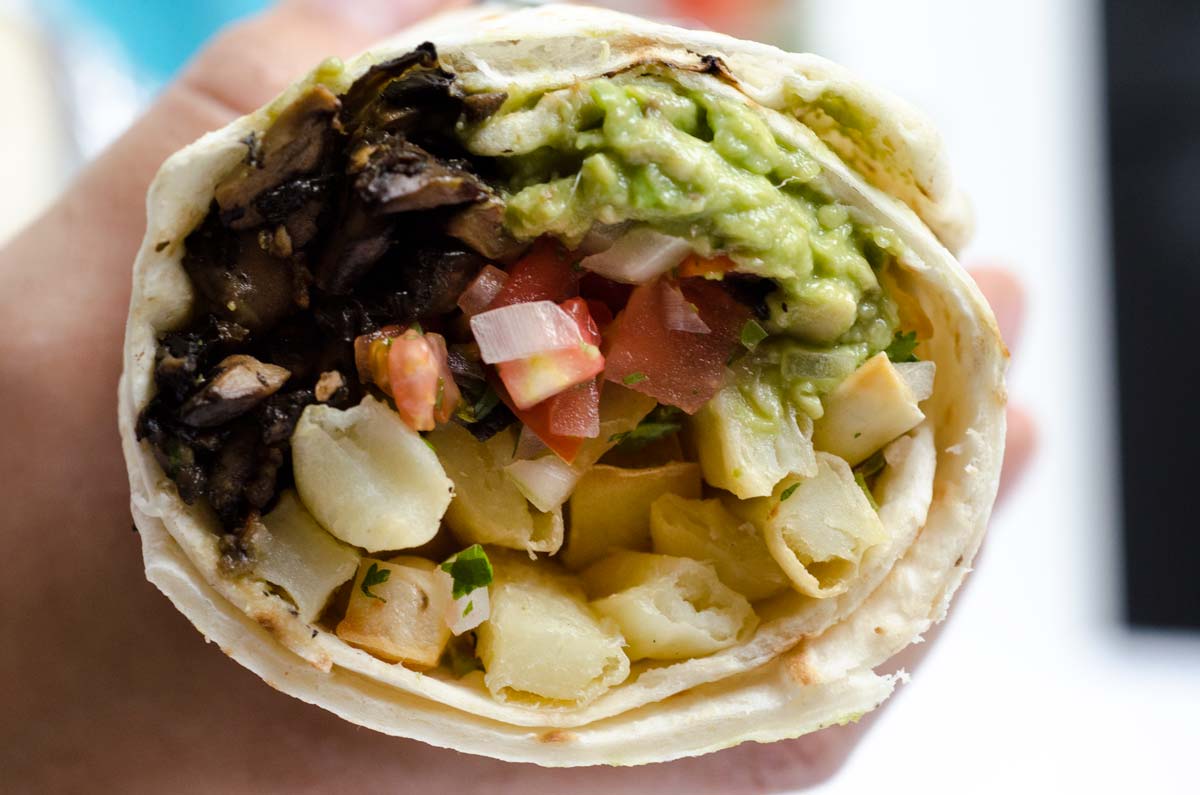 Here are some recipes for salsa that you can use in your burrito:
The Best Vegan California Burrito
This vegan California burrito is stuffed with baked french fries, pico de gallo, portobello asada, spicy salsa, vegan cheese, and guacamole.
Pin Recipe
Print Recipe
Ingredients
Portobello Asada
6

Portobello mushrooms,

rinsed, sliced ¼ in. thick

¼

cup

Soy Sauce

⅓

cup

Water

1

tbsp.

Lime juice, fresh

3

Garlic cloves,

minced

1

tbsp.

Chopped cilantro

1

tsp.

Chopped jalapeño or serrani
Oven Baked Fries
4

Medium potatoes,

peeled and cut into ¼ in. matchsticks

1

tbsp.

All-purpose flour

1

tsp.

Salt
Burrito
2

Large flour tortillas or 4 medium ones

¾

cup

Pico de Gallo

¾

cup

Salsa of your choice

2

Avocadoes,

pitted, flesh removed

1

Lime

¾

cup

Vegan Shredded Cheddar Cheese (Optional)
Instructions
Combine all the ingredients for the marinade in a Ziploc bac and add the sliced mushrooms to it. Let marinate for 1 hr. up to 24 hours.

In a large bowl toss the potatoes with the flour and salt. Arrange fries in a single layer on a sheet tray lined with parchment paper and bake for 15 min. then flip the fries and bake for 15 more minutes or until golden brown. Remove from oven and set aside.

Mash the avocadoes and season with salt and pepper and a splash of lime juice.

Heat a large sauté pan to medium-high heat, remove excess marinade from mushroom and add to the pan. Sauté mushrooms for 6-8 minutes or until almost all the liquid has evaporated and the mushroom are golden brown. Set aside.
Assemble Burritos
Heat tortillas on a comal or griddle. Add baked French fries, mushroom asada, pico de gallo, guacamole, salsa, and vegan cheese. Roll into a burrito. If your burrito is really big you will have to secure it with aluminum foil.

If you prefer, you can place your rolled burrito on the griddle or plancha and brown a couple of minutes on each side.
Notes
You can use the recipe for the marinade on tempeh or seitan if you prefer. The vegan cheese is optional if you are a no-oil vegan. 
Nutrition
Serving:
1
serving
|
Calories:
432
kcal
|
Carbohydrates:
80
g
|
Protein:
14
g
|
Fat:
21
g
|
Saturated Fat:
4
g
|
Polyunsaturated Fat:
2
g
|
Monounsaturated Fat:
10
g
|
Trans Fat:
1
g
|
Sodium:
2278
mg
|
Potassium:
2092
mg
|
Fiber:
16
g
|
Sugar:
13
g
|
Vitamin A:
858
IU
|
Vitamin C:
65
mg
|
Calcium:
104
mg
|
Iron:
4
mg