There's nothing like a refreshing margarita on a blistering hot summer day. This pineapple chile margarita on the rocks is exactly that, refreshing, slightly sweet, tart, and a bit spicy. The combination of fresh pineapple, pineapple juice, tequila, triple sec, lime juice and chile powder make it hard to have just one. I am happy to be participating in margarita week hosted by holajalapeno.com with this recipe. Click on the link to discover many other margarita recipes that you can test out on your friends this 5 de Mayo.
I first had this margarita on my honeymoon, of course I was no stranger to the combination of pineapple and chile, but to have it incorporated in one of my favorite drinks was a delightful surprise. It could have been my newlywed bliss, the amazing Four Seasons Punta Mita with its views, beach and service, or even the especially hot sun on that day that made this drink so particularly enchanting. Over the years I have made this pineapple chile margarita over and over again and I figured it's finally time to share with you.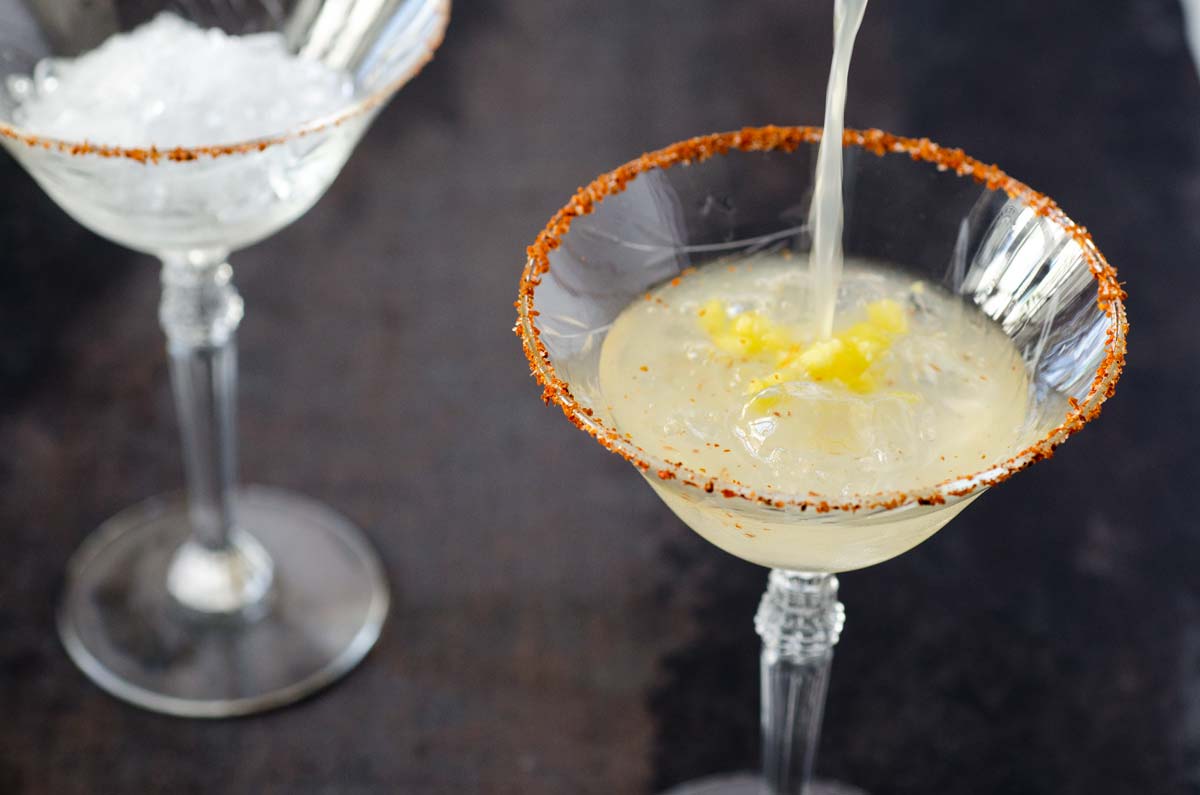 I am a bit of a margarita snob. I'm pretty sure all bartenders hate me, because I always specify the quantities and ingredients I would like in my margarita. It goes something like this: " I would like a margarita please, 2 oz of Don Julio reposado, 1 oz. of triple sec, and 1 oz of fresh lime juice, but please make sure it's FRESH lime juice, and on the rocks with salt." After a sure eye roll from the server, and my husband's stare of embarrassment (or maybe it's pride), most of the time I get the exact margarita I want. I just cannot swallow another taste of margaritas made with sour mix or fake lime juice. I told you I was a snob!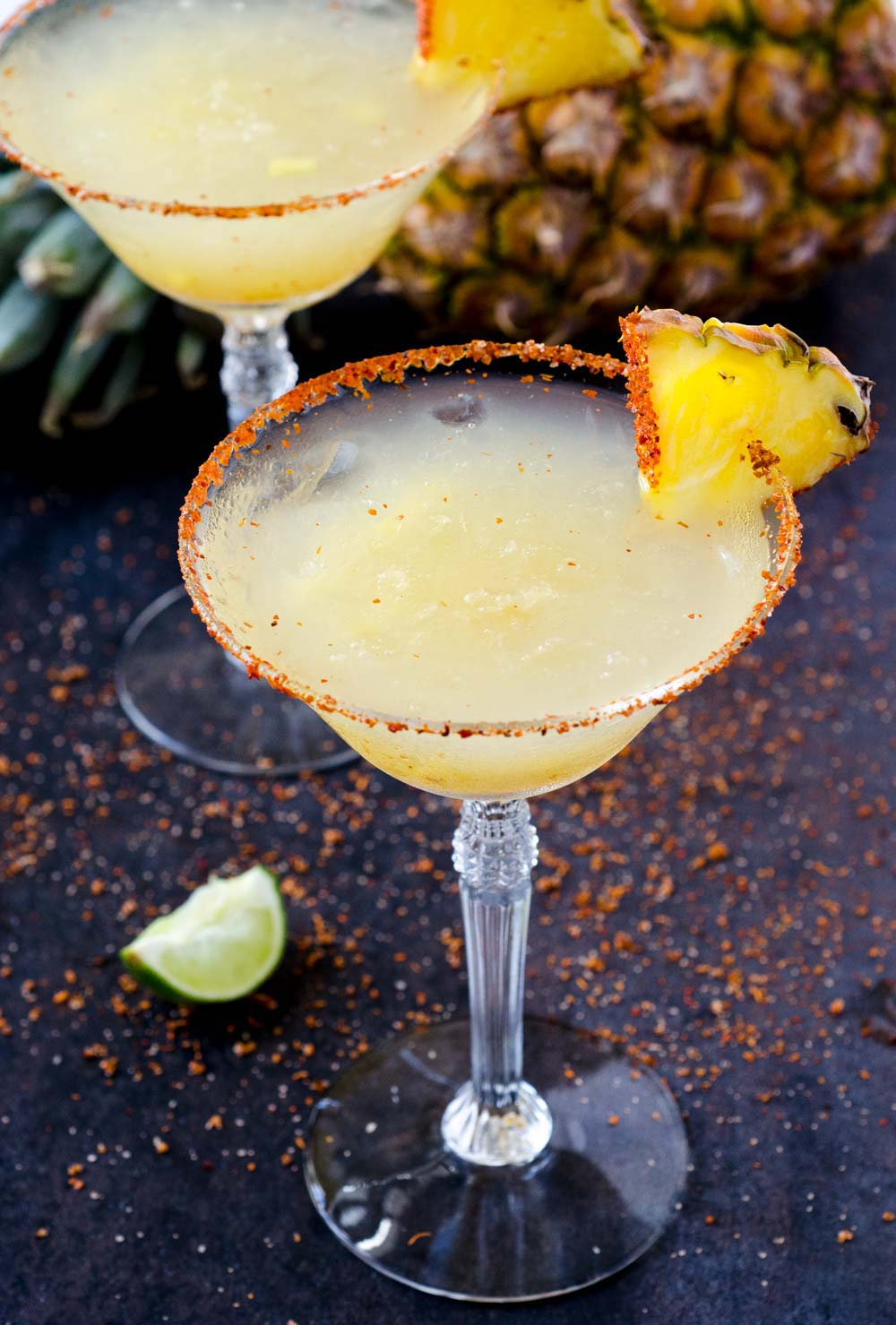 The Recipe: Pineapple Chile Margarita on the Rocks
I prefer my margaritas with a salt rim and on the rocks, but if you would like to make this frozen, just blend the whole think up. Enjoy!
Pineapple Chile Margarita on the Rocks
Pin Recipe
Print Recipe
Ingredients
1

Lime, cut into quarters

1/2 cup

(4 fl oz.)

Tequila of your choice,

( I like Corralejo)

1/4 cup

(2 fl oz.)

Cointreau or triple sec

1/4 cup

(2 fl oz.)

Lime juice, fresh

1/2 cup

(4 fl oz.)

Pineapple juice

1/4

cup

Chopped pinapple, fresh

1 tsp.

+ 1/4 cup

Tajín chile powder (see note)

2

cups

Ice cubes or crushed ice
Instructions
Place the ¼ of a cup of Tajín chile powder on a small flat plate.

Take one quarter of a lime and rub it along the edges of the two glasses you will be serving your margarita in. Immediately place the rims of the glasses on the plate with the chile and twist to coat.

Combine the tequila, Cointreau, lime juice, pineapple juice, chopped pineapple, 1 tsp. of Tajín chile powder, and 1 cup of ice. Stir to blend well.

Divide the remaining one cup of ice between the two glasses and pour margarita mixture over.

You can garnish with a wedge of pineapple dipped in chile powder
Notes
You can find Tajín chile powder at your local grocery store or at the nearest Mexican market.