I hereby declare February national salsa month! Wait, I just googled it and national salsa month is a real thing, and it's in May. Oh well, here at Dora's Table February is salsa month. This whole month I will be posting salsa recipes for you to enjoy. Let's start with this roasted tomatillo salsa.
The reason I decided to make this month salsa month is, because I bought a molcajete!! I am so excited about this. I've been meaning to purchase one for years, but every time I visit Mexico I decide not to. Those things are heavy and can break so I've never wanted to risk it. I finally just went to Williams-Sonoma and bought one. Why Williams-Sonoma? Well that's another story that requires a blog post all to itself.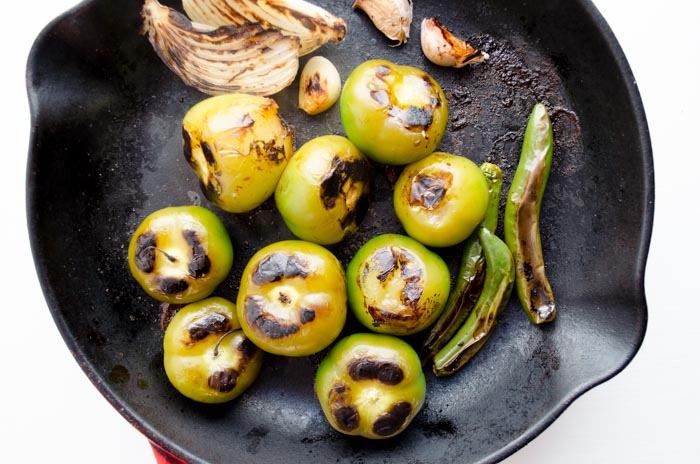 I know it's silly but every time I use it, I feel somehow connected to my past and heritage. I can't stop myself at marveling at the fact that the indigenous cultures of Mexico used this exact same tool in their cooking thousands of years ago. I honestly didn't expect a huge difference in flavor than when I use my blender, but I was pleasantly surprised. The result is a chunky, rustic salsa with bright and strong flavors. The recipes I will be posting will be made using the molcajete, but you can easily prepare them in your blender or food processor.
In other news, it's been sick week here at the Stone house. Everybody has been taking turns getting sick, and we're all exhausted. Hopefully baby Karina will be sleeping normally soon, and everything will be back to normal. Otherwise things are great. We finally went to Legoland with some friends, and we had a blast. My two little ones are growing so fast, and they are keeping me infinitely distracted with their cuteness.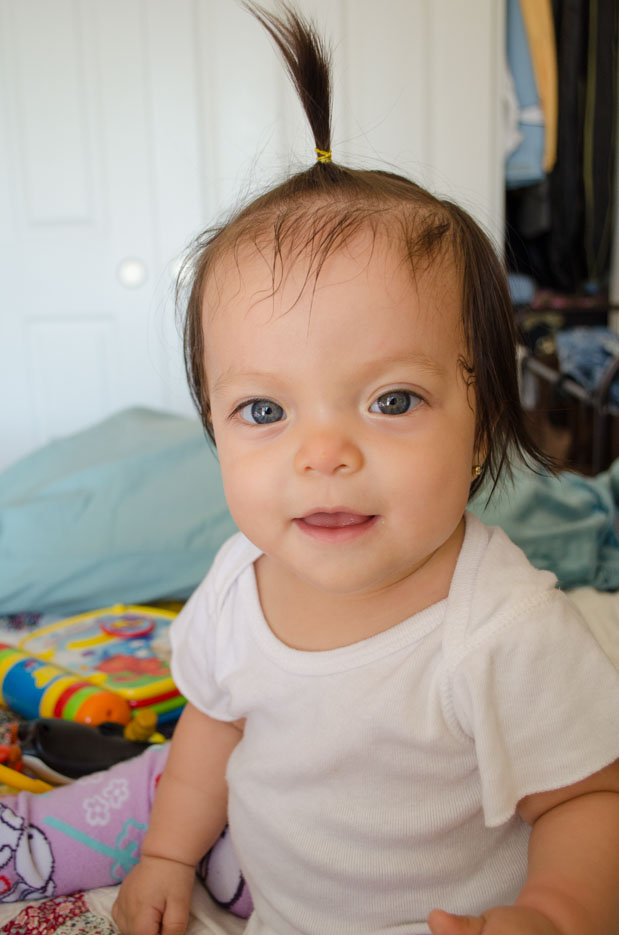 I've been dedicating some extra time to grow my pinterest page, so stop by and check it out: http://www.pinterest.com/dorastable/
I've also started a Vegan Mexican pinterest board. If you would like to join, shoot me an email and let me know: dora.l.stone@gmail.com
One last thing. I will begin sending out a monthly newsletter with cooking tips, my favorite recipes, and other news. To receive this newsletter simply subscribe to the blog via email by clicking on the subscribe button on the right side of the home page. Enjoy!
The Recipe: Roasted Tomatillo Salsa
If you do not have a molcajete to make this roasted tomatillo salsa you can use a blender or food processor. Also, if you do not have a comal or cast-iron pan you can use the broiler in your oven. Just put the tomatillo, onion, chile, and garlic on a tray and place under broiler until they are blackened.
Roasted Tomatillo Salsa
Broil or roast the ingredients and mash them up for a smokey, authentic salsa.
Pin Recipe
Print Recipe
Ingredients
1

lb. (8 medium)

Tomatillos

husks removed, washed

¼

Onion

white

3

Garlic

cloves

2-4

Serrano Peppers

1

tbsp.

Cilantro

chopped
Instructions
Heat a comal, cast-iron, or heavy bottomed pan to medium-high heat. Place the tomatillos, garlic, onion, and Serrano peppers directly on the hot pan. They will become soft and slightly blackened, about 7 – 10 min.

Flip tomatillos, peppers, onion, and garlic over and continue to char for 10 more minutes.

Remove ingredients from griddle and set aside.

Start grinding ingredients in molcajete one at a time. Once the desired consistency is reached, add the next ingredient and keep grinding. Season with salt and pepper and serve.

If you do not have a molcajete you can use a blender or food processor. Simply place all the cooked ingredients in the machine and pulse until the desired consistency is reached.

Season to taste.
Notes
If you do not have a molcajete you can use a blender or food processor.
Nutrition
Calories:
29
kcal
|
Carbohydrates:
6
g
|
Protein:
1
g
|
Fat:
1
g
|
Saturated Fat:
1
g
|
Polyunsaturated Fat:
1
g
|
Monounsaturated Fat:
1
g
|
Sodium:
3
mg
|
Potassium:
234
mg
|
Fiber:
2
g
|
Sugar:
3
g
|
Vitamin A:
271
IU
|
Vitamin C:
11
mg
|
Calcium:
11
mg
|
Iron:
1
mg