Hola! I am Jeni from the blog Thyme & Love and I am so excited to be writing a guest post here on Dora's Table! Before I share my recipe for these delicious and easy Vegan Tequila Truffles, I thought that I would give a little background about myself and my recipe inspiration.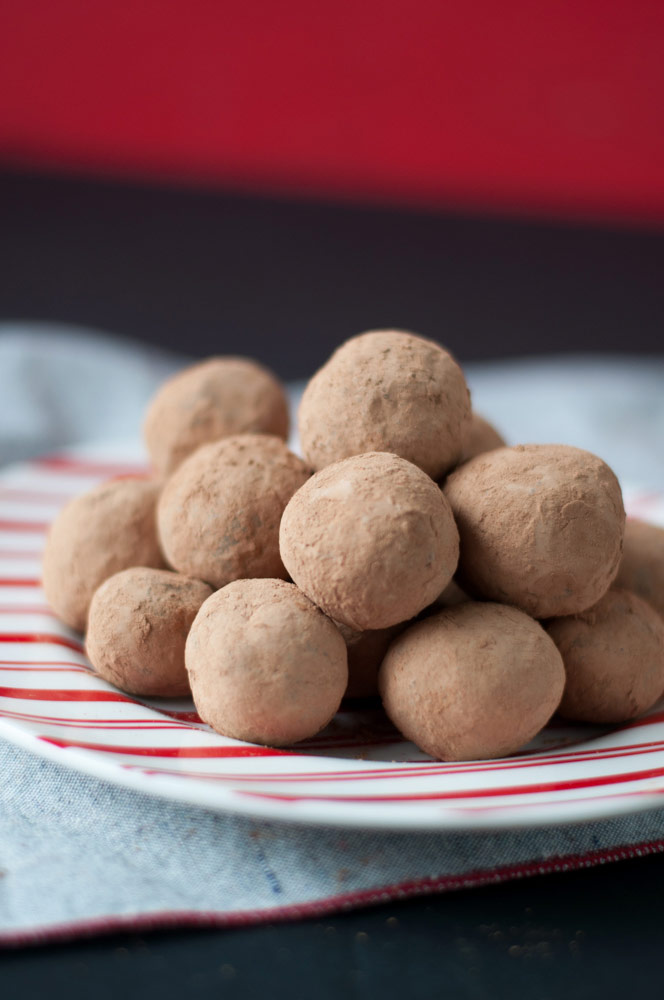 I first discovered authentic Mexican food when I started dating my Husband Hector, who is from Mexico City. I immediately feel in love with the cuisine and culture of Mexico. I grew up in the Midwest and ate a pretty typical American diet. There wasn't much variety and we never had true authentic Mexican food. I learned a few recipes and the basics of Mexican cuisine from Hector's Mom Adela. Since I was already Vegan when I met Hector I began to research Mexican recipes that were naturally Vegan or that could easily be made Vegan.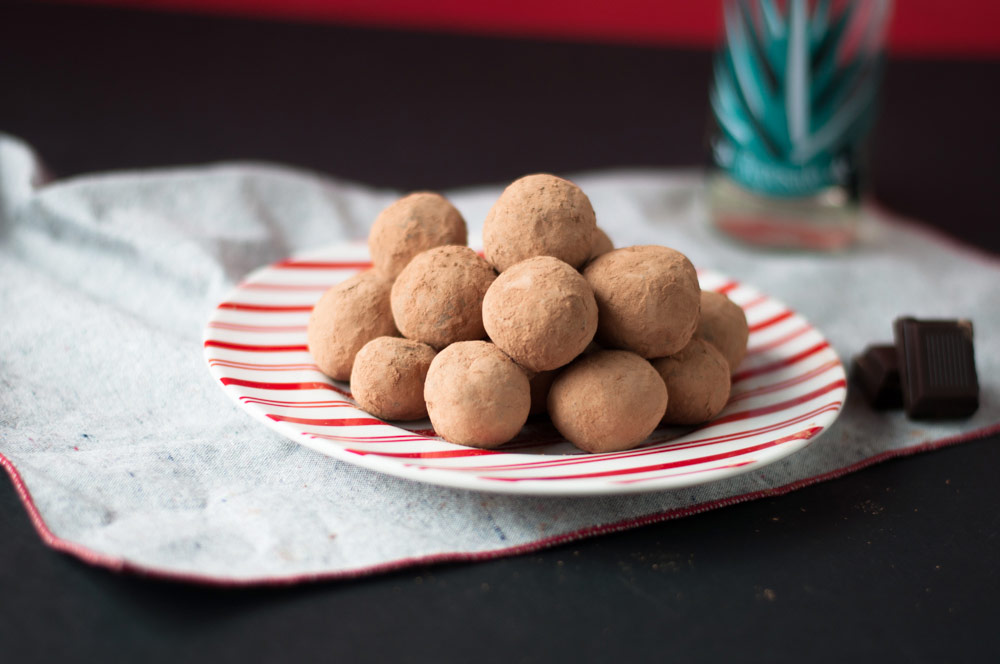 I love traveling to Mexico as much as I can, especially to Mexico City. It is the first place that I visited in Mexico and it holds a special place in my heart. After Hector and I got married, we decided to move to Mexico City for awhile. It was one of the greatest experience of my life. On my blog, you'll find that many of my recipes are inspired by Mexico.
Now, let's talk about these Vegan Tequila Truffles. When Dora asked me to share a holiday recipe with you, I immediately knew that I wanted to share a Mexican inspired truffle recipe. Truffles are easy to make and perfect for the holiday season.
The Recipe: Vegan Tequila Truffles
The truffles start by melting dark chocolate in warmed coconut milk. You want to look for chocolate that is at least 70% cacao. After most of the chocolate has melted, the rich ganache is infused with Mexican vanilla and tequila. It is completely optional but for a little kick add chili powder to the ganache. I like to use guajillo chili powder.
After chilling the fridge for a few hours, the truffles are rolled into balls and then coated in cocoa powder.
You'll find these Vegan Tequila Truffles to be rich, creamy, chocolaty and simple.
Vegan Tequila Truffles
Truffles are really easy to make, and so delicious for so little effort.
Pin Recipe
Print Recipe
Ingredients
½

cup

Coconut milk

full fat

12

oz.

Vegan Dark Chocolate at least 70% Cacao

finely chopped

1

pinch

Sea Salt

½

tsp.

Mexican Vanilla Extract

2

tbsp.

Tequila

¼-½

tsp.

Chili Powder

optional

¼

cup

Cocoa powder

for dusting
Instructions
In a medium saucepan heat the the coconut milk over medium heat. When the milk comes to a low boil add the chopped chocolate and continually stir until about ¾ of the chocolate has melted. Turn off the heat and add the pinch of salt, vanilla, tequila and chili powder if using. Keep stirring until all of the chocolate has melted.

Pour the chocolate into a loaf pan or shallow dish. Refrigerate for 2 hours, or until the chocolate is almost solid. If the chocolate is still wet in some spots continue chilling until firm.

Once the chocolate is chilled and firm, prepare a dish with the cocoa powder for rolling. Use a tablespoon sized scoop to scoop out small balls; I like to use a cookie scoop. Scoop out the tablespoon size balls then gently use your hands to roll into a round ball shape. Toss in cocoa powder to coat and shake off the excess. Transfer to a cookie sheet or pan lined with wax paper. Continue until all the chocolate has been scooped out. Depending on the size of the scoop, you should get about 14-16 truffles.

Enjoy the truffles right away or store in a tightly covered container in the fridge. Let the truffles come up to room temperature before serving, about 10-15 minutes.
Notes
It is completely optional but for a little kick add chili powder to the ganache. I like to use guajillo chili powder.
Nutrition
Calories:
149
kcal
|
Carbohydrates:
11
g
|
Protein:
2
g
|
Fat:
11
g
|
Saturated Fat:
7
g
|
Polyunsaturated Fat:
1
g
|
Monounsaturated Fat:
3
g
|
Trans Fat:
1
g
|
Cholesterol:
1
mg
|
Sodium:
9
mg
|
Potassium:
190
mg
|
Fiber:
3
g
|
Sugar:
5
g
|
Vitamin A:
31
IU
|
Vitamin C:
1
mg
|
Calcium:
19
mg
|
Iron:
3
mg