A reader asked me for a recipe for roasted beet orange and quinoa salad months ago, and finally here it is. Better late than never! Lately, it seems that every time I try to set time aside to work on the blog I fail miserably at actually working on it. I could blame it on scheduling, work, or argue that I've been spending time with my family, but I think that when it comes down to it I have been lacking motivation.
I have been blogging for 2 yrs. pretty consistently, and it has been very rewarding. After leaving professional kitchens to be a mom, I desperately needed an outlet for my cooking, so I started this blog and a blog in Spanish. I plunged head into it, maybe a little too eagerly. So much so, that the hubby had to ask me to please step away from the computer on more than one occasion. I got excited about every single person who subscribed to the blog, rejoiced if anybody "liked" my post, and considered it a true achievement when a post had more than 5 viewers a day. With every post I discovered something new about cooking and my relationship with food. By reading other blogs, I also caught a glimpse of other people's lives, what they cook in their homes, and their family recipes passed down from generation to generation.
After a while the novelty wore off, and it hit me how much work goes in to keeping up with a blog. In order to publish one post, there's cooking, recipe resting, recipe writing, picture taking, picture editing, writing, editing the writing, putting it all together, and finally hitting the publish button. It doesn't end there! After you publish, you spend several days promoting on facebook, twitter, and pinterest. If you want other people to read your blog, you also have to spend a good amount of time reading and commenting on other blogs. This could truly be a full time job, and it is for some people.
It has taken me 2 yrs. to get 228 blog followers and about 1,200 views a month. Some of my posts have been better than others, and the recipes and pictures have improved over time. I just think I have reached a moment in my life where I have to ask myself, "Could my time be spent more wisely?" Bloggers I need your help. How do you stay motivated?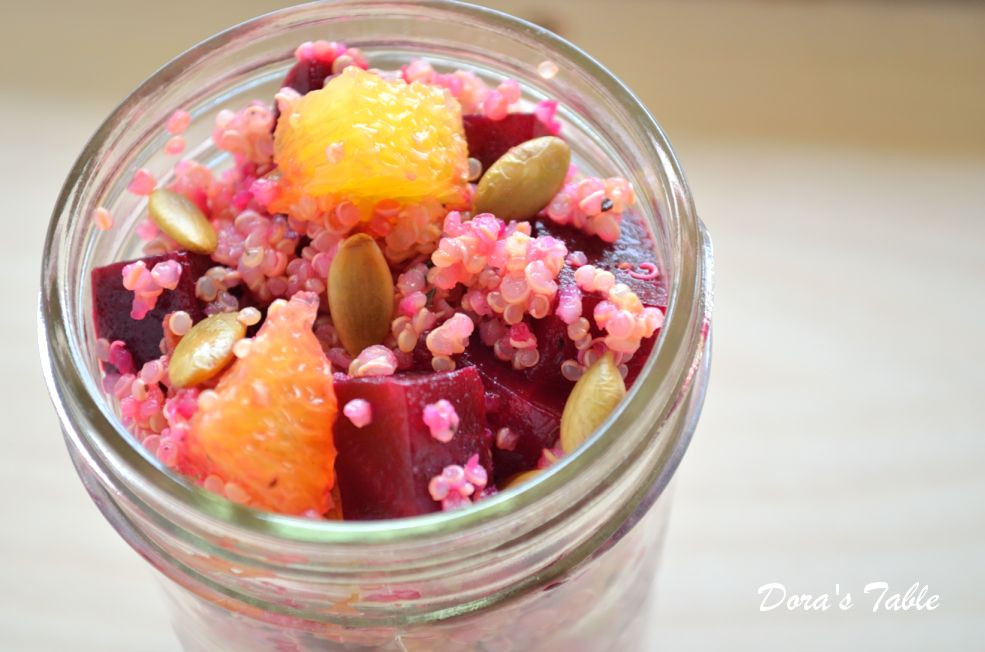 The Recipe: Roasted Beet Orange and Quinoa Salad
This vegan recipe for roasted beet orange and quinoa salad is full of protein, flavor, and texture. It´s dressed in a sweet balsamic vinaigrette. It is a great lunch option. Enjoy!
Roasted Beet Orange and Quinoa Salad
Pin Recipe
Print Recipe
Ingredients
Salad
3

cups

Quinoa,

cooked

2

Roasted beets, medium,

cut into small dice (see notes)

3

Blood oranges,

cut into segments

1 1/2

tbsp.

Pumpkin seeds,

toasted

Balsamic Vinaigrette To taste
Dressing
1/2

cup

Balsamic Vinegar

1/8

tsp.

Dijon mustard

2

cloves

Garlic

3/4

cup

Oil

grapeseed

3

tbsp.

Water

room temperature

3/4

tsp.

Agave nectar,

or other plant-based sweetener
Instructions
Salad
In a large bowl combine quinoa, oranges, beets, and pumpkin seeds.

Add the desired amount of dressing and season to taste.
Dressing
Place vinegar, garlic clove, and mustard in a blender and blend on high until smooth.

Through the top of the blender, gradually pour in the oil, while running the blender on low/medium. The mixture will thicken as the oil is blended in.

After all of the oil has been added, pour in 3 tbsp. of water, and agave nectar.

Season to taste and serve.
Notes
To roast beets, preheat oven to 375 degrees F, coat beets lightly with oil, wrap beets in aluminum foil, place on a baking sheet, and roast in the oven until cooked through, approximately 45 to 60 minutes. Remove from the oven, let cool for 10 minutes, and then peel and slice into 1/4-inch thick slices.
You can use canned beets or steamed beets for a quick version of this recipe.