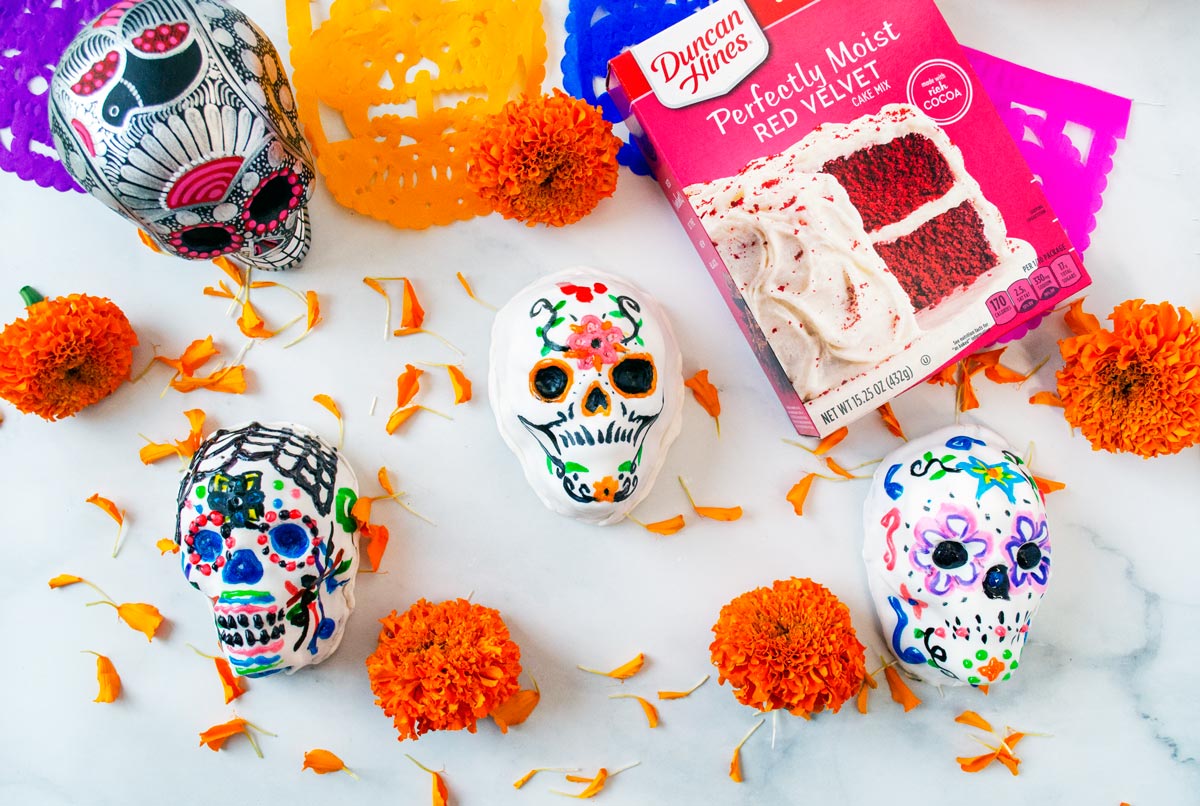 These mini sugar skull cakes are the perfect activity to do with the kids to celebrate Dia de Muertos. They are easy to make and super fun to decorate.
This post was created is in partnership with Duncan Hines, all thoughts and opinions are my own.
What is Dia de Muertos
Dia de Muertos is a Mexican celebration of life and its triumph over death. It is celebrated in Mexico and other countries in Latin America on November 1st and 2nd. The celebration combines indigenous rituals with Catholicism traditions which recognize that death is just a passage to another life.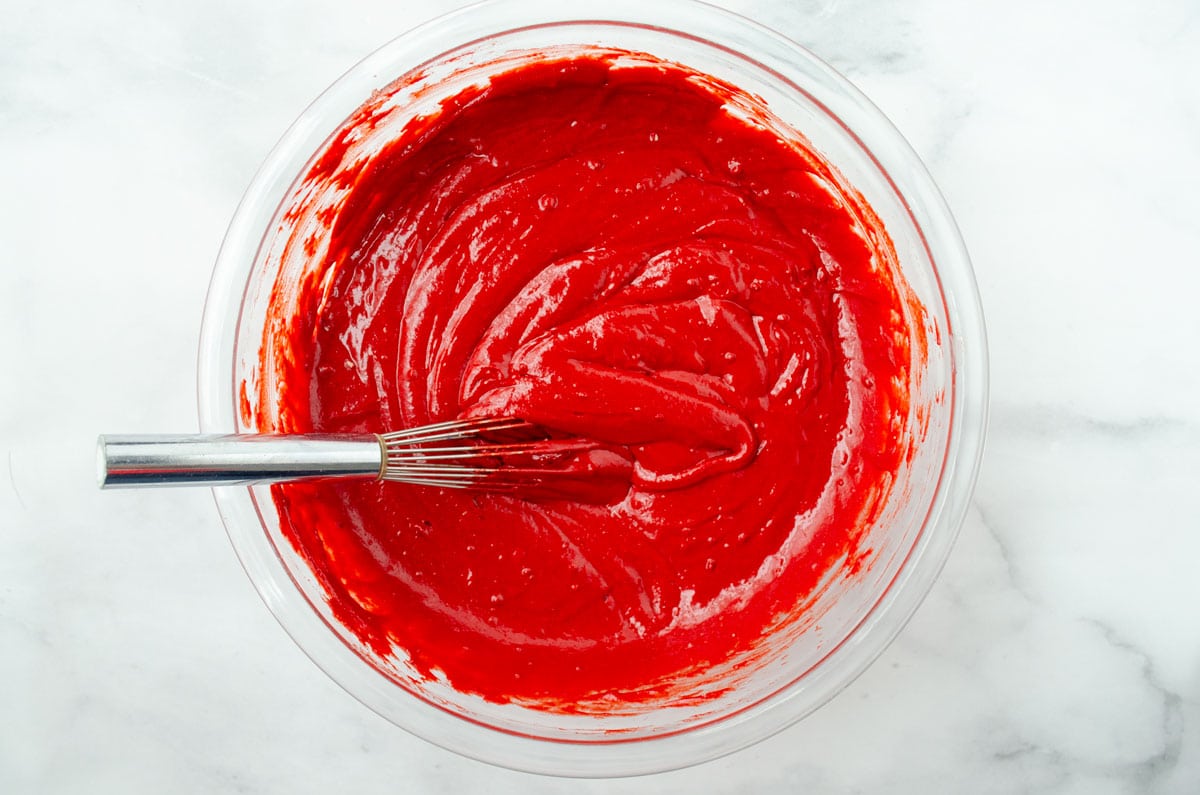 Some of those rituals include setting up an altar to remember those loved ones that have passed away, visiting the cemeteries, and decorating with skulls and orange and purple papel picado. At its core, Dia de Muertos is a party full of food, drink, and music all in honor of those that have gone before us.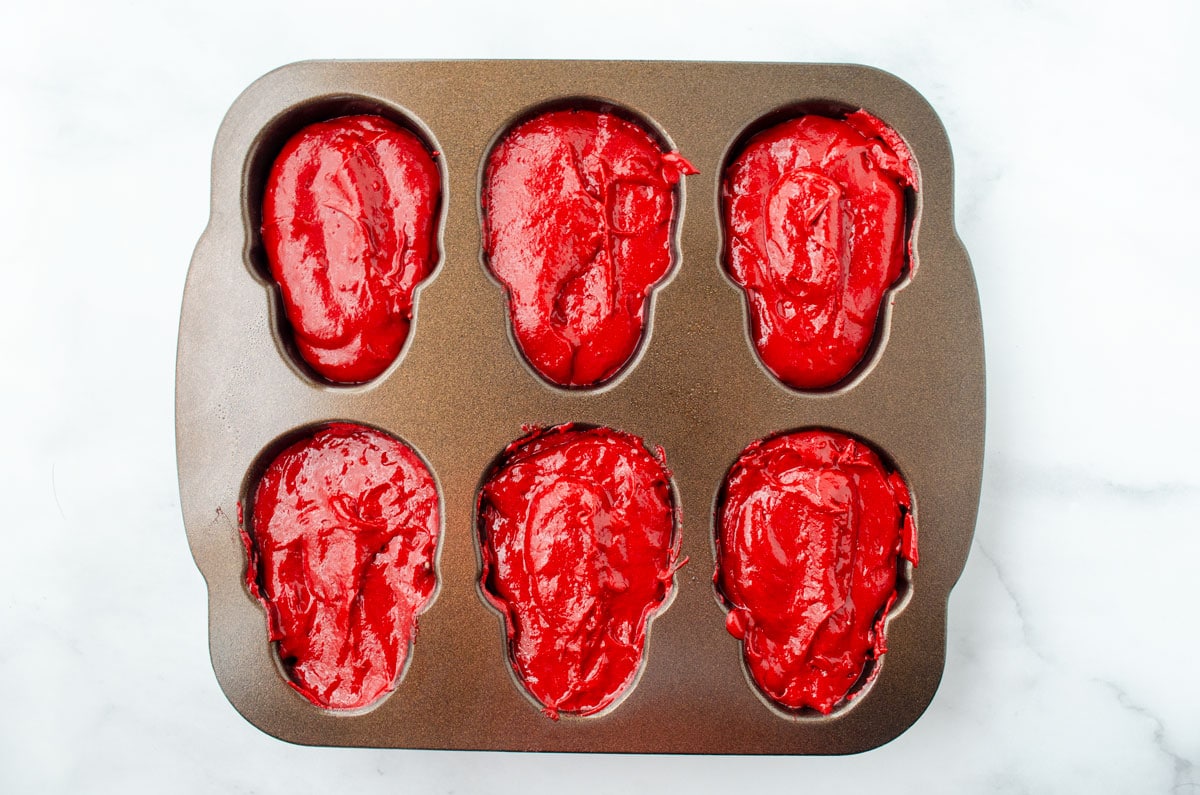 Sugar Skull Origin and Significance
The indigenous people of Mexico were celebrating Dia de Muertos long before the Spanish arrived, but it is thought that the skulls that they used in their rituals were real skulls or skulls made out of amaranth and human blood. This changed after the conquest, and now the skulls are made of sugar and colorful icing or amaranth and chocolate. Whether they are made out of blood or sugar they remind us that death is inevitable, but that it is only a passage to a colorful mystical afterlife.
Vegan Duncan Hines Mixes
Our family loves celebrating Dia de Muertos, and some years we make sugar skulls, but this year we decided to make sugar skull cakes! Real sugar skulls are not meant to be eaten, though if you wanted to you could, so the kids are always disappointed that they can't eat this beautiful treat.
I used Duncan Hines Perfectly Moist Red Velvet Cake Mix which happens to be accidentally vegan! I used chickpea flour as an egg substitute, which worked perfectly. There are many other Duncan Hines mixes that are accidentally vegan like the Classic Butter Golden, Classic Devil's Food, Signature Carrot, and Signature Pineapple Supreme. Some of their frosting is also accidentally vegan like the Creamy Buttercream, Creamy Dark Chocolate Fudge, and the Creamy Salted Caramel.
The Recipe: Easy Sugar Skull Cakes
I used a skull cake pan, but you can also you shape the cake with a skull cookie cutter.
I used chickpea flour as an egg substitute but you can use any egg substitute you like.
I covered the cake in a thin layer of fondant. Just make sure to dust your counter with cornstarch so it doesn't stick when you're rolling it out.
To decorate the skulls I diluted gel food coloring with water, then used this as paint, but I also bought icing writing tubes to make it easier for the kids.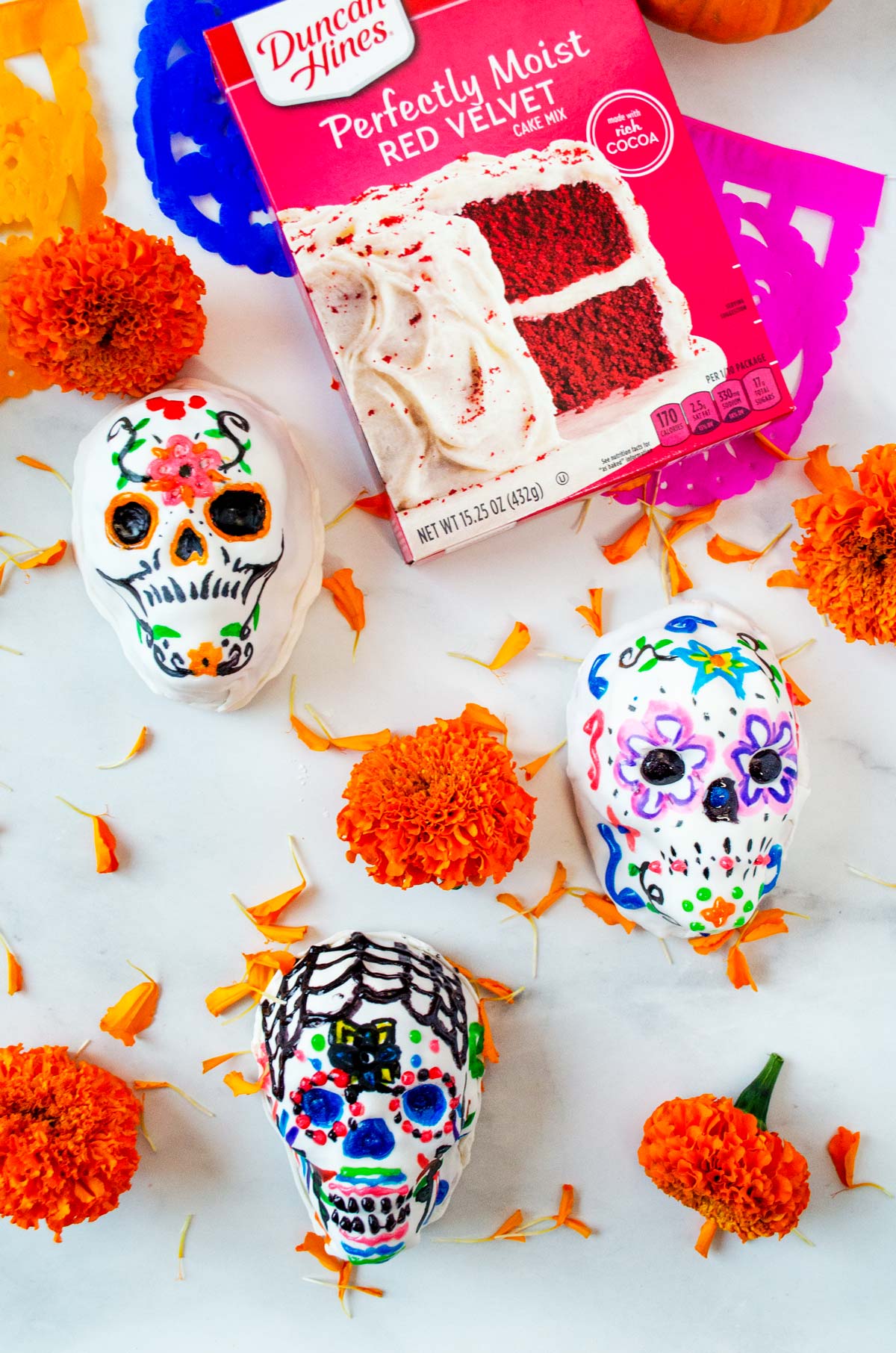 Easy Sugar Skull Cakes
These mini sugar skull cakes are the perfect activity to do with the kids to celebrate Dia de Muertos. They are easy to make and super fun to decorate.
Pin Recipe
Print Recipe
Ingredients
6

tbsp.

Chickpea Flour

6

tbsp.

Water

⅓

cup

Vegetable Oil

1 ¼

cups

Water

1

lb.

Vanilla Rolled Fondant

½

cup

Cornstarch

Gel food coloring

Gel writing icing pens
Instructions
Preheat oven to 350°F. Grease cake pan.

In a small bowl combine the chickpea flour and 6 tbsp. of water and mix well. Place the Duncan Hines cake mix in a large bowl and add the chickpea flour mixture, vegetable oil, and water. Mix well with a whisk until combined.

Pour cake batter into cake pan and bake for 20 to 25 min. or until a toothpick inserted comes out clean. Remove cake from over and let cool for 5 minutes in pan. Invert cake pan onto a rack and let cakes full off completely.

Roll your fondant into 6 small balls about 3 inched wide. Sprinkle your counter with cornstarch and roll out fondant until ¼ inch thick.

Spread a thin layer of icing on the skull cakes and place fondant on top. Use your fingers to smooth out the fondant and fill the crevices of the skull. Tuck the fondant under the cake. Repeat this process with the rest if the cakes.

Place 1/8 tsp. of your favorite gel food coloring in small bowls dilute with about 1 -2 tsp. of water.

Now comes the best part!! Paint your skulls with a paintbrush and the gel food coloring or with icing writing pens. Let icing paint dry then eat.
Notes
I used a skull cake pan, but you can also shape the cake with a skull cookie cutter. I used chickpea flour as an egg substitute but you can use any egg substitute you like. I covered the cake in a thin layer of fondant. Just make sure to dust your counter with cornstarch so it doesn't stick when you're rolling it out.To decorate the skulls I diluted gel food coloring with water, then used this as paint, but I also bought icing writing tubes to make it easier for the kids
Nutrition
Calories:
835
kcal
|
Carbohydrates:
123
g
|
Protein:
8
g
|
Fat:
37
g
|
Saturated Fat:
7
g
|
Polyunsaturated Fat:
17
g
|
Monounsaturated Fat:
11
g
|
Trans Fat:
1
g
|
Sodium:
749
mg
|
Potassium:
389
mg
|
Fiber:
3
g
|
Sugar:
78
g
|
Vitamin A:
8
IU
|
Calcium:
119
mg
|
Iron:
4
mg