The Day of the Dead is a celebration of life, and a mocking of death and the power it holds over us. The indigenous people of Mexico believed that death was not an end, but a passageway to another life. El Día de los Muertos is a homecoming festival, where we receive our loved ones with open arms, and party like only Mexicans now how to, with food, color, music, and dance.
Altars are used to honor those that have departed, and there are many traditional elements that must come together to create an altar worthy of our ancestors. One of these elements are candy skulls.The use of sugar or amaranth skulls can be traced back to pre-hispanic times, and historians believe that human blood might have been used to form the amaranth skulls. Today you can find colorfully decorated skulls made out of sugar, honey and amaranth, and chocolate and amaranth.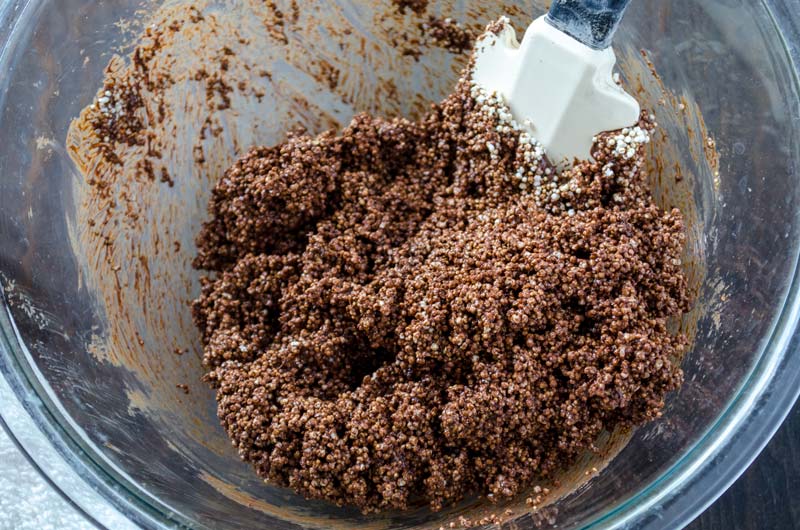 Over the years I have slowly found ways to veganize some of our food traditions. We have made vegan pan de muerto, sugar skulls, and candied pumpkin. This year we made vegan chocolate and amaranth skulls, which are decorated with colorful royal icing, are very easy to do, and are quite delicious! Unlike the sugar skulls which are used mostly for decorations, these are meant to be eaten.
To make these you will need a skull mold, vegan semi-sweet chocolate chips, and popped amaranth. You can pop the amaranth yourself, or you can buy it already popped. I found mine at a Mexican candy store and ended up buying way too much! The chocolate takes about 30 minutes to set, and they hold for up to 3 days if you store in an air tight container.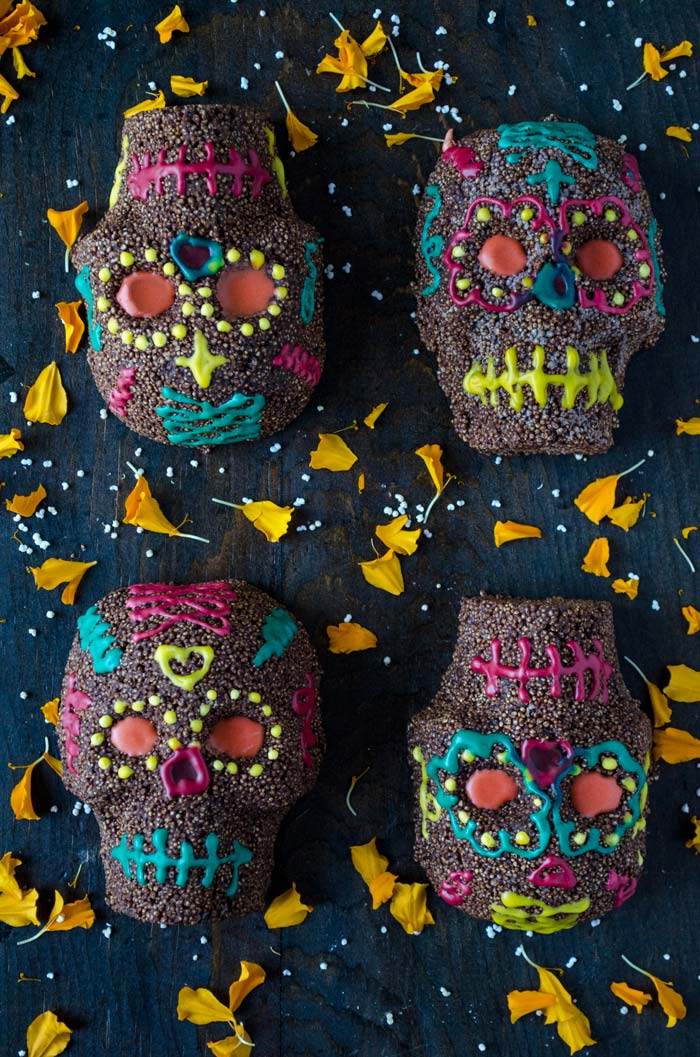 The Recipe: Vegan Chocolate and Amaranth Skulls
For the vegan chocolate you can use the enjoy life brand which is certified vegan or Guittards, if none of those are available in your area, there are other options. I bought my skull molds on mexicansugarskulls.com. Enjoy!
Vegan Chocolate and Amaranth Skulls
Vegan chocolate and amaranth skulls for the day of the dead with colorful royal icing, very easy to do, and are quite delicious!
Pin Recipe
Print Recipe
Servings:
4
large skulls (front only)
Ingredients
2

cups

Vegan Semi-sweet chocolate chips

3 ¼

cups

Popped amaranth
Royal Icing
3

floz.

Aquafaba (liquid from a can of chickpeas)

(1/3 cup + 1 tbsp.)

4-5

cups

Powdered sugar

4

Food coloring of choice
Equipment
1

Skull mold

4

Pieces of cardboard (4.5 X 4.5 inches)

4

Disposable piping bags
Instructions
Place the chocolate chips in a large bowl and melt over a double boiler until all the chocolate has melted. You can also melt it in 30 sec. intervals in the microwave, making sure to stir between each interval.

Pour popped amaranth into the bowl with the chocolate and mix well. with a wooden spoon, to incorporate.

Wet the mold a little bit with a moistened paper towel and press the amaranth chocolate mix into the mold.

Press the cardboard square against the mold and flip the mold, to have the skull facing you. Lift the mold, and carefully place the cardboard with the skull on it on a sheet tray.

Repeat this process with the rest of the mix. Let chocolate set for 30 min.
Royal Icing
While de chocolate is setting, in a large bowl, lightly beat the aquafaba until it starts to bubble. Add 4 cups of the powdered sugar and mix well. Test the consistency of the icing on a plate. It should be thick enough that it doesn't slide down the plate easily. If it seems too thin, add 1 more cup of powdered sugar. The consistency should be considerably thicker than the icing used to decorate cookies.

Separate the icing into 4 small bowls. Add your food coloring of choice and mix well.

Pour each bowl of icing into a disposable piping bag. Secure with a rubber band, and cut a tiny bit off of the tip of the bag. Test the amount of icing that comes out before decorating your skull.

Decorate your skull however you desire. The icing will take about 30 min. to set.
Nutrition
Calories:
1123
kcal
|
Carbohydrates:
211
g
|
Protein:
14
g
|
Fat:
33
g
|
Saturated Fat:
18
g
|
Sodium:
14
mg
|
Potassium:
272
mg
|
Fiber:
10
g
|
Sugar:
160
g
|
Calcium:
212
mg
|
Iron:
11
mg