Filling pan de muerto is a common practice in México. This vegan chocolate-filled pan de muerto is stuffed with a sweet chocolate "cream", and dusted with a sprinkling of sugar.. Serve with your favorite Mexican hot chocolate, and honor your loved ones on this Dia de los Muertos.
The filling is a bit of a well-kept secret called chocolate hummus. I know it sounds totally unappetizing, but I promise it's so good. I never thought I would hear my kids begging me to make chocolate hummus. Chocolate hummus is basically cooked chickpeas, cocoa powder, and a sweetener like maple syrup.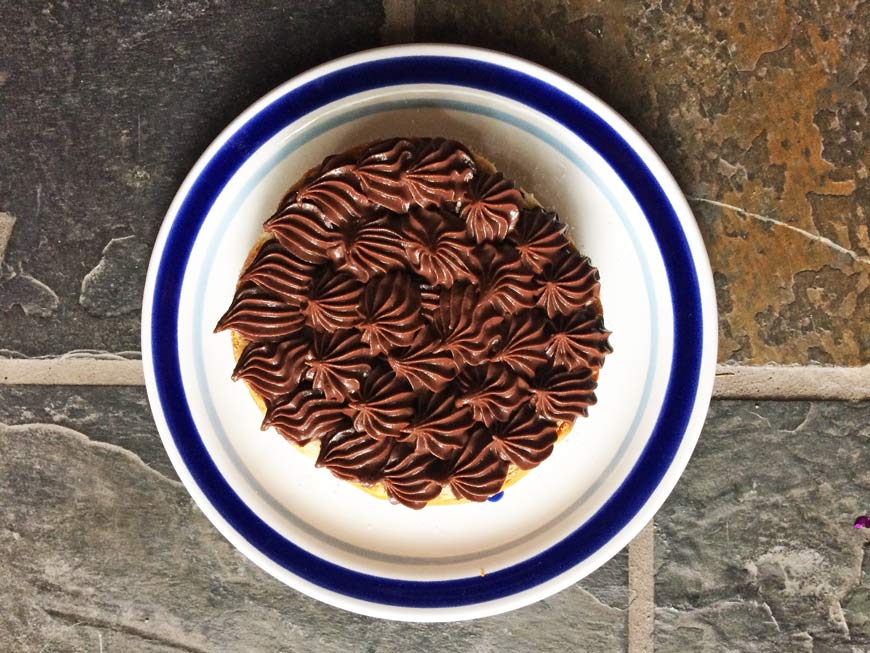 The store-bought kind is super smooth, almost like a mix between chocolate icing and pudding. When you make it at home it's not as smooth, but still delicious. I tried making a chocolate-sweet potato frosting, but it was too thick, and a chocolate coconut whipped cream, but that was a total flop. Chocolate hummus was perfect with this vegan pan de muerto.
So what's the big deal about pan de muerto?? Pan de muerto is a special bread eaten on the Day of the Dead in Mexico and placed on the ofrendas (altars) that honor the departed. It has a round shape with 4 elongated knobs in the shape of a cross, and a small ball at the top.
It's round shape represents the cycle of life and death, the knobs represent the bones of the departed, and the ball represents the skull. It is traditionally infused with orange blossom water to remember our deceased loved ones. The shape of the cross is said to represent the 4 cardinal points, each one dedicated to a different god Tezcatlipoca, Tlaloc, Quetzalcóatl y Xipetotec.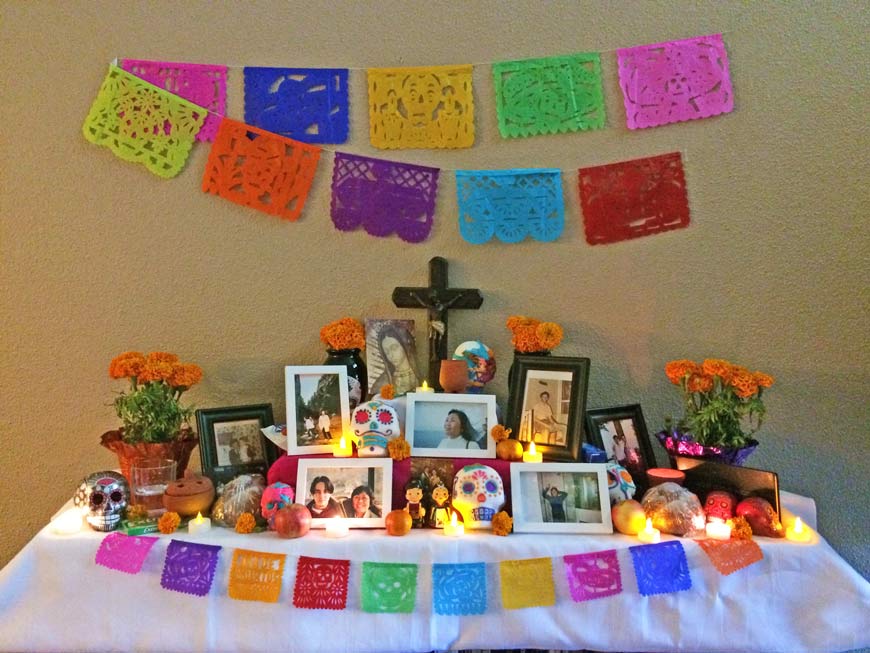 There are many different kinds of pan de muerto some shaped like animals, plants or trees, people, and fantastic creatures. You can find them filled with nata (clotted cream), whipped cream, cajeta, and dried fruits. I prefer mine unfilled and dipped in hot chocolate.
I love being able to share all these traditions with my children, and it's a beautiful way of honoring my ancestors, and the loved ones that have gone before me. My 4 year old was saying that she didn't understand why Jesus had to die. I explained a little bit, and then told her that we would all die one day. She got super quiet and said, " But if we all die, who will put my picture on the altar??" So cute!! Feliz Día de los Muertos.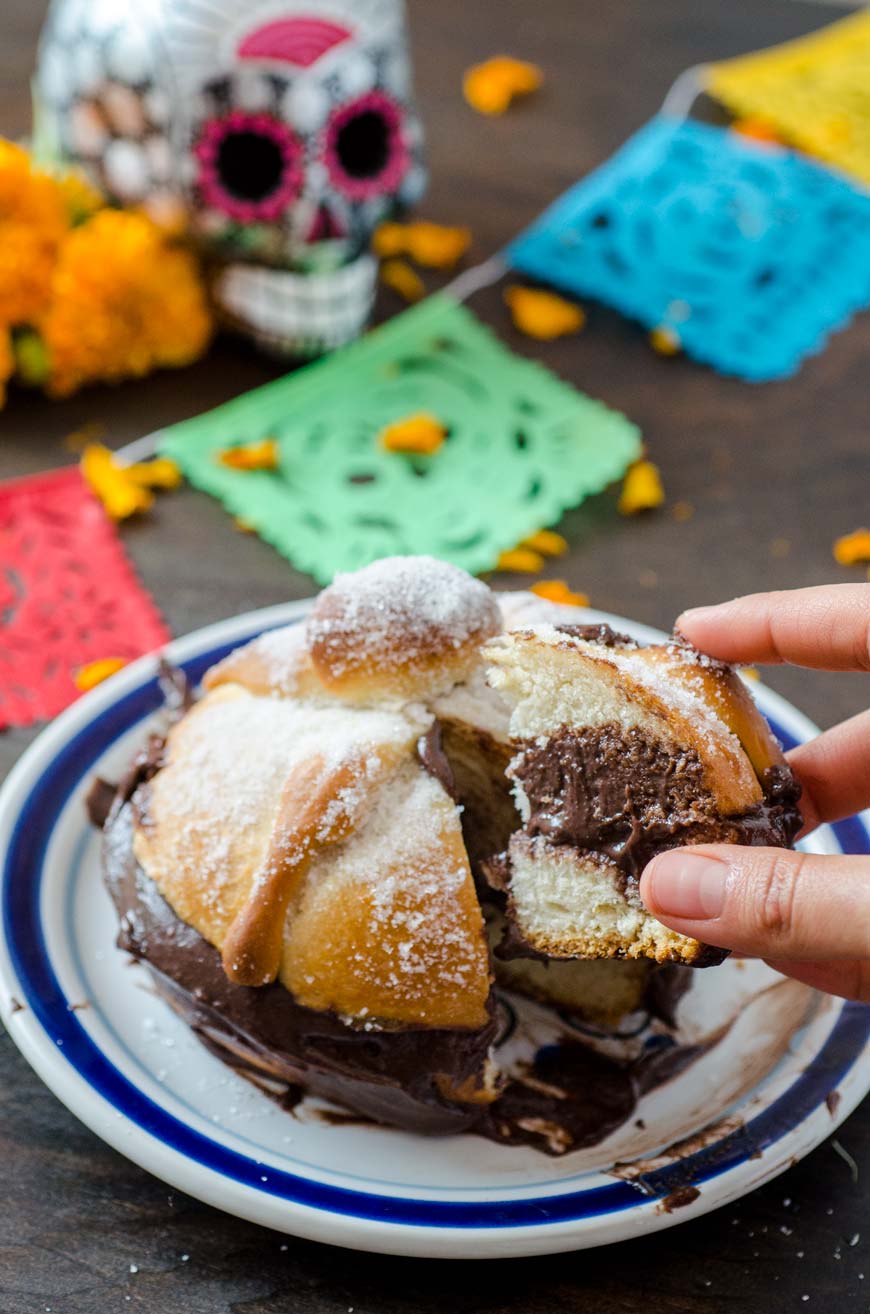 Chocolate Filled Vegan Pan de Muerto
This vegan pan de muerto is filled with a sweet chocolate "cream", and dusted with a sprinkling of sugar. Serve with Mexican hot chocolate
Pin Recipe
Print Recipe
Instructions
Once you have baked your vegan pan de muerto. Let it cool completely. If it's not completely cooled down the chocolate hummus will not hold it's shape.

Fill a piping bag with a star tip with the chocolate hummus.

Cut your pan de muerto in half (lengthwise), and pipe chocolate hummus on the bottom half of the bread. Place the other half on top, and serve.
Notes
If you can't find chocolate hummus at your local grocery you can make your own.
Nutrition
Calories:
127
kcal
|
Carbohydrates:
11
g
|
Protein:
6
g
|
Fat:
7
g
|
Saturated Fat:
1
g
|
Polyunsaturated Fat:
3
g
|
Monounsaturated Fat:
3
g
|
Sodium:
290
mg
|
Potassium:
172
mg
|
Fiber:
5
g
|
Vitamin A:
23
IU
|
Calcium:
29
mg
|
Iron:
2
mg