I didn't think it was possible, but it is. You can make vegan Mexican meatball soup! I happened upon an instagram account @vegan_mexican and they kept posting pictures of vegan Mexican meatball soup. I almost lost it right there and then. My grandma used to make this soup for me growing up and I have very fond memories of this. So naturally, I contacted the account to see if they wanted to share the recipe with you and they said yes! Here is a small interview with the author of the recipe and instagram account, Brianna García.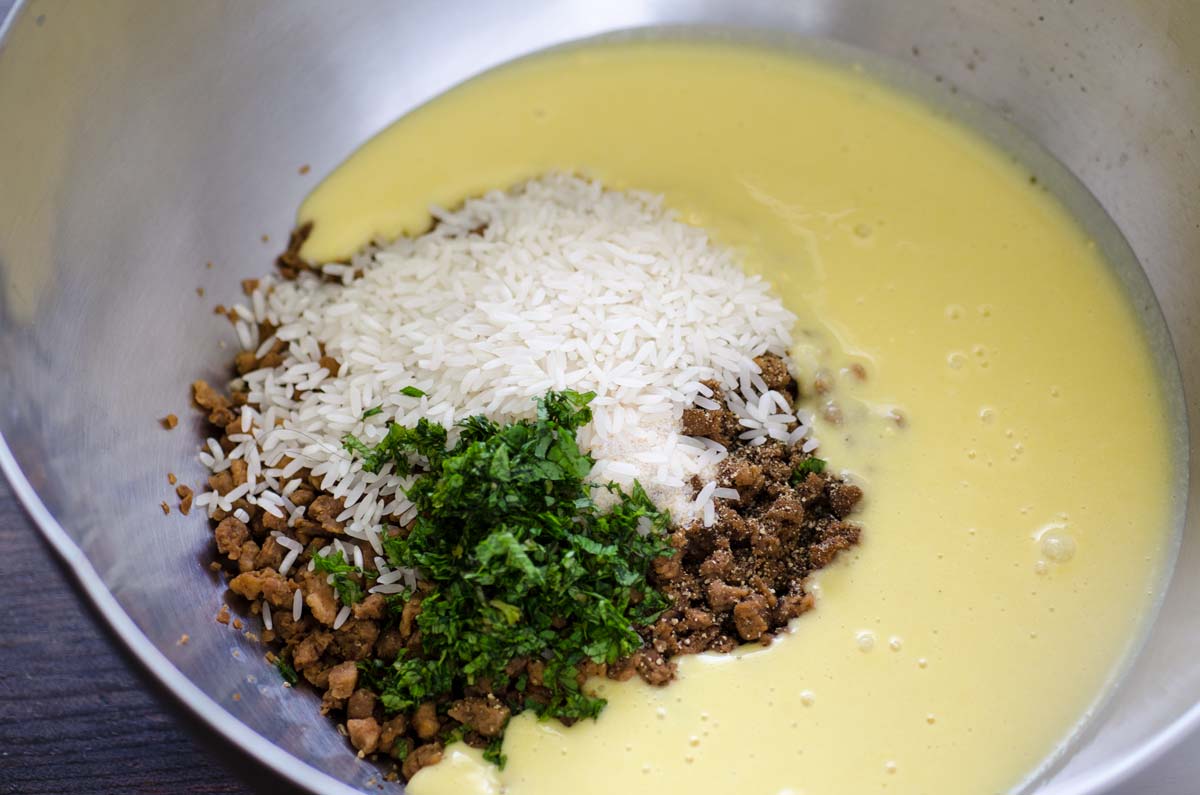 1. Tell us more about yourself where you are from, and how you became vegan.
My name is Brianna García and I'm from California. I reside in the Los Angeles/ Anaheim area. I became vegan after becoming interested in organic/natural living and knew that veganism was for me. I had previously gone vegetarian in my teens and had always wished I was vegetarian again didn't think it was possible to go vegan until I made the plunge and I'll never look back! I also love the animal and environmentally friendly impact veganism has.
2. What do you think is your biggest challenge as a vegan?
The biggest challenge I would say is convenience. It's not difficult being vegan. There are so many vegan options. I just wish there was vegan restaurants and vegan grocery stores on every corner like there is with a McDonalds.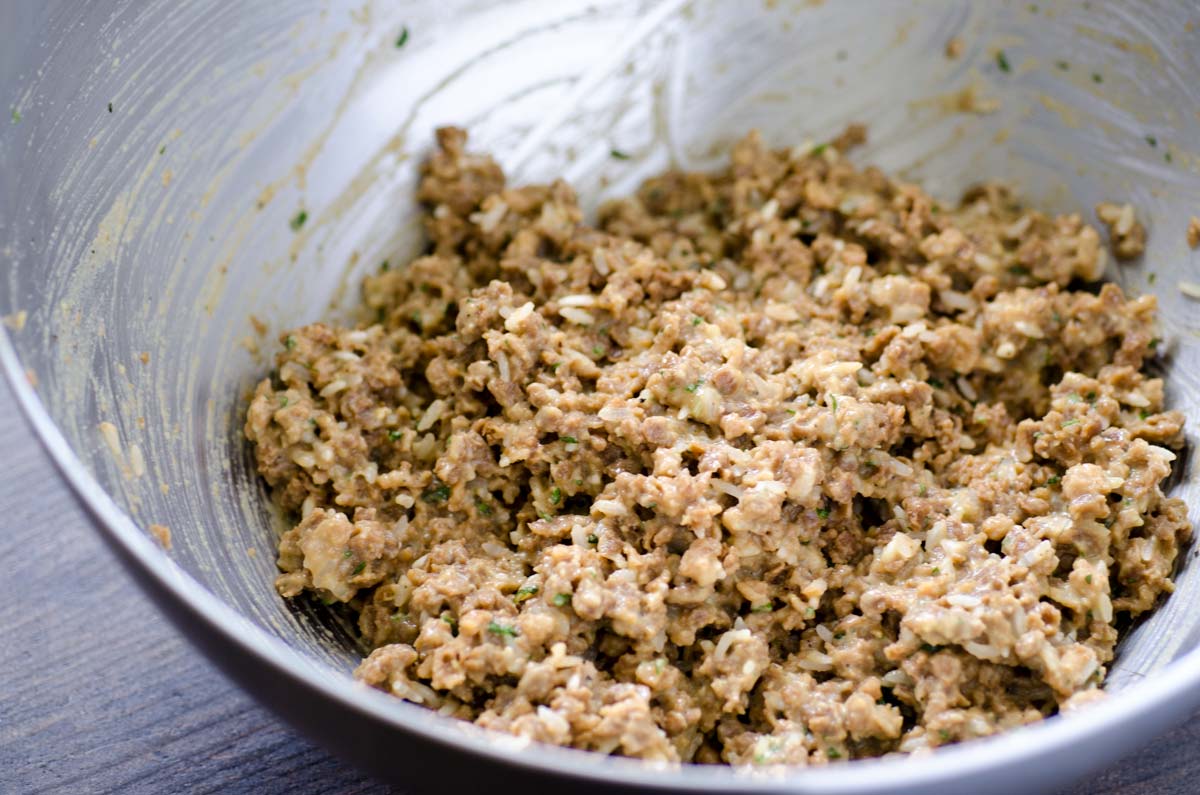 3. The recipe is your moms. Is your mom vegan? How about the rest of your family?
The non-vegan recipe is my mothers. I asked her to show me how she made albondigas so that I could do my vegan take on it. I wanted it to be authentic as possible, but vegan. She isn't vegan. However, I have helped her implement a lot more vegan/organic things into her diet. Nobody but my partner is vegan.
4. What are some of your favorite go-to vegan recipes?
My favorite go-to vegan recipes are the ones that are quick to make when I'm lazy and hungry. I seriously love vegan potato tacos, and they're so easy to make. All I had to substitute was the cheese for a vegan one. I usually make Gardein dinners quite often too. I also used to make organic vegan fruit smoothies a lot for breakfast. It's amazing how delicious fruit tastes with no added terrible ingredients.
5. Where can people find you and your recipes?
On my Instagram account at @vegan_mexican.
Thank you Brianna for sharing your amazing recipe with us. My family really enjoyed it and it brought back sooo many memories.
The Recipe: Vegan Mexican Meatball Soup
Brianna did an excellent job at making this recipe very detailed, so you shouldn't have a problem at all following along. The recipe calls for two things that no matter what, you cannot substitute. Those are gardein beefless ground and the new follow your heart vegan egg. (This is not an ad. No monetary compensation is being provided by gardein or follow your heart.) If you don't use these, your meatballs might fall apart while cooking, like mine, did the first time I made this soup. This vegan Mexican meatball soup is a hearty soup filled with carrots, potatoes, celery, and amazingly tender meatballs. Enjoy!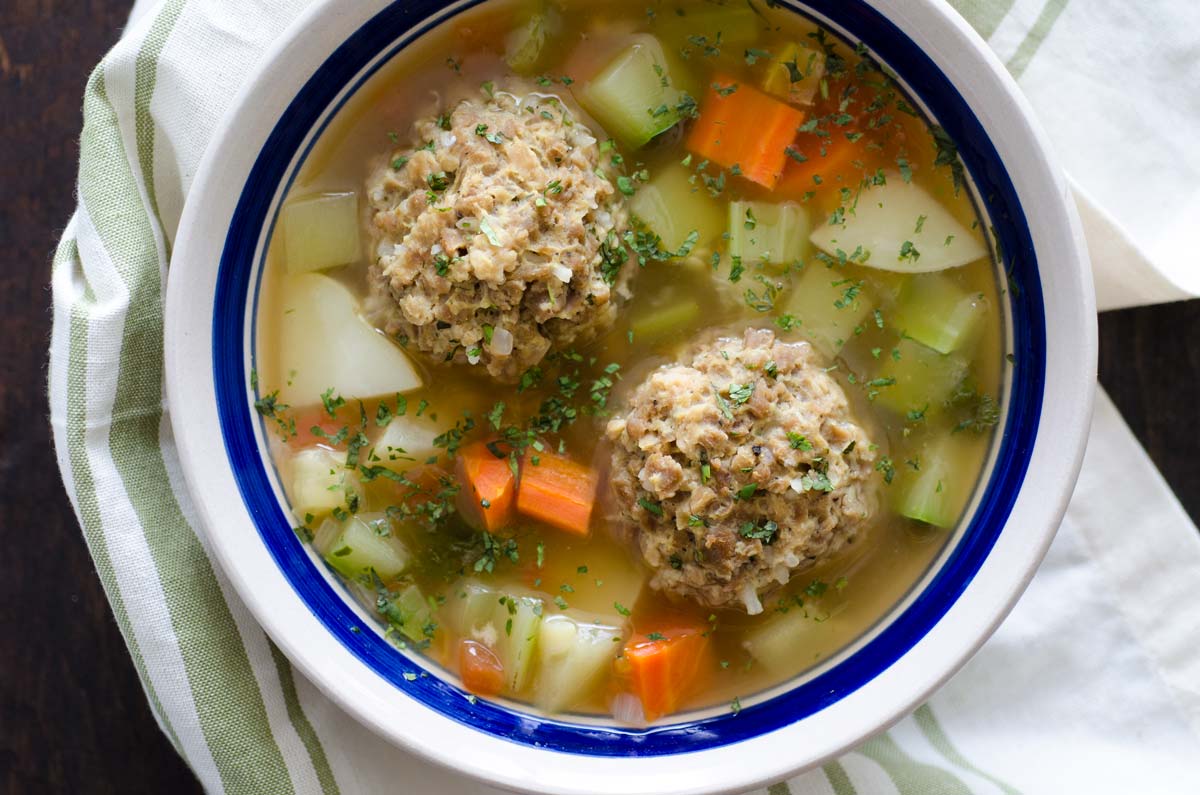 Vegan Mexican Meatball Soup
This vegan Mexican meatball soup is a hearty soup filled with carrots, potatoes, celery, and amazingly tender meatballs.
Pin Recipe
Print Recipe
Ingredients
1

tablespoon

avocado oil

¼

White or yellow onion, diced

1

tomato, diced

medium

8

cups

water

2

tablespoon

Better than Bouillon no-chicken base

(or 2 no-chicken bouillon cubes + 2 vegetable bouillon cubes)

1

package (12 oz)

Impossible plant-based ground beef,

defrosted (see note)

⅓

cup

uncooked white rice,

long grain

6-8

mint leaves, finely chopped

½

teaspoon

black pepper

1

teaspoom

garlic salt

( or 1/2 tsp. garlic powder + 1/2 tsp. salt)

2

medium carrots, diced

1-2

celery stalks, diced

2-3

caloro yellow peppers

or 1- 2 jalapeños

2

cups

diced potatoes

1

small Mexican zucchini, diced

3

sprigs

cilantro
Instructions
To make the broth:
Set a large soup pot to medium heat. Add 1 tbsp. of oil and add onion to the pot. Let onion cook for 2-3 minutes or until soft and translucent. Add tomato and cook for 3 minutes more.

Pour enough water into the pot to fill it 1/2 way. Bring to a simmer. Add Better than Bouillon No-Chicken base, and salt and pepper to taste (pepper is optional). Bring the broth to a low simmer.
Making the meatballs
In a large bowl, combine the package of Impossible plant-based beef, 1/2 tsp. black pepper, 1 tsp. garlic salt, 1/3 cup of uncooked white rice, and chopped mint. Mix well.

Form 8- 10 meatballs with your hands. Add them to the simmering broth.

It's crucial not to stir the meatballs too much or they'll fall apart. Cook for 15 minutes.

Add the carrots, celery, zucchini, potato, cilantro sprigs, and yellow peppers (do not cut) to the pot. Lower heat to medium-low, cover pot and let it thoroughly cook together for about 15 minutes. 

Add some chopped cilantro for finishing touch and let cook for a few minutes and you should have vegan albondigas! Don't forget the warm tortillas! Or even avocado slices!
Nutrition
Serving:
1
bowl
|
Calories:
234
kcal
|
Carbohydrates:
41
g
|
Protein:
5
g
|
Fat:
6
g
|
Saturated Fat:
1
g
|
Polyunsaturated Fat:
1
g
|
Monounsaturated Fat:
3
g
|
Trans Fat:
0.003
g
|
Cholesterol:
0.2
mg
|
Sodium:
1418
mg
|
Potassium:
814
mg
|
Fiber:
5
g
|
Sugar:
4
g
|
Vitamin A:
5695
IU
|
Vitamin C:
138
mg
|
Calcium:
62
mg
|
Iron:
2
mg