Rice has been my nemesis for years. I don't know why something so simple can be so complicated. Probably because I keep checking under the lid to see if it's done! This was back when I cooked only with white rice, once I added brown rice to the mix, my complications doubled. That's why it has taken me so long to finally come up with a good recipe for vegan Mexican brown rice. Some people also refer to it as Spanish rice, but it is all the same. I'm happy to say the kids enjoy brown rice as much as white. I think they don't really care as long as it's rice. They eat so much of it, that and noodles.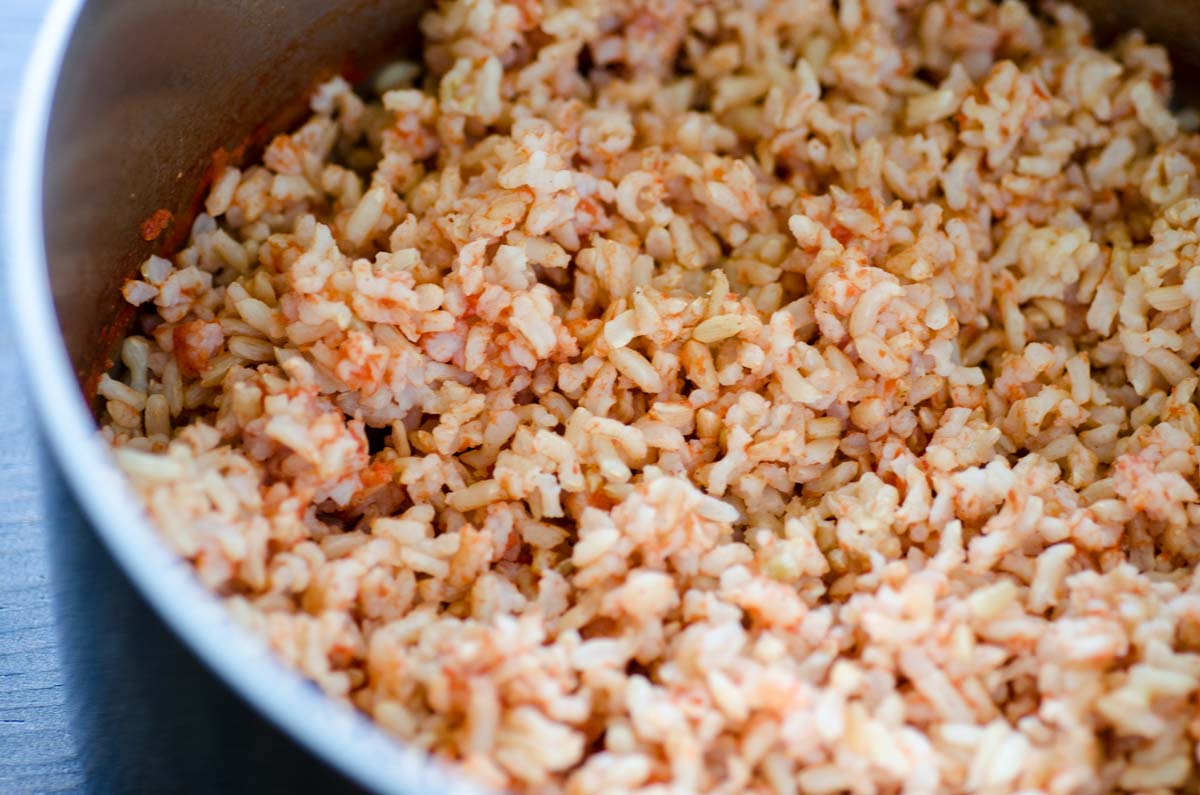 We went on another hike a couple of weeks ago, it's called Manoa Falls. It's a pretty popular hike, but not as well known as Diamond Head. This time my hubby went with us and we had a really good time. It takes about 30 minutes to get to the waterfall, and it's a beautiful sight. It wasn't too crowded and I would say it is of moderate difficulty. (Just on a side note, if you are ever in Hawaii, the state recommends not to go into the waterfall because there can be bacteria in the water called leptospirosis.) There are still many more hikes to explore, but I have been focusing on getting the hang of homeschooling and trying to post recipes at the same time! It has been a true exercise in patience.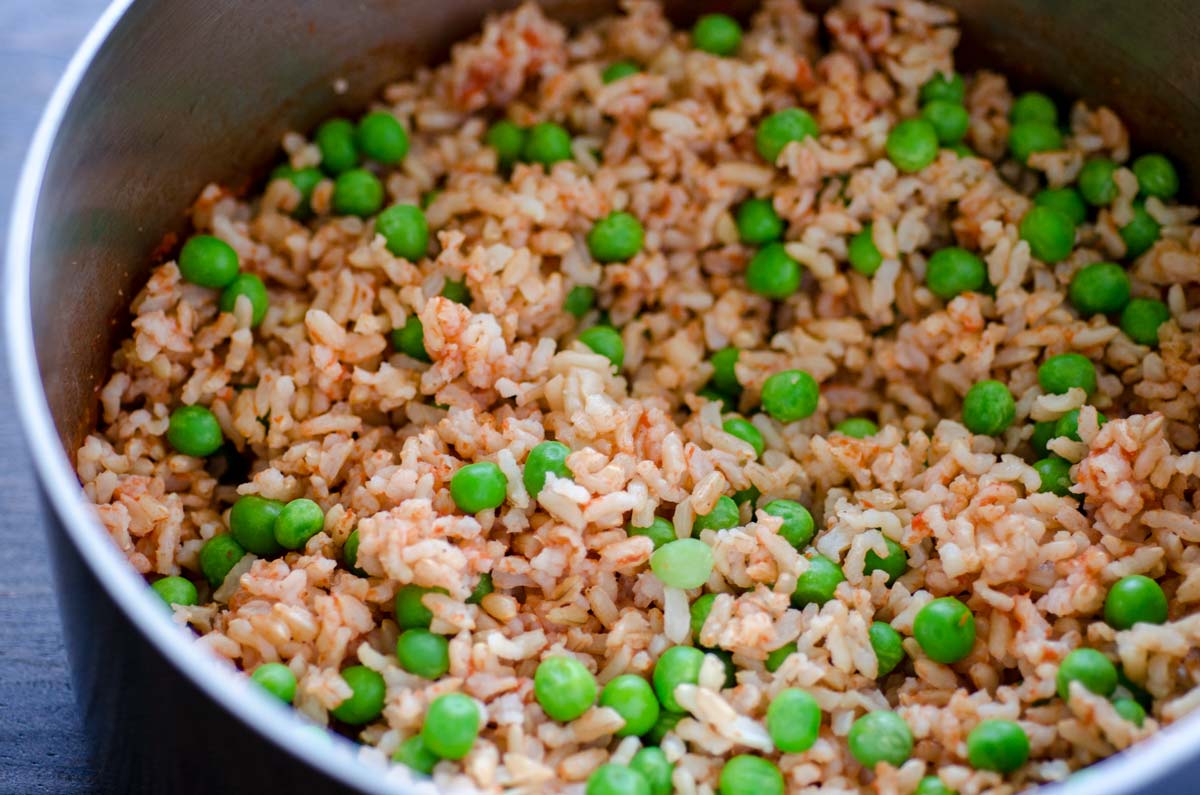 We have been here 5 months and I think I'm beginning to get island fever. I keep dreaming about going on a road trip and I don't even like driving! Then I wake up and realize I can't go anywhere. What we should really do is visit Maui, I hear it is very vegan friendly, or someone needs to come visit me.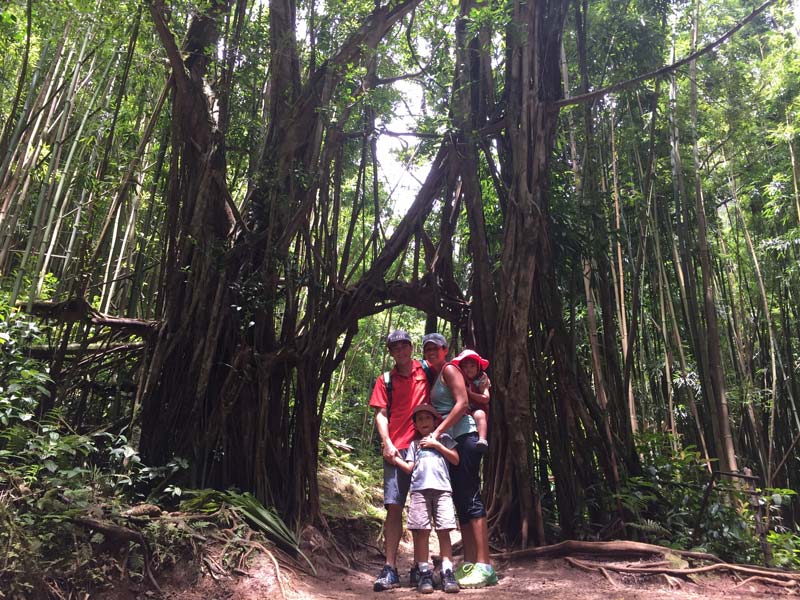 The Recipe: Vegan Mexican Brown Rice
The problem I have had with brown rice before is that I could never get it tender enough, so I decided to soak it overnight this time and I really like the results. I dare say it's almost fluffy. The other really important part of this recipe is toasting the rice. I did it without oil and it worked just fine. Simply add the rice to a medium pot set to medium heat and stir until the rice begins to brown. Careful though, it's very easy to burn. The toasting ads an aromatic touch to the rice. Enjoy!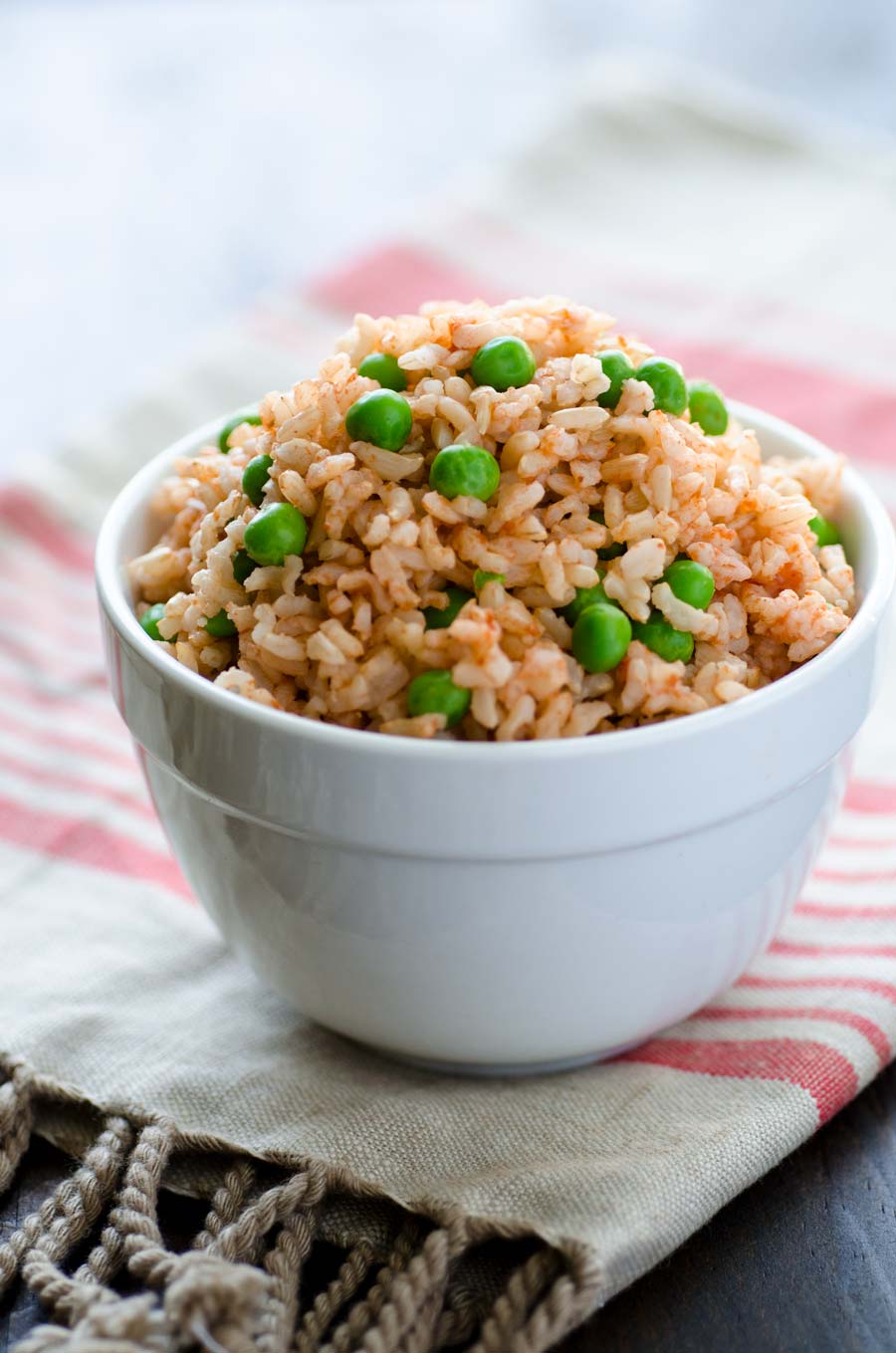 The Perfect Vegan Mexican Brown Rice
Pin Recipe
Print Recipe
Ingredients
1

cup

Brown rice,

long grain

¼

Onion,

white

3

cloves

Garlic

1 ½

cups

Tomato,

diced

1

tbsp.

Tomato paste

1 ½

cups

Vegetable,

stock or broth

½

tsp.

Salt,

kosher

1

cup

Peas,

frozen
Instructions
Soak the brown rice in cold water overnight.

Drain the rice. Set a medium pot to medium heat and add the rice. Stir often and let rice toast until golden brown, about 8-10 min.

Meanwhile blend the tomato, onion, garlic, and tomato paste until smooth. Strain. You should end up with 1 cup of puree. If you don't, add enough veg stock to make it one cup.

Pour the tomato puree into the pot with the rice and let simmer for 2 minutes. Add the 1 ½ cups of vegetable stock. Add ½ tsp of salt and stir. Cover and turn heat down to a low simmer. Let cook for 35 – 40 minutes.

Remove pan from heat and let rest covered for 7 minutes.

Meanwhile drop peas in boiling water until tender, about 1 minute, drain.

Add peas to rice and fluff with fork.
Notes
If you forgot to soak the rice, don't worry. It will take just a bit longer to cook.