I have a confession to make. This is kind of embarrassing, but I'm going to tell you anyway. I have a huge culinary crush on Rick Bayless. Why am I telling you this? Well, because to make these potato gorditas I didn't make my own salsas.
I bought the tomatillo salsa and the double roasted tomato salsa. The Frontera brand is named after Rick Bayless's restaurant in Chicago. When I graduated school I applied for a job at his restaurants, but there were no positions available. Then a couple of years later, Thomas and I went to the James Beard Awards in NY and he was there!
Oh my gosh I can't believe I'm going to tell you the next part, but here it goes. I wanted to go up to him and just introduce myself and say thank you for everything he's done for Mexican cuisine in this country, but I didn't want to be lame. The people at the James Beard Awards are mostly all restaurant professionals, it's not the kind of party where you ask people for autographs. So instead I just kind of followed him around for a little bit, at a distance of course, while I gathered enough courage to do the grown-up thing and casually introduce myself. I couldn't do it. Maybe next time, Rick Bayless, maybe next time.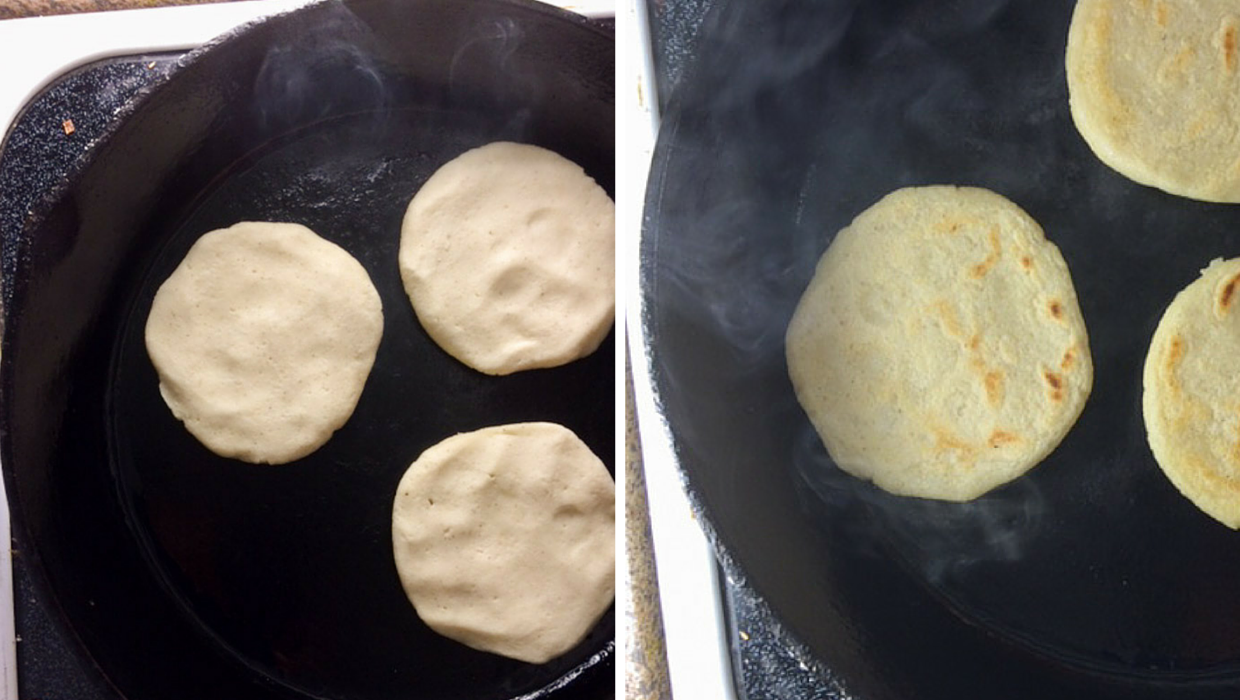 The Recipe: Potato Gorditas
Anyway, the salsas are really good and he also has some other products as well. Back to the recipe. Sheesh! These gorditas are the real deal. They're easy to make and they're gluten-free. I love my gorditas with cheese, but in this case we've filled them with potatoes in salsa verde and salsa roja. Gorditas are actually my go-to easy family dinner. Whatever you do, do not go to Taco Bell and try their gorditas, just don't. Serve these with more salsa and guacamole. Enjoy!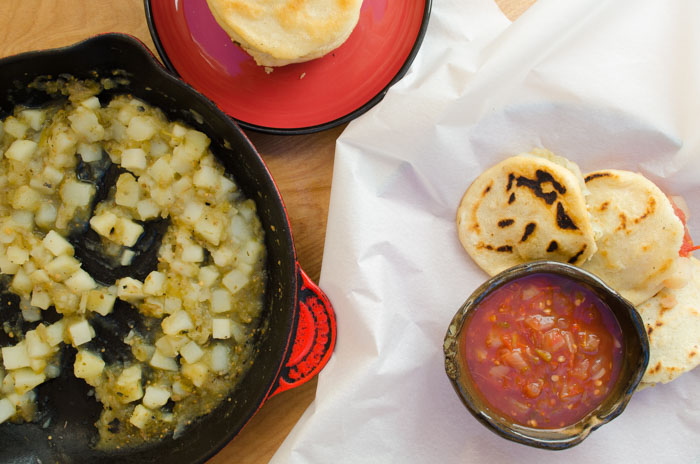 Potato Gorditas
I love my gorditas with vegan cheese, but in this case we've filled them with potatoes in salsa verde. Gorditas are actually my go-to easy family dinner.
Pin Recipe
Print Recipe
Ingredients
2

Russet potatoes,

peeled, cut into small dice

1

cup

masa harina (nixtamalized corn flour)

⅛

teaspoon

salt

⅛

tsp

baking powder

¾

to 1 cup

warm water

1

tablespoon

vegetable oil

½

onion

thinly sliced (about 3/4 cup)

1 ½

cups

salsa verde

or your salsa of choice

1

cup

greens (spinach, watercress or baby kale)
Instructions
Place potatoes in a saucepot with cold salted water, bring to a boil and immediately turn heat down to a simmer. Cook potatoes until fork tender, about 10 min. Drain potatoes and set aside.

Meanwhile, in a large bowl combine the masa harina, salt, and baking powder. Pour in 3/4 cups of warm water. Mix with your hand and knead for 5 minutes unitl the dough is soft playdough. If it is too dry add the remaining 1/4 cup of water, until you reach the desired consistency. Cover with a moist paper towel and let rest while you maje the filling.

Heat oil in a large skillet over medium-low heat. Add onion and cook until it begins to brown, about 3 to 4 minutes. Add the potatoes and salsa verde and stir to coat the potatoes with the sauce. Bring to a simmer and add the greens, cook for 4 to 5 minutes until the greens are wilted.

Uncover your dough and divide it into 2oz. balls. You will be able to make about 6 of them. Place the ball between your hands and flatten the ball into a pattie shape about 1/3 inch thick. Continue this process with the rest of the balls.

Set a large cast-iron pan, comal or griddle to medium-high heat. Add 1 tbsp. of oil (optional). Once the oil is hot add the masa rounds and let cook for 3 min. and then flip. Let cook for 3 -4 min more until brown spots appear on the gordita and it is hard to the touch.

Repeat with the rest of the rounds. Then, using a sharp serrated knife cut a slit in the edge about half-way around its circumference, making a sort of pocket. Fill each gordita with the potato filling. Serve with sliced avocado or guacamole.
Notes
These gorditas can also be fried in a shallow pan with oil at 350F. Fry 2-3 minutes on each side until golden brown, then cut, and fill.
Nutrition
Calories:
152
kcal
|
Carbohydrates:
30
g
|
Protein:
4
g
|
Fat:
2
g
|
Saturated Fat:
1
g
|
Polyunsaturated Fat:
1
g
|
Monounsaturated Fat:
1
g
|
Trans Fat:
1
g
|
Sodium:
346
mg
|
Potassium:
446
mg
|
Fiber:
3
g
|
Sugar:
2
g
|
Vitamin A:
263
IU
|
Vitamin C:
5
mg
|
Calcium:
49
mg
|
Iron:
2
mg