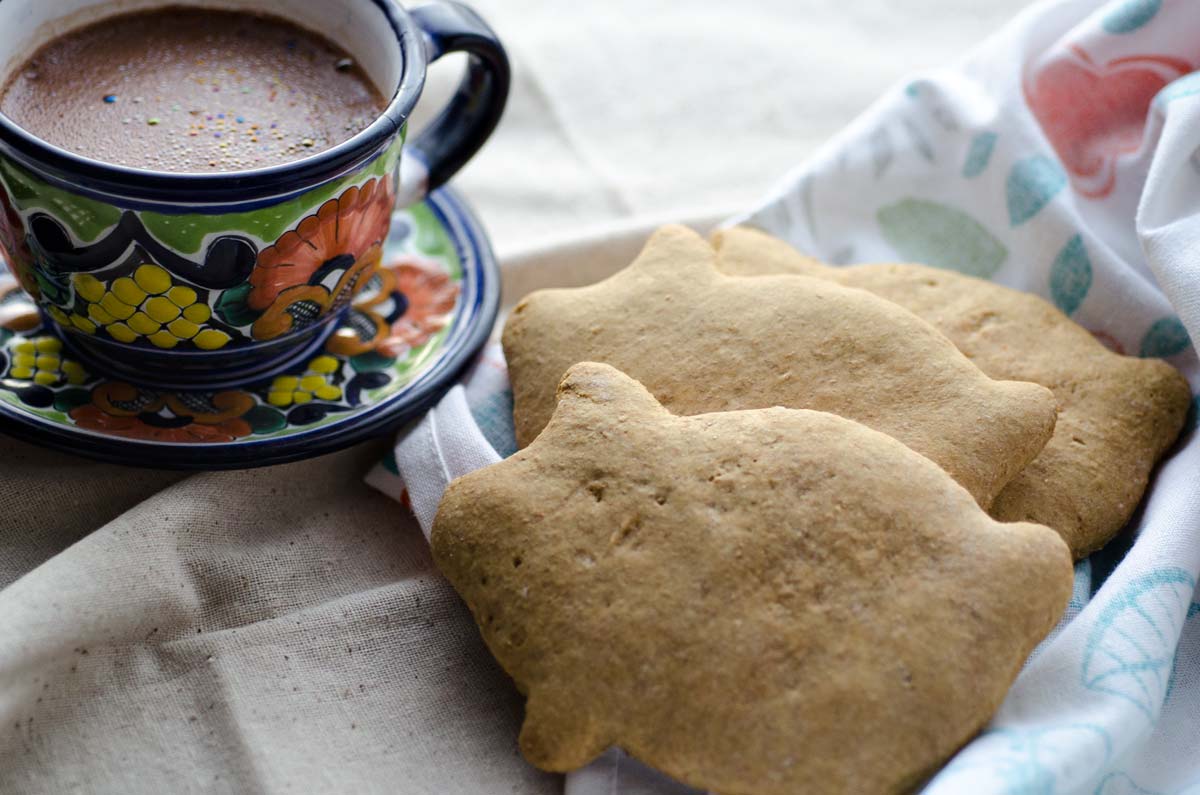 I have done it! After three failed attempts, here is the best vegan marranitos (Mexican piggy cookies) recipe ever. Ok, I might be a little too excited about this one, but hear me out. This is my favorite pan dulce, you can ask any of my family members, and they will be sure to tell you I have eaten many marranitos in my life! A marranito is a Mexican pastry shaped like a piggy. It can be soft like a sweet bread or more on the hard side like a cookie. This version is more like a pastry than a cookie. It is made with a combination of whole wheat and white flour and infused with a piloncillo, star anise, clove, and cinnamon syrup.
It took me so long to get the recipe right because I wanted it to be low-fat. I tried substituting the fat with beans and the result was as weird as it sounds. Then I tried substituting the fat with apple sauce and added a flax-egg, which was a big mistake because they turned out super gummy. I finally gave up and went with the apple sauce and 2 tbsp. of oil. I am pretty happy with the result. They taste just as they should, so much so, that the kids ate them so fast I hardly had time to photograph them. We dunked them in the thickest Mexican hot chocolate.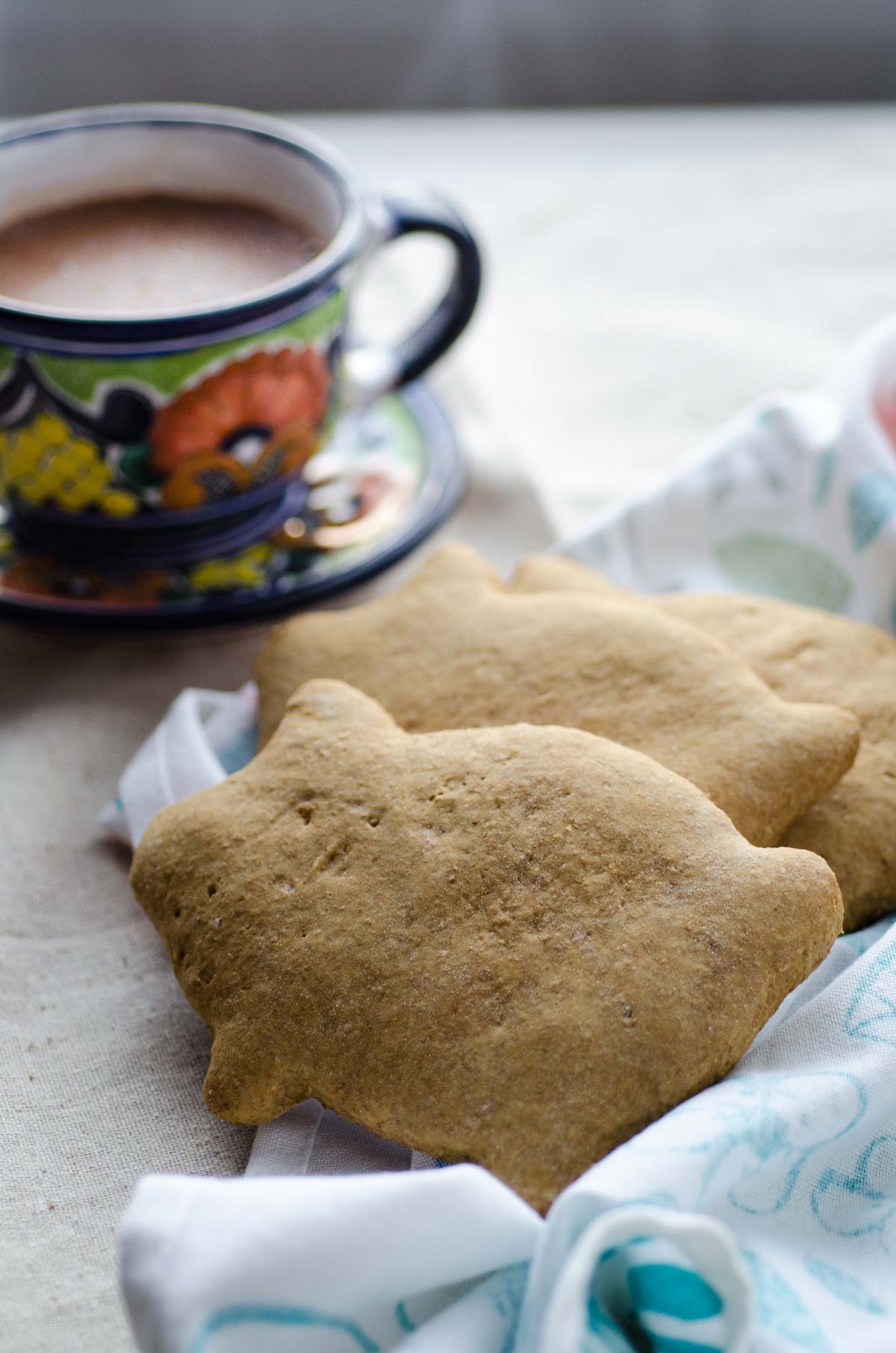 School starts this week in Hawaii and we are not ready for summer to end. After many weeks of deliberation we have decided to homeschool. We did not make this decision lightly, but I think this is the best choice for us right now. I am terrified and hopeful at the same time. We are getting everything set up and we should be ready to go in the next few weeks. The good thing is that we still have a lot of Hawaii to explore, so that will keep us very busy.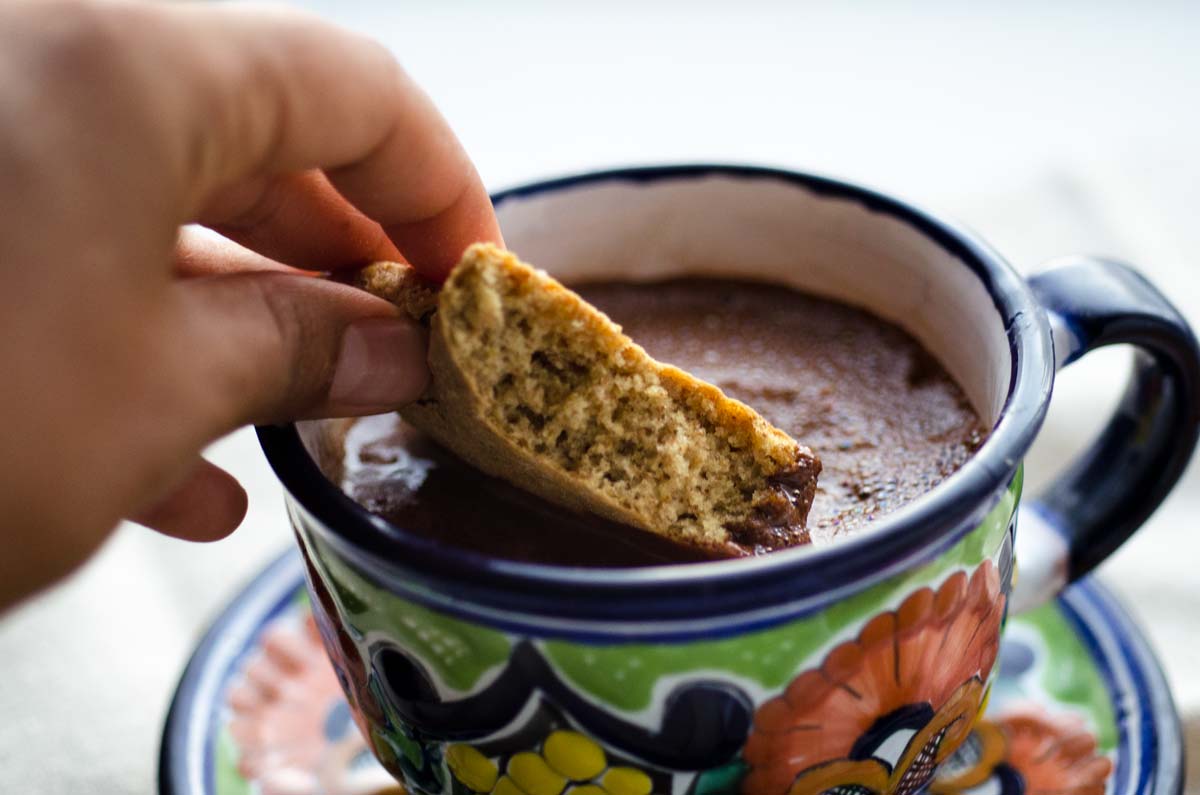 The Recipe: The Best Vegan Marranitos
I recommend eating the marranitos while they are still warm out of the oven and dunking them in hot chocolate or coffee. If you would like to make these with fat you can substitute the amount of apple sauce with vegan butter or coconut oil. Enjoy!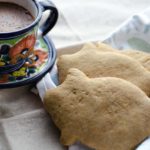 Marranitos
Pin Recipe
Print Recipe
Servings:
8
large marranitos
Ingredients
3/4

cup

Water

3/4

cup

Piloncillo,

4.5 oz

2

Cloves, whole

1

stick

Mexican cinnamon

1

Star anise

1 cup

+ 2 tbsp.

Flour,

all-purpose

1

cup

Flour,

whole wheat

1

tsp.

Baking soda

1/2

tsp.

Baking powder

1/2

tsp.

Salt

kosher

1/2

cup

Apple sauce

2

tbsp.

Vegetable oil
Instructions
Place water, piloncillo, cinnamon, clove, and star anise in a medium sauce pot set to medium heat. Simmer slowly and stir until the piloncillo dissolves. Remove from heat and let cool.

In a large bowl, combine the whole wheat and all purpose flours, baking powder, baking soda, and salt.

Strain the piloncillo syrup into a medium bowl. Add the apple sauce and oil and mix well.

Pour the wet ingredients into the bowl with the dry ingredients and mix with a wooden spoon until the dough begin to comes together.

Use your hands to incorporate the dough together and form a ball. The dough will be on the wet side.

Cover in plastic wrap and place in the fridge for an hour or in the freezer for 30 min.

Preheat oven to 350F.

Remove the dough from the fridge and roll out on a floured surface to 1/4 inch thickness.

Use a large pig shaped cookie cutter to cut out the dough and place them on a parchment lined sheet tray.

Reform the dough scraps into a ball and roll out again to cut out more marranitos. Repeat this process until you cannot cut out any more.

Bake for 15 minutes or until the marranitos are golden brown on the bottom.

Remove from oven and let cool slightly.
Notes
These are best eaten warm out the oven or dunked in hot chocolate or coffee. If you would like to make these with fat substitute the apple sauce with vegan butter or coconut oil.
https://dorastable.com/wp-content/uploads/2016/08/marranitos-7.jpg
795
1200
Dora S.
https://dorastable.com/wp-content/uploads/2019/10/DORAS-TABLE-GUIDELINE-19.png
Dora S.
2016-08-01 13:19:42
2017-05-22 08:21:02
The Best Vegan Marranitos