Print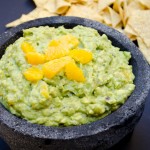 Roasted Garlic and Orange Guacamole
Recipe adapted from Rick Bayless's One Plate at a Time
Set your oven broiler on high.

Line a sheet tray with foil or parchment paper and place the garlic, sliced onion, and Serrano peppers on it.

Place under broiler for 7 min. Remove the garlic from the oven and set aside. Flip the peppers and toss the onion so it chars evenly. Return to oven for 5 -7 more minutes or until the peppers and onion are charred, but not burnt. Chop the onion and peppers and set aside.

Place the garlic paste in a large bowl and add the chopped pepper and onion, avocado, and chopped cilantro. Mash with a potato masher to the desired consistency (I like mine chunky).

Season with salt and pepper and lime juice to taste.

Cut the orange supremes in half and fold them into the guacamole. Serve with your favorite chips.
To cut segments from oranges, cut both ends off the orange. Stand it up and cut away the rind and white pith with a knife. Using a pairing knife, slide the blade between one of the segments and the membrane. Cut until you reach the center of the orange, repeat on the other side of the segment.