Aguachile is traditional Mexican dish, similar to ceviche, served on the coast of Mexico. It is usually made with shrimp. If you had been wondering how to make aguachile vegan look no more. For this vegan version I have used hearts of palm as the main ingredient. The tanginess of the lime intermixes with the spiciness of the serranos, and the crunchiness of the red onion really lifts up the hearts of palm. Eat it on it's own or on a salad, but I think it's best served on crispy tostadas with creamy avocado slices and a nice cold beer.
I know most of you are already in full swing of pumpkin season, but I'm kind of still stuck in summer, since the heat doesn't seem to want to die down here. What better to cool down the than a spicy hearts of palm aguachile or ceviche??
Halloween is right around the corner and it look like it's going to be Star Wars crazy. Up until a couple of weeks ago I had never watched a single one of the Star Wars movies. I can't blame this one on growing up in Mexico, because I know there are a lot of Mexican Star Wars fans out there.
Maybe it's because I have three sisters, and no brothers. However, ask me anything about Disney movies and I can probably answer in a heart beat. Since the new Star Wars movie is coming out in December my husband has been introducing me to the series. I've mostly enjoyed it, but I do have to say I find C-3PO very annoying. A lot of things make sense now though, like Indiana Jones and a thousand other cultural references. I can't believe it took me so long to watch them.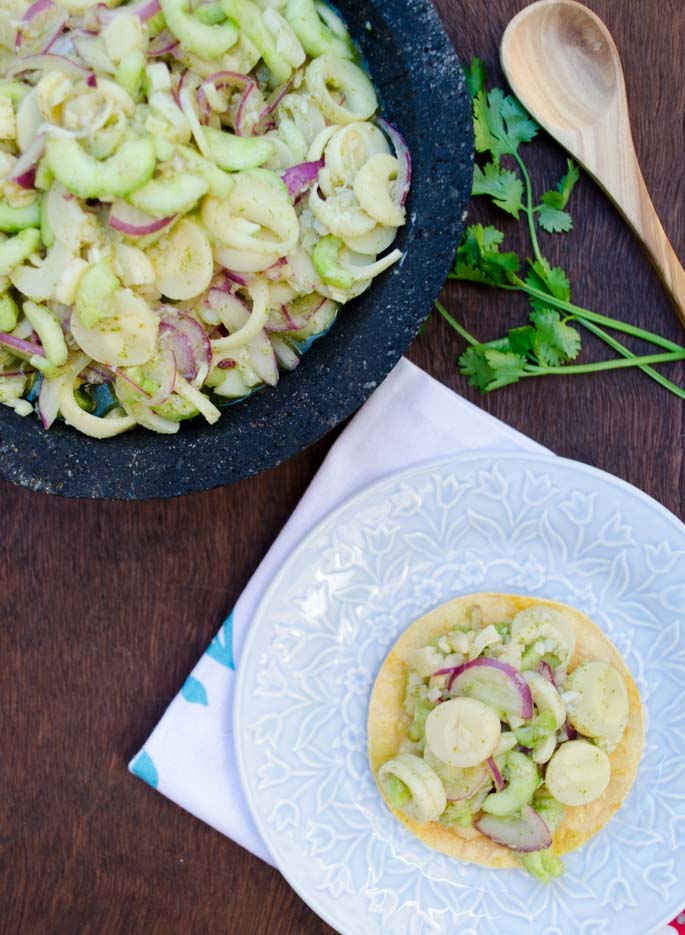 The Recipe: How to make Aguachile vegan??
You might have to try several brands of hearts of palm and see which one you like best. Some are more tender than others.
The recipe calls for 1 serrano pepper, but if you don't eat a lot of spicy food I would only use 1/2 or even a 1/3 of a pepper.
Enjoy!
Hearts of Palm Aguachile
Aguachile is traditional Mexican dish, similar to ceviche, served on the coast of Mexico. It is usually made with shrimp. I've substituted hearts of palm here.
Pin Recipe
Print Recipe
Ingredients
1

can (14.1 oz)

Hearts of Palm

sliced

2

cups

Sliced cucumber

peeled and without seeds

½

Red onion

thinly sliced

¼

cup

Cilantro

chopped

½ - 1

Serrano pepper

2

tbsp.

Lime juice

fresh
Instructions
Drain the water from the hearts of palm can. Slice them in half lengthwise and slice them ¼ inch thick.

Peel the cucumber, cut lengthwise, and use a spoon to scoop out the seeds. Do not discard the seeds and flesh.

In a large bowl combine the hearts of palm, 1 cup of the sliced cucumber, and the sliced red onion.

In the blender, combine the serrano pepper, lime juice, chopped cilantro, the additional 1 cup of sliced cucumber, the seeds and flesh that was scooped out of the cucumbers, and process until smooth.

Pour this liquid over the hearts of palm mixture, season with salt and pepper, and let sit in refrigeration for 10 min.

Adjust seasoning and serve on crispy tostadas with sliced of avocado.
Nutrition
Calories:
33
kcal
|
Carbohydrates:
7
g
|
Protein:
1
g
|
Fat:
1
g
|
Saturated Fat:
1
g
|
Polyunsaturated Fat:
1
g
|
Monounsaturated Fat:
1
g
|
Sodium:
5
mg
|
Potassium:
272
mg
|
Fiber:
2
g
|
Sugar:
4
g
|
Vitamin A:
281
IU
|
Vitamin C:
13
mg
|
Calcium:
29
mg
|
Iron:
1
mg