It seems that people either love or hate lentils. I love lentils, and this is my favorite lentil soup ever!! The lentils are simmered with serrano chile, onion, tomato, garlic, and cilantro until tender. It is a spicy and incredibly satisfying vegan lentil soup.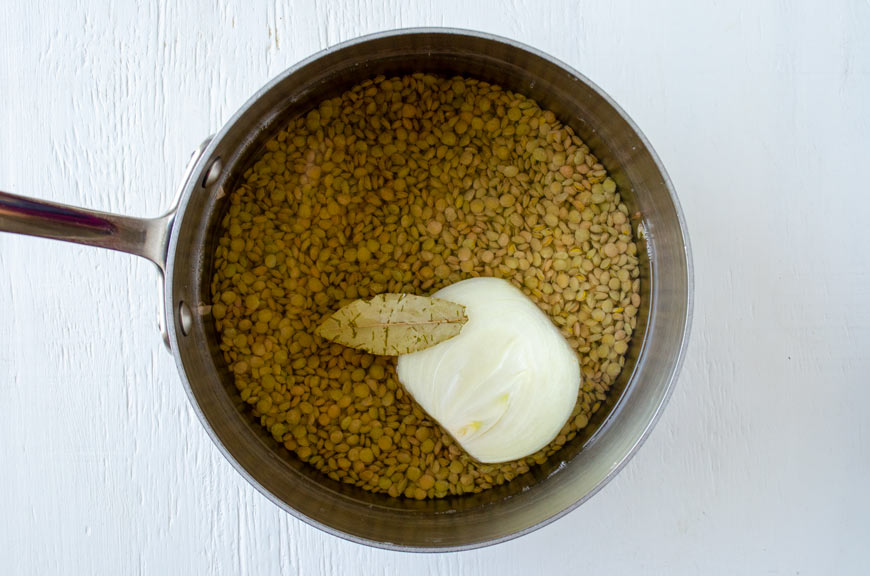 In Mexico, you can find it being made during the cold winter months, and it is especially popular during Lent. Depending on the region of Mexico that you're in they are prepared a little bit differently. In Oaxaca, they serve their lentil soup with pineapple and plantains!! In other states, the lentils are cooked in a tomato-based broth. The vegetables vary according to the region, but you can find variations of this easy lentil soup with carrots, potatoes, celery, and spring onion.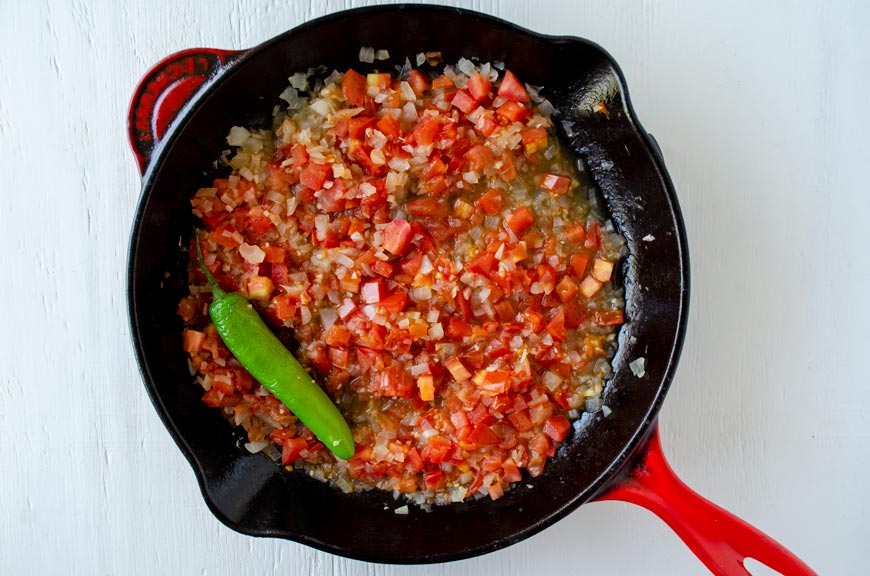 Traditionally, this sopa de lentejas includes bacon, but to make it vegan I have omitted it. However, if you like vegan bacon you can add it to the soup.
How to Make Lentil Soup?
First you have to clean your lentils. Spread them out on a sheet tray or flat surface and check them for tiny pebbles, dirt, and broken lentils, remove them, and rinse the lentils.
Place the lentils in a sauce pot with water, and add ½ onion and a bay leaf. Simmer until the lentils are tender. While this is going one sauté onion, garlic, tomato, and chile until soft. Add this mixture to the lentils with a couple of sprigs of cilantro, and let them cook for 8 more minutes.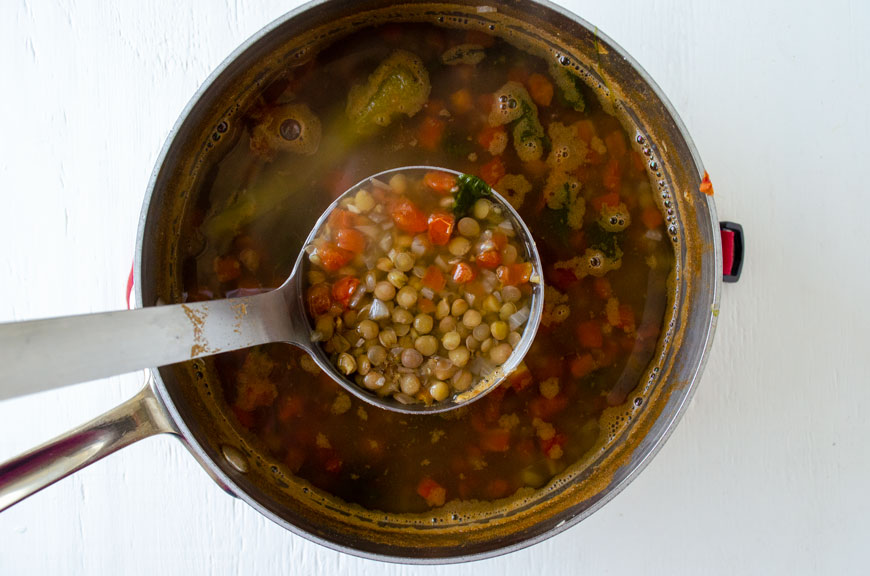 Instant Pot Lentil Soup
If you want to make this in the instant pot, start by sautéing the onion, garlic, tomato, and chile using the SAUTE button on the Instant Pot. Once the vegetables are tender, add the lentils, cilantro sprigs, and water or vegetable stock. Bring to a simmer. Turn off the instant pot, and place the cover on top. Adjust the setting to "Manual," and cook for 18 minutes. Let it stand to release pressure naturally, at least 10 minutes. (Try these Instant Pot Poblano White Beans.)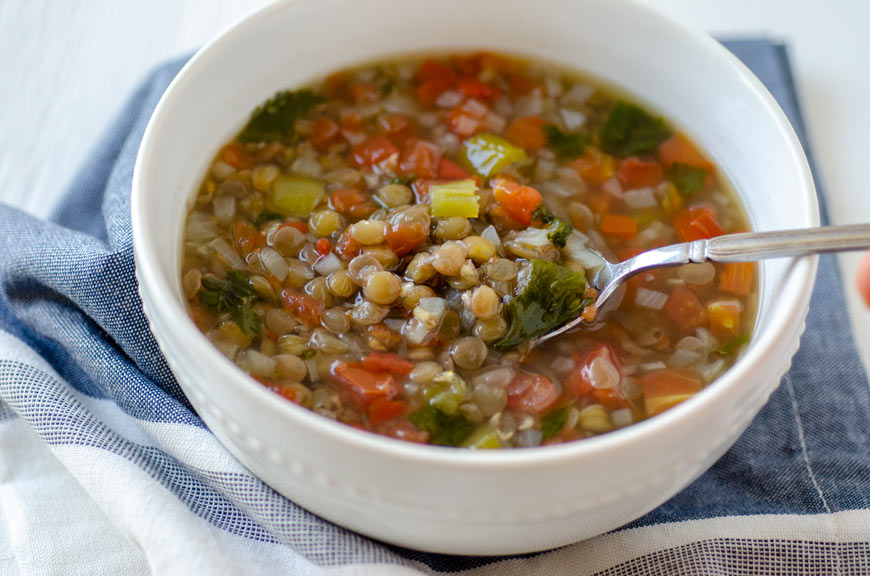 The Recipe: Mexican Vegan Lentil Soup
Make sure you sort through the lentils looking for pebbles, and dirt, then give them a good rinse.
You can leave the chile serrano whole or you can mince it and add it the vegetable mixture (it is spicier this way).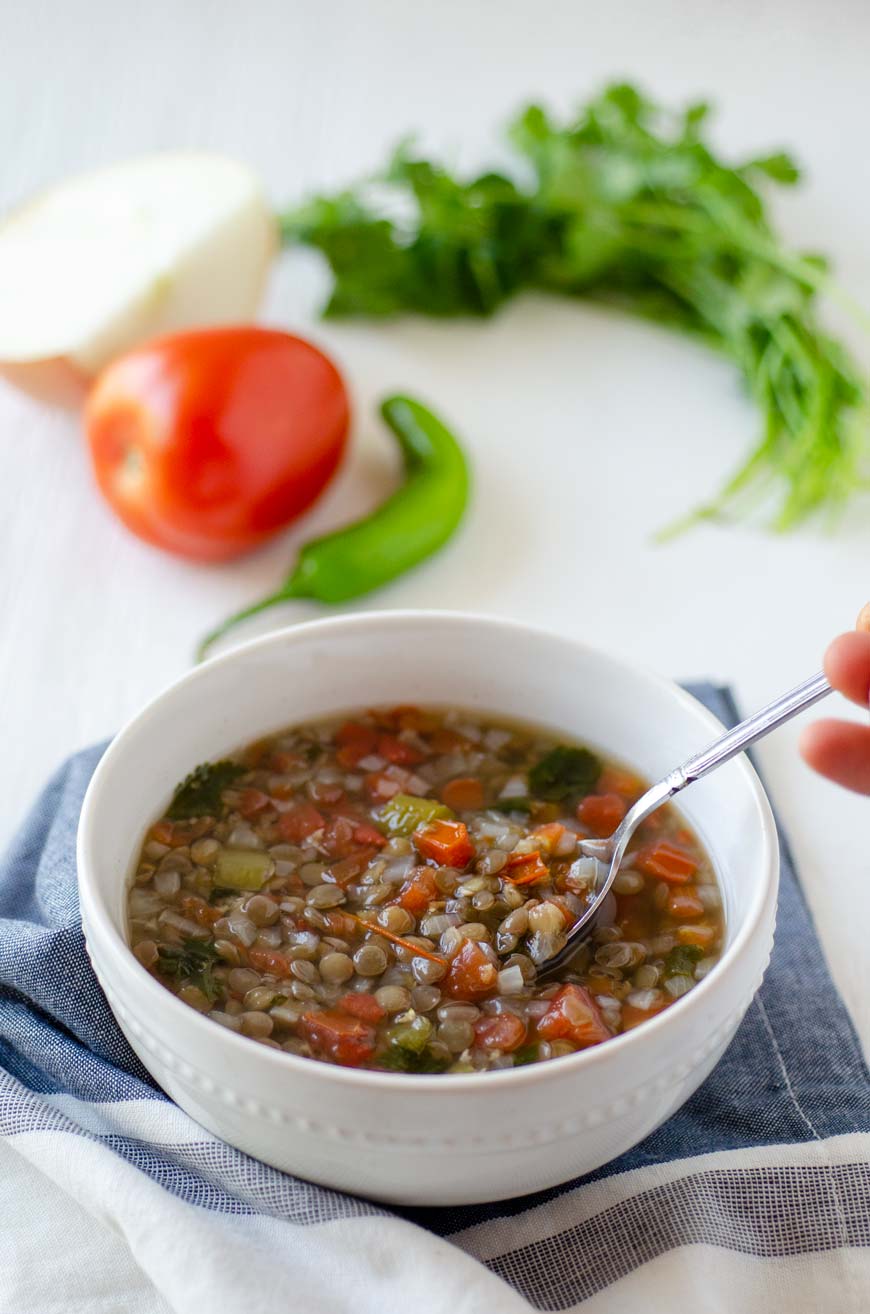 Mexican Vegan Lentil Soup
Mexican Vegan Lentil Soup, an easy recipe for healthy, comforting, spicy lentils with tomato, onion, garlic, and serrano chiles
Pin Recipe
Print Recipe
Ingredients
1/2

lb. (1 1/4 cups)

Brown or green lentils, cleaned, rinsed

8

cups

Water or vegetable stock

1/2

White onion

1

Bay leaf,

dry

1/2

White onion,

diced

2

Roma tomato,

diced

2

Garlic cloves,

minced

1

Chile serrano

4

springs

Cilantro
Instructions
Place your lentils in a medium sauce pot, add water, onion, and bay leaf. Bring to a low simmer and let cook for 20 minutes.

While the lentils are cooking, make a small incision using a sharp knife on the tip of the serrano pepper (like an X). Set a large sauté pan to medium heat and add the diced onion. Let the onions cook until translucent and tender, about 4-5 minutes. If it begins to stick to the pan add a little bit of water.

Add garlic and cook for 1 more minute. Add diced tomato and chile serrano (whole) and cook until the tomato has broken down, about 6 minutes.

Remove the ½ onion and bay leaf from the lentils, and add the vegetable mixture, and cilantro sprigs to the pot. Simmer slowly for about 8 minutes.

Remove the cilantro sprigs, and serrano pepper. Season with salt and pepper to taste.

Cut the chile serrano into rounds and add it back to the pot to make the soup extra spicy. (optional)
Notes
• Make sure you sort through the lentils looking for pebbles, and dirt, then give them a good rinse.
• You can leave the chile serrano whole or you can mince it and add it the vegetable mixture (it is spicier this way). •
You can make this in the instant pot as well (see post above for instructions)
Nutrition
Calories:
225
kcal
|
Carbohydrates:
39
g
|
Protein:
15
g
|
Sodium:
8
mg
|
Potassium:
737
mg
|
Fiber:
18
g
|
Sugar:
4
g
|
Vitamin A:
685
IU
|
Vitamin C:
14.6
mg
|
Calcium:
47
mg
|
Iron:
4.4
mg