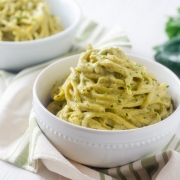 Print
Add to Collection
Go to Collections
Poblano Cream Sauce Pasta
This vegan espagueti verde recipe is creamy, spicy and rich. The roasted poblano cream sauce is perfect for tossing pasta in.
Boil salted water in a large pot.

Cook spaghetti according to the directions on the box.

Process until smooth, season with salt and pepper.

Drain spaghetti and place in a large bowl.

Add desired amount of sauce and toss.

Serve immediately.
You can add more poblano peppers or an extra jalapeño to increase the heat factor, but I wouldn't recommend using less than three.
If you want a really creamy sauce use oil instead of almond milk.
If you do not have a high powered blender, pour boiling water over the almonds and let sit overnight. The following day, peel them, and use in the recipe as directed. You will have to reduce the amount of water to 1/2 cup, then adjust accordingly.